Webstore
By 3DSellers
(released Nov 21, 2012)
Create a beautiful storefront for your eBay items with Webstore! Webstore helps you drive traffic to your listings from search engines AND links your eBay account with a professionally designed storefront. Sign up today and receive a FREE subscription to our Thank You Emails app!
Categories: Listing, Marketing & merchandising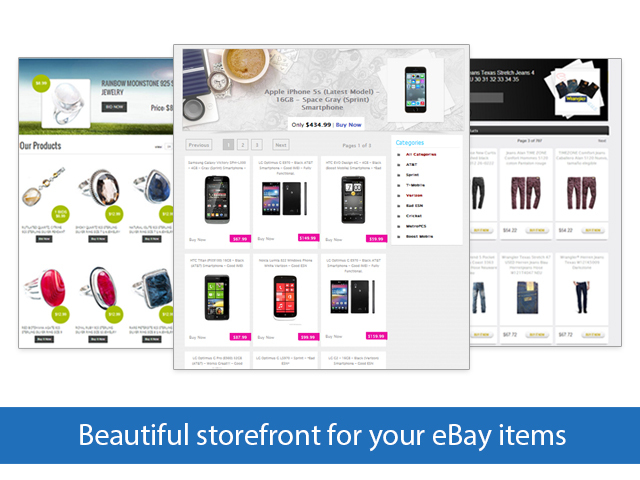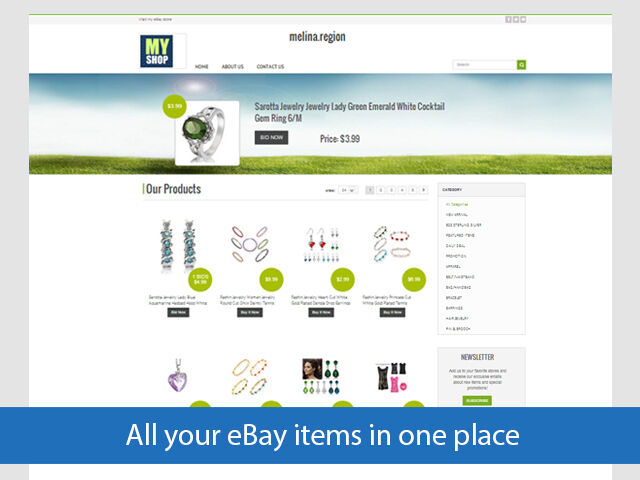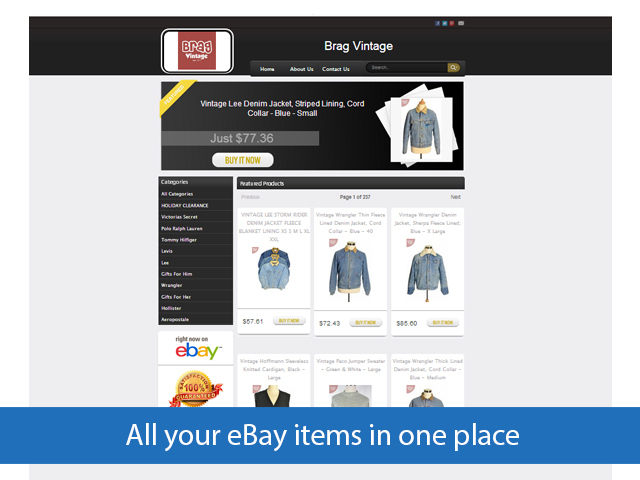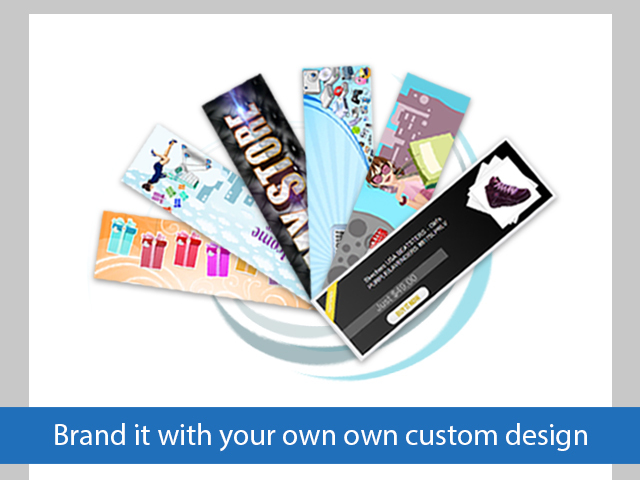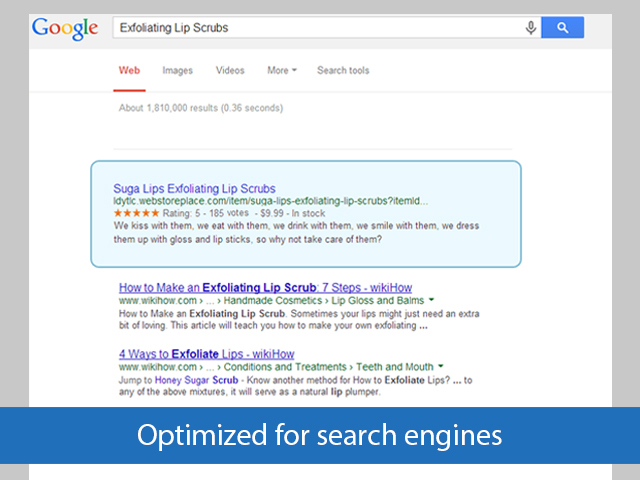 Key features
## 100% Compatible with the new eBay ACTIVE CONTENT policy ##
* SUPER Search Engine friendly.
* Always in sync with your eBay inventory.
* Short URL address.
* 1 Click setup.
* Choose from different templates and customize the look of your store

Description
Display your listings in a beautiful branded store-front.
Drive traffic from Search Engines and increase sales.
Webstore banner automatically inserted to all your listings.

Additional resources
Application requirements
Supported browsers:
Any modern browser
Supported languages:
English
Supported eBay sites:
ebay.com
Required eBay subscriptions:
None
Application support
Need assistance? Have a question? contact us via our support center at http://support.3dsellers.com.
3DSellers
This application is brought to you by 3Dsellers. 3DSellers is one of the leading eBay app developers in eBay's App center offering 12 different apps for eBay sellers. 3DSellers main goal is to create a strong and stable connection between eBay and advanced technology. Thus, assisting eBay sellers in building a prominent presence on eBay, while simultaneously enhancing the eBay shopping experience.
Also from this developer:
By 3Dsellers
(released Dec 08, 2010)
"Share Your Items" is a complete social media toolkit for eBay sellers. Let your items be seen everywhere. "Share Your Items" is the only app that lets your buyers share eBay items with their friends. The app a...
Categories: Listing, Marketing & merchandising
By 3Dsellers
(released Jan 24, 2011)
Embedded in your listing pages, "Currency Converter" lets your buyers calculate item prices and shipping rates in their local currency or in any foreign currency they desire. The calculation is online, accurate...
Categories: Customer support, Shipping & payments
By 3Dsellers
(released May 31, 2011)
Create an amazing Facebook store displaying all of your eBay items, at the click of a button. Connect with 900 million potential Facebook customers! Sign up today and receive a FREE subscription to our Thank Y...
Categories: Listing, Marketing & merchandising
By 3Dsellers
(released Aug 02, 2011)
Create a catalog of your eBay items with this easy to use app. "PDF Catalog" embeds your eBay items in a designed pdf file, so you can present your store goods to potential and existing customers.
Categories: Inventory, Marketing & merchandising
By 3Dsellers
(released Dec 14, 2011)
The best cross-selling tool for eBay sellers. Smart and good looking! Sign up today and receive a FREE subscription to our Thank You Emails app!
Categories: Listing, Marketing & merchandising
By 3Dsellers
(released Jan 04, 2012)
Add a free translation widget to your listings
Categories: Listing, Marketing & merchandising
By 3DSellers
(released Mar 08, 2013)
Design your eBay store with one of our ready-to-use design templates, customizable & 1-click setup! Sign up today and receive a FREE subscription to our Thank You Emails app!
Categories: Listing, Marketing & merchandising
By 3DSellers
(released Feb 08, 2013)
Improve your eBay feedback score with eBay Feedback Reminder! Sign up today and receive a FREE subscription to our Thank You Emails app!
Categories: Customer support, Marketing & merchandising
By 3DSellers
(released Mar 14, 2014)
Easily increase repeat sales with Thank You Emails! Thank You Emails will automatically send a Thank You Email to each of your buyers recommending other items that you offer. This way you can build great custom...
Categories: Customer support, Marketing & merchandising
Awesome
Created By: paytosimpso_8
---
Ebay ban the app so there is really no reason for it.
it's very hard to contact this party it's been over a year since EBAY banned the app I was told it would be fixed over a year later nothing has change. They take your money but never fixed the app so it could be used on EBAY. I would think they would just give us a way to by pass EBAY altogether and just add Paypal to it and then the app could be good for something but as it stands not worth the money I'm looking for a stand alone store front now so I can remove EBAY and have something to show for years of selling.
Created By: secretsunsaid
---
My first sales started AFTER I began using this app
My first sales started AFTER I began using this app-
Created By: roberjkennedy
---
At first everything was fine, then all of my products dissappeared...not good!!! Going to cancel free trail
Created By: ohyes_company
---
Thank you so much for my account...
---
---
A+
Created By: schneider_vintage
---
---
---
Unable to connect with store when signing onto eBay. Unable to determine how to connect store with facebook. Overall, very hard to use.
---
THANK YOU+++++
Created By: greatdeals8695
---
different products, lack of support, confusing. Probably a worthwhile setup with patience
service was one email every 48 hours. It looks like an okay product, but somehow I got signed up for both their "Store Designer" and their "Webstore," and did not even know I had two products, and nobody to fix it. Confusing, 48 hour turnaround on support, had to leave. I think it has promise, but if you cannot get it right in a week, then I lose attention.
Created By: riverbend_classics
---
Professionalism Done Easy
I haven't gotten the full benefits just yet since my sales are low. But, I will tell you this application just made me feel like a world of difference compared to what I was doing.
Created By: campfirestoriesinc
---
Solve the arising questions in 5 minutes. I love them ! My recommendations
Solve the arising questions in 5 minutes. I love them ! My recommendations
Created By: boutiqueshopmania
---
I used this app to my storefront on eBay and the results are amazing,
After searching for long time after the right app for me that will give me design and worthwhile price, I find this app Webstore is the best for your store front design,
Created By: yourbestoffers-sales
---
Fast, simple and effective!
I was amazed how easy it was to set it up, 100% hassle free. I was also happy to see that it works with eBay's active content policy, as I wouldn't want to give this app up! I must say that the results are amazing, so professional and organized. And was also happily surprised to get the bonus of the Thank you emails app!
---
When I make a listing, link store appears in the listing. This is something that ebay do not want
Created By: easy_shopping08
---
Unfortunately, eBay no longer allows active content in our listings so I closed my webstore. If they can come up with a way to appease eBay on the link that leads to your webstore. I would be happy to include it
---
Caused Conflicts With Ebay Description Content Changes
---
Excellent Customer Service
Customer Rep went the extra mile to help me out! This app IS THE BEST!
Created By: auctiontradingco
---
Throws errors. canceled the app and still charging me. Will not answer email. Please stop charging my paypal acct and wish you would stop putting web store links into listing bc it is not in ebay standards anymore so I have to keep fixing it!
---
App worked fine until eBay began generating a "violation of eBay policies" notice.
Getting eBay message "listings contain(s) non-secure HTTP content" and have to contact eBay to fix each time listings renew.
Created By: bozmarketplace
---
Horrible, Horrible, Horrible Ungrateful bunch of thugs
Took my money for years. Put eBay non compliant code in my listings than canceled my account without notice for their own mistakes. Totally not trustworthy. If they had to live up to ebay standards they would be terminated years ago. Steve
Created By: portablewealth
---
I am still in trail period but I can't see what I have created so, I'm deleting program.
Created By: grand-oak_designs
---
Your web store should be your eBay design, end of story, what a stupid waste of time and a lame idea.
---
Much more Exposure noticable sales increase and great to be able to brag my own Ebay store front
it's simple more sales and pride in owning my ebay store .........that's all i can say ..oh and thanks for the sales boost
---
Didn't subyscribed WASN'T A FULL REIMBURSEMENT!
NEVER subscribed yet I'm billed 4.99 for 19 months PLUS 5.99 FOR 6 MONTHS REALLY! I DON'T EVEN HAVE THIS APP MUCH LESS BILLED FOR IT TWICE. SNEAKY AND SORRY business... as if we AREN'T CHARGED ENOUGH TO SELL ON EBAY!
Created By: purplebizness
---
Love the app but deleting ebay account because of problems with PayPal.
Created By: crazyhookercrochet
---
A breeze to set up. Thanks
---
Impossible to get a question answered. No customer service.
No customer service.
Created By: burningriverbuys
---
System had issues. So I'm going to give them another try.
Created By: the_auction_trading_co
---
Fast updates, clearly displayed!
Fast updates, clearly displayed!
---
The web page is beautiful i hope it drives my business
The application went smoothly to set up great
---
Gives me a professional style webstore
For pennies a day you can have a sleek looking webstore. Support is there to help. I don't have anything negative to say. Go for it!
Created By: tigeress33009
---
i used this app before it works
I had more items selling for higher prices using the web store.
---
Cant connect with a real person!
My page is flashing! No support!
Created By: girlbookseller75
---
not much to say except that it wasnt near as hard as i had originally thought to do impressed
---
---
I love it
Created By: svetomiivano-0
---
---
nice app good looking store!
Created By: indiancreekautoparts
---
Hello: I am involved in this application because I think you you offer products that can be sold, not because I needed a page on the eBay Is there a first products there Thanks
Created By: abdelwahaelaz-0
---
I had an issue with my purchase and the sales person ensure that all was rectified in a timely manner. I will always give first preference to this store. Thank you for your service.
---
Super easy to use. Great looks to choose from.
---
Super easy to use able to setup website outside of ebay and link to ebay store
Webstore was able to connect me with a link to redesign my ebay store which was perfect! So now I have a redesigned ebay store and a webstore outside of ebay! I love it and I didn't have to do anything but select the design and click save.
Created By: renemarhofe-0
---
Fast set up and easy to use
Created By: dr.o-solutions
---
Kept charging my account more than what their ad stated.
When I signed up it was not 19.95 per month. So basically false advertisement or they need to change their ad price. It does not mathc.
Created By: fashionsplusmorestuff
---
Super Helpful! Value add to the serious Ebay Seller
Super Helpful! Value add to the serious Ebay Seller
---
AWESOME
Created By: 1.9.7.5.jewellery-0
---
I really like it, I would like my like items to be together, items are random.
Yes I like it, just want more organizations with my items which I am happy to do. I don't know if I understand, I have ebay store and the webstore are two different places. I like it.
---
I had been looking for ebay store that would represent myself. This app makes my store looks neat! Plus it's easy to create it. Love it!
---
Makes great webpage and easy to use and share with friends
---
I like it a lot. I would however like to suggest adding the ability to move products around on the page and offer additional payment methods in the price bubble. Otherwise, this is an awesome alternative to a full website! THANK YOU!
---
Not my products show up on webstore. No costumer support.
I don't want to see not my product in my store. A product doesn't have price or normal description, only image and description like this:"Our Products12345view: 24 img div class="mimg itmcd img" count="0" iid="252570054012" _sp="p2045573.m1686.l9" What is this? Every time new product. I don't want a website like that.
---
Although it says free trial. I have not seen it on any of my listings. Not anywhere to go to edit.
I called and asked for assistance. The person I talked to said he was going to give the problem to another department. However, I have not received any help. I do want the store. But I would like my customers to see a link and in my "MY Ebay" I would like to see something where I can go to edit. I really need help.
---
The simplicity of the application to have a store where people can view online other than the ebay store.
---
I sold nearly nothing when I signed up for this app and I do not see any thing it did for me
I seriously did not have any problems with the app I thought it was really nice presentation but I don't think it helped me at all if anything I did terrible on sales when I had it. It did not show me a count of visitors and I did not find it easy to find or get support... Maybe I am just not smart enough to use this app or I expected more from it than I should have cause my sales went to basically zero... does ebay own this app if not I think they put me on the do not sale list... anyway I am out...
Created By: ozarkmountainplants
---
Just duplicates my stor which is possible to see only through my eBAY. No connection with other websites. Help=0. For 4 days Free Trial nothing sold. I don't see the reasons to pay for it monthly. Just a bubble scheme
Created By: available_boutique
---
Alka Vita is manufacturer of excellent natural alternative products for health.
You can order our products online in our web site store must of our products are with free shipping!!!
Created By: alkavitaproducts
---
I think the store is attractive and there is ease of navigation. Very attractive.
I wrote for information that would help me learn to interface the store. There is no point in having a great looking store that nobody can see. My ebay storefront stays the same as it always has. I did not get answers to my questions about how to make myself visible, etc. I paid. So where was the beef?
---
Simple Easy to get it up and the price is reasonable.
Created By: sportsworld1012
---
---
Great if You Want to Use Ebay to Sell Products!
Love how it transfers all your products to the store page, but I wanted it to use with different payment options, not just Ebay!
---
I had a webstore and it suddenly vanished. I then went through the process of starting a new one, but after it was designed it never was linked to ebay. Not great technology. They are, however, good at charging you credit card.
---
step by step easy and fast
---
---
es la primera vez que veo un servicio de exelencia
Created By: beckham-store
---
I live it and Great price.
Created By: stellasproduct
---
Needs more template choices and color options.
Created By: auroragemstonejewelryco
---
Nice and useful. Too bad that does not work with the Google Merchant Center
Nice and useful. Too bad that does not work with the Google Merchant Center
---
Very User-friendly and modern, clean designs
---
---
I love the way it looks, as soon as I set it up my bids increased.
Very easy to use and set up, looks very professional.
---
I'm Being Billed And I Haven't Activated The Store App
In my App management center your app reads "START" because I haven't Started - I don't even have a store - Do you wait for your subscribers to use your app before you start billing them. I wait to see if you respond to customer's complaint.
---
page looks good but I don't see it anymore and I had to pay for it
---
(There have been no reviews for this application.)
using this application was so easy to set up my web store, lots of different choices for templates to set up your store. very easy and would recommend it to someone else starting a store.
---
Best web builder around, I only wish I chad the money to keep it! Q
Created By: bambiholcombesbooth
---
There is no way to contact support. They only provide Pre made Questions
None of my ebay products are showing in my store front!
Created By: thebamboolady
---
Love this. Best price great tool, allows me to show off my selling on e-bay with a professional look, and easy to learn how to use.
---
---
easy to use, easy to promote highly recomend
Created By: bearcatsportz
---
Horrible - No Communication after Request! Problems Existing for TOO Long!
Have had the "Webstore" application for quite some time. Most of the months I have had this I've had problems in my listings. "Visit my webstore" link ONLY shows up on SOME of my listings. The listings that DO have it, have problems, with an Adobe Flash Player link on top of them! Contacted eBay, two times. 2nd call Ebay directed me to leave email message with Webstore 3D Sellers as that's how they communicate. STILL no communication or resolution! DID like my Webstore but the service is HORRIBLE!
Created By: faithfullhome
---
Super easy to set up and looks great!
Created By: craftycontessa
---
You would think that it would change the look of your ebay store
It doesn't change the look of your ebay store, it is for outside ebay... WHAT?
Created By: euro_motoelectrics
---
Does not show up in search
This does not show up in search unless you type in the exact name.
---
after I unsubscribe, all my current active listing have a banner linked to the webstore in the description. I CAN'T DELETE IT !!!!
---
Really adds no functionality that eBay doesn't already offer with better quality. If you want a website, have your 14 nephew do it. He'll even do a better job.
Created By: raginglikeaboss
---
Does not update ebay store only off ebay
Do not waste your time or money this webstore only hurt our sales futher than the non working seller manager pro included in the store subscription free. Its ok to have non working apps because you signed the ebay user agreement. Go figure.
---
I love the million dollar look store, well compare to those where you pay lots monthly. We need more apps like this. Thank you
Created By: erikarubisjewelrycollection
---
---
This store gives you a professional website that takes only seconds to setup. There is nothing to manually add since it just mirrors all the items you have listed with ebay. It will save you a lot of time since setting up your own external shopping cart and loading all your listings is very time consuming, whereas with this you just press a few buttons and your done - letting you just focus on building your ebay listings while still having a professional brand. Highly recommended! The developer is also very responsive. I've emailed them a few times and have always received a quick response
---
very good deal
Created By: classysassychic2me
---
Still figuring it out, but ill get there thanks so much great app...
---
Made me loose a lot of sales
eBay has warn all sellers to replace on all listings where it says http on the HTML code, and type https, so this way we avoid to loose sells since the new Chrome feature warns all users that they are about to go to a non secure site when the address starts with http, instead of https. Webstore modifies all your listing each time they relist by themselves, creating a direction to mirror the listing on their site. So after I spent days fixing all my listing and replacing the http with https, the beautiful webstore app has added again in all my listings their HTML directions with the http, causing most of chrome users to avoid visiting my listings. I called ebay customer service, and even they can not believe these guys haven't update their app, affecting so much the sales on their customers, and causing so much extra work to update each listing every time they modify it. They have horrible customer service, and they would contact you ONLY after you unsuscribe from their teerible app.
---
Very useful for my Ebay business
---
NEVER KNOW ONE TO CALL FOR HELP IF YOU ARE NEW TO COMPUTERS THIS IS NOT FOR YOU THEY DONT HAVE ANYON
THEY NEED TO GET PEOPLE TO CALL TO HELP YOU SET THIS UP SUCKS KNOW ONE TO HELP
---
this is a scam! just reported to paypal. no website created, no nothing. why is this on ebay?
---
---
Cool and easy setup! AAA+++
I like the ease of effort in putting everything together!
Created By: jesus4lifeministries
---
Easy app! Real simple even if you aren't great with computers. Makes a decent lil online store.
One big flaw is I don't see where I can just push a simple button and be able to see exactly what my store looks like when a customer first clicks on it and enters the store. I can see it from an editing stand point but not a customer view. Also when I go to applications it still says Star, as if I haven't completed my store. Making me wonder if I haven't. But I HAVE. Their isn't very many options for the small details for like editing small buttons and stuff. you basically just have a few template's to choose form and that's it. I don't even see a spot where I can view my store exact URL so I can give it to people or put on a business card. This lack of abilities may result in me canceling before trial period is over.
Created By: shanesferrari
---
ease to use.
Created By: austin_imports
---
only for the customer who has the time and know-how to construct.
FRUSTRATING
---
Automatically displays your items from eBay to a separate store front in no time. Easy to navigate and easy to find/promote items.
Created By: ashworthcollectibles
---
Easy and convenent
Created By: jame3351-yiufmic
---
looks wonderful and makes you feel more confident about selling
it was very easy to do, need more help finding it after its set up
Created By: gupetp.zm4qsht
---
Easy to use - inexpensive - 3 clicks you are set up - perfect
Really not much to it - it adds an extra outlet for your eBay items to allow for back links for organic SEO building over time - none intrusive to normal function of eBay or any other integrated app or software used with eBay - good stuff - and the kicker... it is only a few bucks a month - great value.
---
Professional presentation, great options, increase sales
---
0ne of the best apps invented
---
I use this app on most my ebay accounts and must say that it is helpful. Not only do you get a nice storefront, but they add extra perks like free emails and more! I gave four stars because my only gripe is though they say their storefront is smartphone responsive, it doesn't format all that well to smaller screens. Customers can still check your items, but it isn't a clean view. Once they fix this, their service will be GOLD.
Created By: health.beauty.and.baby.bijou
---
Initially I was a big fan of this app, but then I revised one of my items. Once I published the listing the webstore turned into a bunch of ugly code at the top of my description. I went in to delete the code and now I can no longer get my store banner to show up on that item.
---
I Love 3D Sellers Webstore. Will Keep Using!!
I really love having Webstore. I did not have to take more time out of my day
Created By: secondhandconnection_2014
---
I love my web store and the customer service is the best!!!
Great for anyone wanting to start a web store from beginners to pros the web store is the place to go!!!!!
Created By: chilli_n_snooki
---
WHAT A GREAT AND PERFECT WAY TO HAVE A PROFESSIONAL WEBSITE WITH ZERO HASSLES. The only thing we would like to see is more templates! Or be able to customize the color of existing ones! But we get it, too much is too much!!! Thank you 3D Sellers you ROCK!
Created By: www-sweetheartdeals-com
---
IT'S REALLY PAGE OF MY STORE BUT IT NOT VISIBLE ON MY REALLY EBAY PAGE(((
Created By: wind_rose_casual
---
Great Products , Good Services ...
Good Services ...
---
Great but how do I put this store on my eBay for people to see it?
Webstore is a great app that offers a variety of selections for creating your website. But my problem is that I don't know how to put it in my eBay. I've created it now how can I promote it? Customer support doesn't answer back or provide any details on this important issue.
Created By: finestiphones4sale
---
Very easy setup, great look, great for customers to see the products and find my store policy information. Although I am not able to statistically determine if this is helping my eBay sales, I love the webstore look and the low monthly fee. Well worth it!
---
great idea and easy to use
---
I have nothing but errors with this application. It does not work properly. They say that they cannot repeat my errors (prices missing) but I can repeat it on many different devices. They gave me 1 month credit but if its not fixed by the next billing, I'll just have to cancel it for good. Only had it 2 months. I would NOT recommend this application until they can make it more stable.
Created By: leiterstradingpost
---
HOW FUN IS THIS??? MY OWN STOREFRONT?? !! COOL !
---
---
Great Customer Service!! Very Nice Looking Stores!!!
I have had wonderful service and I really like the way my store looks and how easy it was to set-up. Thanks!
Created By: e.acaliforniastore
---
Make my ebay store look like I paid thousands for web site
Very easy to use and set up. Very professional look to your ebay store. When we set up our own web site, we will contact these people. Well worth the price.
---
With web store my sales have increased 200%.
Within 1hr after linking site I had my first sale WOW. Awesome option for those selling on ebay
Created By: wil2420_v3ap4c
---
Double charge me each month
I keep disputing in regard double charge for single app each month
---
Extremely Easy to set up and maintain
Well worth the monthly fee. Set it up once and it updates automatically. I would like to be able to pick my own featured item how-ever. I am sure they will find a way to do that soon enough. I would highly recommend this app.
Created By: thriftshopsavings
---
Very helpful designers,quick response to questions. I needed help with a problem with my Webstore and everything was handled quickly. I am very happy!
---
Like It so far
Created By: collectoreuniveres
---
Not happy! This app does not update inventory.
Click on any product in my webstore link and it goes to ebay saying this product does not exist or is no longer available. It would be a great tool if it worked properly.
Created By: flyingfancydesigns
---
Just wish they had website integration. I need to use this store outside of ebay.
---
Very eye catching designs. Perfect for any ebay store design
Simple templates easy to use
Created By: yourstyledesigners
---
the inventory on my webstore never seems to be fully up-to-date...its driving me crazy
---
I love it a++++++++
Created By: chrifrank78milcia
---
love it
Created By: thebonbonstore
---
Love the options and professional presentation.
---
I have been using your app. for sometime now. I believe it has been an asset to my eBay account. Thanks for making it easy to be professional. .................Spider
---
Charging my paypal account, but not invoiced or updated Ebay Store - Canceled!
Buyer beware it was a nice idea at first. However upon inspection Webstore stopped invoicing me and updating my Ebay merchandise. However upon trying to get help with the HTTPS protocols it was discovered that they were charging my Paypal card each
Created By: patriciaquiltsandmore
---
Seems to have helped our selling efforts. Reasonable fees. Nice formatting. Excellent customer service.
Created By: tomandnancy903
---
Love it! Neatly designed templates
Quick and easy to upload
---
very easy to use and has alot of details
---
Good application for the price! Helpful tool!
---
is beutiful but don't have engine in google or my store is missing
is beutiful but don't have engine in google or my store is missing
Created By: creativedinoshop
---
Easy setup and pretty output.
---
---
Great storefront, great SEO visibility!
I really appreciate the SEO visibility this app gives. I found myself easily on yahoo and google after subscribing to this app. The storefront design is okay but just as good as any other app on eBay for you own store, but they do not include the SEO visibility. So, as much as I do not want to tell others about this great app and add competition, I still want to give props to the developers for creating such a user friendly app that does all that it says it will do. Thank you
Created By: texastoolstore
---
I love that I have my own storefront now that shows off my items! So easy to set it up, literally one click and it?s live!
Created By: mariothriftstore
---
This ebay App Webstore is not the Original True Webstore that we all know about and is registered as Webstore.com. This app makes it look as if your dealing with a Legit website that offers Free Online stores and has it's trademark as Webstore, which like eBay is the only eBay, Webstore should be respected as the Only Webstore and not these Fraudulent pretenders making themselves pass as the Webstore. Baloney. I contacted Webstore.com and they stated they are of no Affliation with Webstoreplace.com As for their app, Facebook has much more to offer, even Vendio has tons of features that this group does not offer. I do not recommend this group nor what they offer for $5.99 is total garbage/trash and fraud.
---
i happpy with
Created By: chiquinelly_supplies
---
I highly recommend webstore as a marketing tool for eBay sellers that want their own eBay storefront that they can send potential buyers to.
---
Store is not easy to find, when searching for a particular item. The only good thing is, you can send the direct address for someone to view your items.
---
I love it that I have my own beautiful website that I can send buyers to! Thank you Webstore!
Created By: thrilling_thea
---
Will not actually change your ebay store.
This is a scam. It does not actually make changes to your ebay store. I was fooled.
Created By: spadesunglasses
---
hopefully it will be helpful, we will soon see
Created By: abigailnanthony
---
Love this app! It allows you to have a professional storefront for all your ebay listings!
Very impressed as to how easy it is use. It allows any Ebay seller to present items for sale in a professional way. In the near future I would like however like to see additional design templates and or more layout color/font options in order for sellers to go one step further in branding their Webstore business.
Created By: vintagehouse*
---
I can't even log in and there's no customer service
It won't let me edit my website, I'm not happy
---
Adds a million!!! Webstore sure adds a lot to my items on ebay and provides me with a great site where I can present my ebay items to potential buyers.
---
A++++ Great App Everyone on eBay needs to purchase this app.
Great way to get more visitors on ebay! It helped me get more buyers to my listings and helped me increase sales!
Created By: lightware-usa
---
cannot contact or get my dashboard
I will now unsubscribe, no one has answered me in 2 days, you totally rot
Created By: retroindulgence
---
Looks great but unfortunately ive got cancel since my inventory isnt replenishe d often and the cost to profits isnt feasible at this time
Created By: caribenovelties
---
Worked just fine. . .for a few days.
When I got back on, it said the auto pay to Paypal had expired. I was to click on the icon for Paypal to arrange for the payment, which I did. Paypal said "Sorry - there was a problem setting up this auto pay." I wrote to 3DSellers, their reply being, "This is a problem with Paypal. You need to contact their customer service," which I did. I went through 3 people on Paypal, which transferred me over to Ebay, which put me through 3 more people, who finally said, "It is a problem with 3DSellers, 3rd party." ONE HOUR, SIX PEOPLE and the problem still is not solved!
Created By: heavenlyhaven1009
---
I set it up and am really happy with it, I?m glad that now I have a proper webpage I can use to send buyers to.
---
I love my new storefront and I can?t wait to start promoting it and seeing results! Thank you webstore for making this happen!!
---
Haven't used service in a year and still being billed.
Its been over a year since I have used this service and yet continue to be billed. Cancel this service once and for all please.
Created By: blakewalkup131
---
I love the look of my store front and the fact that I can personalize it with my own custom header, can?t wait to send potential buyers to it!
Created By: universal.audio
---
Using this app is the 1st time I have had multi sales!
---
Just started so not sure yet
Looks Kool, but sales results from new store will prove if app is worth wild.
Created By: vickyntomssportsnmore
---
I remember my old store would give me more tools and selling discounts. My personal graphics / Logo never showed up on my site. Waste of time and money as far as I can tell...
---
I am very unhappy with app, you can't change things right away, it says 12 hours and its been almost 24 hours and changes have still not changed, I will be deleting this app, not worth the trouble. waste of money.
---
i signed up yet the store never update to allow functionality of the application
I keep refreshing the page however nothing happens..... i keep getting a message to refresh in a few minutes. I am going to get rid of this right now
Created By: alofishe-yn7h0pj
---
i was looking for a better way for my product to be seen threw out the world so i took a chance with this app and so far so good i rate this one 5stars.
---
Someone elses listings on my site.
When I did a barcode search on my store page it brought up other peoples listing in my store ???
---
What a wonderful Site... I love what you can do for me and my new web store... Fast Support Team!!!
I am new to this site and It is very easy to use and very helpful and quick Team of support that would make anyone feel more secure in a new venture..... I had an problem and it was fix fast and made me feel good with the level of concern I was given to help me fix my problem. It was me all along I think.... Thanks for your Support and Value you add to my Web Store. Kelly.... Fortworth Texas
---
I registered 3 hour ago still pending
Customer service "off"line nobody does not help you.Never recommended .I just unsubscribed app.
---
7 day free trial, then $5.99 per month.