Store Design Themes
By PMIT Inc
(released Mar 22, 2010)
Apply animated professional design to your current eBay store. Only $3.95 per month.
Categories: Listing, Marketing & merchandising
If you are subscribed or want to subscribe to this application please
click here
for details.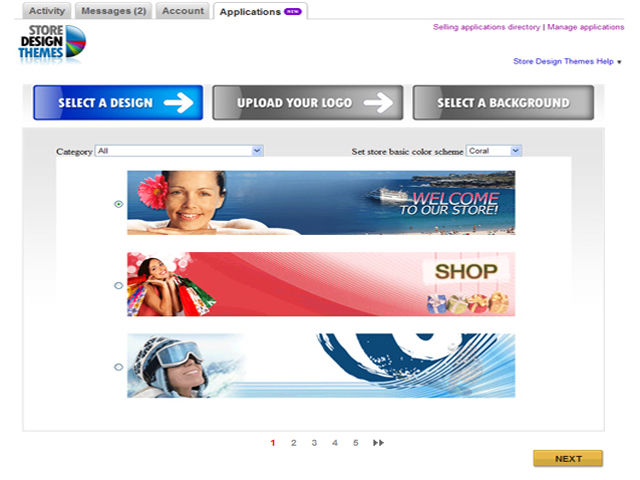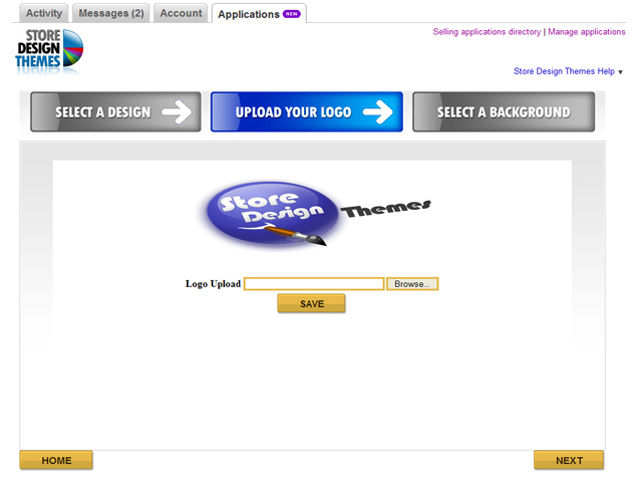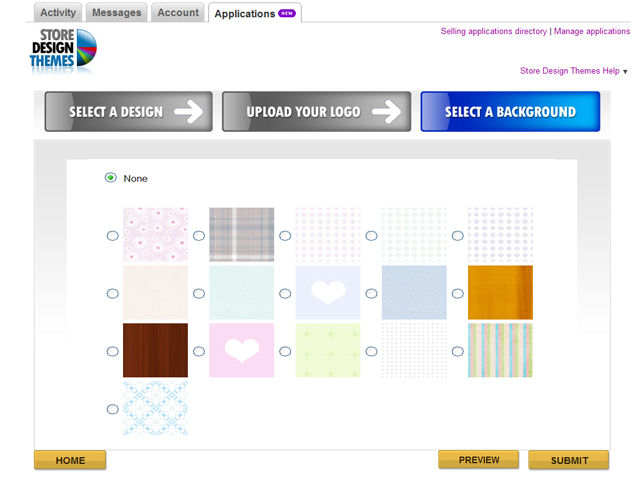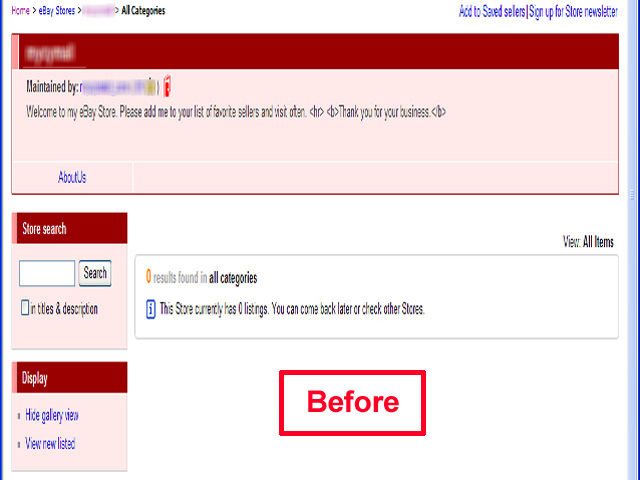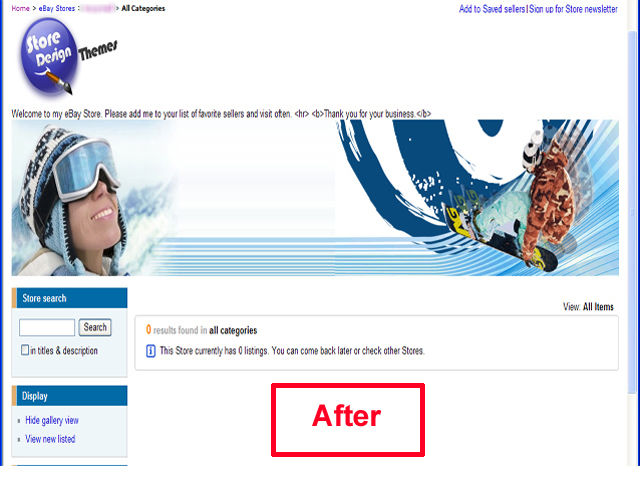 Worked great, still working actually. But I can't open the app or make any changes. I keep getting the same error message. I have contacted customer support numerous times of the course of months with no response.
---
Useless, waste of time. Doesn't work. :(
---
Ads very little value to your store design.
---
Can't get the design to load
The instructions on how to get the design to load if it doesn't are weak at best. Step by step instructions would be nice. I am canceling.
---
This application was created and then abandoned! DO NOT SIGN-UP OR GIVE THEM MONEY
I paid $3.95 for (6) six months with promise to fix the (false) cookie error message. Why do I say false? Because I had (2) two stores with store design themes since 2010 and one worked and one did not but they still charged a total $7.90 per month ($3.95 each store) and would never help me fix the (1) one store that was not working. They promised for months to credit my account but this did not happen.
---
Great Customer Service/Awesome App/Highly Recommend
Great Customer service and amazing app. I will be a long term customer highly recommend
---
Not would they fix the fact that our store could not use the application but cancelled several months ago and they keep on billing me and trying to take money from my account.
---
No help at all from PMIT.
You are strictly on your own. I have emailed them 3 times for help and NO response.
---
Cant cjange wallpaper. Ive spemt all aftermoon and half tje nigjt trying to fix tjis and it wont chamge!
---
I am paying a monthly fee and not recieving any store design or help.
This is terrible. I am locked into paying for nothing. No help No refunds. I signed up for a store design, then I never could locate PMIT again. No customer Service Phone is no longer in service.
---
Has great theme but not good
I only got the chance to try it out for few minutes and know right away its not good and its not a keeper.It has great and alot of theme to choose from,plus you can add your own mix into it.I like the fact that after the theme is apply to your store it doesn't show the name of the app that create it like some other apps.but what i hate the most is that when i revert back to my original ebay store setting theme it got messed up..it is completely change from the settings i had before.so for those we looking to try it out,keep that it mind that if you decide to no longer use it and revert back to original settings those settings might not be the same anymore.
---
DID NOT WANT OR SUBSCRIBE!
TERRIBLE! WANT ALL MY MONEY BACK!
---
I really love to jazz up my store front and this little app does the trick. Different designs for mood and holidays,also will let you upload your own logo to use - in fact I am thinking of changing my storefront soon!
---
Generic poorly designed headers to choose from. Backgrounds are also poor.
THE IDEA OF THIS APP IS GOOD HOWEVER THERE IS NOTHING GOOD ABOUT IT! I've also tried to cancel my subscription and they keep on taking my money... The entire app is poorly executed, has no artistic qualities what so ever and has been a complete waste of time and money! there were only 5 or 6 out of a few hundred that were even remotely useable and I finally settled on what was I'm sure intended to be a furniture store header for a wig store. also...THE HEADERS THAT HAVE FLASH ANIMATION ARE ABSOLUTELY THE WORST. I'M EMBARRASSED TO EVEN ADMIT USING THIS. EBAY... GET SOMEONE ELSE IN HERE THAT CAN MAKE THIS WORK BY OFFERING COOL HEADERS TO CHOOSE FROM!
---
The best store design app available
Of all of the apps available for customizing my eBay storefront, this was the last one that I tried. I was blown away! There are SO MANY MORE templates to choose from and it is very easy to use. A+++
---
Love the options and upgrades
You can change your store header and make it really stand out. Great graphics. LOVE IT!
---
Excellent coustmer service
I have an store design and it didn't quite fit what my store was all about, I contacted costumer service and before I new it they had it custom worded to suit my store they gave me a one of a kind app to my speciation's. I highly recommend them to anyone that has an online store.
---
Sucks,customer service is the worse
---
While this is all handy...
The graphics are outdated by several years, it doesn't look like anyone's done any work on the program recently because it doesn't have the ability to customize anything except the header, the background and the logo and changing the color THEME of your store, but it hardly gives you any real customization. Just a whole lot of outdated graphics for header images and some crappy background files.
---
After opting out it ruined our old store header even though it said return to the old look.When we d
After opting out it ruined our old store header even though it said return to the old look.When we did that we saw 3 boxes with x marks.No logo and no way to get it back.The owner spent 21/2 hours on the phone and we have no way to fix this.It also has destroyed our sales over the last 4 days which is as clear as the morning sun about to rise on our store looking bad and with no way to fix the header.Please file a ticket on this as we are not sure if your overseas staff mentioned if we called maybe 100,000 other people would call.This way you can spend time fixing it before you have to us customer service man hours on the phone with who knows how many sellers. This has been very upsetting to us with all the combined effort we put forth toward ebay.
---
This is a great apps, but need more colors and background
---
Easy to install, easy to make changes, provides a nice look to my eBay Store
Want an inexpensive way to have a professional looking store front? This it is.
---
Not very professional looking themes.
The themes are someone amateur.
---
I looks great and I plan on continuing beyond the trial to bring more customers
I love the design that I have and I like the fact that I can change it for the different seasons, which is the main reason that I have decided to keep it beyond the trial.
---
It really was a cheap way to mak my store look more professional. I wish there were more choices however
---
No useful customization options at all.
---
Poor, outdated, very little customization, far from fully customizing
Very dull, this app does not let you load your own backgrounds or images. The designs and backgrounds don?t really go together and are very outdated.This is defiantly not the app to get if you are creative and looking for something modern and professional.
---
Their customer service needs improvement
This provider had 2 auto withdrawls coming out of my paypal account thus billing me 2 times each month instead of once, I emailed them 3 different times to explain and they were no help at all. I had to cancel one authorization in my paypal account to fix it myself, they also would not refund any of the extra charges they took from my account for many months. I will have to contact paypal and dispute the extra charges. Otherwise the app is pretty good.
---
---
---
Very Apealing to my Customers!!!
Provides that extra pizazz in attracting customers and helps greet them with an exciting screen.
---
Like product but photos are outdated
Please update the photos with the phones. The technology is very outdated in the graphics and many of the options have pictures of phones. I like the store front though and I think it is very professional looking. Thank you.
---
if your looking to make your store scream..."amateur" this is the program for you!
Designs are very amateurish. No designs for holidays. Just all around bad.
---
my store looks GREAT, i love it
Very simple to set up!
---
I DIDN'T HAVE MUCH SUCCESS WITH THIS APPLICATION.
I COULDN'T SET UP MY STORE THE WAY I WANTED IT...
---
A professional looking store front has brought 50% more sales.
---
my ebay store looks good. I like this.
---
nice program that provides good template designs
it's one of the best available in terms of what it does.
---
No themes for my industry
I wouldn't use this if it were free.
---
Fabulous addition to my store. It now looks like a professional website. Good wotk. Easy to use, great choices.
---
thus so far luv it kind of fun
very easy
---
Makes my store much prettier! Thank You!!
---
Awesome... Professional animated design.
---
works well but not enough backgrounds
Easy to use but the back grounds are very limited, most are very feminine
---
Professional designs at an affordable price for the little guy.
---
PROFESSIONAL STORE FRONT APPERANCE!
GREAT WAY TO ADVERTIZE YOUR EBAY STORE, Pay N Less
---
Overall, very helpful in promoting a more professional image for my store!
Suggestions for improvement in following areas: 1. More variety of themes in the Health
---