Froo! Template Themes
By Frooition Inc.
(released Aug 14, 2009)
Customize your eBay listings with professionally produced themes. Select from a library of over 4000+ themes, quickly integrate an image zoom function and cross-promo features and further customize with your own logo.
Categories: Listing, Marketing & merchandising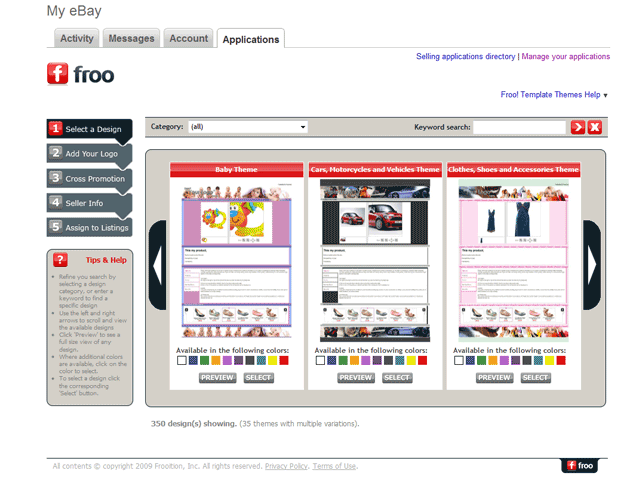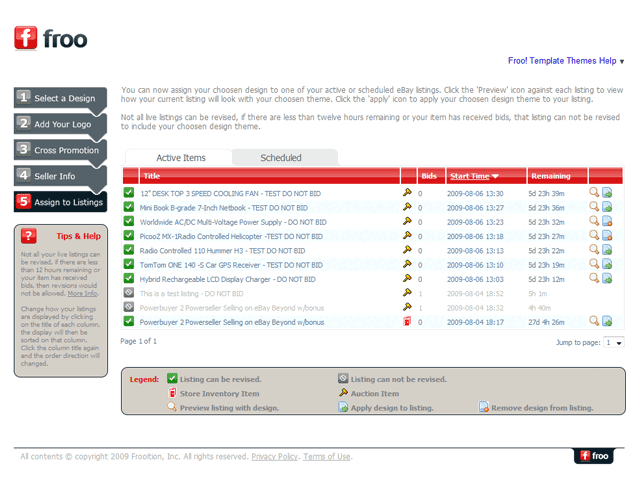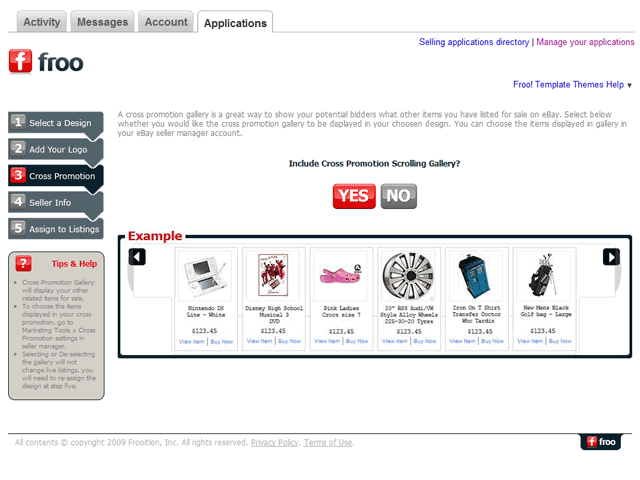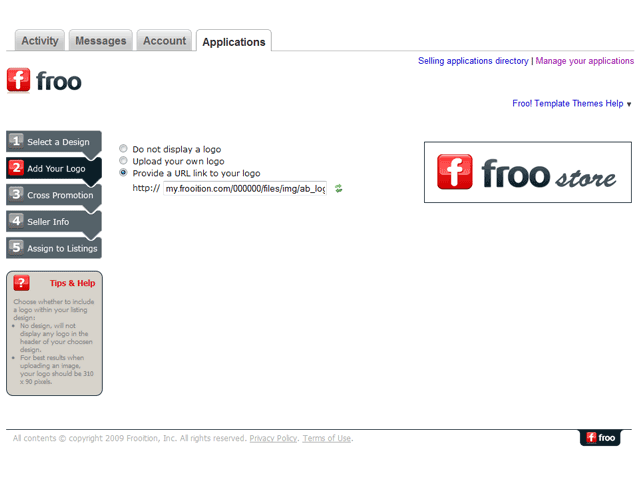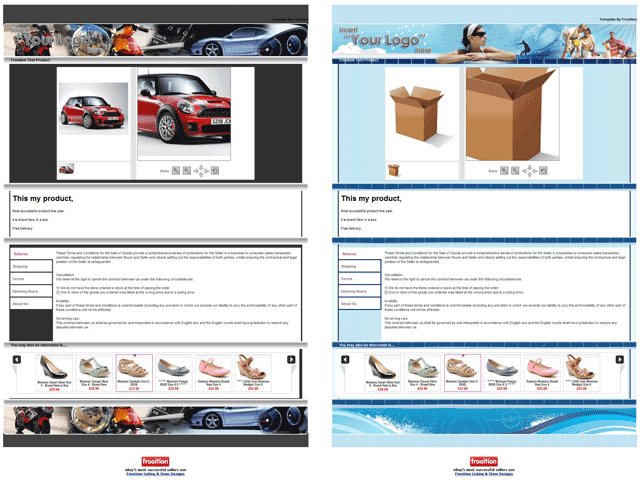 Key features
Apply professional produced listing themes to your current eBay listings.
Unlimited use for $3.95 per month *
Free unlimited use for the first 21 days **
4000+ Professional listing design themes to choose from
Image zoom function
Cross promo feature
Add your own logo
Easy to use software
Select from a library of over 4000 pre-designed template themes which are designed to suit most categories and items. Select one template for all your listings or different templates for each of your products or categories.
It's simple and easy to do and the results are amazing.
* subject to Terms and Conditions.
** Free trial only available for the first time you subscribe to the application.
Description
First Impressions count!
Buyers expect well presented & professional looking ad listings which clearly demonstrate that, as a seller, you are trustworthy and reliable. Professional sellers have been using unique customized listing templates for year – Now you can have all those benefits with Froo! Themplate Themes.
Created by world leading design house Frootion.com.
Froo! template themes give your product listings a professional look and feel generating more bids, more interest and ultimately more sales!
SELL MORE!
Additional resources
Application requirements
Supported browsers:
Internet Explorer 6 or later, Firefox 2 or later, Safari, Opera 8 or later
Supported languages:
English
Supported eBay sites:
ebay.com
Required eBay subscriptions:
None
Application support
Froo! support is available online, help and advice is available through our website at www.froo.com
Frooition Inc.
Frooition has been a leading provider of eBay store and listing designs for over 4 years. Frooition also specializes in providing design services for most other internet sales channels as well as web-site design. Frooition has been working with the eBay platform for over 4 years, and has thousands of clients in the USA, Canada and Europe.
Also from this developer:
By Frooition Inc.
(released Feb 24, 2010)
Amend live listings in bulk. Save Time! Save Money! Try For Free!
By Frooition Inc.
(released May 13, 2010)
Free scrolling cross selling galleries for your eBay listings.
Categories: Listing, Marketing & merchandising
By Frooition Inc.
(released Nov 17, 2010)
Intelligent social networking on twitter and facebook. Don't spam - send precise and targeted product posts to your social followers, build a fan base, get more traffic, sell more.
Categories: Listing, Marketing & merchandising
It's automatically adds your new listings and is very attractive. Well done!
Created By: mtmineralsandcrystals
---
froo does not work properly and they do not refund 6 months of money.
Created By: philadelphiaeagles2017superbowllii
---
expensive and there are too many problems with the application. It is not user friendly.
---
Made my pages look so pretty my sale of bags increased
Created By: craftmentouchtreasurecollection
---
unsubscribed and they still charge me
unsubscribed and they still charge me.
---
App didn't work, I just signed up for a free app today. When it didn't work I discontinued, Only to get BILLED as severely late for $4! What a joke! NO one ever tried to contact me to see what's wrong. NO replies to needing help. They just take $
Created By: the_auction_trading_co
---
We noticed our listings started landing lower on eBay's first page.
We are now waiting for this team to remove the app as it has completely stopped working. Also, if you need to make a change or update to your listing, you will need to remove the template, then, re apply the template for the template to pull the changes from your listing. We do not recommend!
---
I used this app once and was not impressed. I then canceled my trial and revoked access. The app actually states that it is unavailable on my apps page... Yet, somehow they still managed to bill me!! I am not happy!! This app is a scam!!
Created By: beachybargains
---
---
---
TOTAL SCAM ONCE YOU SIGN UP YOU CANT GET OUT OF IT AND THEY KEEP CHARGING MONTHLY FEES!!! WOULD NEVER DO THIS AGAIN!!!
---
Froo keeps rejecting my subscription
Foo keeps rejecting my subscription and no matter how many times I try, I cant seem to resubscribe and no way to get in touch with Froo to fix what the problem may be! so frustrating!!
Created By: john-loveydovey1933
---
sent me a bill after i canceled 15 min after trying product which gives you a 21 day free trial, they need to fix this as im not paying because i cancelled 20 days before trial period ended, please fix your product...
Created By: ace_thrift_store
---
I have tried to cancel this app 3 times
Keep getting charged, even though after each charge I have cancelled. I feel ripped off.
---
horrible - awful - despicable!
See my review on their other apps! run!
---
Good quality helper for advertising
This app's a robust type of tool providing unique background's! Gaining better visibility for your ad's with this is so easy. Very simple to use just open it up pick your theme's and go. Ever since I've used this app my ad page's soar.
---
I love this app, but I had one custom built
---
I love it but as of today (7-31-16) I can't access it. What happened?
---
I will be keeping this app!
Easy fast and looks good!
Created By: grandmasterdyke
---
Lots of templates available and simple to use
---
i don't like it very poor app
Created By: wholesalefishingcenter
---
Terrible... Could not find out how to cancel
Froo has charged me for the past several months, and for the life of me, I have not been able to find any way to cancel it. Waste of time, waste of money, shady business.
---
---
Stay away from these people
All the listings I had on ebay got wiped out because of their messed up billing system. They were supposed to bill it to my paypal but didn't. When I tried to pay it didn't go through. They never returned my messages on how to fix this. They just canceled my subscription and half the information on my listings were gone costing me many sales. My advise find a reasonable listing template on ebay and stay away from these people. I was going to look into there design services but I will be going else where now.
---
Stay Away From This Garbage
There is no unsubscribe option and they will keep billing you !
Created By: thefatspanner
---
There are many templates to choose from although they are too comical and playful. Needs more serious, classic designs that look professional. Not worth paying for.
Created By: auroragemstonejewelryco
---
I cancelled cause I was not selling. They now have me passed due. No way to contact them
There is no available phone # or email by which to contact this company, I used ebay online via applications to cancel services back in April 2016 after I had paid them for a year. I noticed they had "pending cancellation" on it forever, never acknowledged my cancellation now they have 'collectors harassing me at all hours'. And threatened my ebay buying and selling. I contacted ebay 3 times and they were of no help, promised to contact me back with a valid contact for Froo, and never did.
---
Couldn't Unsubscribe and company kept billing.
Couldn't unsubscribe (no option available) and company kept billing even though we discontinued to use this app. Customer service must not exist. Don't waste your time or effort on this horrible company or app!
Created By: ready_set_collect
---
PLain.... Sorry no good customization
This template is great for beginners but if you are trying to customize it and be different from your competitors this is not the app for you. If you have a little knowledge of HTML the new ANITEMPLATES app is great you can upload and edit your own HTML Template. That app is for more advanced stores and better for your customer viewing you apart from competition.
Created By: onestopclassiccarparts
---
Being programmer myself I just wanted to try this app PLEASE DON'T DOWNLOAD it's GARBAGE!!!!!!!!!!!!
This will mess up all your ads eBay needs to remove this app I just did it for to see want it was made a mess..lol
---
---
This is a great app. Separates you from the crowd on ebay. Their theme choices cover the products and seller styles nicely. My theme is almost identical to our website which was a nice surprise.
---
---
rejected for no reason I'm a power seller
Created By: jsprestigeautoshinesupplies
---
(There have been no reviews for this application.)
I cancelled my subscription a long time ago and can't get them to stop charging me fees each month!
Great at the start, now I can't get them to stop stealing from me each month. I repeatedly tried to contact them with only "Error" as a reply.
Created By: thecapitalletterjpino
---
I have tried to cancel this for 2 months and still it continues to bill me.
I cancelled this 2 months ago and have tried to contact FROO but get no response. They continue to bill me but won't contact me about the cancel. Very frustrating...
Created By: digitalfinds2014
---
Did not work. Unable to contact support.
The templates would not go onto the listings. I even started new listings and tried it. No luck. Contact Support button did not work. Unable to get a refund.
---
Should buy it, works great!
Created By: usarmyman59edward
---
This application does not work
---
Liked using until eBay started charging for listings have to cut costs
Did like using the app. Till eBay started charging .30 on listings . Have to cut my costs to list now.. Sorry to see this go. It made listing easier. But I have to let you go, blame eBay?s new policy
---
BAD!.... FOO NOT WORKNG FOR YEARS!... TRIED TO CONTACT ALWAYS GET A ERROR, AFTER I TYPE WHATS WRONG!
SUX
Created By: greatstuffromus
---
I like it so far. Trying to figure out how to use it for multiple accounts.
I would like to be able to use it on multiple accounts. But I like it.
---
Customer service is non existant
Called support, emailed support, spoke to receptionist 3 x's still nothing
---
really good ... could be great with minor changes but for the most part it's good
Created By: thebonbonstore
---
Having problems for 2 months with app being unavailable, even though subsribed and being charged. *
8 messages to support group and never a single response.
---
The template hasn't worked for almost a year and have sent countless emails and tried to get ahold of someone. Never got a hold of anyone and had NO response. We have wasted money for the last year by not having any of our listing have the template.
Created By: jewelrygallery2000
---
I like the app but it needs to get more templates the one it haves seems outdated and I have not notice if there being new ones in the year I being a customer, also you cant use sell similar item because you have to go to the app and update your listing manually to get the right picture if not you get the ones from the previous one and is more work than it should be I have to do all my pages because I do not know which one is new because I have 20+ listings to create at a time. It also ends your sales on items when you add or remove a template or update it. Is ok but for what it does I would consider it would be cheaper like a dollar a month not 4 . Last time I checked theme does not work on mobile so if you want to subscribe test that before purchasing. Lastly I do not know if they work I have not receive a boost on sales since I have them, I used to sell more with my plain text description than this so try it to see if you like it.
---
---
Nice templates/ but lots of glitches
This is a nice Template app, however it has a lot of glitches, and needs MAJOR overhaul to work properly
Created By: pandorasbeadbox760
---
Love this APP, I have been using it for 3 years now,however, their customer service is horrible.
---
Got this application a few years ago. Had problems then and much like all the applications on Ebay it is never updated and remember now why I quit it. The zoom option doesn't display my pictures. Stupid things like not having a logo means having a empty box with an page icon just sitting there. Got this to look more professional but it makes all my pages look like an idiot runs this store. No sorry Ebay an idiot made this app years ago and is still cashing them checks while never updating or adding to the app. I'd give it one star except it's better than most of the apps Ebay offers.
---
It was not an easy application. My listing didn't look good.
I template cut off the photos. It did not work with the list already listed.
Created By: olympicposter
---
great listing theme templates
Only problem was listing photos appearing in template listing are too small. Love the variety of templates available and ability to customize.
---
---
poor quality, terrible service
I have cancelled this and they are still taking my money - the templates are rubbish
---
After using this i really love it
I did not want to leave a review till i had tried it for a while and now that i have, i love it. It is easy and works great for someone who is busy and on the go.
---
HOWEVER WE JUST WISH YOU WOULD CHANGE THEME TEMPLATES MORE OFTEN....SAME OLD BORING CHOICES AFTER AWHILE
Created By: pattylovesantiques
---
This is the most easy to use template I have ever come across!
Created By: countrysidepetsupply
---
This is a very easy app to use but saw no increase in sales over the past year of 2014
---
Tried it, loved it, keeping it, recommend it and its so easy too... Worth every penny and then some... A little more customization would make it FIRE!!!!!
Created By: juststuff4sale2011
---
great way to show case your items
---
Nice app, doesn't do justice with the pictures.
The templates are nice...but not of much use if you can't have larger pictures. Joe
---
Did not integrate well at all
I thought this layout would encompass my listing, but instead it was stuffed awkwardly at the end. The text overlapped some of the artwork, making the text impossible to read. It added nothing to the listing.
---
Nice templates but a bit redundant in that you have to complete your ebay auction then open this application to add window dressing? Also slow and unresponsive late night. Other such apps allow you to create the listing and select templates without exiting one app to use the other.
Created By: superstarcomic
---
Good, but could use some work.
I like the app, but if I have to revise something I have to remove the theme on all the listings and then reapply them to get it to revise.
---
Monthly Plan
Unlimited access to the Froo template library for only $3.95 per month
21 Day Free Trial *

Yearly Plan
21 Day Free Trial *
Unlimited access to the Froo template theme library.
Sign up for the yearly plan and get 12 months for the price of 11 months.

* Free trial only available for the first time you subscribe to the application.