Auctiva Ship Insurance
By Auctiva Corporation
(released Apr 20, 2010)
Ship and save up to 60% for all your domestic and international purchases!
Categories: Shipping & payments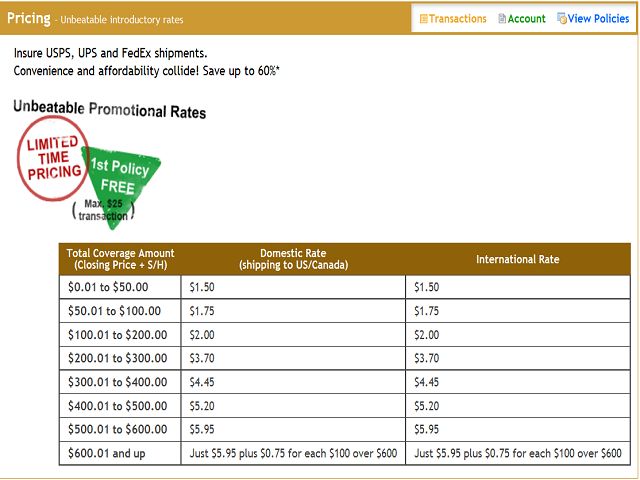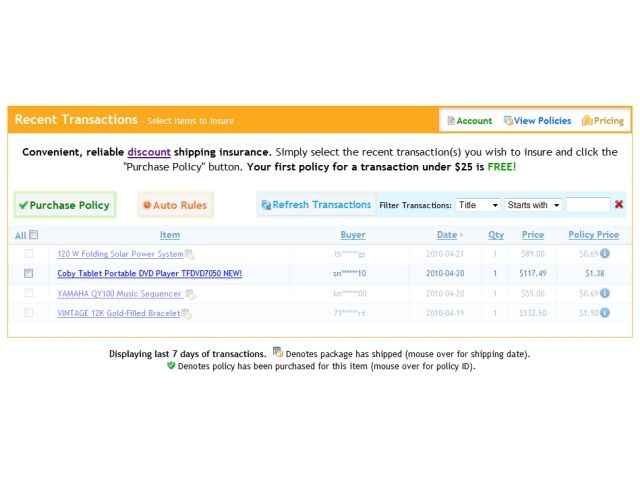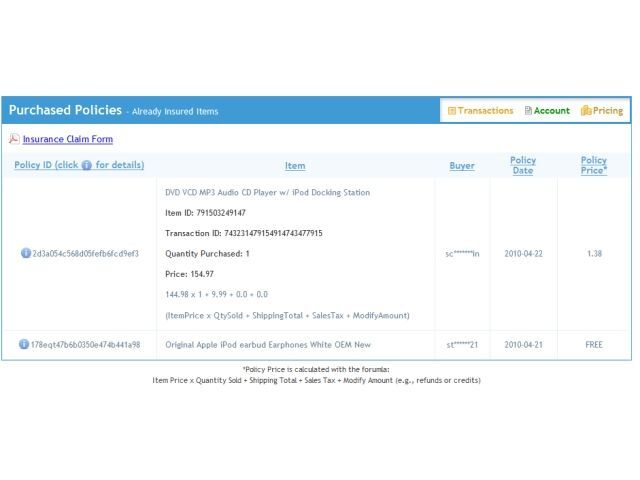 Key features
Try it for a transaction under $25 for FREE!
Insure USPS, UPS and FedEx shipments.
Enjoy automated shipping rules.
Convenience and affordability collide! Save up to 60%
Description
Auctiva Discount Shipping Insurance allows you to economically and efficiently insure your domestic and international purchases. Your first policy for a transaction under $25 is FREE!
Additional resources
Application requirements
Supported browsers:
any modern web-browser
Supported languages:
English
Supported eBay sites:
ebay.com
Required eBay subscriptions:
None
Application support
Free 24x7 Technical Support
Auctiva Corporation
Auctiva provides its users the power of large corporations by helping them build their brands, market their products and sell efficiently through eBay.With a precise focus on the needs our sellers, and a deep understanding of the market, Auctiva has consistently created valuable and innovative selling tools.
Also from this developer:
By Auctiva Corporation
(released Nov 17, 2009)
Revise live eBay listings in bulk! Auctiva Find and Replace allows you to search all your live eBay listings for a word or phrase and replace with new information in just a few clicks.
Categories: Inventory, Listing
worst customer service ever! i cancelled quickly.
unprofessional. i do not trust. do not use this service. horrible! no answers. no one knows anything. no one helpful. they do not know what theyre doing. seems like it's single-handedly run out of someone's garage.
---
Site always down whenever I want to insure
Site is always down whenever I want to insure, and by the time it is up, it is too late to insure, site will not let us, horrible site, I click on Ship insurance, and get an error message, refresh browser, have used 4 different browsers, plain does not work.
Created By: treasuresofparadise2014
---
poor service. links dont work. snail mail to file claim. waste of money and time.
I try to file claim. item doesn't show up then does then does not again. I try contacting support, dead link, I try calling, no phone support at all. I have damaged item, paid for $500 insurance the past few months, comes time to file a claim and its like working in the stone age. horrible service. horrible. by by auctivia
---
EXCELLENT EASY SHIPPING INSURANCE.
GOOD INSURANCE FOR SHIPPING.
---
I wrote the previous review. A month later and I still have not received my refund. STINKS
DO NOT USE...STINKS. TURN AROUND TIME IS HORRIBLE. I had no trouble getting in contact with them. It just takes them forever to process. A month later and I still have not received my refund.
Created By: foryourprincess
---
Horrible cusomer service - you have to file claims through u-pic insurance
We had a lost parcel, filed all three claim forms and faxed it to the number listed in "filing a claim". Never heard anything for almost a month so tried to contact auctiva, which you had to file yet another form. They responded that I had to contact u-pic insurance to find out what is going on with the claim. So even though you pay Auctiva, they are no support whatsoever in filing your claims or even handling your claims. U-pic is the actual insurance place that the claim is handled through. So I called and had to leave a message and then tired chat -- not available - leave a message. Just getting the run around on $75 claim. Auctiva shipping insurance is NOT what I thought it would be - purchase straight through postal service - much easier and you actually get the claims answered.
Created By: partiesrus123
---
Doesn't work. Takes days to get an update
POOR!!
Created By: golfingyourway
---
I always used "ShipSaver" and have used this as well. The rates are higher than Shipsaver and the results are lacking a bit. However that is what I've come to expect with Auctiva. Shipsaver imbeds its logo into your templates and this one does not. I have to use Inkfrog now to use Shipsaver directly. But I save on the insurance so I feel it is worth the extra step. This app is okay but I've used a few and prefer instant updates and lower Insurance costs.
Created By: spoiled*material*girlz*blingz
---
---
Easy to pay for this service but when you need to file a claim, good luck!
Impossible to navigate their webpage! And when you call for support, you get a friendly message telling you that they do not offer any by phone.
---
good insurance and would use it more if it was available in making my shipping lable
I have to take time to locate the APP to get Auctivia insurance as all that is offered is ebay's frog and USPS insurance. If I subscribe for the APP ebay should put Auctivia in my choices of insurance when making my shipping lable. Don't like being dominated and not have my choices dictated to me so have been flying self Insured unless a customer request it. Getting signature required pu't the mail in a differant level of security plus I get reciepts from the post office for every shipment so it is accepted. I didn't do this in Augest and 2 packages were lost or stolen...Get a red sharpie and print insured and circle it. How ever steals mail will pick another ones package as they don't know for sure if the postal inspector will show up with handcuffs. How do I get paypal or ebay put Auctivia in my checkout process???
---
I usually use shipsaver. However I do business with Auctiva and like them. Your insurance is the same fee as the shipsaver fee. Thus I'm using yours. However shipsaver sends e-mail to the recipient for me. I don't know if your app does that? That is a very convenient service they offer. I'm not certain if your app does it too? Thank you!
Created By: spoiledmaterialgirlzblingz
---
Best rates on insurance anywhere but app and claims service leaves alot to be desired.
---
Doesn't compare with ShipSaver
Sucks!! Tried 3 times to insure my package. Not even after 2 days after shipment does it show as insured. What a joke!!!!!!!!!!!!
Created By: brandnamediscounters2011
---
They demand your money but offer nothin
Don't send them a timely payment
---
Fast and Easy Automated Service
Great program sellers can set up that insurance is automatically purchased for certain items that sell for this price or more.
---
Lacking!!! Does not pick up actual shipping date
This would be a good application for discounted shipping insurance if it would actually base the coverage of ship date and not transaction date or print label date. If buyer pays by echeck or pay after 7 days, you cannot buy insurance because the transaction is too old and not displayed anymore. If you print labels in advance you may not be able to buy insurance because this application picks up the print label date as the shipping date. I don't insure before mailed because I don't want to go through the void and wait for reimbursement process.
Created By: blessed_abundantly2
---
Worse shipping insurance app I've ever tried
Never updates the items sold, so if you want to start shipping them, you may be able to put some insurance way after you processed the item. Impossible to use. Besides, the prices are even more expensive than the ShipSaver app, which by the way you can just choose to insurance the item right at the same time when you are purchasing the shipping label. Wouldn't recommend it at all.
---
Unbeatable Promotional Rates with Limited Time Pricing!
Total Coverage Amount (Closing Price + S/H, maximum of $2500)
$0.01 to $50.00 Domestic:$1.50 Intl:$1.50
$50.01 to $100.00 Domestic:$1.75 Intl:$1.75
$100.01 to $200.00 Domestic:$2.00 Intl:$2.00
$200.01 to $300.00 Domestic:$3.70 Intl:$3.70
$300.01 to $400.00 Domestic:$4.45 Intl:$4.45
$400.01 to $500.00 Domestic:$5.20 Intl:$5.20
$500.01 to $600.00 Domestic:$5.95 Intl:$5