Price Spectre
By NullApps
(released Nov 23, 2009)
Stay one step ahead of the competition by automatically updating your listings' prices through the power of dynamic pricing.
Categories: Research & reporting, Listing
If you are subscribed or want to subscribe to this application please
click here
for details.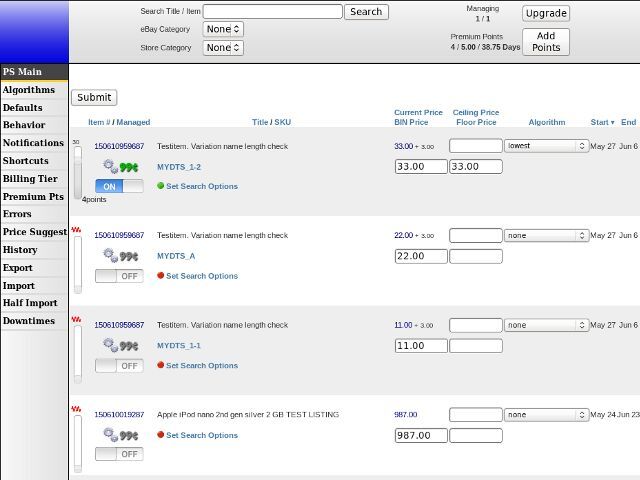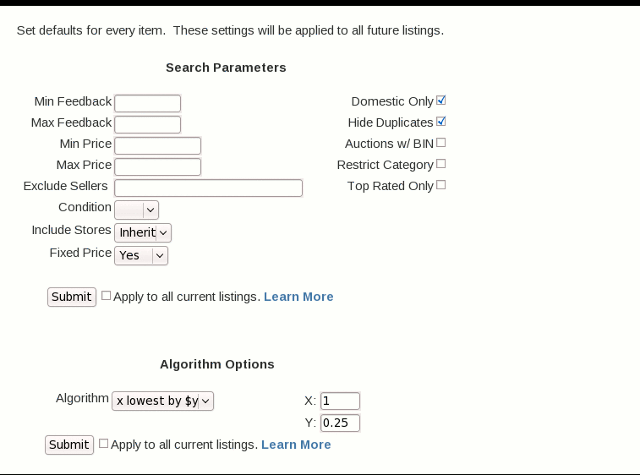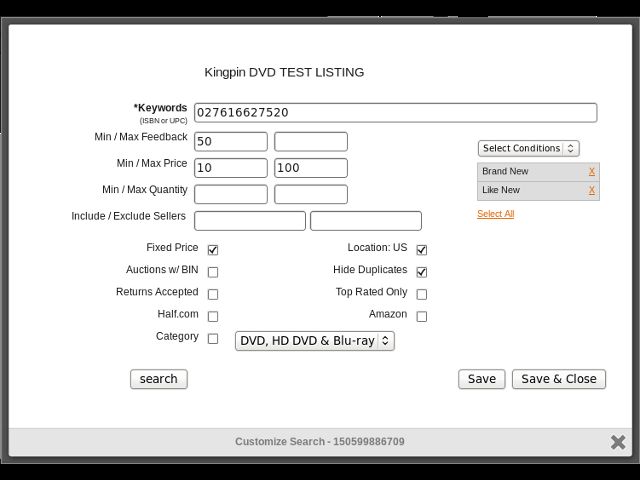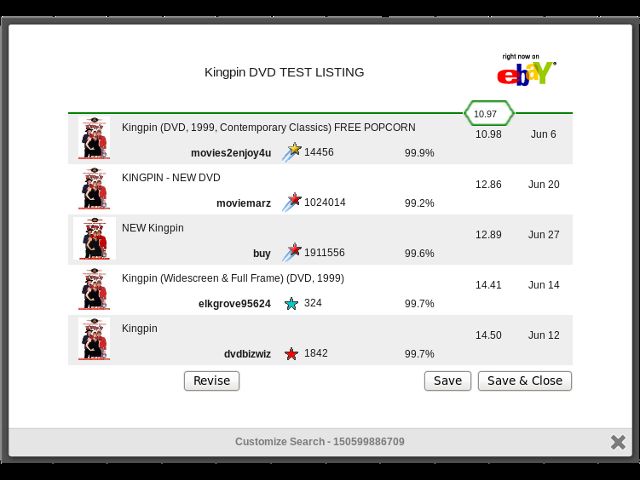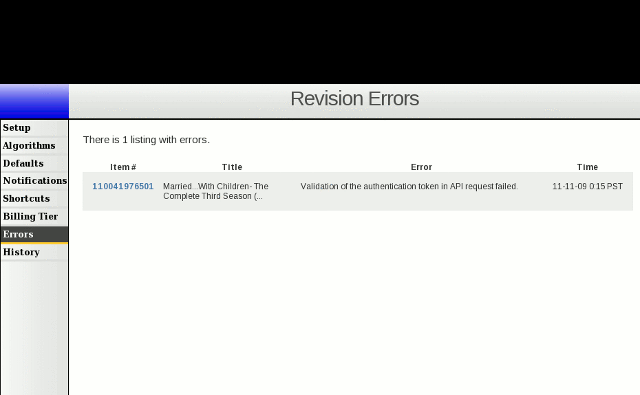 Excellent application, ensures pricing competitiveness
Literally since using Price Spectre our Year over Year sales have increased 130%.
---
Do not use. It does not work!
---
work great , as described
---
Charging account well after cancellation.
Weeks after cancelling my subscription, they keep charging my account.
---
With the correct filter, the app work excellent!
---
I used Price Spectre for 5 months Before that I Was pricing everything manually I saw a big drop in my sales when I started using it I also ran into a lot of technical issues because the app is not working as they say it works The dahsboard is really bad too not user friendly at all They charged me an extra $5 after I cancelled my plan nothing much but still not appropriate I can not recommend to use this app, it is not expensive but it is not working well and they really should improve the consumer experience from setup to management and support
---
Really useful program to automate repricing.
Once you decide what type of repricing algorithm to use it is just a matter of setting pricing parameters for all your listings which is time consuming.
---
---
While I am still tweaking my listings, this thing has totally revolutionized my sales. Having 2000+ listings of as many different items, I can tell you it has helped a ton getting my pricing back to earth. I am now competitive on the products I priced too high, and have increased profits on those I priced too low. I thought it would be difficult to use, but with some help from the company and other sellers like me, it was breeze to set up and have it do the work. I am the first to poo poo these kinds of apps, but really, for me this works great.
---
Saves you from lots of work.
This application helps you by pricing your items right at the right time.
---
This has been a life saver. Without it, my business would be extremely time consuming.
---
I followed the instructions, my price never was changed to reflect the ones I was following
I had an items listed which if sold, I was going to purchase it from Overstock.com and drop-ship it to my buyer. Knowing that Overstock.com sells on ebay, I set my listing to follow their listing in hopes of having my price change as the Overstock.com price changes. My price was never adjusted to reflect the amount that I established.
---
Greast overall app. My only complaint is that updating cost information is rather difficult to automate.
---
awesome, cannot work without it
---
Was working but stopped with no notice and is costing me sales
I have some 600 items configured which are all now at their top price and not selling because these folks are not able to take my money.
---
1 year after subscribing to Price Spectre
This is the perfect app for everyone who wants to save time and money. The customer service is perfect - questions are answered super fast and efficiently. I had many questions when I signed up for this app and was guided through to completion - the best customer service ever. Love the way you can access your listing (to increase or decrease the price) straight from the email that is sent daily. Once the initial set up is completed, Price Spectre takes over and does what it promises.
---
A little hard at 1st but Customer Service is GREAT
It was a little confusing at first but once I contacted CS they walked me thru it and answered the questions that I asked. Now that I am use to it is great. I was able to update prices on over 90 items both up and down in less then 30 mins. I could have never done this with just eBay. I look forward to using it and it does not break the bank. My suggestion is if you have an issue email CS you will get a fast turn around with info that really helps.
---
Work for me and nothing to loose you can tried,they fix any problem just contact them and they resolve any problem.
---
The app works good. The pricing model is steep. Customer service sometimes answers right away, other times not at all ... the answers can be curt.
---
After searching and searching, I found a re-pricing software that WORKS with Ebay, and has a VERY easy interface! This program is awesome and worth EVERY penny. THANK YOU Price Spectre for developing this!
---
the closest friend when it becomes to power selling
---
If you want to move product especially product that has been sitting around and not moving this is the way to do it. Very good program. I use it regularly.
---
Suspended our account without warning due to billing error.
Price spectre is finicky... even with their billing. Our account was just suspended at random due to a past due bill. It should have just pulled payments automatically through paypal. Doing a manual payment did not re-initiate the account either. It just says contact support. No way to check on paypment status. the only option is contact support via a ticket system.
---
BEST Customer Service I have ever received from Software Technical Support
I am a very experienced hardware and software user. I am often in need of support for technical issues due to the volume of transactions processed through all programs and the number of different applications I use to operate my business. I have been impressed with Price Spectre's support from my initial questions BEFORE I tried the application through today. I am always answered quickly and efficiently with my problems being resolved. I can't imagine running my eBay store without this tool. The support team is not only available to take care of any problems I encounter, but always willing to answer my contstant questions. Thank you Price Spectre Support Team. JH
---
---
---
Confusing, Muddled,Overpriced
I'm an IT Tech and a full time Ebayer...so I consider myself an advanced program user and Ebayer. This service was so confusing, not to mention expensive. I would not recommend at all.
---
Excellent product, saves time while making you more money!
There is a learning curve to seeing what works best, but well worth it. Sometimes you need to get creative with your key word search to isolate the product matching.
---
I have 500+ listings and this application helps me maintain all of them.
---
Great application thats really helped fuel sales
Once you learn to configure the search terms and algorithm to your liking, the application works really well and easily paid for itself.
---
It is a good product. Saves time researching prices and improves profit margins.
Easy to use and to maintain. I am disappointed that it doesn't work on some listings. It would be nice to have an option to select the specific competition or competition's listings that you want to monitor. Sometimes the software can't differentiate between a quantity of one or ten. Overall it has been a good investment. I had been spending hours researching the competition's pricing and updating my prices. It has taken the guessing out of the pricing strategy that I had to have to sell products. If your competition is using this program or a similar product, you need this! Since I started using this program my gross margins have improved over 8% on Ebay sales. It more than paid for itself.
---
---
not worth the time and money spent. Very confusing and no customer service at all
---
Great tool to manage my business
This tool is great for automating the process of updating item prices to be competitive on eBay. I just hope my competition never finds out about it!
---
Better than the price you pay for it
This application has earned more money for me than I pay for it each month. You can't beat that!
---
no other ebay app even comes close
this is the best app to hit ebay since selling manager pro. it does exactly what it says it does! no longer do i have to waste countless hours comparing the competition's prices, and repricing my items accordingly. price spectre does it all for me now. it's like having a full-time re-pricing employee, except that no employee will work for $20.00 a month like price spectre does. oh, and the customer support is awesome, too. they always e-mail you back within a few hours, and go the extra mile to do what it takes to answer all of your questions and requests. price spectre is WELL worth the investment.
---
DOES EVERYTHING I NEED, WITH EXCELLENT SUPPORT.
REPRICES MY ITEMS TO GENERATE MORE SALES, SAVES ME HOURS EVERY WEEK!
---
BES PRICE AND SERVICEALL PARROT
PARROT AND JABRA BEST PRICE LOOKKKKKKKKKKK
---
This is the best app that is provided for a selling platform.
---