MyStoreRewards
By MyStoreCredit.com
(released Aug 14, 2009)
FREE way to increase repeat sales by as much as 500%. Easy to use. You control rewards.
Categories: Marketing & merchandising, Research & reporting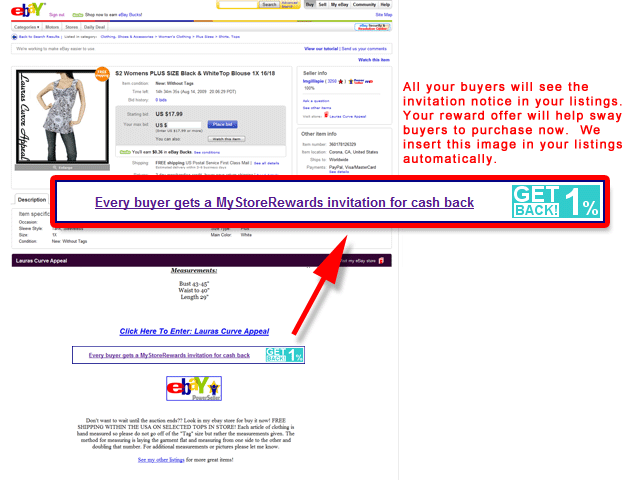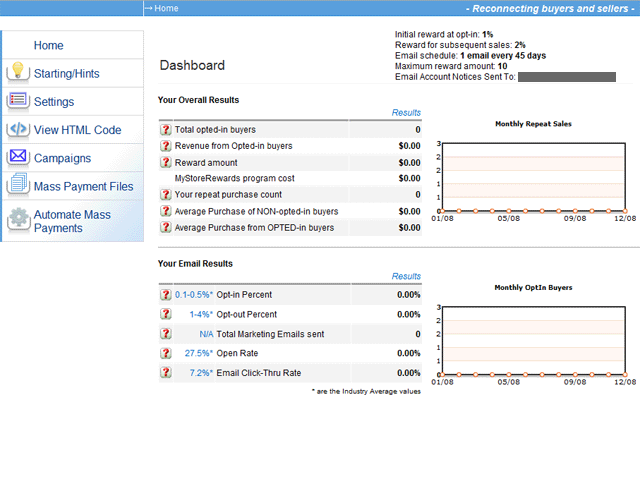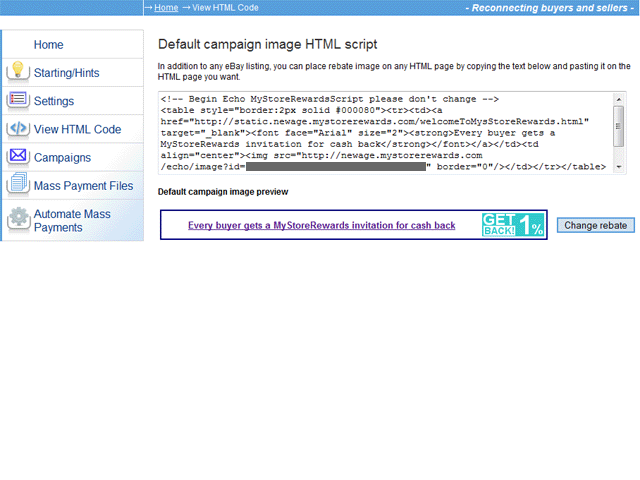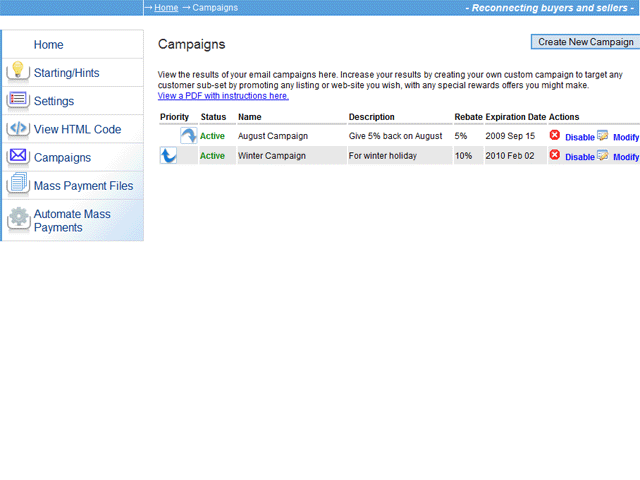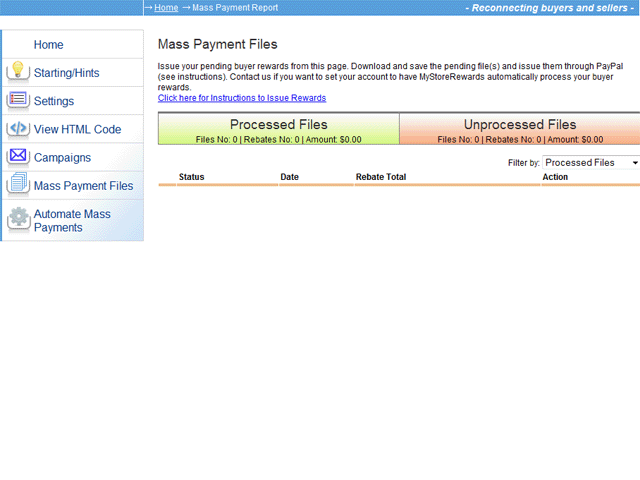 Very simple to use, looks great on your listings. Very professional. Glad I tried it!! Highly recommend.
---
I have not tried it yet. But i'm insured services ebay
I have not tried it yet
---
It has been over a week and the app is not working
I am unable to download the CSV file to pay the subscribers who have asked for Store Rewards - customer support has not replied despite repeated reminders. I unsubscribed but then I have to remove each listing individually - pathetic.
---
---
no clue how many return cause of this app but its worth trying
---
App is poorly designed and you have to manually delete information that is added to items description. Now I have to manually delete description from almost 3k items. Customers is service takes more than week to respond, and it offers no help. I do not recommend this app, and I wish I had never tried.
---
every time I try to sign onto app it's always down. Can not log in 9 times out of 10 very unhappy.
site always down. Have emailed site many times still no response.
---
I Really Like This Service! Very Useful! Works Great!
I signed up for this years ago and it really works great! I can see that I have definitely gotten more repeat business because of it. I just wish that more of my customers would sign up for it.
---
I am an excellent seller ,im your one stop shop!
im an excellent communicator , seller resolution solver,im driven to always get a great rating I love the products I sell, im humble patient and understanding ,I give good descriptions unique to each product.making me a unique and and heartfelt seller.
---
voy a probar que tal funciona espero que bien saludos
---
works as described It is an excellent way to automate - just one less thing to do
---
It is a great way to reward return buyers and encourage new to buy again!
---
Excellent Free App For Getting Repeat Buyers
This is an excellent application. Buyers absolutely love getting cash back. This app can help you turn one time buyers into repeat buyers, fast. Once they realize they can get more rewards for more purchases, they are likely to return to purchase more. One issue I see with the application is it seems some people are afraid to enroll and I don't know if they are aware this application is offered by eBay or not. The customer needs to know that this application is AN EBAY APPLICATION and is safe!
---
Almost like having a store card
Pretty awesome that it offers a free way to provide a "sellers club card" where you get points and cash back for repeat buyers.
---
---
Haven't received too much interest in the product, but one never knows.
---
Never worked and we get trouble to our customers
stay away for this app this app never refunded rewards for your customers and customer trying to email you about they rewards this app typically charge you for nothing and then your customers get back to you about rewards and you get extra works to explain this rewards not manually and not my fault when you not received your rewards back !!!!!
---
Ebay Credit card arrived. I want to stop using pay pal. I want to get my reward and my purchase; while each Seller get their pay and invoice revealing Barb Guster is a Ebay/Mastercard Shopper
---
Left hand doesn't talk to right hand
Provides reward program however, doesn't follow through and blames Paypal for rewards not being dispursed. Then Paypal says it is My Rewards job to handle this. Bottom line is my customers are NOT receiving the rewards I have committed to through your app.
---
Really helped boost repeat sales
This app has been a great success for my company. It has helped bring in a lot more repeat customers.
---
Great Except Prohibited Content
The app drew many customers to my store. Drawback is that the HTML content is forbidden on ebay
---
Alerts eBay to security violations
Immediate action required. Remove policy and/or security violations from your listings.
---
not working cant get the red off.
it keeps doing somehting in red cant get the red text off.
---
---
Been trying for days. Still won't work
---
The best app available from eBay
This app rocks! Is the the perception of value that will get the customer to purchase from you by using this app. We have made an additional $2,486.41 by using this app and we have only paid out $8.43. Plus, the system is automated so long as you setup the PayPal end of it (all in the instructions). Perceived value always gets you the sale.
---
Whatever you do don't quit your day job because coding apps is not your thing. APP does not work and is a waste of time.
---
Does not help buyers to keep coming back and buying stuff
---
---
i unscribe and still appear in my Listing
bad app
---
Don't get when you get then cancel the subscribe app still working on your new listings
---
Useless APP that you can't remove in bulk
---
Cool idea but didn't help much.
Most of our customers are monthly so it looked like MyStoreRewards would be boon to our business. The effect was tiny. After about 5 months, we've seen a couple of return customers out of tens of thousands. Nearly all people get the MyStoreRewards emails but seem to disregard them. I don't know why. So it appears we're spamming our people. Another problem is that MyStoreRewards gives out the rewards but makes it difficult for customers to return and find OUR store, which looks a lot like other people's stores. So our rewards are promoting the parent company but not our branch of it. I found a way to include our Ebay store's address in the emails MyStoreRewards sends, over their objections by the way, but I don't know that helped. I've suggested that they need to add some ways to customize the outgoing emails so OUR store gets promoted instead of promoting MyStoreRewards so much. It costs us very little but rewards are small. Might help you more. Hope so.
---
This app is awesome! Repeat business Because of MyStoreRewards!
I have received multiple repeat orders because of the MyStoreRewards app! I am able to offer a % of their cash back. It goes up % for repeat business! Love this app! It has at least doubled my sales! Thank you MyStoreRewards!
---
Every extra booster helps to reach as many viewres as possible.
---
Unfortunate Experience with this app.
I have come across the idea of using this app. on a few occasions. The first time I tried it, the rewards were not being issued out. The second time, it shows the website is unavailable or is having difficulties. I am not too impressed so far and do not understand why it would be offered to us if it is faulty. I do hope that the glitches get fixed. The idea of giving my customers rewards is excellent. I would like something similar if not this specific application.
---
I think it will be able to help :-)
I think it will be able to help me with the most important things :-) :-) :-) !!!!
---
---
hard to understand, very difficult, no reasons
bad bad bad
---
GREAT SELLER BRILLIANTINFOTMATION.PRICEDGREAT,GREATUNUSUALUTEMS.
FAST SHIPPING, PACKAGED GREAT. ITEMS IF GREAT QUALITY AND SELLER IS OUTSTANDIND.I GIVE HER A NUMBER 10 PLUS .SHE IS THE GREATEST. HER ITEMS ARE TOO/SHE IS BRILLIANT WITH HER CUSTOMERS ,HER RESPONDSES ARE ALWAYS WELL ANSWERED. GREAT STORE. ALL STARS SHE DESERVES. I AM NOT GOING OVER BOARD JUST TELLING THE TRUTH.
---
Fast shipping good products great communication
---
SEVERAL CUSTOMERS HAVE NOT RECEIVED THEIRREWARDS WHICH HAS ANGERED THEM
CUSTOMERS HAVE NOT BEEN RECEIVING THEIR REWARDS.
---
Ordered coach glasses on Apr 14, 2016, Received them on Apr 18, 2016 and after only 2 a 1/2 months of use the frame broke in half I thought these were titanium? all I was doing was cleaning them
---
I cant make a campaign I get error messages. I think this app is a good idea. it just doesn't work on my computer.
---
No one would contact me back. Ebay can not help with issues
I had my 1st opt in. MSR sent me an email with a complicated list of how to issue my buyer the rewards. However, no information on who my buyer is? Called and emailed MSR for 2days. NO RETURN Calls or message. Ebay says it is 3rd party app and they can not help. Now im stuck waiting for my buyer( whoever it is) to leave negative feedback so i can go in offer a return and ask for their removal of negative feedback. (NOT A GOOS EXPERIENCE)
---
My Store Rewards helps bring more customers to my ebay store
With My Store Rewards I get more customers viewing my items and buying items now the i did before i used this, it has been very helpful in my profits
---
excellent customer service!!!
simple to use and very helpful!!!!
---
If you ever think you might want to leave this app.....be prepared to undo and edit all listings.
No more Comment
---
---
Application keeps giving me a error
I want to opt out but you have to open the app but if you keep getting the error how are you to opt out. Sucks. Service poor
---
nice coin gold and silver
---
---
"Error: Oops! there was an unexpected error!" Didn't even let me start.
aa
---
Cannot activate this application
Paypal Mass payment API is the limiting step for this app. Think twice before you start this app.
---
added selling incentive for your items
added selling incentive for your items
---
All I got was an error. I contacted customer service and have not heard back!
---
I've read other reviews with 1-2 stars, they must not be using the app correctly. If done right, it is on auto-pilot and it is giving me repeat business and my customers extra monies. It is "FREE" no hidden fees on eBay or PayPal. A+++++ app
---
Pending forever! Not responde.
Pending forever! Not responde.. Painful experience
---
baddddddddddd not activate
---
Amazing tool for keeping clients and making them return again and again and again...
Very useful option to have a return client. I can choose whatever discount i wish to offer and i can also control who will have a discount! Increasing sales dramatically!
---
very good. mass payments too much trouble
Had trouble with mass payments and paypal
---
Hardly free - more like +$20- per month at least
just more fees for ebay
---
---
It's a stupid program, installs and Stop ! Servicing contacts and not return!
I have 15 minutes to wait to work and don't not work or th posibility to delete as a program. I contacted all services of this prog also do turns along!
---
How does a seller get paid out for this app? I'm charged a fee every month and see no return on it...
---
App is very user friendly. Thanks
---
Very useful tool, runs behind the scenes
Using this tool has made it simple for my customers to sign up for rewards and quite simple for me to monitor. Would recommend it to other sellers.
---
Used before pretty good at driving repeat business
Just keep your rewards low to max profits.
---
THEY FORGET TO TELL YOU ITS GOING TO COST YOU FROM PAYPAL
WHEN YOU CALL PAYPAL TO SET THIS UP THEY TELL YOU WILL COST YOU 2% PER REFUND FALSE ADVERTISEMENT
---
I have been in touch with customer service via email on two separate occasions about me not being able to access this app. Have done what they have suggested and still to no avail can't used this app. I have also called the and left a message this was a week ago still no emails or answers for further help. I am now deleting said app.
---
has increaded my repeat business with little effort
easy and user friendly app!
---
not worth the money, at least to us
over the course of 8 months or so using it, we hand double digits as far as taking advantage of it, and only 2 return buyers. even with the free period (90 days I think), we still came out losing like $2 over the course of the subscription.
---
THIS APP EXPECTS YOU TO PAY! THE NERVE!
---
love this app to give a little extra added incentive for my customers
---
Too complicated and unrewarding
Too cumbersome and not easy to use and not clear
---
It gets a little spendy and when it stops working I have to find out from angry customers!
It gets a little spendy and when it stops working I have to find out from angry customers!
---
I CAN'T FIND INFORMATION TO SEE IF CLIENTS ARE GETTING THIER REFUNDS,'SUPPORT' TELLS ME ONLY WHAT I'VE TRIED-SHOULD HAVE PHONE CONTACT TO SOLVE ISSUES QUICKLY-THESE ARE PEOPLES ACCOUNTS!
---
Can't get into my MyStoreRewards App!!!
I just had a customer inform me that they had not received their MyStoreRewards... so I went to check it out and Bammm I get UNAUTHORIZED ACCESS... I have had this app for over 2 years without any problems.... If for some reason I need to re up this app an EMAIL stating this would have been nice. I just put a phone call in lets see if they actually reply
---
---
This application used to work great, but not anymore. I continually reached out to support for help with this issue, but 90% of the time they did not respond. When they did respond, they sent the same message over and over, that I need to refresh my token. Whenever I sent an email stating that I did that and still had issues, I would not hear back. I think MyStore Rewards is too busy making affiliate income off of our sales to provide us with any type of decent support. 0/5 do not recommend.
---
subscribed in early 2013 ....had decent results the rest of that year , but in 2014 the program failed ....for the past year , no e-mails sent to buyers and anytime i try to access the app all i get is an error message that says "UNAUTHORIZED ACCESS"....i currently have no way to access the app , edit my settings , or even delete the app....
---
I hope to buy morw..I just order today
---
I did not want this apps and I have no idea how it ended up on my account, but once it did I have cancelled it, written to the app twice about getting it off my listings, TRIED to write them trough other means, and finally I tried to call them at their listed phone number. Of course the number didn't work! UGH! And naturally I have just seen a charge for this app go through my PayPal account. There seems to be no one to take account for this mess that is called My Store Rewards, and no way to stop it. Save yourself the headache and don't bother with this apps!
---
The application works well - just not for my business volume
The app does what it is supposed to do and if I had a higher volume store I would use it. I probably will when I start having repeat customers.
---
It never worked. The rewards were never given to the customer.
I contacted the company many times. It was an automatic response. they never got back with me. I would not recommend them to anyone.
---
Confusing directions Not recommend
PayPal reps were not able to help me after being on hold for 26 minutes. I hung up. I will have to call again...love the guidance claim that only a few minutes are required to start this program
---
Very good! Easy to use and great marketing tool.
---
Suggests that you enable mass payment, but it does not not generate any error warning that this option is not enabled in your PayPal account. My buyers were left without receiving cash back and I seemed dishonest. The cash back is made as "Send money" and the buyer does not receive the full amount because of the Paypal fee. Also did not get the discount as if made by "refund". I had to do the 'Cash back' as manually refund for each buyer. I do not advise anyone to use this app.
---
Scripts did not remove itself
I had to manually remove them myself.
---
worst app!!! avoid download
Worst customer support, even though unsubscribe this app, the rewards text and link still display on my listings. I have not received any responses regarding of this matter.
---
---
VIRTUALLY NO CUSTOMER SERVICE
I have been a long time user of My Store Rewards and have always liked the service and never needed customer service, until the site stopped working on my pages. I have been unable to access to program through any means, but the billing had never been interrupted. I have already placed three unanswered telephone calls to their customer support phone line over the past week. Having given up on the phone service of the customer support, I started emailing the customer support, although I did receive one email with very basic troubleshooting information that did not help me in any way, I have since sent three emails to customer support over the past three days with no response. It is beginning to look like I will have to cancel the service to stop the billing since I can get no customer service.
---
Don't waste your time with this garbage! Just doesn't work!
---
6 month NO change in sales. revenue , multiple buys or return buyers. all it did was give customers who signed up money back. with no benefits for me
---
Easy to use, fun for customers and it brings them back.
Nice for the customers to earn rewards to your ebay store.
---
horrible no customer service and you have to pay on top of what your giving back horrible horrible!!
their customer service is horrible , how do they service millions of people and you have to leave a message than they never call you back, so now we put that we offer rewards and we cant figure out how to actually give the rewards back and if you have paypal do it you get charged more money to do so. def not worth the headache and whoever runs that company is a smuck.
---
this is nice to have my buyers really like it
---
Confused my buyers, MADE THEM STOP BUYING MY PRODUCTS!!!
I went from 20 average sales a day to 3 once I started this awful program. I turned this program off once I realized what it had done, and within one hour after I STOPPED this program I sold 7 of the disks I sell (Which is normal for me). With this program installed I easily lost 100$+ due to confused buyers who decided not to buy my product thanks to this program's confusing system. BOTTOM LINE: DO NOT INSTALL THIS PROGRAM! IT WILL MUTILATE YOUR SALES! IT CONFUSES BUYERS, SO THEY DON'T BUY YOUR PRODUCTS! NEVER USE THIS PROGRAM IT WILL RUIN YOUR SALES!!! DOES NOT HELP YOUR SALES, ONLY HURTS THEM!
---
Great way to keep customers happy
---
Buyers would come back if they really like your items, no need to offer discount
---
I'm getting repeat customers and my average sell to opted in clients is 2x.
---
Excellent App People love getting a reward for shopping with you! 5 Stars
I made a previous ratting on this app by mistake. I give this app 5 stars and recommend everyone try it!
---
If you want to encourage your customers to spend more and return to your listings, this app is for you!
---
why this app show Unauthorized access ?
---
I love using this program. Many return buyers. Email campaigns are a great opportunity.
---
help to bring more buyers
---
This App definetely works
This app truly works! We continually have shoppers who repeatedly come back time after time, they love getting some cash back. I have been selling here for 12 years and highly recommend this amazing app!!
---
Great app for the one who dont mine giving back to their customers!
---
---
Worked for a few transactions then stopped. Also no longer automatically inserting itself into the listings.
---
my favorite store on eBay
my favorite store on eBay, I buy in the store since the early days of its opening, never had problems!
---
Decided against using, customer support was great!
I changed my mind - decided this app wasn't for me and my customer base because of the small amount of repeat customers and the low number of listings I have active at any given time. That being said, I got a reply to my cancellation request in just a few minutes and I am very pleased to say it was handled with no problems. If the way they treat people who leave them is any indication of how great they treat active seller customers, this is a great app and company to use!
---
It was hard to delete all html codes from 500 listings!
It was hard to delete all html codes from 500 listings!
---
Follow up emails are not sent
For the last 4 months I have been having problems with follow up emails being sent to customers, they have stopped and customer service is no help. They bill but cannot be reached by phone ..you get a Magic Jack commercial and then call cannot be completed. Requested my email file which is supposed to be mine and they don't have or will not send. No response. Stay away from this application !
---
---
This is such a cool app. You wouldn't think that offering a 1% discount to repeat customers would have a dramatic effect on sales, but in my case it has. This app puts a little discount notice at the bottom of your listing, plus it emails your customer when the sale is made. Love these guys.
---
---
I've dealt with this company for several years. Always quick and efficient -
---