Ki To Do
By KiOui llc
(released May 22, 2012)
A Gadget/Widget for Selling Manager that displays informations on the state of your sales.
Categories: Shipping & payments, Research & reporting
If you are subscribed or want to subscribe to this application please
click here
for details.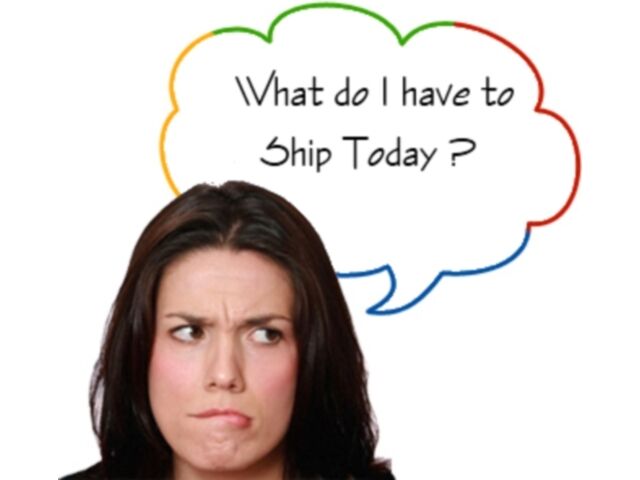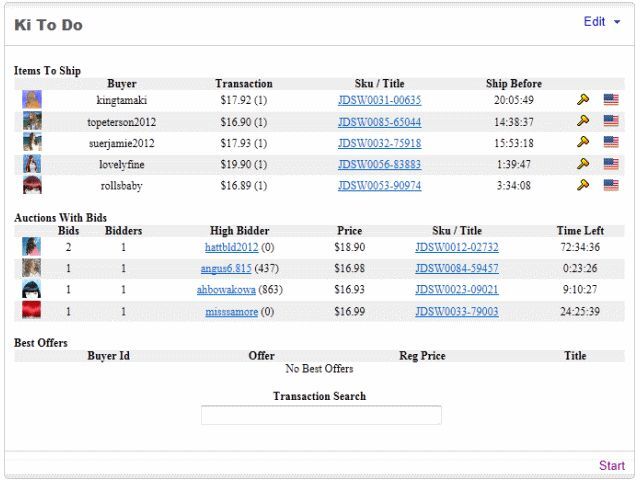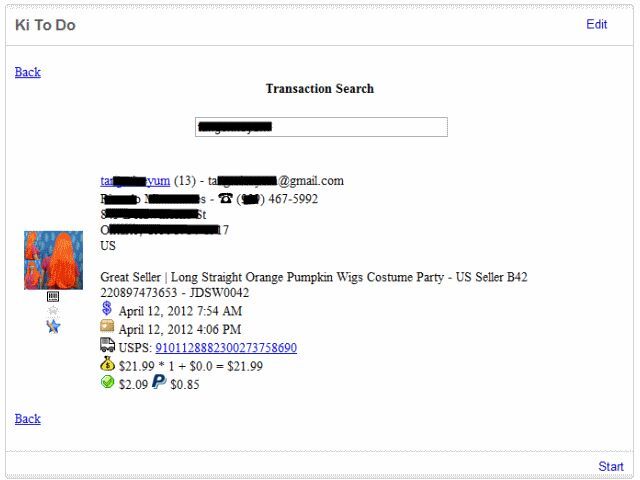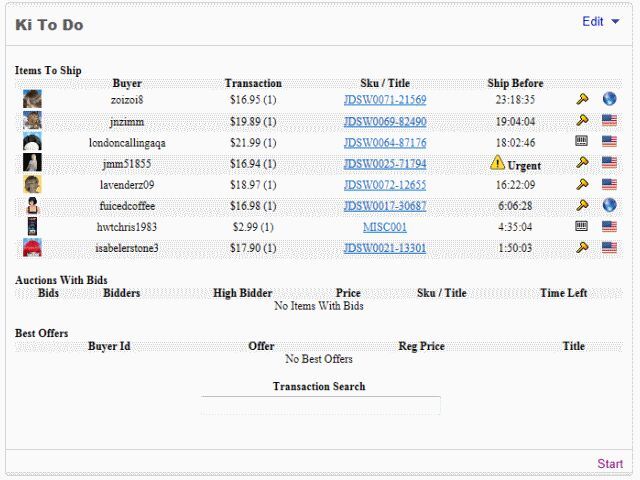 Have physical problem. App great
---
---
---
Does not show up at located it says it does.
---
App does not work. Tried several times to upload but doesn't appear on Selling Mgr. Page
the link shows on selling manager page but just refers back to "where is my app" page and never shows the things it purports to do on selling manager page. Tried customer support but they sent another link that did nothing.
---
---
---
Wow I don't remember them. but I must have liked them at the time.
---
Request for your complete support
I dont have much experiance ,i only need your support on getting what i want in an affordable price for me.
---
Complete waste of time, the good reviews are fake
App needs to be updated to be aligned with eBay's new UI. Can no longer access gadgets/widgets so this app is literally unusable. You are 10000% unable to access this app from anywhere within Seller Hub, Applications, etc. App landing page shows instructions on how to find
---
This app didn't work for me... literally!
I followed the instructions to a tittle but was unsuccessful in locating the gadget/widget. I also looked on every other page on my ebay account and found nothing different or new. I don't like to give poor reviews but this was a complete waste of time.
---
sleek design, it just works!
---
Sorry but it does not work!!
It can't be found.Not worth the trouble.....
---
without ki to to i can not work on Ebay
---
---
This is apparently an invisible application. It doesn't seem to exist anywhere after signup
---
it wont even open its some trash and a waste of time
---
Subscribed to app, can't find it anywhere. Wasted 2 hours of my time. unsubscribe.
---
---
Crap 3rd party nonsense never worked. Stop spamming me, too.
---
Great app use it every day!!!!
use it every day to see what I need to ship!!!!
---
I love this app because it saves me time by giving me a quick look at what has to be shipped
---
---
superb results excellent marketing
ki-to-do provides excellent and accurate searching words i.e,result oriented!
---
I installed it and can't find it. Stupid app
---
---
Try to contact all did not here back. Can not find in my e-bay account per instructions provided
---
Easy to Use and All in One Place!
I love this widget. It is very easy to use and it gives me everything I need in one place on my Selling Manager page. I'm able to look at what needs to be shipped and offers/bidding at a glance. It also alerts me if I'm about to go late on a package. Can't be beat!
---
Makes it much faster and easier to manage my transactions. One click.
---
Love it! Use it every day!
Load this on your "My eBay" home page and you'll always see all of your sales at a glance and you'll always be able to quickly and easily identify "expedited" shipping orders. Fantastic little app, love that it's free (and it's why I use other ki apps), and if eBay gets rid of it I would be very upset because it's such a useful tool. Good job ki apps!
---
Does Everything It's Supposed To
Love this app!
---
allowed my online to achieve greater numbers and much more clicks onto my store
---
Extremely valuable app for running our eBay store.
We this app daily to track when our shipments need to go out and all the other features that it offers. Fantastic app for anyone Selling on eBay !!!!!!!!!
---
---
Had an error on eBay summary page, application would not load. Support was quick at getting it resolved and now working again.
---
It is a nice shortcut to the ebay summary
it remind you to ship the sold products etc..
---
GREAT WIDGET. EASY TO USE..
GREAT WIDGET. EASY TO USE..
---
Makes doing business EASY!!!
---
n1ce customer service,fast response,solved my problems out very soon.
Really thanks,bro,dear dennis,he is very helpful for solving the problems,hope you guys subscribe this "Ki To Do",it's very helpful to manage your business.
---
very helpful app keep me on track thanks
very helpful app keep me on track thanks
---
Great way to know at a glance what needs to be done.
This is a great app or widget to have. We can see from a glance on our dashboard what needs to be done.
---
I was amazed to see my items on google search. Good job!
---
I have been using this application for a short time but it is great !!
When you only have a few items on E bay , it is easy to keep track of everything . As one gets bigger and starts selling more items it begins to get more difficult . Since using Ki To Do everything is super easy to track everything . It tells you at a glance any items that have to be shipped with the amount of time that you have left to do it according to the shipping parameters you have set up for your store and it shows a ton of other pertinent info right at your fingertips . Keep up the good work.
---
Good product and free! at a gland to know order status.
---
Because I dropship my orders from a supplier I need to stay on top of the shipping status. This kindly reminds me how many hours I have left to upload tracking info on time. That is the most important feature among all of them. Works well and does it's job as intended. I have had no issues with it over the past 2-3 months.
---
Great way to keep track of your pending orders
An easy way to make sure your shipping your orders on time.
---
I never stress about being late for shipping anymore.
---
Like a lot of people, I tend to forget things that aren't in my face. This app really helps me.
---
---
Love it! Keeps me on track so I don't miss shipments, or best offers!
I love it, and it's free! Does a great job of helping me make sure my tracking gets uploaded in time so I can be a Top rated seller. Great product at a great price!
---
This should be an eBay standard.
I'm unsure why eBay doesn't have something like this by default. It's such a great time saver. clicking around to each page to check on your status ca really add up, this app solves that.
---
---
Lets me see everything I need to get done in one little box!
---
This widget is really nice. Shows me whats happening all in one place.
Easy to install. Works without configuring anything. Best of all its free !
---
Great app, does what it says. VERY fast, courteous customer service!
---
Ki To Do's simplicity makes it easier to manage ebay.
---
This app keeps me on track of the things that need to be done as soon as I log in...*smile*
---
Helped me achieve Top Rated Status
Before I had this app I tried and tried to achieve Top Rated Seller. After this app I had acheived this in no time.
---
I rely on Selling Manager Pro to view my sold, bids and offers. Ki To Do Simplifies the view, has the time left to ship and shows the custom label on one screen. Love it!
---
I love this app, first thing I see and it keeps me on track as to what needs to be done. Thanks
---
The countdown for shipping is a dream come true!
I told my customers I would send them their items within two days. This application has a countdown to the seconds of when I absolutely have to ship from when the customer paid. Mindless and perfect for me!
---
so much eaiser to see the task list of "to do's" all in one organized box.
---
I love this app! It gives me a much more comprehensive overview than Ebay's default Alerts and To Do list. And I don't have to scroll through my listings in Selling Manager to see what I need to do. I especially like that I can customize it to display in wide screen across the top of my summary page. I highly recommend this app and Ki Tracking to track your shipments. With both of them together, I see what's going on with my listings without having to scroll down through my selling activity. I've found KiOui apps easy to set up and use and some of the few 3rd-party developer apps on here that ALWAYS work!
---
Thank you so much for letting me in :)
---
---
A must have for trs- gives u a countdown in hours/minutes of when to ship your item-VERY helpful
VERY easy to use- best feauture (for me) countdown clock so I make sure item is out the door under ebay deadline for me to meet my handling time promise to buyer excellent ap
---
easy to see love the easy spot icons for usa or international sale....the timer for shipping! etc!
---
Very Good Very Organized Easy To Use
I like this app, it shows just the items that have bids and the time left, it is convient when your in a hurry and need to know how your sales are. I'll hold on to this one for as long as I sell on eBay.
---
---
It is so useful and easy!
---
Without any effort this app is always present, so I can see at a glance what needs attention right away. Great app and for free too!
---
very helpful to get the time left before shipping for the new seller requirements
A++++++++++++++
---
Started using it today..it works great
---
Even better people behind it.
---
---
---
I cannot believe these peoples give this for free ?!?!?! A+++++++
---
---
short, simple yet very helpful application. Love the name of these guys as well. ki oui haha !
---
Best free app I ever used
This free app is very practical. I beta tested it for KiOui's development team and it has been a life saver. It puts a new window in my selling manager that tells me if I have something to ship. The transaction search is also a life saver. Being able to pull the customer's info in seconds while they are on the phone is very helpful. Great work and best of all it's free !
---