Ki To Do
By KiOui llc
(released May 22, 2012)
A Gadget/Widget for Selling Manager that displays informations on the state of your sales.
Categories: Shipping & payments, Research & reporting
eBay will no longer support application management. If you are subscribed or want to subscribe to this application please
click here
for details.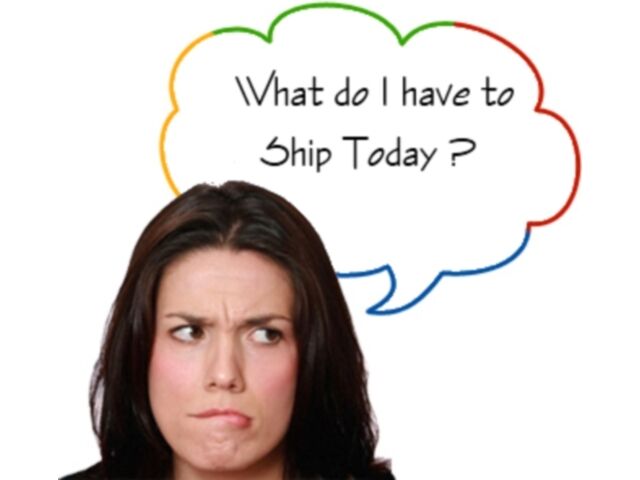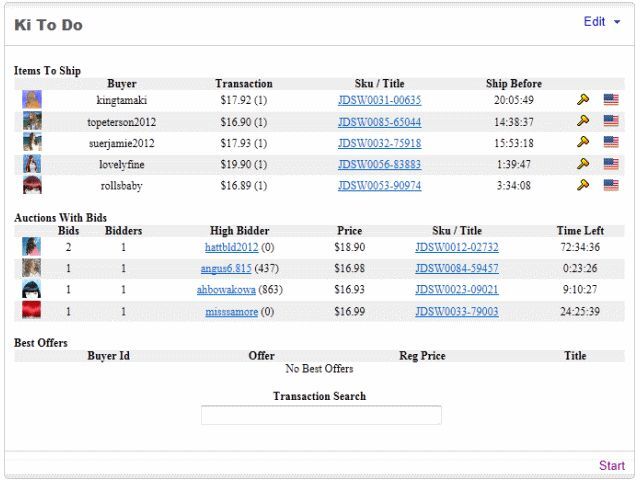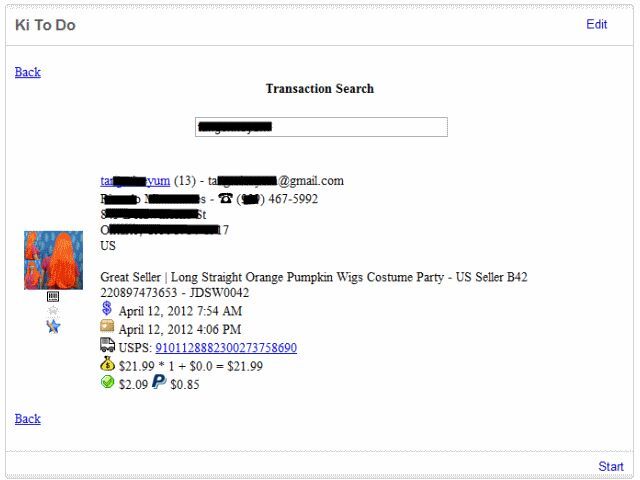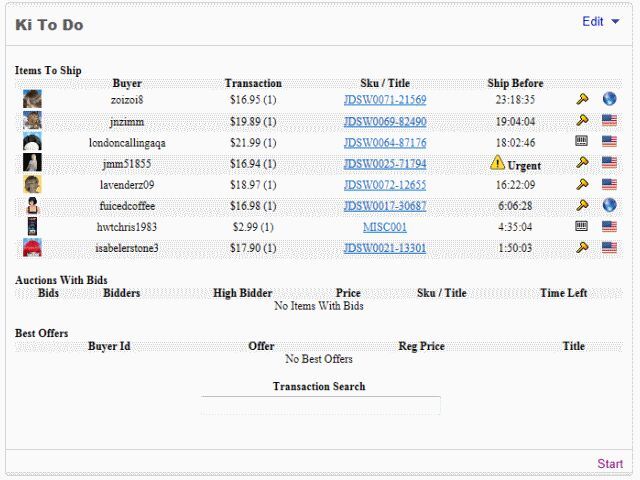 Key features
Displays Items waiting to be shipped

Count down displaying time left to ship (to comply with your dispatch time)
Small image of the item to ship
Value of the sale/order
How many items in the sale/order
International or US sale
Auction or Fixed Price format

Displays Items with bids

Count down displaying time left before the auction ends
Number of bids
Highest bidder

Displays Items with offers
rescent transaction search

Visual information on the sale for fast information helping you to take better decisions
Buyer's info
Paid date.
Shipped date.
Tracking number date.
Sale details.
Description
Ki To Do is a Gadget/Widget for Selling Manager that displays informations on the state of your sales.
With Ki To Do you can see items that are ready to be shipped. If it needs to be shipped right away or if you have time. you can see more details on the sale and or the Order.
In the same fashion Ki To Do displays current ongoing auctions with bids as well are FixedPrice with active offers on them.
A very nice "rescent sales" search helps you get details that matter to you on a sale in a matter of seconds. This helps you to answer and or decide more quickly.
Additional resources
Application requirements
Supported browsers:
an modern web-browser
Supported languages:
English
Supported eBay sites:
ebay.com
Required eBay subscriptions:
None
Application support
For application tips and tricks, check out our YouTube Channel: http://youtube.kioui-apps.com.
We manage our support via a ticketing system. Simply e-mail support@kioui-apps.com.
Please Include:
Your eBay User Id
Which application you are subscribed to
Any Item ID numbers that pertain to concern
Any screenshots
Steps to replicate your concern
Our support hours are between 9:00 a.m. and 5:00 p.m. Central Time.
We take your support concerns seriously and any information that can help us improve our applications is much appreciated. Or send us an e-mail just to say how much you like our applications!
To get updates about our company you can visit our website: http://www.kioui-apps.com. Follow us on http://facebook.kioui-apps.com, http://twitter.kioui-apps.com, or http://pinterest.kioui-apps.com.