Ki Sales
By KiOui llc
(released Nov 19, 2012)
Get a unique view on your transactions. Learn where your buyers come from.
Categories: Finance & accounting, Research & reporting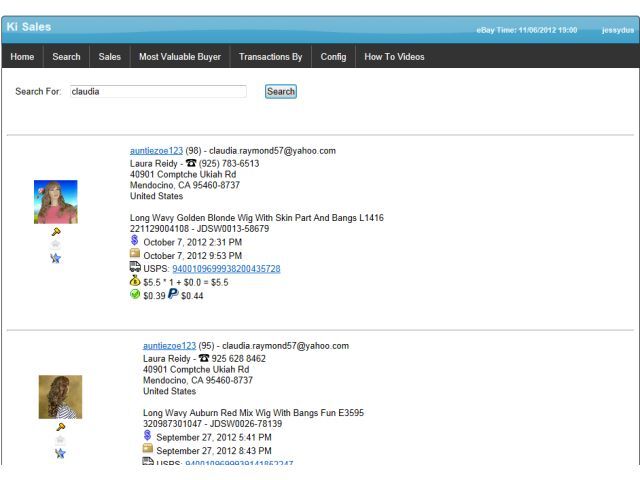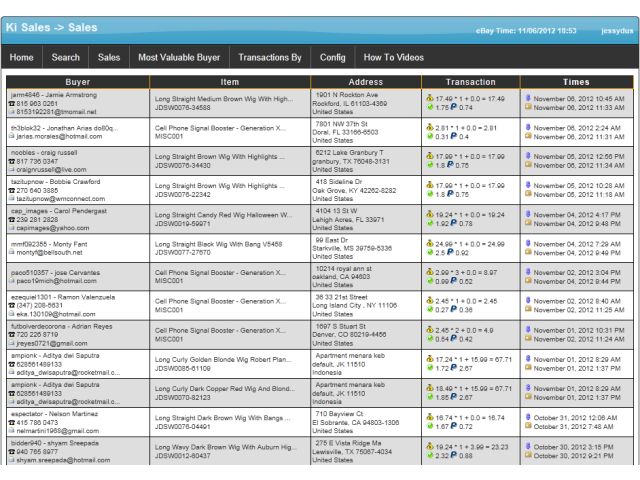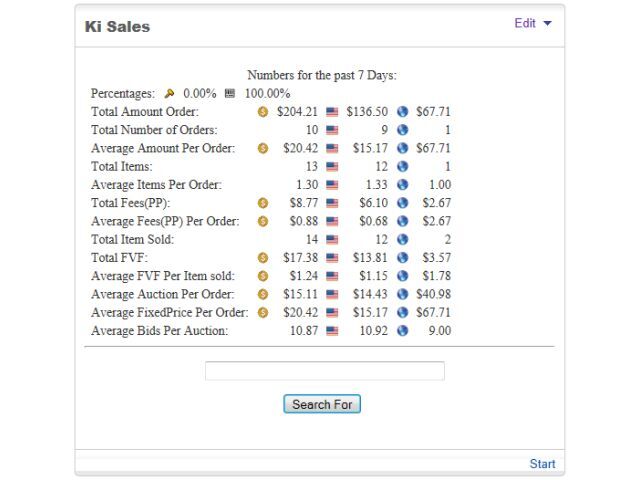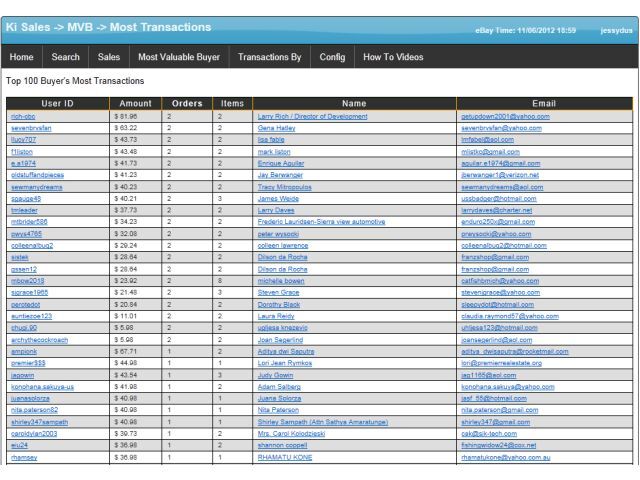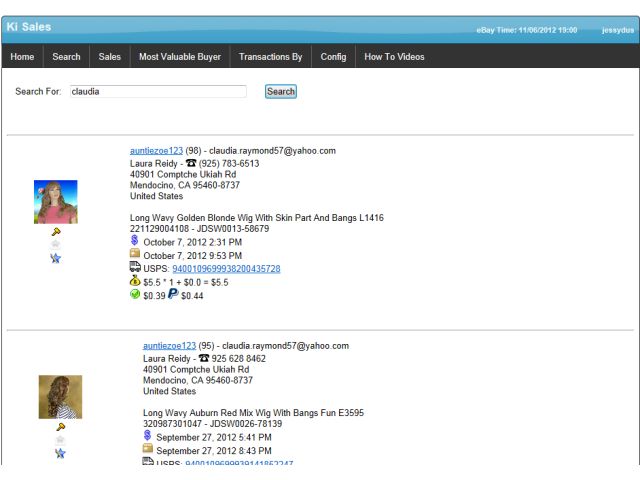 Key features
Fully automated reporting.
Search your sales.
Use the search to see if a buyer opened another account to buy your items after you blocked them.
Export your sales to csv or excel.
Transactions per State or Country.
Total and Averages summary.
Most Valuable Buyer reports.
Try it free for 7 days!
Description
Ki Sales is the App every serious eBay seller needs. With Ki Sales you get a very unique view and insight of your sales and transactions. Ki Sales reports will help you to get a new perspective as to where your buyers come from. You can even export all your transactions to Excel to write your own reporting.
Additional resources
Application requirements
Supported browsers:
any modern web-browser
Supported languages:
English
Supported eBay sites:
ebay.com
Required eBay subscriptions:
None
Application support
For application tips and tricks, check out our YouTube Channel: http://youtube.kioui-apps.com.
We manage our support via a ticketing system. Simply e-mail support@kioui-apps.com.
Please Include:
Your eBay User Id
Which application you are subscribed to
Any Item ID numbers that pertain to concern
Any screenshots
Steps to replicate your concern
Our support hours are between 9:00 a.m. and 5:00 p.m. Central Time.
We take your support concerns seriously and any information that can help us improve our applications is much appreciated. Or send us an e-mail just to say how much you like our applications!
To get updates about our company you can visit our website: http://www.kioui-apps.com. Follow us on http://facebook.kioui-apps.com, http://twitter.kioui-apps.com, or http://pinterest.kioui-apps.com.
KiOui llc
At KiOui our goal is to save you time as well as helping sellers automate daily tasks. Freeing you from the daily manual process will help you keep your sanity but will also help you grow your business. With our apps, you will be able to run your business more efficiently, faster and you will have more time to source and list new items. Wether you are a new online seller or a seasoned seller, we are here to make your life easier.
Also from this developer:
By KiOui llc
(released May 22, 2012)
The Best eBay to Facebook App you'll ever need. Only 99 cents per month!
Categories: Listing, Marketing & merchandising
By KiOui llc
(released May 22, 2012)
Increase your feedback and worry about it no more.
Categories: Customer support, Marketing & merchandising
By KiOui llc
(released May 22, 2012)
A Gadget/Widget for Selling Manager that displays informations on the state of your sales.
Categories: Research & reporting, Shipping & payments
By KiOui llc
(released Jun 11, 2012)
Track your packages in one quick easy view, communicate with your customers easily about their packages.
Categories: Marketing & merchandising, Shipping & payments
By KiOui llc
(released Aug 30, 2012)
Automate your Markdowns with extra features Markdown Manager does not offer.
Categories: Listing, Marketing & merchandising
By KiOui llc
(released Oct 04, 2012)
Track your Items with Google Analytics.
Categories: Listing, Research & reporting
By KiOui llc
(released Dec 11, 2012)
Make your own rules to manage quantity the buyer sees of your items.
Categories: Inventory, Listing
By KiOui llc
(released Dec 26, 2012)
Best ender/ re-lister, duplicate finder, and bad image finder!
Categories: Inventory, Listing
By KiOui llc
(released Jan 28, 2013)
Raise and Lower your prices based on sales and maximize profits!
Categories: Listing, Research & reporting
By KiOui llc
(released Jul 31, 2013)
Add an icon to your Facebook Fan Page to link to where ever you want.
Categories: Listing, Marketing & merchandising
By KiOui llc
(released Jul 25, 2013)
Create customized HTML webpages to link to your Facebook Fan Page.
Categories: Listing, Marketing & merchandising
By KiOui llc
(released Feb 21, 2014)
"Out of Stock" control for your items, save important sales history and don't let your item ends!
Categories: Inventory, Listing
By KiOui llc
(released Jun 17, 2014)
The Danni App Profit Predictor was built to help you compare all the value you bring to an item
Categories: Research & reporting, Sourcing
Exquisite feathers wholesale sales!
Exquisite feathers wholesale sales!
Created By: samsung-white
---
.csv download makes book keeping a lot easier for us. this app downloads eBay account info much faster than downloading from your account history. One criticism is that we should be able to select how many days of sales history we want to download, rather than choosing between 24 hours, yesterday, this week, last week, etc. For example "last X days" where we set the default to whatever we want (3, 4, 7, 15, etc) would be helpful.
Created By: hobby*supplies
---
It is useful, because I can see certain aspects in one place !
Created By: thumpertentwenty-four
---
I have only been using it less than a month, but so far I like the features it has.
---
---
Nice snapshot for less than 1.00 per month.
it shows sales, fees and other info as an overview snapshot. I t is simple but easy and very inexpensive which in the current sales environment is good. These days all sellers are trying to keep expensess down and profits up due to the gyrations. Thank you KI this is a great niche now. Newer sofrware too.
Created By: expertbenefits
---
Great Support!
Created By: cosplaywigs4all
---
This application has really helped me with my books.
Created By: partywigs4all
---
Just the information I need for my growing business.
---
Helps me with understanding fees.
---
it's really cool you can export info to excell
Created By: unclebucksgarage
---
The best for keeping track of customers.
love the seeing the vip and who buys from us the most
---
Sopport is fast had a problem was fixed after support ticket was created. Thanks Angela
---
OMG, I spent hours trying to find a way to combine my sales and all the stinking fees on one spreadsheet and FINALLY found Ki Sales which does it so well and so affordable! If you want to export your report go to the bottom of the report and look for a teeny tiny CVS or Excel icon on the bottom left side of the report. Click on it and except whatever Excel asks and wah-la it's there! Thank YOU Ki!! I will try more of your very reasonably priced apps!
Created By: jeansjewelsandmore
---
This really helps getting the sales data into a format I can process.
---
Charles has been helpful with any issues I had. He started my sale so I could look at how he set it up. A+++
---
i give it not only a 5 star, but a 500 star!!!
great service...quality apps all around and great support! Programmer is awesome!
---
what can I say about this. you actually have to use it to understand its power.It sits in the righthandcorner of your manager and it is very very detailed You gotta spend a buck and use this or go work for TAco Bell
Created By: gorilladesign2012
---
Amazing application and support. I've been looking for something like this for a long time!
This application is a must have for anyone interested in tracking details about their ebay transactions. Dirt cheap at only 99 cents. Worth ten times that in my opinion. Being able to export customer email addresses is priceless! Customer support is incredible. If you can't afford a buck a month for the information this gives you, you obviously don't care about selling on ebay. Simply worth it! Get it! P.S. I don't ever take the time as I don't have it to write reviews on anything, but this app is worth it and if used the way I do it will make you more $$$.
Created By: themusicmasters
---
here is a feedback: Great app and great customer service All these guys applications are great and helped me save a lot of time and to make my business more efficient. Great job !
---
Excellent Reporting Feature
I love this app and how I can see all my important information like sales, fees, shipping charges in one downloadable excel report. I dont know what I would do without it. Also, The developers are great and very responsive. Excellent customer service. I would highly recommend this app to others.
---
Perfect for knowing who buys your items!
With ki sales I can e-mail customers who frequently buy from me and show my appreciation. Also I can tell where I sell the most. Neat application.
Created By: sydneysydco515
---
One of the best apps from this developer yet
the best feature is that you can export emails to excel. This is a must have for sales information etraction
---
This product is a great time saver for my monthly accounting, and glance at financial information. The ability to identify frequent purchasers from my store, big spenders are nice features. The best thing I like about this product however is to be able to export my sales information every month. Includes PayPal and eBay fees in one spot. Customer support is GREAT! I would recommend this product to anyone. For the price I don't think you could get much more bang for your buck. The other ki products are good to and are definitely worth a look. I have most of their products and satisfied with all of them.
Created By: anythingindianbiz
---
nice to get my numbers all in one place
Nice for all to see sales information and my numbers. averages and all. Great little app !
---
Our Pricing is simple!
Pay Monthly
Or Pay Yearly
The first month is prorated and may vary.
If you cancel you can get a prorated refund!
If you have a billing concern please e-mail support@kioui-apps.com.