Ki Feedback
By KiOui llc
(released May 22, 2012)
Increase your feedback and worry about it no more.
Categories: Customer support, Marketing & merchandising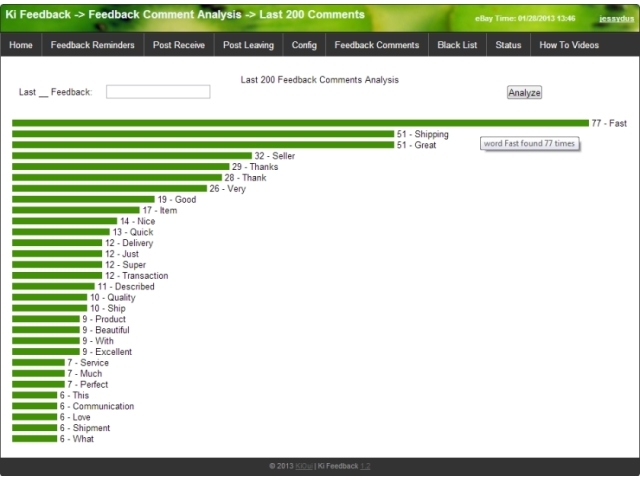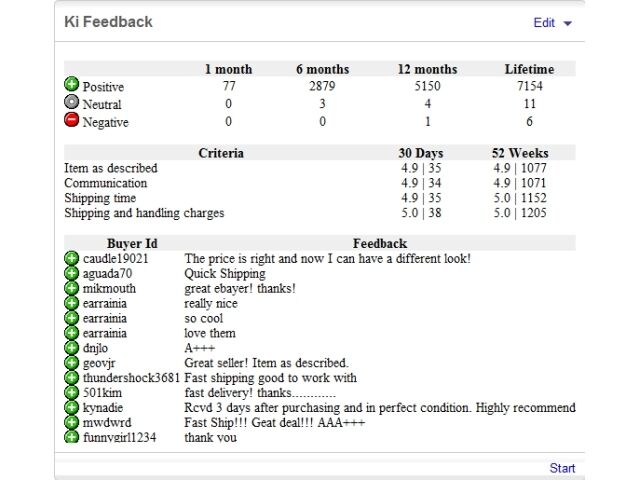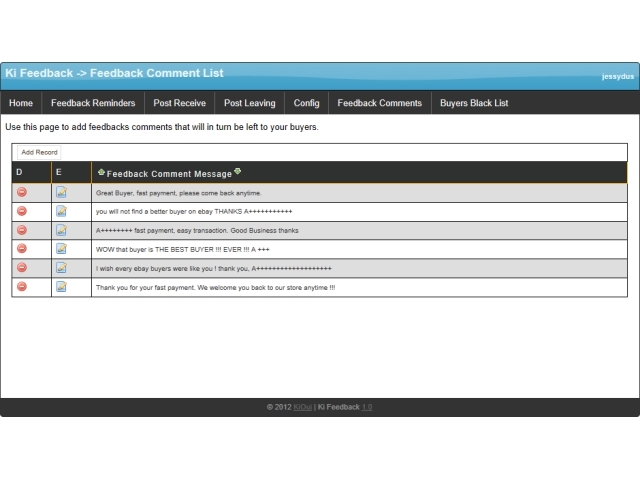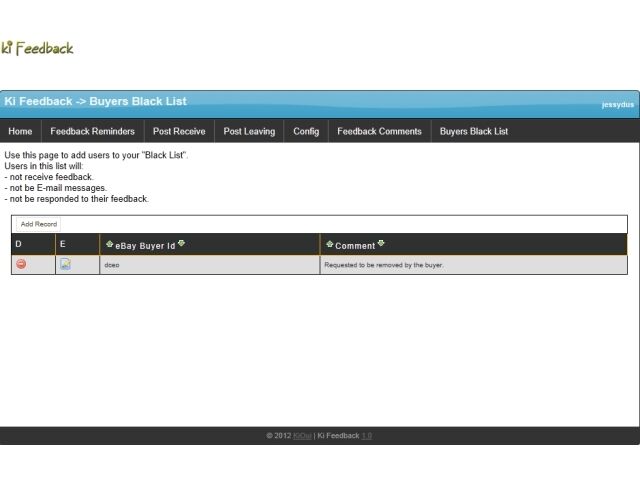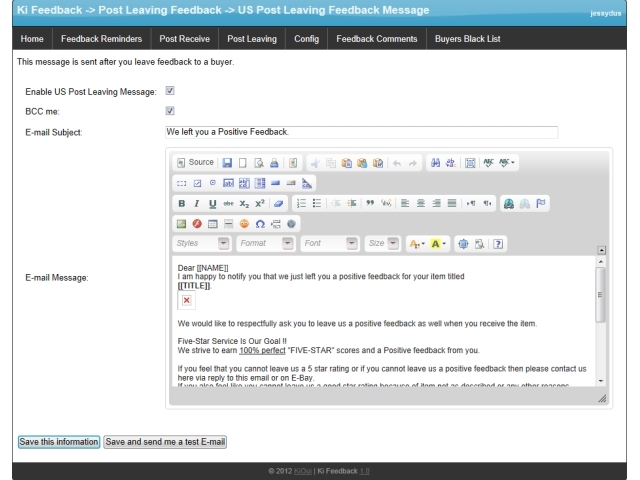 ---
---
TRASH!!!!!!! problems since the beginning , NO leave to my costumers.
---
Never can cantact you,send the email,but nobody answered,very sad!
We paid for this kifeedback,but can not use it.We try to cantact you,send the email,but nobody answered,very sad!
---
---
FIGURE OUT YOUR BILLING PLEASE
Was a good app at first, now I just get messages every other day that my account is past due for the app because they cannot figure out how to charge my papal payment. Super annoying. Ebay is no help.
---
Have used application for years with no problem. Suddenly my automatic payment never goes thru to them. Tech support has been zero help, getting ready to just dump it.
---
---
---
Terrible Service - Avoid by All Means
This company never provided services and keep charging monthly Fees for almost 6 month already. Practically impossible to cancel them out. Stay away and Avoid them! Horrible horrible .....sorry there is nothing positive but frustration and aggravation.
---
Thanks alot for your purchase
Dear customer, It is my pleasure to do something for you. I hope you will get your item soon. And if you have any further questions, please just feel free to contact me, I will try my best to solve the problems for you. And Please Don't Forget To Leave a Positive Feedback, Thanks Have a good day! Mohamad
---
GUST GET THE BILLING FIG. OUT, AND MOST ALL WOULD BE OK?
---
You can't go wrong with this app.
---
Ki Feedback makes leaving feedback a breeze! What used to take me several hours a month, now takes no-time at all!
---
What a time saver. This app automatically leaves my feed back for buys. Saving me hours over the month. Great and inexpensive too.
---
regarding canceling my service with kifeedback
I have canceled my service with kifeedback this morning but I still receive feedbacks. Please help me Sincerely isidoregottlieb@gmail.com
---
i love Ki feedback peace mind very cheap and work good.i have more feedback
---
Keep charging after cancellation AVOID!!!!!!!!!!!!!!!!!!!!!!!!!!!!!!!!!!!!!!!!!!!!!!!!!!!!!!
Cancelled and continued to try to charge my Paypal. Ebay customer service was useless like usual.
---
Easy to use and very handy
---
Without question, Ki Feedback has perfected the business art of managing feedback for me. Bravo team Ki!!!!
---
---
So easy to use. Saves me so much time!
---
---
Our feedback has increased exponentially since we began using Ki Feedback! We love that it is easily customized and really appreciate that feedback can now be left automatically for our customers.
---
I am loving KI. This program is fun, easy to use, and helps your productivity so much!!! It has changed the way I work on eBay and I am so glad I got it. Everyone should try it!!!! A+++
---
A must have application for your eBay store
This app can safe my time and can manage the feedback of my store very well. The chance to get the negative and neutral feedbacks decrease while I receive more positive feedback during this first month. With this app I can feel the big different in my store.
---
Great way to receive feedback!
Amazing.
---
I don't have to worry about sending feedback when a sale is made. Worth every penny.
---
It is very easy, simple and convenient. I'm saving time and time is money.
---
---
Without this program I would be begging customer for feedback and wasting time in the day to email each customer, also leave each customer their feedback. 3.99 so worth it!!!
---
Seems to be helping so far
I've had the yearly plan for about a month now as I knew my feedback was one of my most important things to take care of it and I had a long way to go. Seems to be helping so far from about 10 to almost 40 in approx. month all positive!
---
using this app on my 2nd year
has reduced complaints and increased customer satisfaction. love this app
---
Great Service and Helpful app!
Great
---
Everything is automated after setup, and works great would recommend!
---
I've been using this app for over a year this is by far the best app set it and forget. Leaves feedback automatically and sends reminders out at 10-20 days. Problems are fixed fast. I recomend this app also check out Ki DyanPrice. Eric
---
Great Customer Service, Great Price
They offer great customer service, emailed them for help on the app and they answered almost instantly and did follow ups on the problem. The price is great as well. Highly recommend it as a seller this app really is perfect and helpful.
---
Quick and efficient. Nice app
---
this is the most essential App for eBay - it just works all the time, perfectly
Thank you for running the best App ever - why is it good, because I don't have to do anything. Fantastic.
---
This is a great feedback app...saves time.
---
Great app! It saves time plus you can personalize a variety of feedback messages!
---
Very effective. I love it.
This application allows me to setup the Feedback that I will leave to buyers. What I like the most, is the ability set when (After payment, after shipping, etc.) the my feedback will be sent out to my buyer.
---
Having your reviews fly by potential buyers sticky eyes is a 100% winner.
---
automates markdowns in a much more effective way
Sales dropped 60% without this app due to a recent issue with the app and eBay. Customer support very slow to respond to such a large loss. Would gladly pay more for this app as it is well worth it when it is working correctly. Unknown issue. Thank you for making it, now please help me fix it!
---
We sell live plants. Sometimes they don't arrive in the best condition or the color is slightly different. KiFeedback encourages those who had a positive experience with our cactusbylin store to leave a feedback, thereby offsetting the negatives that are inevitable.
---
---
Excellent app. Convenient and efficient! 5 stars!
An excellent app. Easy and save you time. Does the job perfectly! Customer service is also excellent. Highly recommend!
---
Excellent!!! Really saves time and effort.
Really Saves Time And Effort!!
---
Good application to use for eBay.
It showed my feedback for my customers to know of of me when they're buying things from me. It's proven really useful.
---
Huge change on good feedback given once staring the app
Started receiving 4 times as many feedback per month once started the app. Also the feedbacks were better, not just more.
---
It will most certianly save me time .
---
it is a Perfect solution, No more need to leave feedback Everything is done automatically works without any problems!!!
---
Just set it up and let it ride.
It a auto pilot operation.
---
This app has helped me get great feedback. It's low cost and gives great value. I'm glad I have it to help me build my biz.
---
Effectively creates a communication stream with your customers !!
This app is highly effective at post sale communications. Contacting your customer after the sale is the best solution for keeping them happy and avoiding a bad rating. The Developer is quick to address any problems you might have implementing or launching your app and in my case responded with a few hours. Thanks for your work, and helping Clips-n-Cases with it's feedback rating.
---
This app really is a cost effective!!
And now, you can send your customers an email with personal approach, using ONLY first name! Well done!
---
---
Love it, does all the work for me.
Highly recommended.
---
---
Great App....must have for ebay sellers.
---
Works Great just set it and forget it.
Getting a little response but not what I was expecting yet, will give it some more time.
---
---
Super nice application...
---
---
This is one of the tools that I subscribe to to help me automate my business!
---
Great application, works great
I love this application, works perfectly and customers love being contacted to make sure they are happy before they leave feedback, it gives you a chance to fix any problems before they leave a review. I have over 1500 feedback and 100% positive. Use this application!!
---
Ive had a pansy complain that I was begging for feedback when using this app, but all I had to do was change the preprogrammed email. The included email does sound like it is begging for positive feedback but this app does let you customize pretty much every aspect about it. I highly recommend this app because it reminds people to leave feedback. For some reason, it is so much easier for people to complain that to leave a positive remark. This app thanks the buyers who leave positive feedback and emails the buyers who leave neutral or negative feedback so you can fix the issue. A must have app!
---
Great product, great service, great company
You can't go wrong with choosing Ki products. Prompt service, listens to customers, and always improving the product based on feedback.
---
Also love the reminder for folks to leave feedback for me as a seller
---
This app saves me so much time and energy!!!! One of the best apps around!!!!!!!!!
---
NOT AS EFFECTIVE AS I HAD HOPED
THE FACT THAT THIS SAVES ME TIME FROM LEAVING FEEDBACK IS A PLUS. BUT, THE EMAILS IT SENDS TO MY CUSTOMERS HAS THEM RESPONDING VIA EMAIL TO ME INSTEAD OF POSTING FEEDBACK ON MY SITE. SO THE END RESULT IS THAT I STILL GET ONLY ABOUT 45% FEEDBACK FROM MY CUSTOMERS. THERE SHOULD BE A LINK THAT THAKES THEM DIRECTLY TO THE FEEDBACK AREA TO POST FEEDBACK.
---
AAAAAAAAAAAAAAAAAA++++++++++++++++++
---
Very affordable + Great product
This is a great tool to have
---
It has a ton of features I did not expect and handles alot. Thank You :)
---
Cannot sell without you guys....Thank You. Midge Boyd, BearZBears
---
---
I recommend this app to everyone! Very, very useful. Before I wasn't getting more feedback because I do not follow-up for lack of time. But now, Ki Feedback does the job and yes I am getting more feedback. I just wished I had known about this app 2 years ago! This is a MUST!
---
This is a great app to increase your feedback
This is an app that is very inexpensive and well woth every penny spent on it.
---
---
Great App I have use it for over a year
I love this app and is only .99 , I highly recommend it...
---
This service has helped me in more ways than one. Before, I would either have to spend much time in leaving feedback or I was paying someone by the hour to leave feedback for me. This service has not only eliminated those two issues. My feedback has increased in number and in quality
---
I love this app! It helps with increasing feedback left by buyers. Thanks!
---
---
I had just signed up and I went to leave feedback and to my surprise, It was already done!! Thank you
---
You set it and forget it!
I wanted to leave my customers feedbacks in a timely manner but I found that this took up so much time that I had less time for listing and my family. You literally set up the parameters and forget it, it does all the work for you! I know exactly what the feedback will be for each type of situation it is effortless! I highly recommend!
---
No Longer have to worry about leaving Feedback SAVES soo much TIME!!!
This app is GREAT I don't have to add feedback to every single item I sale. I check behind it at first to make sure It works like clock work! It also sends reminders to buyers to let them know I left positive and We would like for them to do the same! I tells them when the item is shipped It really has saved me time to be able to focus my attention in other places that's needed. I usually do not post reviews but I had to tell the workd about this one! A
---
Works exactly as described.
I dont have to worry about ever leaving feedback for purchasing customers. It is very easy to customize.
---
Was working fine when I first started using the application and then it started to get sluggish about feedback when items were delivered. I didn't contact them about the application, I'm sure it could have been corrected, but felt I was better off leaving my own feedback.
---
While I like this app, I'm not entirely sure it is leaving feedback for all of my buyers, as I have it configured.
---
Don't like email. Need ebay message style emails
Pl
---
Not having to manually leave feedback to customers that buy from me is worth every penny of 99 cents a month!
---
Definite increase in number of reviews and I would say they tend to be happier switch my service bc of the proactive nature do this app
---
Best product for the price!
Makes life easier not to have to manually remind people to leave feedback.
---
Leaves feedback for a few days... then fails for a few days. Didn't quite measure up, there are better auto feedback solutions.
---
Best feedback reminder app on eBay!
This is the 3rd feedback reminder app I have tried. I like this one because it uses email instead of the eBay message system and they do not stick advertising in the messages like Feedback Pro does. Good stuff!
---
Ive gotten more feedback since getting this app. I also get more questions for customers through it which is good because some times they help people that get missed. A happy customer is a possible repeat customer and thats what we want!
---
Saves me a lot of time. Works great all the time. Has more features than I expected.
---