My Item Ranking
By PMIT Inc
(released Jan 31, 2013)
This application will allow the sellers to monitor where their listing is on the Best Match search results and provide general recommendations on how to edit the listing to improve rankings on the Best Match search results. It is undoubtedly important to have the listing to show up on the first page and on high/upper rankings of the search pages to be more noticeable to the buyers to increase sales.
Categories: Listing, Research & reporting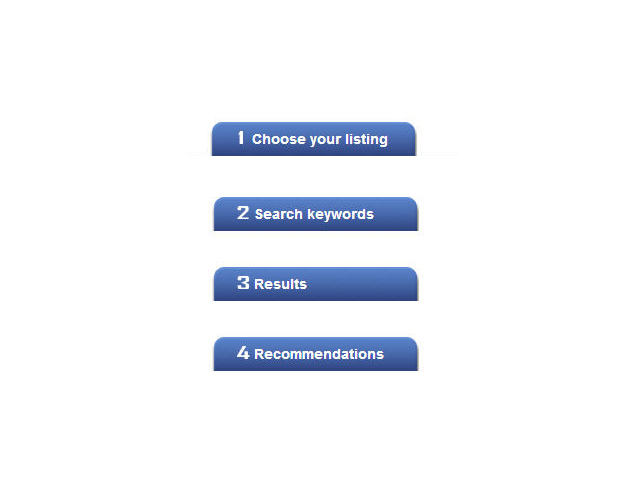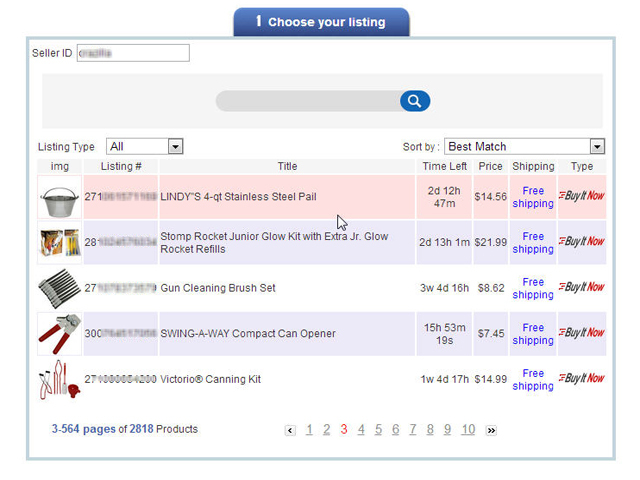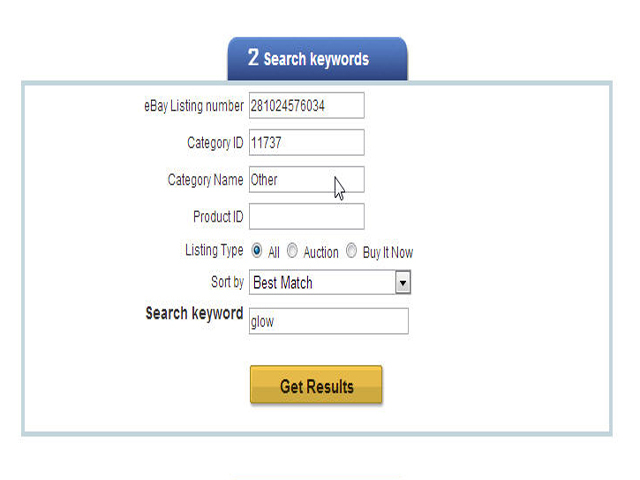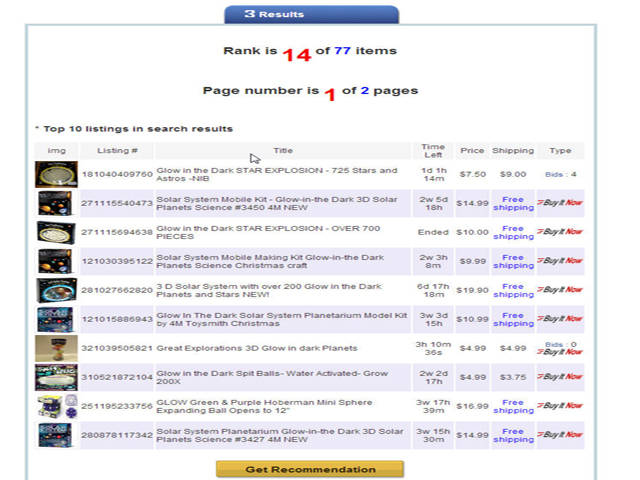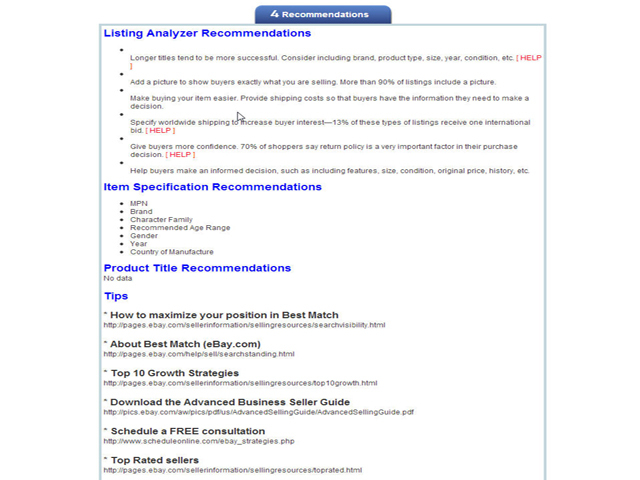 Key features
The application will provide the following steps to manage the listing rankings on Best Match search results.
.Choose the current listing that you want to know the ranking of in the Best Match search results
.Insert the keyword(s) and/or listing options that the buyer would be searching for
.See the ranking and the page number of where the listing is being displayed compared to competitor's similar listings
.The application will analyze the Best Match search algorithm and provide recommendations and tips on how and what to edit in the listing so that the listing will result in higher rankings
Description
The buyers on eBay have the advantage of using Best Match searches to look precisely for the item they are looking to purchase. Best Match is eBay's search algorithm, and the algorithm has presets which helps it determine which listings to rank closer to the top of the search results. Best Match uses relevance and popularity factors and reduces the importance of end time in auctions.

As a result, sellers may become frustrated that their listings on Best Match results are lower in rankings and/or getting buried on subsequent pages, even as the end time of their auction listing approaches. For example, the sellers may notice that their competitor's listings ending in three days are ranked higher than their own listing ending in a couple minutes. By utilizing this application, it will allow the sellers to monitor where their listing is on the Best Match search results and provide general recommendations on how to edit the listing to improve or move up to higher rankings on the Best Match search results.
Additional resources
Application requirements
Supported browsers:
modern browser
Supported languages:
English
Supported eBay sites:
ebay.com
Required eBay subscriptions:
None
Application support
Email : info@itemranks.com
PMIT Inc
The PMIT is a leader in ecommerce services. We are one of the leading independent PayPal management services , design templates for eBay , ecommerce and have been providing tools for eBay sellers since 2007.
Also from this developer:
By PMIT Inc
(released Dec 17, 2009)
Manage your PayPal transactions directly from my eBay. Automatically match eBay and PayPal transactions, compare paid amounts and postal codes from one place!
Categories: Finance & accounting, Shipping & payments
By PMIT Inc
(released Mar 22, 2010)
Apply animated professional design to your current eBay store. Only $3.95 per month.
Categories: Listing, Marketing & merchandising
By PMIT Inc
(released Jul 29, 2011)
Sell MORE of your items to a group of bidders or buyers with ease. With this free application you will be able to create new or modify active Ebay listings to include "Group Buy Offer" and target a group of buy...
Categories: Customer support, Marketing & merchandising
By PMIT Inc
(released Apr 11, 2012)
As long as you have an eBay account and a blog, this application will let your active eBay sale listings to be posted on the blog with a few clicks of a mouse and by entering your email and password associated ...
Categories: Marketing & merchandising
By PMIT Inc
(released Sep 24, 2012)
Automatically apply professional looking listing themes to your current eBay listings.
Categories: Listing, Marketing & merchandising
By PMIT Inc
(released Feb 18, 2014)
Show your past positive feedbacks on your listings and assure Buyers to buy with confidence.
Categories: Listing, Marketing & merchandising
---
Doesn't work on my Mac. It used to but now I just get an error message.
Running on Mac. Worked fine in the beginning but I haven't been able to get into it for months. I get an error stating that my computer isn't allowing cookies. My computer is not only allowing cookies on both Safari and Firefox but I specifically have an exception loaded to allow it for this app. I contacted the Item Rank website and they were not able to help me. I have to unsubscribe.
---
---
Waste of time, tips are useless
Waste of time, tips are uselessWaste of time, tips are uselessWaste of time, tips are uselessWaste of time, tips are uselessWaste of time, tips are uselessWaste of time, tips are useless
Created By: duraflex-body-kits
---
I never asked for this, I cannot seem to be able to cancel it and am hounded by messages to stop
I simply want to cancel and stop being hounded by messages that the account is suspended. I have been trying to cancel it for months since i never wanted it but it has been impossible until today because I did not even know the URL to get to you to cancel.
---
Application did not function properly. Useless
The application would not give the recommendations or steps to take in order to increase rank
---
Sellers Beware of Apps that are impossible to get rid of!
Buyers beware! I "tried" this APP for free, and it didn't work, at all!! I tried different options and I got the same result every time. It is a SCAM People!! So it doesn't work, then it automatically attaches itself, separately to your Paypal account, so that it won't come up in your Ebay bill, you must then manually locate this app (which won't be listed by it's name) in the "authorize monthly charges" section in your Paypal account. Once I unauthorized the App, I started getting weird messages from Ebay saying that I they "might hold my funds until I establish my sales history" I have been a seller on Ebay since 2006! All because I removed this APP from my list of apps that can auto charge my account!!
Created By: southbeachglam
---
Search results did not agree with actual searches done on ebay for the same item. Also first 10 ten listings for selected keyword again did not agree with actual search on ebay with exactly the same keyword
Created By: qtecstore-global
---
Doesn't work, waste of money.
Not what I hoped for.
---
Only told me it could not find my product within 20 pages. There were no specific recommendations on what do. I would get a long list of articles to read about how to write a listing.
---
This app lets you see where your items rank on the eBay results, you have to know that.
---
I love how it shows you exactly what page is on. If I am not on the first two pages I just tweek my title and in most cases I end on the first page.
---
Don't waste your time or money
This never found one of my listing and never gave me one bit of advice.
---
This app actually helped me realize some things about "best match" search results.
---
Doesn't do all It says it can do but still worth $1.99 month
Its great to see where your listings come up in search but that is only using YOUR search words, we don't really know what words the buyer is going to enter. But it is still helpful. However it DOES NOT give recommendations! Under the "Recommendations" tab it just lists links to eBay pages that we already have access to. One that I read was about eBays NEW way of searching, which was written in 2007.
---
This app has promise, but it isn't there yet. It DOES do a fair job at pulling up a list of top items in a category
---
inaccurate.includes ended items not real time
Created By: empiresecurity
---
Very flexible, great app
Created By: mistyelectronics
---
So far, none of my items can even be found yet I get views on them and the program says it gives you advice to raise the rank of your listing, well I never did for me.
Created By: buythehealthdepot
---
AWESOME! ITS A MUST HAVE APP FOR SELLERS!
This app does in seconds what would normally take hours or even days. It lets you know where each listing is in best match search results and what to do to increase each ranking. ITS A MUST HAVE FOR ANY SERIOUS SELLER! Customer support responds lightning fast to any questions or problems. Couldn't ask for more.
Created By: buymystuff3341
---
Ranks in my top 3 apps as must have and most effective. For serious EBay businesses this is a must have and must use application.
---
it's more easy to find item on ebay
---
Can see where my listings show up in search results!!
I always wondered where my items would come up in search results. This app allows me to check the results instantly. Saves time and can increase my listing visibility with few recommended edits. Thanks~
---
OK tool but not a magic wand
This app shows you how your listing would rank if a buyer runs a search. You (the seller) are asked to type key words and hit 'search', then in a second the app tells you the rank of your listing in such a model search. I can do the same job without this app though. You might appreciate this app if your items rank terribly low so that they are not on the first page of the search results. If they are near the top already, you will not save any time to get any useful info by using this app. Also, a huge problem is that you need to choose the listing you want to rank from the list of your items, which are shown in group of 5 per screen. I have 750 listing, so I'm asked to find the item I want to rank on one of 150 screens. That's insane. And finally, the tips about how to get a higher rank for your items are trivial and not very helpful. Every experienced seller knows that much. May be good for newbies though. It's worth a try with a 14 day free trial.
---
Only $1.99 per month
14 Days Free Trial *