Item Pricer
By L and J, LLC - Web Services
(released Mar 04, 2011)
Quickly find comparative pricing information for popular items on eBay. Such as the total number of listings, average price, and other details. Easily find the price point for your item and quickly update the price from the application. Only designed to work with popular items (books, dvds, ipods, etc...).
Categories: Listing, Research & reporting
If you are subscribed or want to subscribe to this application please
click here
for details.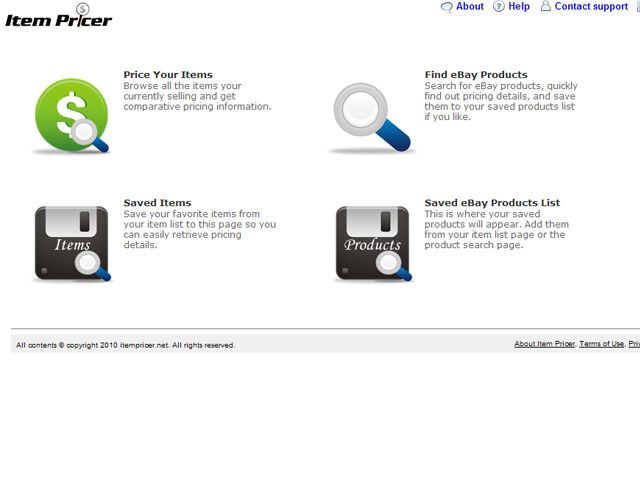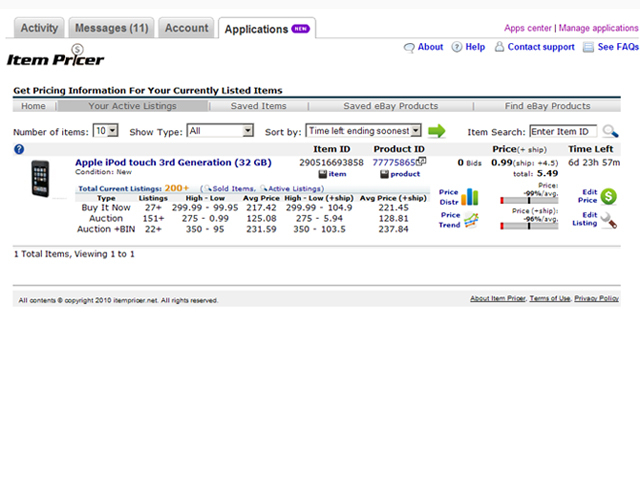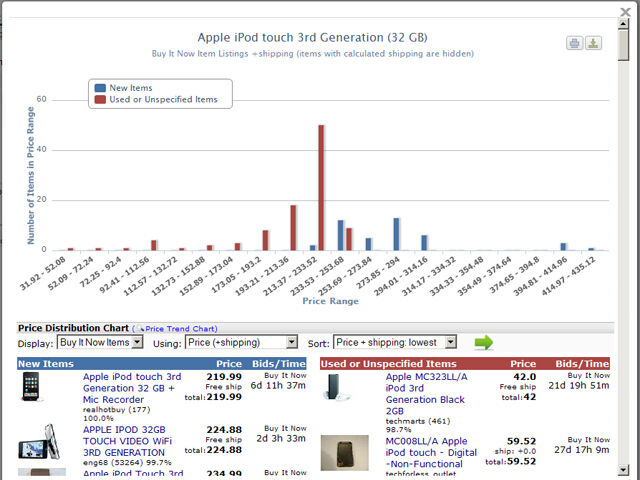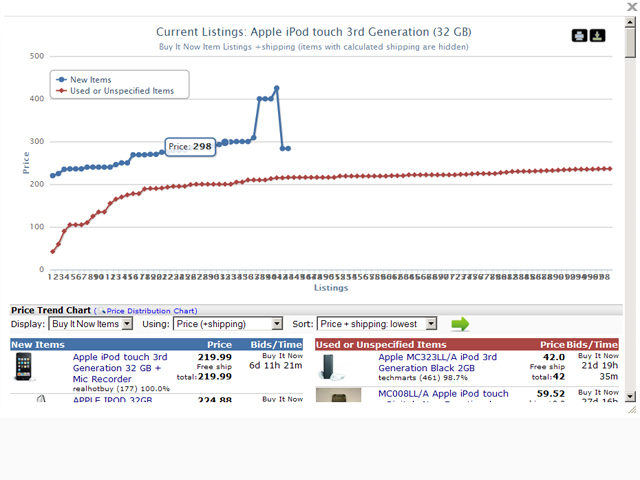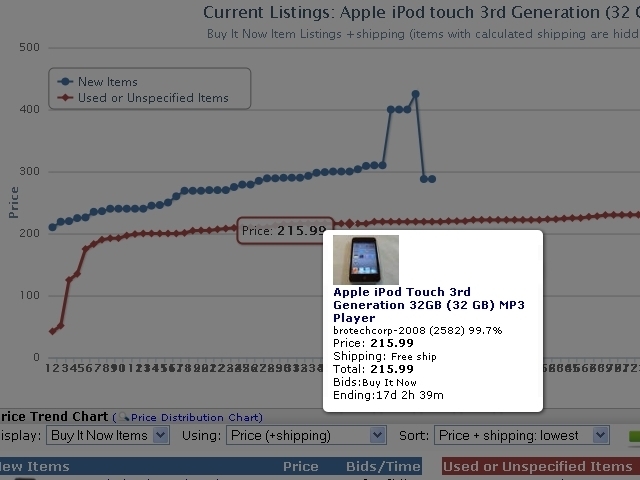 Very confusing. Help in product doesn't help at all.
Was very interested in the pricing metrics and the whole concept. I can't say that you've pulled it off. Maybe I'm missing something, but your product help didn't help me find the pricing trends at all and was just way too cluttered and confusing. I spent more than enough time trying to see what others are selling their similar items for and get help with pricing and this program just didn't do that in my opinion.
---
A great way to drill down when making ebay buying/selliing decisions.
.
---
Easiest app for pricing controls so we can appease the eBay gods.
---
Item priceing was off badly
good app but bad princeing
---
Takes the guessing process out of the listing .
---
Developer ignored my cancelation many months ago. Email reference id: [#9fc322af27ce442fa748fac508c3
App wasn't working and I believed I had canceled. Automatic payments continued, although I was not getting email notifications. For some reason, (no credit cards are involved), auto payment did not occur in Oct, thus putting me in a delinquent status. I have paid the $4.90. However, in the attempt to pay, I "authorized" auto-pay again. My ebay activity isn't very high, right now, so I have no need for this app, whihc wasn' t working well when I tried to cancel the first time. I have continued to fund automatically without knowing it. When I tried to follow on-line instructions about caneling this subscription, there is no "my money" field that I can find. So, PLEASE CANCEL THIS SUBSCRIPTION. IMMEDIATELY and confirm that you have done so. When and if I ever want to use it again, I'll start it up again. That's easy. Just can't find how to unsubscribe. Tacky.
---
Works great for dvd. Seems to not be able to open at times on comp and tablet or phone.
---
taking funds on cancelled account
will never get this again and seriouly thinking about closing my ebay account due to the fact taking money out of my paypal account when i cancelled item pricer last june
---
I have no idea how this was added to my account. I never used the service and only realized it was somehow added to my account after a detailed audit showed it was there months after they were charging for it. You are wasting your money with this app, it appears to be a scam.
---
I have not been able to log into this app once during the entire trial period. I event sent a message to the help desk and have not received a reply. Every time I try to click on an option within the app it says, "You have been logged out. Please restart the application." Which I have now done seven hundred and forty-six times.
---
---
Didn't really help me, but give it a try it might help you. I need something much more dynamic.
---
This app looks great it will help me to find a good starting price for auction or BID pricing
I have had not a great run so far and i believe its because of my pricing. this app look like it can help me price my listings realisticly and beneficial to both me the seller and any buyers i may have.
---
I really love this Application. It shows me whether my items (books) are over or underpriced, at what prices similar items have sold for in the past, allows me to edit both the price or the entire listing right from the app without leaving the page I am on (it opens another window), allows me to search for items and see price distribution, and more. I do wish the developer would add a "jump to page 1, 2, 3, etc." at the bottom of the number of items you can view, but otherwise, it has been very useful.
---
Please remove immediately!
Please get you application off of my ebay account ASAP!!! You people are driving me crazy!!!!!!!!!!!
---
I had a very hard time using it and when I did I could not find any thing help full with it
did not like the app at all could not figure out how to use it and when I would search thing I would no results I was better off finding thing my self
---
Extreemly helpful if your using ebay catagories.
We specialize in selling phones. If your item is in an eBay catagory, this is extreemly helpful. I fly through 50 items for estimated pricing in less than an hour. Saving me tons of time researching pricing. I could see ways to improve the app, but this is still a great tool.
---
IMO, this application is a total waste of money and then when you request cancellation, they charge you for the rest of the month anyway. A TOTAL RIP-OFF - SAVE YOUR MONEY!!!!
---
Yes it kind-of lists like ads but there's one drawback.
It sort-of did whatr it said it would do, but it didn't really help me to get a price for anything I was selling. It didn't even show me ended listings or any idea of what things have SOLD for-just what others are TRYING to sell their items for. That dosen't accurately tell me what I should try to list my item for... Anyways if I'm going to pay for an app on here it better give me some sort of edge-I can do much more a lot easier without it!!!
---
This may be a new application but the developers are VERY professional
---
Don't understand it and Customer support never gets back to you..
---
I can see why some people don't like this app. They expect more from it than what it's desiged to do. It only works well if you are selling popular items on ebay like dvds, movies, ipods, ect... Then it only helps for items you are currently selling. It basically goes out and searches for other items of the same product that you are selling and fetches the prices. It does this for all your items at once saving you time.
---
Actually, 1 star is too high of a rating. Keyword search is useless.
As a new seller, with limited budget and no feedback rating yet, I need help to identify the right products and price points. I was hoping this inexpensive subscription would give me at least a small boost. However, after spending a less than a day with it, I'm fed up. My personal spreadsheets with my own search result data is quicker to populate and less frustrating. I'm unsubscribing now.
---
app can't find items that can be found by ordinary search
app can't find items that can be found by ordinary search
---
Works great for certain items.
This application works great for popular items that are associated with an eBay product. It uses the product to pull up comparable items. If you are selling a unique items such as an antique then it doesn't work as well. It only pulls up similar items which may or may not be a match. It can save you a lot of time depending on what you are selling.
---
too much very poor information
the reference materials provided for the auctions for collectibles are not accurate to your item. they are generalized matches with possibly the same character, or them but often not even the same or similar item
---