ShipSaver Shipping App
By SellerJam, LLC
(released Nov 02, 2009)
Save money on USPS labels & insurance. Bulk Print and insure - auto sync of tracking #&#39s back to eBay.
Categories: Shipping & payments, Checkout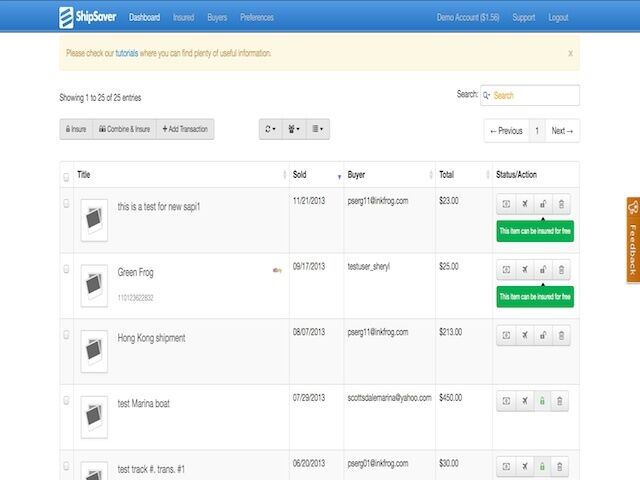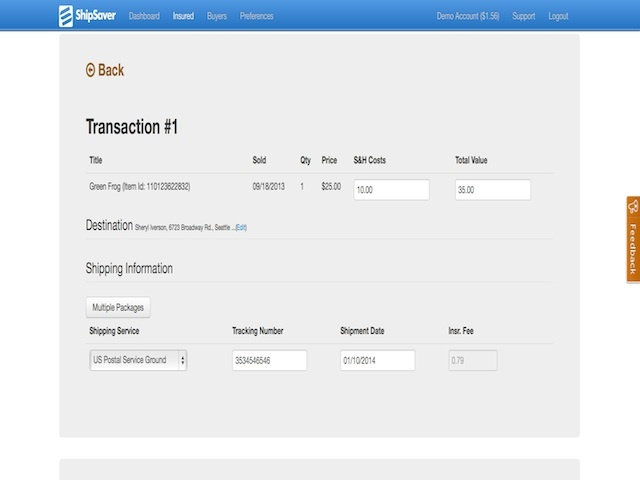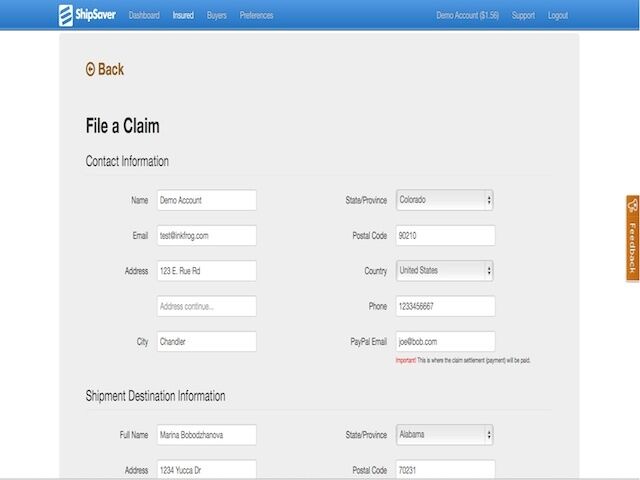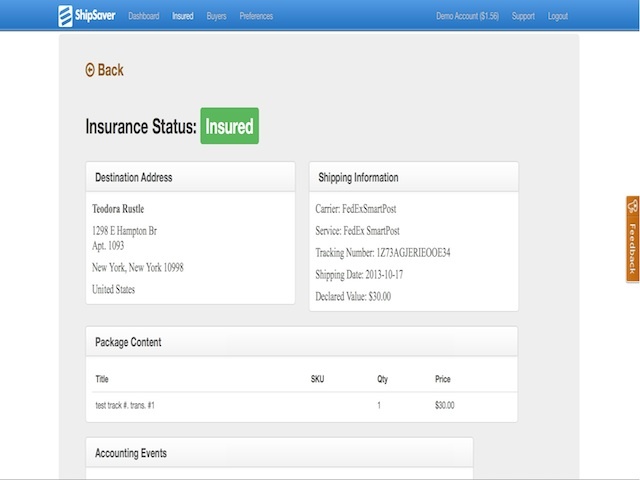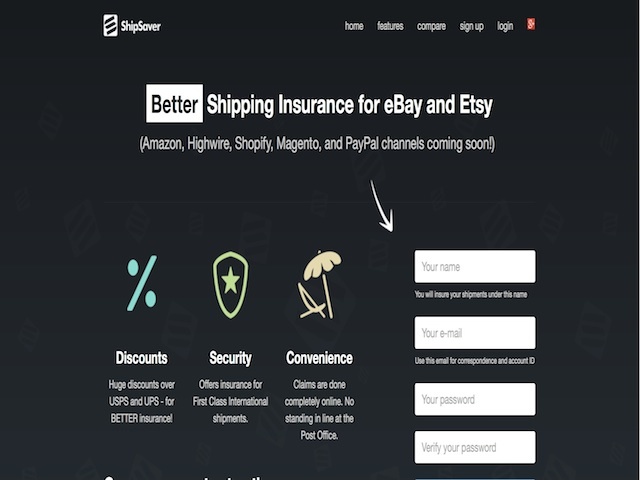 Key features
Huge discounts over USPS on labels and insurance
Commercial Plus pricing on USPS labels
Print USPS labels in bulk
USPS insurance starting at just $0.79 per $100 domestic
UPS and FedEx insurance (labels coming soon) - starting at just $0.60 per $100
Insurance for USPS First Class International shipments
Insure in bulk
Claims are done completely online
Track everything from a single, central location
Description
ShipSaver Shipping app is a great way to purchase shipping labels and shipping insurance at a huge discount. Get commercial plus pricing on USPS labels (the best you can get), print in bulk, and get the best insurance available at huge savings.
Additional resources
Application requirements
Supported browsers:
Internet Explorer 8 or later, Firefox 3 or later, Safari 5 or later
Supported languages:
English
Supported eBay sites:
ebay.com
Required eBay subscriptions:
None
Application support
Support is available 24/7 through email and our ticketing system.
SellerJam, LLC
SellerJam, LLC, the parent company of ShipSaver, and Its founders have been providing tools for eBay sellers since 1999. Owned and founded by the same people who founded inkFrog, we pride ourselvers on providing the highest level of service available. Visit us at shipsaver.com
Also from this developer:
By Inkfrog
(released Apr 17, 2014)
List to eBay and manage your eBay business faster and easier than ever before. The best app in eBay!
Categories: Listing, Marketing & merchandising
The site is never up to date.
The site is never up to date when I need to insure an item. Also, trying to communicate with ShipSaver is a joke.
Created By: theprincessmargie
---
Customer service is lacking
Trying to update setting. Very Important and application not working!
---
Easy to use and saves you money!
Insure your items for pennies instead of dollars with the post office. When you need to use them for a claim, it's no hassle web based claim system is a breeze. Custom forms print in any size you need. The program handles 4x6 thermal labels perfectly. (I use them) I can't say enough about this app. If you ever need support because something isn't working right for you, the support staff is very responsive and will have the problem resolved quickly. Give it a shot, you won't be sorry yoy did!
Created By: fjscommodities
---
Definitely saves a lot of money for me!
---
AWESOME saves money with priority
allows you more options than any other shipping website I have seen and gets you bigger discounts on priority and insured packages!
---
Love the app. Would give it 5 stars if it could print Click n Ship labels
If the label options included click n ship labels where both shipping label and peel off receipt label could be printed on same page it would be perfect.
---
I can get better discounts just by buying the shipping label with my regular seller account
---
is an excelent app, wao Iam happy to have it.
hily recomended, helpful and trustworthy, thanks so much for providing such an outstanding service.
Created By: soniasfashion
---
So far I have not been able to get this to work.
---
constant problems getting the software to work
Good value when it works. Have constant problems with the software and so do other users I know. They need to get it fixed.
Created By: bargainsaboundjohn
---
Everything ended in errors that I tried to overcome one at a time. Cant log in, cant add paypal info, cant add ebay info, cant add money to account, etc. Gave up, not worth the hassle. If its that hard to get signed up and use the program, I have no faith in the ease of making a claim
Created By: factoryworksrc
---
horrible experience trying to get into my account to insure an item.. ShipSaver now has my money and I have no access to insure or retrieve money..
Created By: spottedcattman
---
service is great
Created By: tiggitywiggity4208
---
Awesome! I save on Shipping, easy to delete, void and get a refund on labels!!!
Awesome! I save on Shipping, easy to delete, void and get a refund on labels!!!
Created By: big_island_deals
---
Used to work seamlessly now it doesn't work at all. Thanks
app just cyckles aimlessly
---
Pending, Pending, Pending...
The app has been pending for a day, now, and it should've only been pending for at most 15 minutes. Are applications on eBay just dead? Because I'm only able to use 1 out of 5 apps.
Created By: jayjay555552013
---
Cant access my page sice they changed the format.
They have always been prompt to pay whenever I filed a claim, but since they changed the page format, I can rarely get to my account. If things don't change I will have to cancel my account, and self insure my packages.
---
Used to love the company, before upgrade
Typical Corporate America, take something functional and profitable, and trash it! Before the recent upgrade, it was simple to insure and ship packages. Rarely ever had an issue, besides combining large orders beyond the 20 per page view. Now, you have to print the postage, import the shipped list, sync the system, wait for 10 min, and then select the package you want, and hope it's there. It went from a 3 click process, to a 10 minute ordeal to insure each package. NO OPTION to return to the old system. Sometimes guys, you have to admit you made a mistake, and go back to the useful program. When you make it a gigantic pain, and nearly impossible to insure a package, you lose customers. I, in particular, and going to bail. No hard feelings, it was once a great program, now it takes up an extra hour of my morning to ship. And if you think my time is not my most valuable commodity, then you need to go back to business school. Your about to go belly up if you don't fix it.
Created By: american_lithics
---
3 hours - 2 emails and account status still pending
Not sure what the problem is, but it's more hassle than it's worth.
---
worst service ever. Will never recommend to anyone ever! Not even my enemies
customer service doesnt exist what so ever. Phone number just connects you with an automated message that doesnt even give you a chance to talk to any one or anything. It just barks orders telling you to email them. When you email them you never get a response. Ive emailed them 5 seperate times and not a single one got a response. Plus their shipments never arrive on time. Arrival of packages is usually 2-3 weeks late on average. My seller rating has dropped to below standard becuase of this wonderful app provided by ebay and God only knows how much money I lost because of them. My recommendation is to stay well away from shipsaver insurance. Its a waste of time, money, and patience. Down right horrible
Created By: joeballard0311
---
Why fix what isn't broken????
This NEW shipsaver is AWFUL! My emails do not get answered. Everything is a problem. The system should have been left alone. I am EXTREMELY disappointed with his new system.....
---
Easy and saves me from disaster when Postal Clerks are less than easy with packages.
Created By: friendofliberty101
---
New update deserves ZERO STARS
This app was awesome yesterday, today they have totally screwed it up - 100% GARBAGE NOW.
Created By: modelrrsupply-com
---
I am amazed how bad their IT service was. The program crashed, they could not fix a problem for a week! Would not recommend using it
---
VERY GOOD AT REFUNDING DAMAGED PACKAGES WHEN IT WARRANTS
VERY EASY TO DO NO PROBLEMS WITH THIS COMPANY
---
This used to be a good app but, now it has not customer service call in number to resolve issues.
ShipSaver used to be a must app to save you money on shipping insurance. Now they can't get it right. I get messages about my account needing a different funding sources. They changed their customer service and now you cannot talk to anyone live. Their customer service responds via email and provides no resolution to issues. Does not pay for claims and makes it hard to work with.
---
Insurance at a fair price
It's not often that things get lost by USPS but it's worth having protection for the times it does and the rates charged by Shipsaver are worth shipping every order with insurance. Hands down there is nothing better and i recommend it to all ebay sellers.
---
The service has been excellent, claims resolved quickly and questions are answered! 5 STARS*****!
They promptly respond to questions and making a claim was pretty simple and fast with no hassles. The coverage costs less and and they even offer insurance on many 1st class mail International packages! I've been a customer for many years and have been very pleased with the service.
---
What more can I say? With ShipSaver I can save a lot of money.
Created By: wasatchwarehouse
---
---
Seemed a little confusing
coordination with paypal was a problem, finally did get it to work.
---
Easy to use and saves $$$
Directly links and lists your eBay transactions. Easy to pick out a transaction to insure or add your own transaction. Insurance prices are very reasonable. Also allows/provides insurance on first class international shipments. Excellent app!
---
This app has saved me so many times. Small fee and guarntee coverage
---
---
I have been using this service as "insurance" just in case, hoping to never need to file a claim, but it finally happened. Someone stole an international item which was delivered as an empty box. I filed a claim and was covered within 2 weeks. Fabulous service. I will continue insuring all my packages here. Thank you so much.
---
I have used this service for 8 years and recommend it!
This service saves you money on Priority Mail if your item is valued more than the free $50 coverage from USPS. It is even more valuable if you are sending items via First Class Mail Package since no free insurance is provided by USPS on those. I have only made one claim for a lost package, and the process was very simple. The package turned up before we actually needed to be reimbursed, but I was glad to have the insurance on it when we thought it was lost.
---
Very Dishonest Insurance company.
This company is very dishonest and makes the claim process way to difficult, they "insure" your packages very cheap, but that's because they know that you will never be able to get a refund on any claim. The reason is very simple, they ask you to send all proof of damage and item value etc, but on top of that, they want the buyer to go to a specific URL address, and fill out the information as well. I've been selling on eBay for years, and i can hardly get costumers to send a picture of the broken item through eBay's message system, let alone make them go to a specific website, and do you the favor of filling out any form. That job should be performed by the Insurance company, they are provided with all the buyer's contact information, if they want to clarify the veracity of the claim, a simple phone call to the buyer should suffice. But like everything else in this world, it's much easier to just entice people to use your services and then scam them. Shame on eBay for allowing this.
---
Saves money on postage and insurance. It looks like they have a process for easy claims. Processing a claim through USPS was a nightmare.
---
Works if you don't need it
I've used this service since like 2011 with only two requests for insurance to be honored. Each time was difficult. The most recent item was not even honored. I've gone to Auctiva. It costs more but since my coverage is being denied, I might as well pay more. I gave them ample opportunity to do the right thing for a long term profitable client and they chose poorly!
Created By: legendsbrass2010
---
Much easier and faster to file a claim. Super fast on giving your money back.
Never use USPS Insurance when Ship Saver is so much easier and cheaper.
---
This insurance actually pays claims
Originally I only used Ship Saver for multiple boxes and First Class items that could not be insured. I am now a convert, since in one of my boxes insured through Ship Saver a decoy had a beak broken off. Photos were sent, and the claim was paid in 3 days. Unfortunately, at this same customer's insistence, his next purchase was sent and insured through UPS. This time, a decoy was decapitated, (a fatal injury) and we are on the second week of even trying to file a claim. All my future sales will be insured through Ship Saver no matter what the customer wants.
Created By: verdeantiquesandrarebooks
---
Had an issue on my end and they got back to me same day and fixed it. Prices beat etsy and ebay for priority.
Created By: shopvintagedelirium
---
Excellent service- saves money, easy as pie to use
I've been using shipsavr for several years
---
cheaper than carrier insurance
It is cheaper than buying insurance from UPS or Fedex
---
Love the protection and the savings to insure shipments
I have not had to file a claim on a shipment but I love the protection my customers shipments are provided by using Sip Saver to insure parcels. Not only do they provide great protection, they save me money.
---
I ship fragile mineral specimens, and I will say this: not one specimen goes out the door without a policy from this company covering it. They are about as hassle-free as it comes to dealing with an insurance company. Worth their weight in gold.
---
Love this service. Safe
Created By: goldtrading212
---
Peace of Mind............................
Have been using this app for several months, I went in on my account and set to auto insure for anything over $100. This has been a great peace of mind for my me, I just go in and print the label, and don't worry about adding insurance, as this app automatically adds insurance on their site, and the pricing is better than adding usps insurance when printing label. If you ship a lot, and ship over certain amounts you need to insure, I highly recommend taking a look at this and using for your business. I have had no claims yet (knock on wood), so I cant speak to that, but im betting they handle claims fast and efficient as well.
---
accurate and fast, never a problem!
accurate and fast, never a problem!
---
Helps me to feel that all my customers are covered and so am I.
---
I have been a great customer of Ship Insurance after 4 years of paying out I put in a claim no results. Claim closed one person put you to a dead line. People of Ebay do not purchase this is a rippoff!
---
Now instead of charging your paypal account for the amount of actual insurance. Now they want to debit your paypal account for an incremental amount as a "Balance" in your shipsaver account...oh and they want you to pay the paypal fee too....YOU SUCK not going to use any further!!!
---
Dishonest business practices!.
I recently signed up for ShipSaver insurance services thru Ebay and after a few months we needed to make a claim. One of our products was damaged in shipping. After several phone conversations stating they would take care of this and sending them the paper work they asked for, they denied the claim of $575 because the buyer returned the item to us before we could open the claim. As a seller on Ebay you can't always get buyers to do what is required by this insurance company. Sometimes buyers get angry when they receive damaged items that they really needed. In this case they immediately returned the item for a full refund. ShipSaver stated that was the reason for the denial of the claim was that the damaged item had already been returned to us. HOW DISHONEST! Thanks
---
Bad service. They let you pay for insurance for items they wont cover.
Bad service. They let you pay for insurance for items they wont cover. Avoid.
Created By: midwestcoin_dot_com
---
A Tremendously Helpful Service
The service this application offers saves time, money, and resources when it comes to shipping and insuring our eBay items.
Created By: expensivesh1t
---
I use this insurance on many of my items, they have great customer service. I am so glad that they are available to us.
---
Excellent claims service from Shipsaver with a very difficult buyer
My buyer received an item that was damaged in transit and because it was insured I initiated the claims process. My buyer absolutely refused to assist me in filing a claim for the damaged item. According to my buyer since I bought the insurance she didn't feel the need to do anything and wouldn't complete the documents to verify the claim. I don't know why because the claims process with Shipsaver is so simple. Once they verify the claim the insured is reimbursed. It's nothing like other carriers where you wait weeks to get a response. When you contact Shipsaver you get an immediate email response to your inquiries. Shipsaver did process the claim without my buyer because I had the documentation that the item was damaged. What's really impressive is their turn around time. Other companies don't provide such speedy claims service. It is easy to reach someone by phone if you need help. I love Shipsaver and will use them for all my insured packages.
---
A valuable tool for many online sellers
I've been using Shipsaver for three years and it was only a matter of time before filing a claim became necessary. There weren't many steps on my (the seller's) part, and it was simple for my buyer as well. Turnaround on the claim was quick - just a week or so from claim to resolution! At one point I needed to contact customer service with a question and the the rep was friendly and answered my question satisfactorily. Insurance is one of those products that you infrequently see any benefit from but when you need it, it well might end up paying for itself.
Created By: burroblancoaz
---
New auto refill and paypal fees added to Insurance Cost
I've been using ShipSaver and promoting it on YouTube for several years and though I've never needed a claim, always felt it was the best offer for third party shipping service. However, now that ShipSaver is adding the PayPal fees 30 Cents plus 2.9% for the shipping insurance to the Insurance costs that pretty much brings it only a little under eBay's shipping insurance for USPS. Unfortunately, the new transaction fees that ShipSaver (as all vendors) have paid on their PayPal transactions are being put onto the ebay seller, I think this was a bad decision. That's like me telling the person who buys from me on eBay that they have to pay the seller's transaction fees. You would of been wiser to just raised your prices and embed the fees. I also do not like having to leave a balance on account with ShipSaver which auto refills from PayPal funds. You should have made this a manual balance instead of auto Transfer. Sorry, I won't ba able to use or recommend this service now.
---
My experience was great. I filed the claim and aside from a little hiccup from the person at the other end, it was quick and painless. IE I did not have to devote extra time to solving issues, your people handled it. MANY THANKS
---
less hassle and less cost. insuring all packages is now affordable. Will be even better once Amazon is added!
---
Use to be a Great App NOW THEY SUCK!!!
Before use could pay as you need it, Now they just keep taking money out of paypal...... No customer service.....Back to buying ins from USPS
Created By: bonnieandclydesboutique
---
I have a claim and they are horrible
I sent photos of Fed Ex damaged box and broken ceramic canisters. No response from company. I?m getting frustrated and am going to cancel the insurance. I?ve had this company for 3 years now so they have collected more than enough from me in oremiums and yet will not cover one broken package.
---
No customer service available
Used good but since they changed the platform, nobody available for help. The platform has a lot of system issue taking long time to see the correct payment. Time to contact PayPal and dispute the double charge.
---
Top notch and very quick!!
Way better than the USPS or UPS insurance. I would highly recommend them to anyone who is selling online. Cheaper and much faster than the others!
---
Have insured many packages... waiting on final review.
We have insured our packages with Shipsaver for a couple years and they have saved us lots of money. We do have some pending claims for lost packages, final review to come.
Created By: medicalequipmentesi
---
The think I like most about this ShipSaver is how easy it is to use! The fact that I can add insurance even after I have printed the postage is also a big plus.
Created By: amazing_deals530
---
I've been using ShipSaver now for several years
I find ShipSaver to be a user friendly experience; easy to find my Buyers
---
---
Charged me Shipping Insurance for furniture that was never shipped !
I sold a Cabinet, that was clearly stated PICK UP ONLY. It was never shipped; could not be shipped. Yet they charged me SHIPPING INSURANCE for it !
---
Great Alternative to High USPS Prices!
I have been using it quite a while now and only insure items over $100. I have had need to use the free USPS service and this service. I can say that both are very easy to file the claim with and both respond quickly - but Shipsaver really had their hands full with one customer who wanted to keep part of the item and have the rest fixed. They worked with him more than I ever would have! I have talked with their support group as well on separate issues I had with High Dollar Shipments. The customer service person needed more training but the manager did step in to resolve my questions so even then I give them a big thumbs UP! My only negative to the service is there is no phone number to call posted anywhere. If you aren't good with emails this is a tricky service but if you are online constantly it really works as advertised. Thanks ShipSaver!
Created By: myantiquestore
---
I am very happy with their services and will definitely be using them for all my future insured items. I have shipped hundreds of items and thankfully, only twice before have I had to put a damaged item claim in (since I spend a fortune on bubble wrap) and ShipSaver was by far the least amount of hassle out of the other companies and taken care of 95% faster. They got back to me immediately after I emailed with a question and so much more personable. Truly feel like I found a company that cares about their customers and not just put on hold, forgotten about or told I have to fill out 15 forms and hope for a check in the mail. They cover the cost of the shipping fee and the refund goes right back into your Paypal.
---
Great Service but method of charging first and then using the money is not right, I like when they charge as I go.
---
We have used Shipsaver and find it to be a great value, much better than USPS rates. Had to make a claim and it couldn't have been simpler, fast and courtesy service. Highly recommend this application to anyone, in fact we have recommended it to people who now use it. Thanks, Shipsaver
---
Easy to add insurance at a good price after shipping from application. Depend on Buyer cooperation to provide repair estimate less then value of item. When the estimate was too high, Shipsurance wanted item destroyed. Claim settled at Retention Value, paid out quickly. Everybody was happy.
---
They really should tell you upfront that you have to pay $5.00 Upfront
I tried this app after not using it for quite some time. I insured a package for $100, which was less than a dollar, HOWEVER, you have to pay $5.00 upfront, and then they deduct the amount each time you use it. I won't have to use it again, as I typically only sell clothing that's less than an dollar... so basically I just paid $5.00 to insure a $100 package. They should tell you that upfront. I would have just purchased insurance through USPS!
Created By: the_pretty_little_princess_shoppe
---
Problems with renewing Paypal subscription every time.
Problems with renewing Paypal subscription every time.
---
I HAVE SENT ALL, DOCUMENTS NEEDED FOR PAYMENT OF CLAIM. PERSON THAT BOUGHT ITEM WILL NOT SIGN DOCUMENTS.
---
was very good in the years I was using you guys up till now
cannot activate my account. Don't know why it was discontinued in the first place. I was very happy when I used it for a few years up till now!
Created By: golfbasilthecat
---
great app recommended to me by an ebay operator.
I love this app, it easily insures all my shipments. I have not filed a claim yet, however, the operator who recommended this app to me assured me it is a stress free process
Created By: acdcmarineinc
---
BEST INSURANCE PROVIDER!!
I stumbled across this company after another insurance company dropped me for too many claims, which is wrong on every level! I ship 1000's of packages a week and ship Internationally, so insurance is so important. When I found out this company insures 1st class mail I was thrilled! I can offer lower shipping prices to my International customers now and have peace of mind that if something is damaged or lost, neither my customer or myself will be out any money. I have had to file a few claims and I have never had an issue. The process is easy and they process the claims very quickly. To top it off!! The prices are fantastic!! Thank you for offering such good service. I will remain faithful to your company and have recommended your company to many people. May your business continue to prosper. Kathy Cozens Cozee Clothing katcoz1209@gmail.com
Created By: cozee*clothing
---
Saving over carries insurance. Easy claim process
Well integrated buying in Ebay. Timely and easy process of claim. A+
---
We have used the insurance for over 5 years and they are continually improving their service and efficiency.
Created By: 123choicecoins
---
They don't pay out claims
I insured hundreds of packages. I had the need twice to file a claim. Both times, I was expected to jump through hoops and ultimately was not paid on either claim. Although one buyer filled out the necessary forms, they still found a way to deny it.
Created By: goodfindscompany
---
---
Beware---They want money in advance!
I had already selected to insure a shipment. It showed all good and insured. I have since received repeated (spam) from them telling me my acct has been suspended and asking for a minimum of $5 for a 79 cent payment! They did this without any prior notice, I can't insure the pkg with anyone else now and have NO access to my other prior insured packages since the application won't open unless I pay them this minimum amount. It's basically extortion! This means I can't file any claims on previously insured packages if necessary. Meaning they took my monies under false pretense. They are using MY EMAIL ADDRESS as the Reply To address within their constant harassing emails, which is illegal! When I insured my package it stated the amount was for 79 cents, NOT $5 or MORE. This is the only amount they have the right to collect. Horrible experience from a company who doesn't care.
---
Reliable and trustworthy!
---
I have used them for over a year now and they have been awesome. Less money and they cover everything. If you have a claim they deal with it professionally. If you are not using them then you are costing yourself money!
Created By: lostfairysales
---
Great Service and Quick Payment on an Insurance Claim
Shipsaver Made the process of filing a claim easy and quick. I had my insurance money within a few days of opening the claim. I greatly appreciate the service this company has provided me.
Created By: goodealsellers
---
Excellent insurance company!
ShipSaver insurance is affordable and user friendly. You can insure packages with a couple of clicks. I use it every time I ship a First Class package in the US or international.
---
Excellent service, excellent communications were prompt and easy.
---
I would not use this service again, beware the fineprint and loopholes, use USPS or UPS insurance.
My customers item was damaged during transit but because the item description was on the outside of the box my insurance was void (I don't know how that would prevent my item from getting dropped)...did I get a refund? NO. I then discovered about a dozen items I had already shipped were never insured...did I get refunded for all that? NO....thank goodness only one arrived damaged. So just go with USPS or UPS insurance. From my experiences with those carriers they only ask for an image of the damaged item and they pay within a week. Shipsaver asks for 20 documents (which frustrated my customer because I had to keep going back asking him for stuff) and then tells you "sorry, you are not covered". Very disappointed, wish I had never stumbled upon this horrible app. Ebay take note!!!
Created By: jr1collectibles
---
Deceptive insurance practice.
They don't tell you clock parts inside the clock case aren't covered. Only the case is covered in case of damage.
---
Always nice to have assistance and an automatic reminder to speed things up
This can make your shipping time go smoother and faster. I used the service in the past and hope it works for you also.
---
This app have helped big time with my international sales
I was excited when ebay's Global Shipping Program came out and signed up right away because of many lost international packages and no tracking. After starting GSP my International sales all but stoped because my customers didn't want to pay the heavy fees asociated with GSP. The ShipSaver app allows me to send international with insurance and now my international sales have sky-rocketed. I have had a couple of claims that ShipSaver has taken care of in a very timely manner with great customer care. This gives great piece of mind for me and my customers. Thank you ShipSaver Insurance. walt2680 / Elderly Electronics.
---
Working just fine for months. But when Paypal preauthorized payment expires, and it does automatically every so often, it can screw you if you are shipping high ticket items. I have had so much trouble trying to get it back on line that if I could put a 45 hole through it without damaging my monitor, I would KILL IT.
---
Better than Priority Mails free insurance by far
Very fast and professional totally worth paying for, buyers don't have to wait long so your feedback isn't effected I'd much rather pay for insurance then to try to get it from USPS, too much weighs in the balance that way. Great service well worth paying for in my book.
Created By: crazycatladylove4vintage
---
Don't waste your money on this insurance co.! They don't cover Precious Metals
This is the worst insurance company that I ever dealt with! You take my hard earn money and don't make the effort to let us know that our items won't be insured due your regulations. I will not recommend your service to anybody!
---
A+++ app, exceptional customer service, immeasurably better than USPS. Try it out
I can't recommend Ship Saver highly enough to any
Created By: magnolia**dreams
---
Normally I would have given this app a four or five star rating as it is one of the most cost effective insurance options. However, recently my "payment authorization" expired on my account and quite a few items were not auto insured - shipsaver never sent me any kind of e-mail alerting me of this so now about a months worth of packages have no insurance and they refuse to help me. They are cheap, but DON'T COUNT ON YOUR ITEMS TO BE AUTO INSURED!
---
I've been using ShipSaver for select shipped items. I recently shipped to China and the package was lost in transit. I opened a claim with ShipSaver. I found it to be easy, straight forward and speedy. My claim was approved and paid within a few days after requested information was provided. Impressive!
---
Best insurance experience I've ever used! Only had one claim, and it was painless, paid out quick!
I set my preferences to automatically insure all sales over a certain dollar amount. Set it and forget it, it takes care of it all for HALF of what you'd pay with Postal Insurance rates! It saves me money, saves me time, and best of all, when the one incident occurred, they paid the claim with little work on my part! Five Stars!
---
Good but too many exclusions
It is a shame that cell phones/tablets/laptops are excluded. You should renegotiate this with your insurer.
---
Very smooth claim process!
Claim was paid promptly
---
I can't say enough good stuff about Shipsaver. I've had to file claims twice and both transactions were flawless. I had both transactions paid in full in less than 1 week. I also use it for Priority mail, because for the price, its not worth the headache
Created By: click-on-my-red-door
---
Buggy app and website, won't pay claims
The website and app are buggy, to say the least. There are issues with submitting forms, buttons don't always validate form entries properly, UI has some significant problems. The biggest problem, however, is that the company will resist paying claims at all costs. Even the smallest claim will require an affidavit from your buyer, plus photos of the interior and exterior of the package (if it wasn't lost). Also, the seller is responsible for everything, so get ready to receive negative feedback even if you make good with your buyer because of the hassle you'll put them through. Even then, don't expect to get a settlement from ShipSaver (aka Shipsurance).
---
I have used Shipsaver for over a year. However, it was only last week that my first shipment was lost. I must say that Shipsaver came through for me in great time. Faster than UPS or USPS. I am going to continue using them.
Created By: lucy-and-ethel
---
Pay for the insurance service and if you need to file a few claims you will be dropped. Just like all other insurance services. Have a claim, file it, and if you get paid you will be dropped by the company. Whole business a fraud!! They have no real obligations to you once you have paid premiums!!
Created By: procyclingdiscount
---
User friendly and good price.
My suggestions: -Receipt takes a little too long to receive by email. Faster 'd be great. -After purchasing the insurance, it's hard to find out how much you paid for. Will need to wait for the email receipt.I 'd be great if that is available on the activity page. Thanks!
---
the best I've found...love it!
I use Shipsaver for both Etsy
Created By: gingertopvintage
---
S
Created By: gr-rorus-sars7qyb9o
---
(There have been no reviews for this application.)
Had problem with app, upper level management contacted me and fixed issues
Had long term problems with app, Greg, an upper level support person, found and and worked through my problem. Am now happy with this service. Very easy to use in coordination with Ebay!
---
Great price for peace of mind.
Great price for peace of mind. Never had to file so no comment on this area.
Created By: cybergrannie99
---
(There have been no reviews for this application.)
Affordable Insurance with First Class Service
ShipSaver does business the simple way. They charge a fee for insuring a package, and you get paid if there's an issue. Their app is very easy to use, from insuring a package to filing a claim. Best of all, you only pay for the items you choose to insure. Don't be fooled by the brags of other insurances. Give them a try. You'll be happy you did.
---
ShipSaver is very easy to use. Insuring an item just takes a few seconds. I have used this service for years, and on the few occasions when I needed to file a claim, the process has always been quick and easy, and settlement made quickly. Much much easier than filing a claim with USPS.
Created By: trinketsandtreasures
---
Friendly and personable folks. No canned messages here but people you can actually email and talk to. Always an easy transaction.
---
shipsaver helps you keep your customers happy!
excellent customer service! they work with you 1:1 on resolving problems. from domestic to international claims they are the best for price and service. people that leave bad reviews either have something to hide or they do not communicate with shipsaver in a reasonable time. 5 stars in my book!
---
THEY DO NOT PAY!! THEY ARE CROOKS!!
Created By: summitpointauto
---
Great servivce with a few limitations
Easy to use and automate but does not handle multiple package shipping unless you first cancel the auto insurance and the re insure with the multiple packages, this causes you to lose the discounts for automatic insurance.
Created By: sailfishmarine
---
I was wrong in leaving a bad review
Shipsaver did pay my claim and I was wrong in the bad review left. The time to pay the claim was outside what I thought it should have been but they DID pay the claim.
Created By: bournestreasures
---
I had to file a claim recently, and I was able to keep my customer happy without wasting hours of time thanks to the ease of completing a claim and the help of their representative. I am so glad there is an application available that makes it possible to not have to worry about shipments getting lost or damaged.
Created By: dollies*n*dinosaurs
---
Shipsaver came through for me in the end.
I recently had to file my first claim for an item which, according to my buyer, was damaged in transit. Initially I had some problems due to the buyer not providing complete evidence of damages (packaging was thrown away) but eventually this was ironed out and I received payment in full. I would definitely recommend this insurer, just make sure buyers keep the original shipment packaging for a smoother claims process.
Created By: bullion_collector_xi
---
Excellent, reliable, easy to understand and great cust svc!
The best insurer i've found yet. You can count on them. Recently had to file two claims for 2 items lost in the mail to France. Wasnt a lot of work to file, and they refunded in full, promptly, right to my paypal account. Awesome, for peace of mind at a reasonable price.
---
This company is great to work with. Everything is done online with seller
---
ShipSaver Insurance provides quality coverage and is an excellent value.
I have been using ShipSaver Insurance for a little over a year now (about 500 shipments) and I am quite pleased with their service and competitive rates. I thankfully have not had many claims, but when I have, the forms are clear and simple, the review is objective, fair, reasonable, and substantially faster than USPS, UPS and FedEx. They have excellent customer service and are timely and responsive. What a great value! Insurance is never fun, but they do make it as painless as I have ever experienced it. I am a proven loyal customer, and I actually never write reviews, but they are worth the time for me to do it. They are a great shipping insurance company!
Created By: modelenginegarage
---
Very fast processing time. Pleasure to do business with. Use Ship Saver whenever possible.
---
my cases are handled with the utmost respect and promptness. complete customer confidence!
shipsaver offers me peace of mind during any complications. everything works out so satisfactorily. and dealing with shipsaver has really opened up my business to international customers. i used to fling packages across the sea and cross my fingers that it'd arrive safely. it was very stressful. now about one-third of my business is overseas! shipsavers support gives me the ability to fix sticky situations quickly! i work hard to keep a good business reputation and shipsaver helps make that possible.
---
They were happy to keep on taking money for their premiums but when I had to actually file a claim, they backed away and started demanding all sorts of documents and didn't pay the claim, which is outrageous. Their app is also crap. Don't waste your money on them.
---
Excellent Service and Communications
I've used the service for over three years. Finally had the need to file a claim until recently. Good service, communications, and the end result was all you could expect. I'll continue using ShipSaver for each and every shipment!
---
(There have been no reviews for this application.)
Review on shipsavers claim process
I have been using using Shipsavers Insurance for a long time. Their claim process is very quick and easy. Once Your customer submits their paperwork,the turnaround time to settle your claim is within days.Their customer service has always been quick and polite. If you are looking to Insure your orders this is the app to go to. Ken
---
ADD TRANSACTION FEATURE DOES NOT WORK FOR THE LAST FEW WEEKS
THIS FAILURE OF ADDING A TRANSACTION SEEMS TO BE A TOTAL FAILURE. MIGHT CONSIDER SCRAPPING THE ENTIRE PROCESS.
---
ShipSaver provides cost effective insurance coverage and great customer service!
Shipsaver insurance is affordable, easy to use and accessible entirely online from eBay. Their staff is wonderful and it is our store's experience after using them for the past year to insure our outgoing packages, that they provide excellent assistance when needed. But isn't the true test of an insurance provider what happens when a claim is filed? No problem with ShipSaver. The completion of a simple online form accessed directly from eBay gets the ball rolling and it has been our experience on the few claims we have had to file that in less than a week the claim was resolved and paid into our PayPal account. We could not be more pleased with the timely, efficient and professional service we have received from ShipSaver! We highly recommend them to others.
Created By: newbeginningslakewales
---
Definitely use Shipsaver for your eBay Insurance!
ShipSaver has been a huge help for my ebay business. Besides saving tons of money, they work on and finish your claims very quickly with no hassle.
---
Wouldn't approve my claim and made it so difficult that I would give up
Instead of approving insurance for the items that were damaged in transit, they told me I had to have my CUSTOMER get a repair estimate. These were about four or five $15 knives. I had pictures to show the damage, but instead they hedged and threw out so many obstacles that it made it worth it just to eat the loss. My customer was already unhappy at the damaged items arriving that way. If I had asked him to go out of his way to get a "repair estimate" this would have really pushed him over the top! I will never use ShipSaver again.
Created By: whole_earth_supply
---
Yes you will save money, but just try to file a claim! The worst customer service, and they will use every excuse in the book to get out of paying for a claim. What they are good is taking your money! This company not only is bad, but they also give ebay a black eye for allowing them to continue!
Created By: atozwholesaleautoparts
---
HIGHLY RECOMMEND APP * NECESSARY TO ONLINE SELLERS * i LIKE "ADD TRANSACTION" FEATURE
I've used ShipSaver for years and when I didn't use it, thinking I could get along without it, I regretted it. Fast and easy way to insure your online sales, whether through eBay or your private sales in which you are shipping the products. Claim service is FANTASTIC - ShipSaver responds when others won't. SUPERB customer service, personal and timely. It's one app an online seller shouldn't be without. Saves me many worries and concerns. Thank you for offering it. faotoys on eBay
---
I choose to insure through Shipaver to avoid any hassles from USPS insurance, and that's free!
I have been using ShipSaver to insure many if my packages and have hassle free claims completed without one dispute or headache. I've been selling for 15 years and I'm quite picky when it comes to saving time and avoiding complications. ShipSaver is the way to insure for me.
Created By: storageunitauction
---
trustworthy reliable company
have been using for quite some time, when i finally had a claim, it was professionally, and efficiently taken care of the representative was excellent and the claim appropriately settled thank you shipsaver 5 stars
---
If you file a claim they will drop you, They only want to get your money no insure. Sorry service beware of this crap. PISS POOR BEWARE!!!!!!!!!!!!
Created By: karatemartialartsbarbie
---
Horrible app and even worse customer service
Worst customer service ever
Created By: nine_beauty_supply
---
Excellent seller tool and service
App works great and saves money on shipping insurance. Claims are fair and pretty easy if you ever have one.
---
I only use this insurance! Great prices!!
Give this one a try they are very reasonable priced and you only insurance what you want.
---
ShipSaver has great customer support and they appear to be cheaper than both USPS or ShipCover.
---
Useless, Should be Removed.
To be covered for Insurance. (1) File a Claim (2) Sellers are responsible to send a Link to the buyer (3) Buyer "HAS TO REPLY" to the link. 9/10 buyers will [ NOT ] reply to the link to confirm the insurance claim. If the claim is not confirmed by the buyer, SHIPSAVER is useless. No one can make an International buyer confirm an insurance claim. They are already mad because the package is lost/stolen. SHIPSAVER WASTE OF MONEY - BEWARE - KNOW THAT THE BUYER HAS TO CONFIRM THE CLAIM IN ORDER TO GET A CLAIM GOING. BEWARE, BEWARE
---
best prices on insurance!
haven't had a claim yet but can't beat the prices!
---
Used this until I filed a claim
Instantly rejected the claim without details. $170 item was damaged in shipping and the Manufacturer would fix it for 32 dollars. They instantly closed my claim and told me to file a claim with no information. Upon emailing them, I was told to fedex. Why am I paying them for insurance so that I have to deal with fedex?
---
Easy to use and quick to pay claims!
I love Shipsaver. The app is very easy to use. Insuring items is a breeze. When I had to file a claim, I was very happy with the process and how quickly I was paid. That makes my customer happy when I can reimburse them quickly. Thanks for the great service!
Created By: chicvintagegoods
---
Save time with easy to set up automatic insuring. Very easy claim process for both seller and buyer
Claim process simple; seller
Created By: scottsbricabrac
---
Claim for a broken Cookie Jar
I put in a claim for a broken cookie jar and it was simple and super quick for refunding my buyers money! Thank you!
---
AMAZING Customer Service!
I had an unfortunate shipping incident in which an item broke. My customer was an elderly man who did not have much computer knowledge, and had a difficult time navigating the internet. My Shipcover service agent called my customer for me, and walked them through the claim process! Fantastic! I've never been treated so well, with such a simple straight forward process of filing a claim! Thank you Sheryl, and Shipcover Insurance! ~Keith
Created By: wwwstoneculturenet
---
Terrible Service! Very Bad Behavior and Very Rude Employees!
Had Very Bad experience with them, very bad customer service.
Created By: ju.ju.luxury_fashion
---
would not use anything else~
great customer service and very competitive pricing
---
an error messages, not able to log in
not able to insure package when I want: system is giving error message
---
Great claim service- no problems ever!
We have had a couple of claims over the last several months we have been using shipsaver. Everyone has been handled and paid. Very pleased with this application. Would recommend too others.
Created By: rorytotherescue
---
I have been using ShipSaver since it began. I am always satisfied with this application and grateful to have the ease of insuring my items. ShipSaver is simply one of the best insurance programs around. The ease of using it from start to finish is a bonus. In any contact I have ever had with the team at ShipSaver, they have always replied immediately and are always helpful and professional. In the instances where I have had to file claims, ShipSaver walked me through any issues I had and all I had to do was contact them through email. I feel that ShipSaver is the best insurance program around. The price cannot be beat as well. I feel it is well worth insuring items through ShipSaver without having to charge my customers more money to cover insurance. The ease of use and the contact should you need help being by far the biggest help. I am 100% satisfied with ShipSaver and hope to continue doing business with them.
Created By: prettythingsforyouandme*123
---
Always provides excellent service, promptly answers emails and pays claims out quickly.
Created By: bigpigdog*com
---
Terrible customer service, difficult and unfair claim process
Poorly written application. Terrible, inept, and the most unprofessional customer "service". Claim hassles... I cannot recommend...
Created By: shoecitychampions
---
Claim difficult to cancel
I tried to cancel a claim since the buyer gave me false information. It's too much hassle to cancel, I just let it expire. The "Cancel Claim" button on the notification does not appear to work.
---
I've been using ShipSaver to insure my packages for over two years. It's a big savings over insuring through USPS plus I can cover packages that go by first class mail. I've had only one claim in all this time. The claims process was very efficient and easy to complete. I am very glad I used ShipSaver and will continue to do so.
---
I have benefited from ShipSaver for years and have had many claims paid.
Created By: universalnailsupplies21
---
Used for a couple years with no problems,loved it, then for last year had continual problems with paypal authorization and with app working. Now they have changed from just buying insurance when you occasionally need it to holding a balance with them all the time whether you are using it or not. That is not feasible for small sellers who only use insurance occasionally and don't want a set dollar amount in a holding account for shipsaver to collect interest off of.
Created By: archwayvariety
---
Used to be great before automatically pulling funds out of PayPal.
I don't understand the need to draw money automatically out of my PayPal account. all of a sudden This move is clearly catered towards large sellers who can afford to keep a balance vested strictly towards insurance. By doing this, you're also cutting out small businesses who don't insure all of their packages, such as myself. This is a foolish move on your part. I will now be insuring directly through my carrier.
---
Just had to submit my first claim-it was easy and fast. Very happy!
---
constant issues trying to access account
unable to access shipping info, so cannot add the insurance. Ongoing compatibility issues with windows7/Google Chrome.
---
$.75 on a $5.00 item! I'll take my chances Disabled it
---
I love ShipSaver! I love Emma too, she is very helpful, kind and patient! She has helped me and my husband a few times over the years of using shipsaver!
Created By: santaslittlehelper32
---
Great Customer Service/Low Cost/Fast Response
This is by far the easiest and fastest way to file an insurance claim, get response, investigated and refunded. The fast settlements make the customers much happier than waiting 3 to 4 months for other insurance adjusters. It is so easy to file a claim. Email photos of damage and damage verification from customer. TADA it gets investigated and refunded quickly. The support on the other end is great also. They do everything they can to work with and help you out. Great low cost package insurance service.
Created By: abbysbargainbarn1
---
Excellent service at an affordable price, a great seller service to have available!
In several hundred eBay transactions I have had 3 times to file a claim now with ShipSaver, the latest claim was due to damage during shipping while the other 2 claims were lost shipments overseas. Simple process to file a claim as it can all be started from the eBay Applications site, electronics communications are exchanged between you, your customer and ShipSaver then it is reviewed for payment by ShipSaver. The whole process for me took 7-10 days as it is depending upon the timely response from the customer to ShipSaver. It's all done with emails via your computer, no paperwork to mail, it's a very simple process. This package insurance program is well worth the cost involved to have a piece of mind on your customers items, all of my claims have been handled professional and paid in a timely manner. Thank you ShipSaver!
---
Easy to use insurance process
ShipSaver Insurance is great! Easy to use, easy to file a claim if a package is lost or damaged and great customers service. The ability to auto-insure and customize exactly how and what you what insured is awesome. When it comes to the claims process it is very easy to initiate a claim and everything is done online. Send the claim to the recipient and get paid a few days later. Keep up the good work!
Created By: auctionstopcentral
---
Excellent customer service, very good communication. Quick
Very easy to use, received quick and informative emails with instructions regarding my claim. They paid it very quickly. I highly recommend and will continue to use this service.
---
An easy reasonable way to insure packages
With the click of a button your packages are insured. Love the fact that you actually have up to 24 hours to add insurance to a package. Filing a claim couldn't be any easier. Payments on claims are done really quick too!
---
if you use it they will kick you off
if you use it they will kick you off
---
(There have been no reviews for this application.)
Reasonably Priced, Fast Claim Service, No Runaround. This is Fantastic Insurance and a Great Deal!!
Postal delivery has always been risky, but seems to be getting worse lately. The USPS $100 free insurance sounds good, but the runaround required to get a refund is ridiculous. ShipSaver Insurance is an alternative insurance that is very reasonable and determines claims in days instead of weeks. This is great for eBay sellers that have demanding buyers wanting refunds instantly for items that were damaged in transit. They have treated me fairly on several occasions. Nel
---
Worst Service Ever ~ Useless
It may sound like a deal compared to other insurance options, but as far as I'm concerned, it's worse than useless. I had my first ever report of damage from a customer. To file a claim on a $139 item, my buyer would have had to not only fill out a form and take photos, but find a 3rd party expert to get an official repair estimate. Seriously? Can you imagine asking a buyer to do this? Buyers aren't even required to cooperate with insurance claims on eBay in the first place. When I complained and called ShipSaver, the representative was rude and treated me as if I was incapable of reading their claim instructions. They're poorly worded. Intentionally?--in hopes a certain percentage will give up without trying? She had her spiel ready, so I suspect I'm not the first to question them. Worse, I had convinced the company I work for to use the service. Having to eat humble pie with my boss was almost as bad as taking a complete loss on the $139 item I shipped out
---
Useless if you ship items of value
Note while they compare their rates to USPS, they DO NOT cover many of the items USPS do (cell phones, computers, electronics, many things of value). While they happily offer to insure your items and take your money in their application, no coverage is actually provided, as you will find out if you try to file a claim. Also, they WILL NOT provide a refund when no coverage is provided, so basically you get to pay them while they provide no service in return.
---
Excellent, 1000 times better than USPS
Created By: k-monlinesales
---
(There have been no reviews for this application.)
We have been very satisfied with Shipsaver services and used Shipsaver extensively for both domestic and international shipments for several years. Shipsaver insurance has been very cost effective for us and easy to use. We have had several claims and Shipsaver has processed our claims without problem or question, in an expedient manner. They have an excellent customer service team, good communication and helpful employees. We would recommend Shipsaver.
Created By: vintagecrownjewels
---
Overall I am pleased with the way my claim was handled. I was also pleasantly surprised how easy it was to navigate the process. Of course it also helps if you have cooperation from the buyer to submit the affidavit.
---
Very reliable, quick and easy service.
---
ShipSaver:like a good attorney;
ShipSaver: is like a good attorney; When you need them a real mental sweat saver. The Best.
---
Way to much trouble to file a claim, USPS is better
---
ShipSaver is a free app. You only pay for the cost of labels and insurance
ShipSaver Rates:
Commerical Plus pricing on USPS labels (the best you can get!)
USPS Shipping Insurance Domestic - $1.00 per $100 of coverage up to $2500 ($999 for First Class Shipments)
USPS Shipping Insurance International - $1.25 per $100 of coverage up to $2500 ($999 for First Class Shipments)
UPS & Fedex - .75c per $100 after the first $100