ezSupport for eBay
By Hosted Support
(released Aug 14, 2009)
EARN AD $$ while supporting your customers with a FREE help desk. Searchable FAQs, Chat, Ticketing, Returns & more -- all for FREE.
Categories: Customer support, Shipping & payments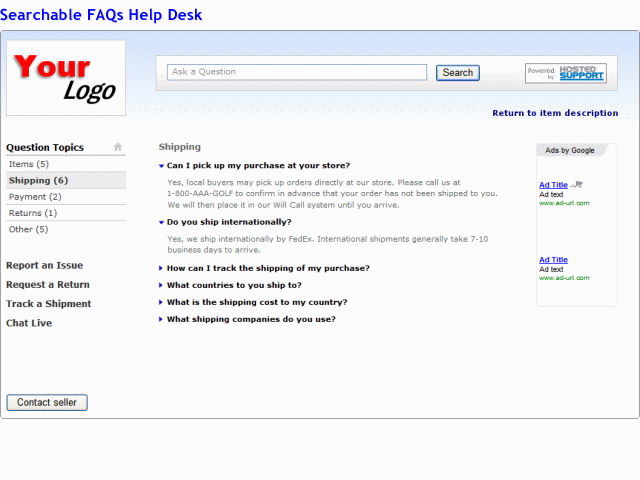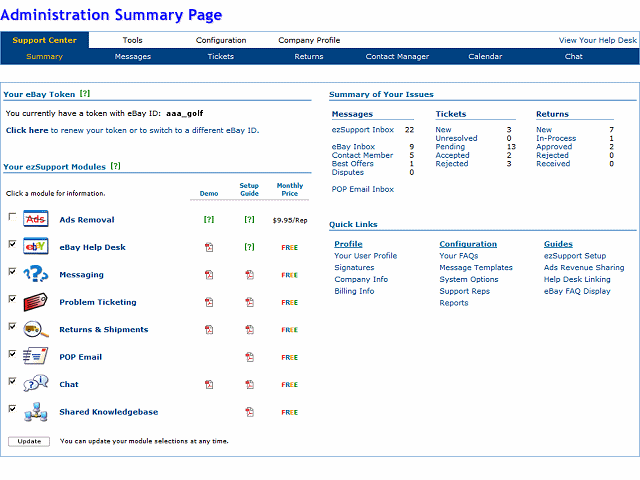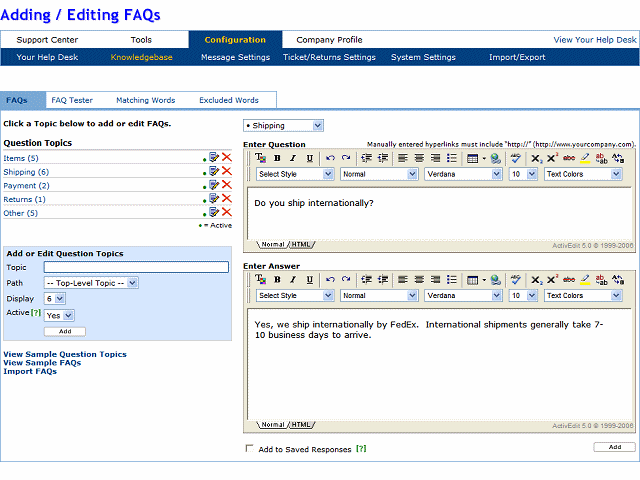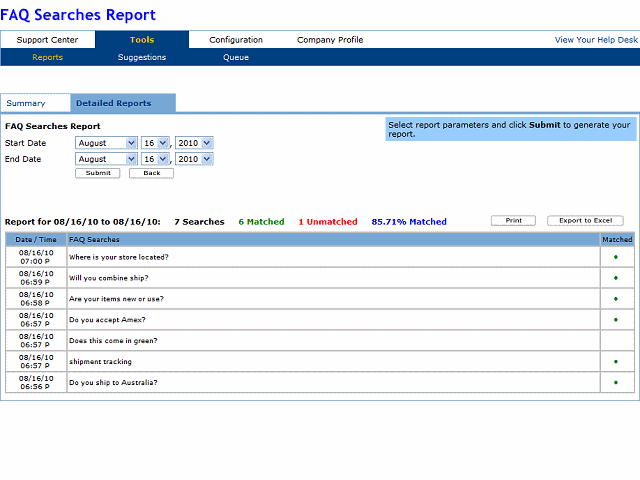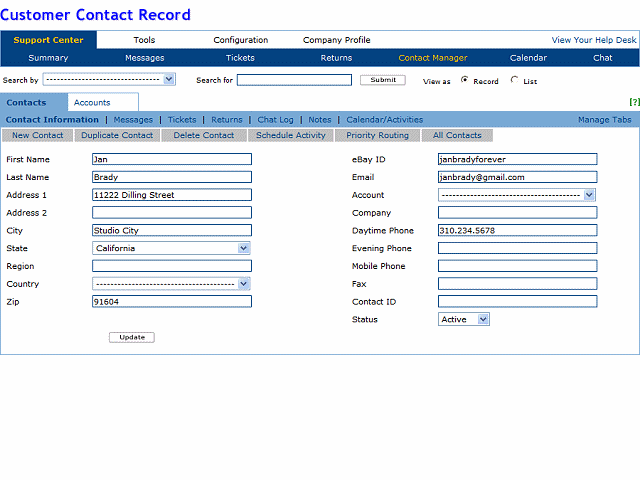 Key features
Free Searchable FAQs help desk for all your eBay listings and other web pages
Earn $$ from Google ads on your help desk
Free unlimited FAQs, unlimited usage
Free FAQ search reports show you every question searched by customers
Free Messaging module with auto-response helps you respond to questions quickly
Free Problem Ticketing module manages your customer issues
Free Returns & Shipments module streamlines your merchandise returns and shipment tracking process
Free POP Email module integrates multiple email accounts
Free Chat module provides live customer support
Free Contact Manager archives complete customer message histories
Multiple support rep logins available
Easy setup with online wizard
Google Ad-Supported - You only pay if you choose to remove ads from your help desk
Free 30-Day Trial of help desk with ads removed
Description

ezSupport for eBay is a web-based suite of customer support software tools that lets you earn $$ by displaying ads on your help desk, and it's eBay-integrated, so eBay sellers can support their customers both on and off of eBay.

Earn $$ While Supporting Your Customers?
You can use ezSupport for eBay for free by displaying a column of ads on the right side of your help desk. Plus! Hosted Support will pay you 50% of the revenue from your help desk ads, so you can actually earn $$ while supporting your customers. The more customers use your help desk, the more $$ you earn.

Your Help Desk
ezSupport for eBay includes everything you need to customize a searchable FAQ help desk that will be accessible via the "Ask a question" link on all your eBay listings and that you can also add to your website, your emails, your eBay, Amazon, Yahoo! stores -- anywhere you want.

Searchable FAQs
Your help desk can have an unlimited number of FAQs that customers can search with natural-language questions. With customers answering their own questions using searchable FAQs, businesses tell us that ezSupport eliminates up to 80% of their email workload. And when customers get answers to their questions immediately, they are much more likely to bid or buy immediately. A survey of our customers showed revenue increases of up to 25% after they started using ezSupport.

ezSupport Modules
In addition to its core searchable FAQ help desk, ezSupport for eBay provides feature modules such as Problem Ticketing, Returns Management, and Chat. ezSupport's modules allow you to customize the support options you offer to customers. Modules can be added to or removed from your ezSupport account at any time to meet your business needs.


Additional resources
Application requirements
Supported browsers:
Internet Explorer 6 or later, Firefox 2 or later, Safari 3 or later, Chrome
Supported languages:
English
Supported eBay sites:
ebay.com
Required eBay subscriptions:
None
Application support
Online support system available 24x7x365.
Hosted Support
Hosted Support is a leading provider of affordable, web-based customer support tools for growing businesses. Its easy-to-use system helps eliminate many of the pains your business faces, yet is robust and scalable so it can expand to meet your business needs. Hosted Support's customer support applications are designed for rapid implementation and minimal product training. Businesses using Hosted Support deal with fewer customer support issues, while increasing customer retention. Hosted Support was established in 2003 and is headquartered in Los Angeles, California.
Looking for the perfect tool I didn't even think they made something like this I was always wondering if there would be a app like this it's pefiwct the best thing now is if it worked with Usps and was able to room a case automatically that would really be great and save a lot of time
Created By: for_your_iphone
---
tt
Created By: petsuppliesandmore316
---
Only trail this product if you are 100% committed to using it and have the time to get everything set up properly. I trialed this app in the hopes of providing better customer support. What I found is that it did the opposite. After playing around with this app, I decided not to continue it because it wasn't exactly what I wanted. What I wasn't aware of is that even though I had deactivated the app from my ebay account, it still continues on your account. As a result of this all of my customers could not contact me via ebay after the sale and cost me several negative defects to my ebay account. If you read the reviews you will see that I am not the only one who has complained about such things. Sellers Beware!!!
Created By: usedapplianceparts
---
Disrupted Communications With Customers Long After Unsubscribing
Back in June of 2013 I quickly unsubscribed from this program within a day or 2 and still had customer emails being rerouted to ezSupport until August 31st!?! Since I found that ezSupport wasn't what I needed, I never completed any of the input the app requires to function. In return, literally months after unsubscribing from this app, my customers were getting 0 information from either me or ezSupport! In fact, it was so bad that I ended up with 3 negative scores in almost as many weeks! All 3 were directly caused by total lack of communication from me which is exactly the opposite of the type of customer support I was well known for. My feedback proves this but now looks bad with 3 negative reviews
Created By: thenewuniqueshop
---
a++++++++++++++++
Created By: x3xreasons2012
---
we emailed them more then a week ago never get any replays
---
can not remove the aplication
very bad.
Created By: seifelden_software
---
Horrible!!!! I can't log-in for 2-3 days.
I can't login to this app for 2-3 days. I lost customers
---
It's not working for some days. I lose my buyers because of this app
Very unstabel app :-(
---
I have android mobile. Gtalk app. I thought to chat with my clients even i'm out of my place. But i have to send "Offline" message when i'm going to sleep. Sometimes i forget. So it's very hard.
---
highly recomend
Created By: cherriesgonewild
---
I use it for managing returns and it does everything I want it to
Recommended!
---
You need to read all details before adding otherwise big trouble
Added app without reading details. Next thing for 2 weeks customers could not send me any messages via "contact me" on ebay. Thank God I have a phone number posted. This ended with a few negatives and cases filed against me and my seller rating to drop from Power seller to Below Standard , meanwhile I was calling ebay daily trying to figure out what the problem was, it took time but finally realized it was this program that caused issues. I immediately cancelled app and tried to explain to ebay the problem but they wouldn't help, just said wait till next evaluation. Meanwhile Paypal holds my Christmas money and Bill money for 21 days thanks to my new status.
---
Had a hard time getting to work, but tech support helped me
---
Difficult for customers to contact me
Subscribed Sunday night, today (monday) I have gotten 2 cases open both complaining about customers that can not reach me. This App should definitely have a disclaimer saying it will take over your ebay contact page and leave you UN Contactable!
---
Problems getting in to the Application !!
Every time i log in to the app it says error.. can't contact support or nonething..
Created By: dncra84200910
---
Very nice - just wish ebay didnt bury access to the helpdesk FAQs
---
links dont work correctly
and the seller gets the the blame and only finds out thru negative feedback dont trust
Created By: james2971james
---
Great APP! Earn money just by adding a Q
The app can be very time consuming to set it up with all the questions and answers. It took me about 2 hours just to get it going and I still need to work on it. Once it is running you will earn money! Keep in mind that its only cents but something is more than nothing. This app will take your customers to another pop up screen with all your questions and answers, when they click on the link in your listing. Its a nice feature to have. I was able to set it up with out contacting support, just follow the instructions. I give it 5 stars because it does exactly what it says and it pays you.
---
Terrible scam... Never pays you...Don't use....
Doesn't honor there commitments and never pays you for ads... Terrible application... Waste of time, and a SCAM.
---
Whopping .14 Cents made in the first month!
Thought it would be more...
---
Help Desk Makes my Listings More Professional, Prompt Response to My Inquiries
I really like this app. It's much more comprehensive than the built-in eBay Q
---
Thanks for all your assistance and I love your support for both buyers and sellers
I love Ebay and wish to sell in other areas ! Paypal has limited my account and I wish to get this fixed. How ? They are being tough as one or 100 bad apples spoils the bunch. I either get good feedback or refund someone who simply wishes to leave negative feedback and after one time I just let the buyer get what they want.
---
---
Earn $$ from Google ads on your help desk!
Ad-Supported - Only pay $9.95/month/support rep if you choose to remove help desk ads.
Free 30-day trial with help desk ads removed.

Free Searchable FAQs help desk - Unlimited FAQs, unlimited usage
Free FAQ search reports
Free Contact Manager
Free modules for Messaging, Problem Ticketing, Returns & Shipments, POP Email, and Chat