Group Buying for eBay
By PMIT Inc
(released Jul 29, 2011)
Sell MORE of your items to a group of bidders or buyers with ease. With this free application you will be able to create new or modify active Ebay listings to include "Group Buy Offer" and target a group of buyers for bulk sales of your items. You will also be able to monitor the number of buyers who apply for the offer or sale quantities applied for the offer, and decide to provide your items at modified discounted prices for bulk sales.
Categories: Customer support, Marketing & merchandising
eBay will no longer support application management. If you are subscribed or want to subscribe to this application please
click here
for details.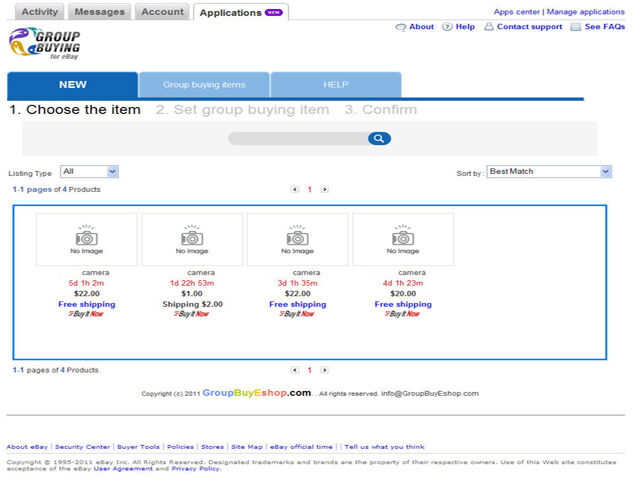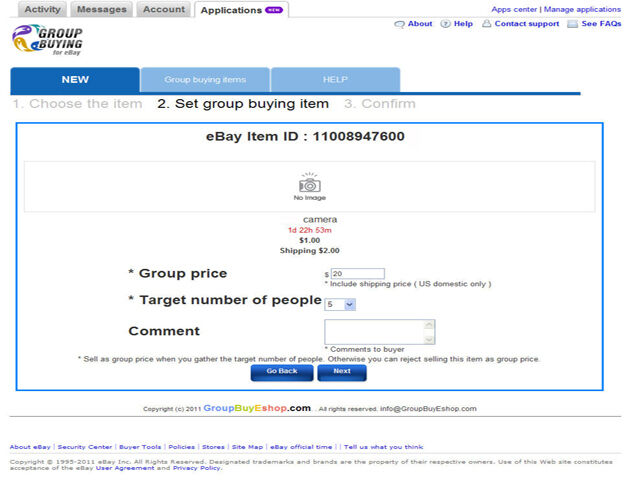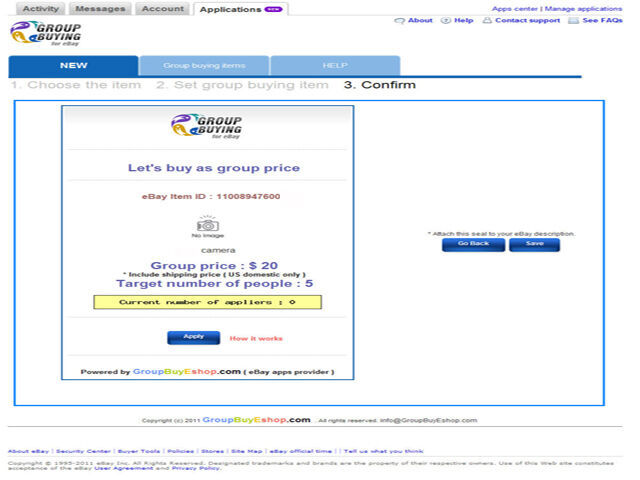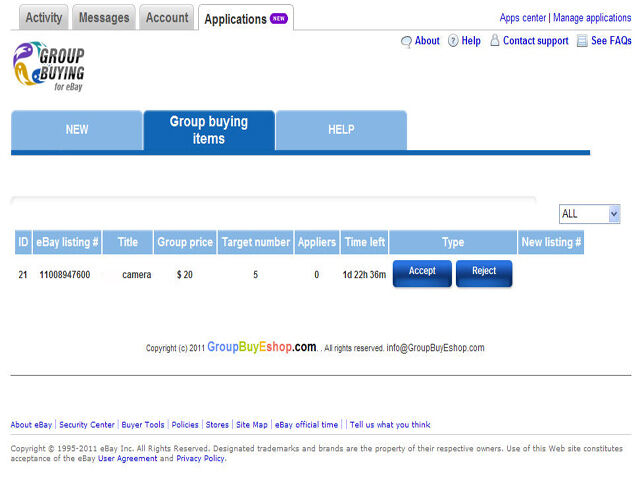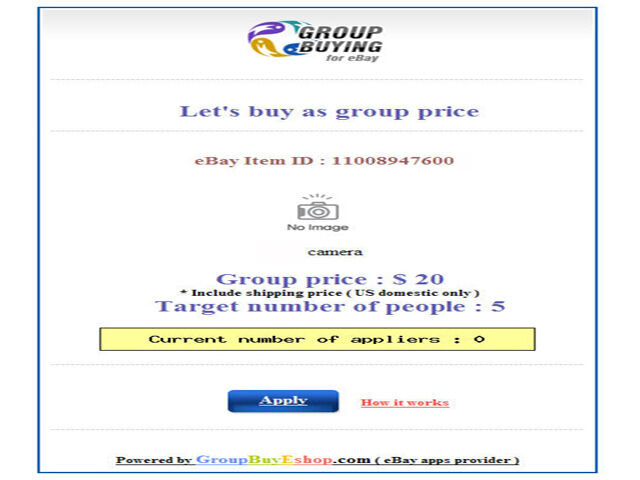 Key features
Advertise: Advertise your listing with "Group Buy Offer" seal to potential group of buyers
Gather: Gather buyers who will apply to purchase items with "Group Buy Offer"
Monitor: Monitor the number of applied buyers and applied item quantities for "Group Buy Offer"
Decide: Decide to extend the "Group Buy Offer" with reduced prices to the applied buyers at any point during the listing
List: List your items with discounted price on Ebay with ease
Notify: Notify the "Group Buy Offer" applied buyers about reduced prices in the listing
Description
There are two simple doctrines for better business transactions:

1) Sellers want to sell through their item inventories at bulk with efficiency to reduce cost of operation instead of waiting for individual sales to accumulate over time

2) Buyers want to purchase their items of interest at lower prices

With Group Buy Offer application for Ebay, both can be achieved for the Ebay transactions with ease!!

By using the application, sellers can create new item listings or modify active listings with "Group Buy Offer" in order to interest and gather a group of buyers who will apply to buying the listed items with the offer. The prices of the items are initially listed with normal or introductory prices.

The listings will include a "Group Buy Offer" seal or button that can be clicked by potential buyers to apply for the offer.

Buyers interested in the "Group Buy Offer" of the listed items apply for the offer. Buyers can indicate the number of items they desire for the offer. The buyers apply for the offer at this point but do not make purchases.

During the listings, the sellers can monitor the number of applied buyers and/or the number of applied sales quantities for the "Group Buy Offer."

At any point during listings, the sellers will have the option to extend the "Group Buy Offer" to the applied buyers at reduced prices compared to the introductory prices, once a certain number of buyers or a certain number of quantities for sale is reached.

When the "Group Buy Offer" is extended by the sellers to the applied buyers, the buyers will be notified that the prices of the listings have been reduced and available for purchase. This way, the sellers will be able to sell greater number of items at compromise with reduced prices.

So why wait around for your inventories to sell through not knowing if and when this will happen?

Be in charge and set the price and number of items that will be committed for sale at once.

And best of all, it's at no cost to you. That's right, it's free.

So try it today!

Additional resources
Application requirements
Supported browsers:
modern web browsers
Supported languages:
English
Supported eBay sites:
ebay.com
Required eBay subscriptions:
None
Application support
info@GroupBuyEshop.com