Display Feedback
By L and J, LLC
(released Jan 28, 2013)
Display your positive feedback reviews directly on your item pages! Updated 4-20-2017! Complies with eBay Active Content policy! Mobile ready, show related feedback, download your feedback to your computer, and even hide certain feedback! Get a step-up on your competition by gaining buyer trust as soon as they see the item description!
Categories: Listing, Marketing & merchandising
If you are subscribed or want to subscribe to this application please
click here
for details.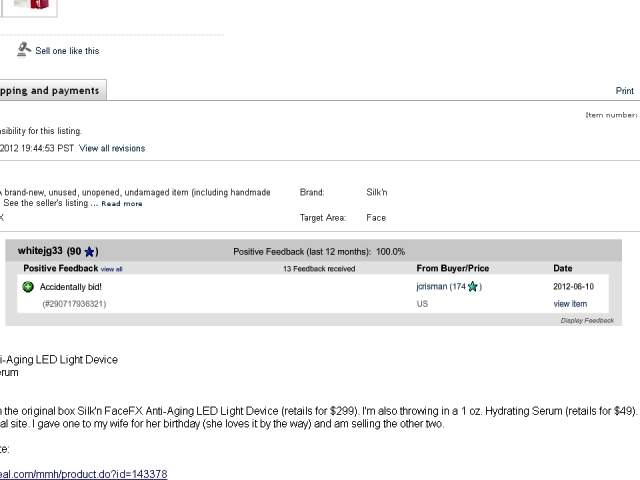 Have to wait a year to cancel this plan if you subscribe. 1 star.
Been charging me for 8 months and have not used
---
You give my buyers positive feedback them proceed to give them bad comments 1 of 5 you do this...
Just look at my feedback given to buyers and you will see what's happening.
---
Doesn't work and no support
When I could not get it to work I contacted support and they came to me and wanted information. I supplied the info and never heard back. After contacting them three more times I finally decided to unsubcribe.
---
App works fine for me and nicely displays feedback.
This application was easy to set up and execute. It works as described for me and I am happy to use it as a listing enhancement.
---
can not show feedback automaticly
can not show feedback automaticly
---
It works fin for my purposes but...
It works fine for my purpose of adding the latest overall feedbacks from my seller profile, but it adds two html br lines at the beginning of the code that are annoying to go back and remove manually. Even if you remove the feedback on you listing you will have to manually remove the two html br lines.
---
Easy to use and helps people to know who they're dealing with!
---
I liked it a lot. I believe it helps customers see our feedback for that particular item which helps the sale. A+++
---
They're support is stellar - 6 stars of of 5
When there was a problem with an expired Token, Josh as support answered and fixed my problem almost immediately. Thanks guy! :D
---
Had issues with the app - contacted customer support. Never got a reply. Removed
Contacted your company for assistance and never got a reply. Poor customer service.
---
Nice app, poor ebay invoicing system.
For everyone having issues with being charged after they cancel. Ebay controls all of the invoicing for all of the seller applications. It is an automatic invoicing system. If you are still being charge contact the developer at landjllc(at)gmail(dot)com and they will contact ebay and get it taken care of for you right away.
---
It does not show my feedbacks! I have canceled subscription, but it has not been canceled. And they sent me an invoice !!! Not recommend.
---
I like the new display Josh keep up the great work! Had some problems but it was taken care quickly!
Great customer service!
---
---
Very Bad Company. It is scam. don't use it.
I canceled my sus las year and have contacted them so many times to cancel the invoice. They ignored my email and keep sending me the invoice each month for a long time. And this app is bad and don't use it. Bad!
---
Some people may work other people may not that is my case.Try if you want nothing to loose.
---
Great Idea - Very easy to use!
Great way to show the +comments on a listing. WELL DONE!
---
I have already canceled my subscription and still charge me the fee.
---
Sales have more than doubled
I was skeptical about purchasing this app but it works great and my sales have more than doubled in the last two weeks. I really shows off the hard work of earning great feedback to new potential customers!
---
This app is nothing like what they say it is
I cancelled this app more than 6 weeks ago and they still have not cancelled it and now they are trying to charge me for it. Still working on getting it cancelled.
---
---
---
The app does not account for the change in item numbers each time you relist an item. So even though you may have countless reviews for a specific item, the app will not post it because rather than searching for the item title, the app searches for matching feedback by item number.
---
Simple yet effective tool! I love it
Works great. Can add itself or give you code to add. Could not ask for anything better!
---
banner takes a long time to load, they ,ay not even see it
---
Great Program! Wonderful Customer Service
This is a wonderful addition to our listings so customers can see what others think of our products without leaving the listings. Internet Explorer didn't work but switched to Firefox at the suggestion of Customer Service and everything went smooth. Josie's Gifts And Collectibles
---
Great app! Does just what I was hoping it would do.
So far... this works just as described. I am a new vendor and it was important that I display the positive feedback I was getting so that others would order my item with more confidence. Before purchasing this app, I was copying feedback and constantly updating my listing. Now this app does that for me by showing all of the feedback and related info. You can see it in use on my listing for Maxx-Tenna scanner antennas.
---
the application does not work
---
doesnt work ,excactly,takes feedback from other sellers....
---
Great Product and Support
Great Product and Support
---