Froo! Bulk Revision
By Frooition Inc.
(released Feb 24, 2010)
Amend live listings in bulk. Save Time! Save Money! Try For Free!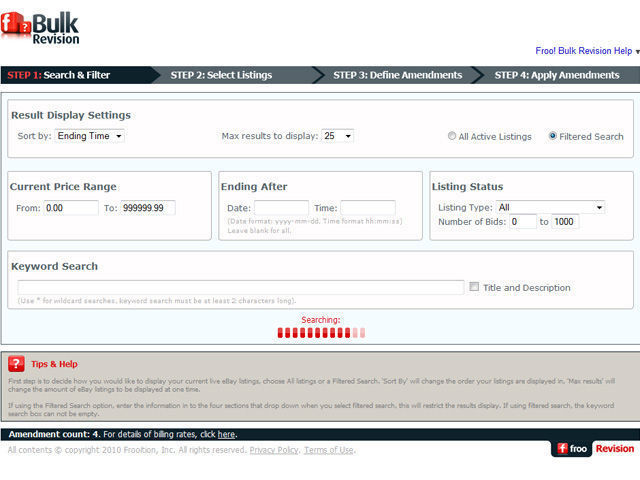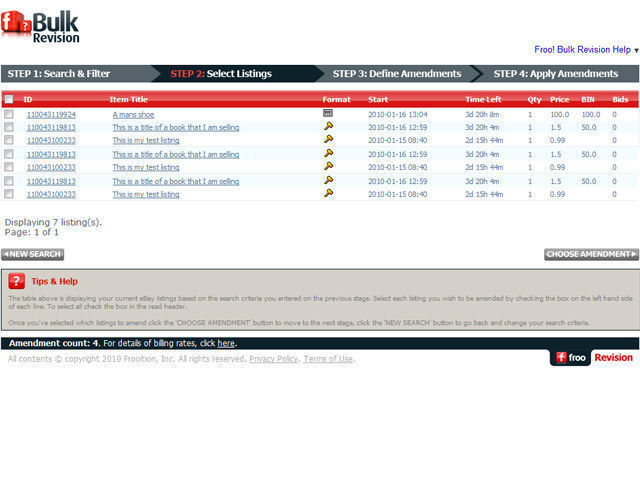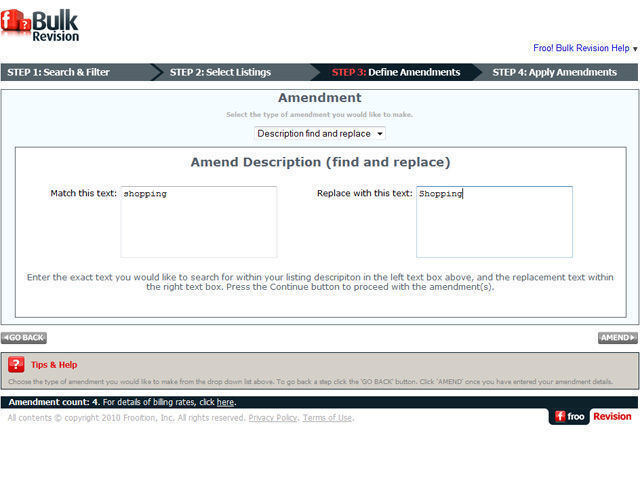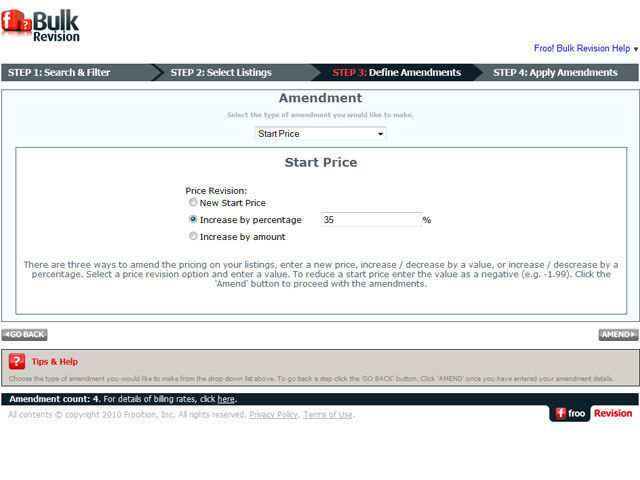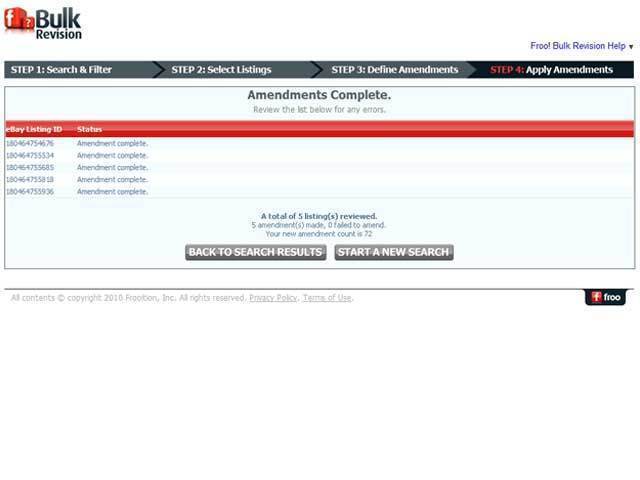 Key features
Froo Bulk Revision is a powerful eBay application that allows sellers to update and bulk revise a group of live eBay product listings.
NEW: Parts Compatibility for Cars, Motorbikes and Boats

In efforts to help sellers with the latest eBay Motors update, we've updated our powerful bulk revision tool and made it FREE for eBay part compatibility amendments.

eBay Parts Compatibility Sellers Can:
Bulk apply parts compatibility information to live listings FREE.
Save time and money on listings.
Get a boost in search results.
Gain more satisfied customers.
Increase sales.
Description
Froo Bulk Revision is an easy to use application that allows you to change your live auctions and make changes to product listings in bulk.

You Can Change:
eBay Motors – Parts Compatibility Cars – FREE
eBay Motors – Parts Compatibility Motorbikes – FREE
eBay Motors – Parts Compatibility Boats – FREE
Add to description
Returns policy
Start price
Buy It Now Price
Reserve Price
Quantity
Handling Time
PayPal email address
Item Condition
Additional resources
Application requirements
Supported browsers:
Internet Explorer 6 or later, Firefox 2 or later, Safari, Opera 8 or later
Supported languages:
English
Supported eBay sites:
ebay.com
Required eBay subscriptions:
None
Application support
Froo! Bulk Revision support is available online, help and information is available through our website at www.froo.com
Frooition Inc.
Frooition has been a leading provider of eBay store and listing designs for over 4 years. Frooition also specializes in providing design services for most other internet sales channels as well as web-site design. Frooition has been working with the eBay platform for over 4 years, and has thousands of clients in the USA, Canada and Europe.
Also from this developer:
By Frooition Inc.
(released Aug 14, 2009)
Customize your eBay listings with professionally produced themes. Select from a library of over 4000+ themes, quickly integrate an image zoom function and cross-promo features and further customize with your ow...
Categories: Listing, Marketing & merchandising
By Frooition Inc.
(released May 13, 2010)
Free scrolling cross selling galleries for your eBay listings.
Categories: Listing, Marketing & merchandising
By Frooition Inc.
(released Nov 17, 2010)
Intelligent social networking on twitter and facebook. Don't spam - send precise and targeted product posts to your social followers, build a fan base, get more traffic, sell more.
Categories: Listing, Marketing & merchandising
Puts javascript in your listings!
I had to go through and edit every listing to remove the javascript that this needlessly added to my descriptions. I was only using it to add fitment data, so it didn't have to touch my descriptions in any way. Since this is 'free', they're probably trying to make money off my listings somehow. ***This would be a 4 star review if it wasn't for this major issue.***
---
---
Leaves active content in your listings now banned (6000 listings!)
Leaves active content in your listings if you use it - i have 6000 listings i had to edit manually to remove it when ebay banned active content - all of it was added by this company when i used there app to edit listings in the past.
Created By: superbikestore_llc
---
Have never used this applicaion
Have neer used this appliation
---
Works great for bulk price revisions...
---
wonderful tool, simple, works
I sell motorcycle parts and doing bulk revision of parts is easy and fast.
---
Unable to bulk edit listing descriptions due to no Find
Useless.
Created By: darkartsdealer
---
An absolutely awesome tool. Five stars isn't enough.
This tool saved me hundreds of hours by allowing me to add compatibility information to my listings in bulk. Fantastic, wonderful tool. Just remember after you initially select your vehicles, they are saved and you can reapply them to subsequent listings. This wasn't clear to me before I contacted support via email.
---
Excellent!!! Quite Impressive~5-Stars~Blingz_Boutiq
The app was very user friendly. The selection of templates/colours was ample. I like the fact this app is reasonably priced. Very good! But it should assign the app automatically to your listings.
Created By: blingz_boutiq
---
The ADD DESCRIPTIONS TO MASS LISTINGS is such a useful tool. If we use a template to post description of items and forget to include shipping info or any information. You can mass add shipping description to selected listings at once!
---
---
Very limited use. Does not help lower prices of DIFFERENT items with DIFFERENT prices all at once.
---
Cant revise anything in my descriptions...
---
100% FREE for eBay Parts Compatibility amendments.

Other field types:

0 - 25 amendments per month - FREE
26 - 100 amendments per month - $1.95
101 - 250 amendments per month - $4.45
251 - 750 amendments per month - $9.95
Unlimited amendments per month - $14.95

No Amendments - No Fee.