Auctane Shipping Manager
By ShipStation
(released Aug 14, 2009)
The fastest way to ship with USPS and UPS! Save up to 20% on Priority and Express Mail! Auctane processes your USPS and UPS shipments with just a few clicks. Batch print up to 200 labels at a time including First Class Mail International. Reduce your shipping time by 50% or more!
Categories: Shipping & payments, Research & reporting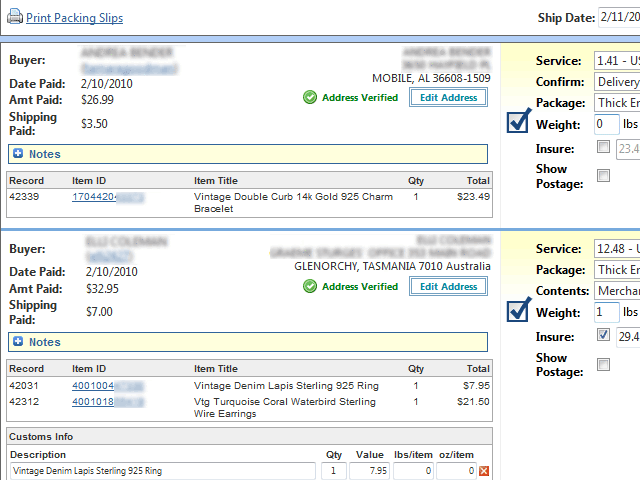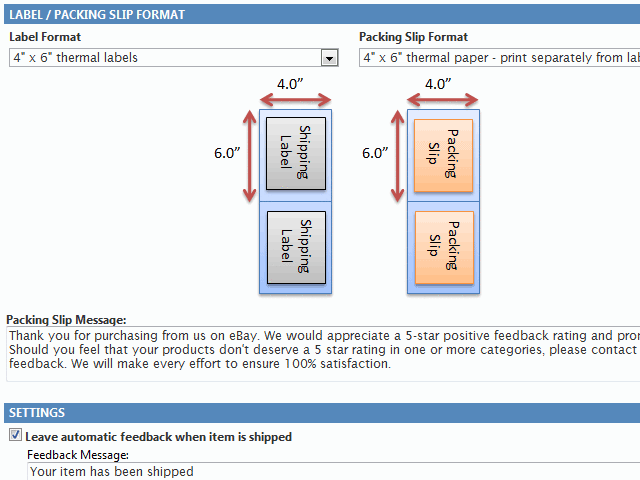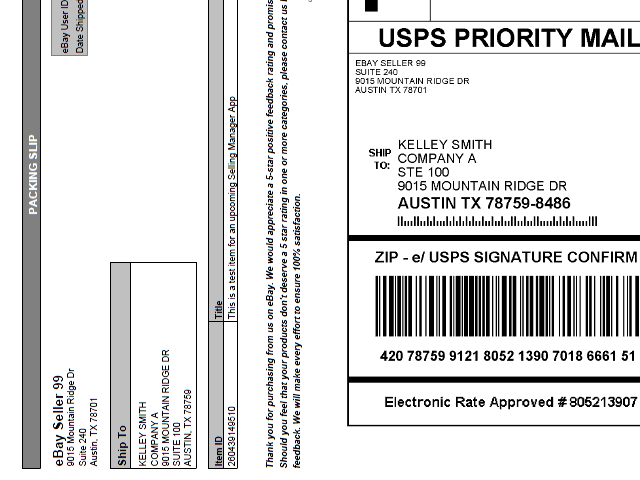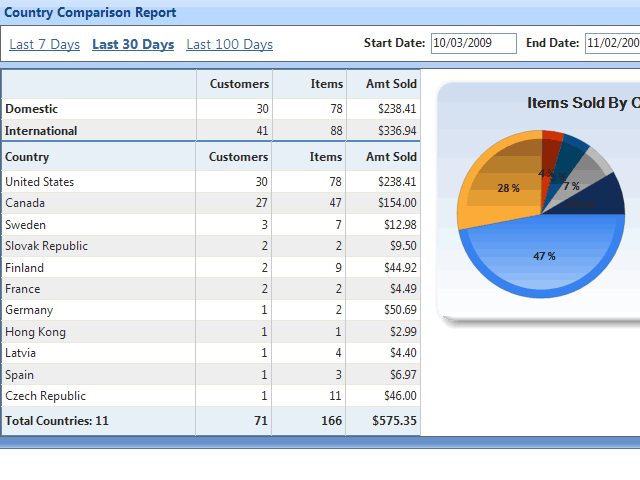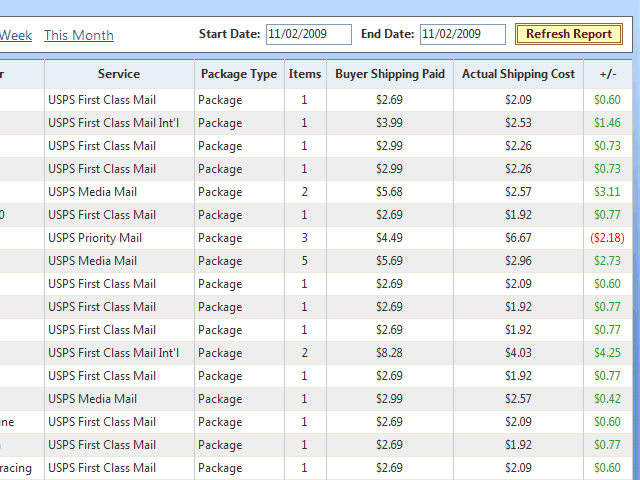 I have been a mostly satisfied Auctane user for almost 6 years. The platform is a cinch to use and has been my preferred shipping manager. HOWEVER, the application gets buggy once a year when the authentication token with ebay needs to be renewed, and requires many emails back and forth with Auctane's techs. Up until this year, the problem has been resolved in under 48 hours. This year, I am going on TWO WEEKS with the service being down, and unusable for me. I reach out every few days and receive a canned response that it is being worked on, and a recommendation that I sign up for a 30-day trial of ShipSaver (Only one 30 day trial is allowed, this is their recommendation every year). I have yet to receive an email from Auctane reaching out to me to offer a workaround or solution. I need this service to run my business, and they have let me down with no explanation. Funny though, I received an invoice from them today via e-mail, for services not rendered.
---
Worst app Ebay has to offer
I've used this app for about 3 years and have had it go down several times. There is no support whatsoever. You send a message and never get a return. When it goes out, you cancel the subscription and sign up again and they charge you a dollar to see if your banking info is correct and never reimburse you. This is the worst app I have ever used. If you find something better, please post a reply for all of us.
---
Works Inconsistently /Lousy Support
When the program works, it is great. But it is glitchy and has more down time than I prefer. Customer "support" is minimal: email only, no phone support and they don't tell me much more than I don't already know (i.e. the app is down and they are working on it)
---
Terrible app with even worse customer service.
So frustrating! The subscription stops working every few months and you are required to un-subscribe and resubscribe to get your service working again. Super confusing, and a big waste of time. The customer service is about as amateur as you'll ever experience. Useless.
---
I'm just wanted you to know that I love auctain
I'm glad you are a member of the world
---
---
very good overall experience.
a little glitchy, but im not sure if its the app or if its ebay. but sometimes the full page of orders doesnt load. it just loads whatever you can see on the top of the page.
---
cant print labels no more
i cant print the label no more
---
A nightmare...only thing theyre good at is taking your money.
Try and cancel and they take more money...can?t get a hold of anyone, but they can get a hold of you, when you?re forced to close your account so they can?t keep taking your money. Not sure what they do, but it?s expensive.
---
Hello, I Lake To Cancel My Orden to Auctane, because it was not for me, I do not have a print right now
---
The application is down and all the contact support link are not valid
wasted me many hours trying to use the app but failed, and i'm being charged the fees
---
I ship about 20 items per day with auctane. Today when I went to ship it said my account was suspended. Not sure what that means but you would think that they would send me an email message or something...anything...to tell me what it actually means. Poor customer service once again.
---
the service is nice, but there are so many MUCH CHEAPER options now. I am about to end my script
the start up was a b. took forever. Setting up Fedex was super simple in comparison but was more expensive. The price was worth it back when they offered cheaper shipping, but now eBay has same prices and no monthly fee! I think people are just failing to notice the price diff. I just caught it last week.
---
---
The Auctane shipping manager (itself), in my opinion is reliable, but uses EXPRESS 1 services for priority shipping. In one occasion, I was shipping priority to Canada, Auctane showed me several options with different prices to choose from, and guess? The system showed Express1 as the most convenient method. When you select it, it will show you the lowest price in the market. However, when you make a payment for the amount showed, it will charge you a HIGHER amount! I tried again thinking that I needed a new set of glasses, and the same thing happened again. BEWARE; they might steal your money!
---
Customer Service is no where to be found and the keep your shipping money!
Been a customer for years, had problems with ebay suspending my account for not re-authorizing with Paypal (which I did three times.) No one would email me back after the first email, I got the number and called, no call back. Finally got back on to use up my Express 1 but you can't use it all and they keep any that is left. MIN $25 purchase so there is always money left in account. DO NOT USE THIS SERVICE!
---
I have used Auctane for many years and appreciate the speed and convenience.
---
Horrible, why would anyone pay for this service..
Worthless support, suspended accounts monthly, site down weekly, constantly try to bill you when you've closed the account. Possibly the worst shipping software for ebay, don't even think about it.
---
(There have been no reviews for this application.)
Application randomly stopped working I messaged support and took days to get a scripted response. I sent another message describing problems in detail and got no response, no phone call and no support. I suggest using a company that actually cares to retain customers and works to resolve problems. This company does not deserve to exist.
---
---
Extremely Slow Customer Support
95% of the time this application works completely as intended. However, sometimes the application fails to work and it takes customer support multiple days to respond to complaints. When you ship a lot and Auctane goes down once per quarter it's extremely frustrating not being able to get any help.
---
Don't work half the time junk
Don't work half the time junk.
---
VERY Critical bugs can tarnish your standing with ebay.
This app stopped uploading tracking to eBay for a while and seriously hurt my seller status. Also, it failed to take my auto payment fees (but It still was able to take my label payments???) and suspended my account. It's also very common for the app to simply not work due to technical issues for an entire day.
---
---
good service, yearly suspensions are a pain !
auctane needs to notify people before suspending the account , every year we go through this ,please come up with a better way to update your security issues !
---
This is a great product. Only thing missing is a total item count on invoices. Other than that, perfect software.
---
Used only this app for all my shipping on all my channels, as of the past 2 years the app has become unreliable with little to no customer support. High volume sellers can't use this app with confidence any longer. Closing my subscription and moving on to Shipping Easy.
---
Have used this for several years now and have been very satisfied. Twice had to unsubscribe and resub due to a glitch with no loss of data.
---
---
(There have been no reviews for this application.)
Auctane suspended my account because my paypal authorization expired.
I went through the process of getting it reauthorized and still not working. Zero customer support. emailed them several time they did not reply once.
---
Fine App, Unless You have an Issue, Support Sucks!!!
I used Auctane for over 6 years. Recently they had a massive failure in which I could not print labels for over 24 hours. I had come to depend on Auctane and their lack of support left me holding the bag. I was unable to ship out my packages on time and lost my Top Rated Seller Status. They wouldn't even refund me a lousy 10 bucks and simply ignored my complaints. After 6 years, they have lost my trust and my business.
---
Been using for 4 years - major Technical issues no support
Been using Auctane for Ebay for 4 years... added Amazon last year. We have constant issues with this app and not one point of contact for support.
---
dose not work when you need it to work
---
---
Unable to validate addresses. Technical Details: Unable to initiate Express One session. Reason: System.Web.Services.Protocols.SoapException: Unable to authenticate user. at System.Web.Services.Protocols.SoapHttpClientProtocol.ReadResponse(SoapClientMessage message, WebResponse response, Stream responseStream, Boolean asyncCall) at System.Web.Services.Protocols.SoapHttpClientProtocol.Invoke(String methodName, Object[] parameters)
---
(There have been no reviews for this application.)
---
Bag Service No return response Cant do our shipping
ever time the tokens run out your stuck Have fun when you cant ship and they wont return your emails to mfix problems
---
Great app, horrible support
Horrible customer service, every year it goes down for weeks at a time can't do anything. Been down for a week now. Contacted support no replies.
---
I used the app for over 5 years and had to battle them at least 3 times a year, the app has being down for 2 Days now with no real solution to the problem I just got an e-mail from them asking to consider using a 30 day free trial of ShipStation to continue to ship. Worst Customer Support, I have just changed to another app!
---
(There have been no reviews for this application.)
---
CUSTOMER SERVICE IS THE WORST PLEASE DONT USE AUCTANE
I have tried to get a hold of Autane shipping manager for almost two weeks now - with NO reply - which has caused a major inconvenience - account is suspended for some unknown reason - and get any answers!!! advice - just STAY away - It's sad that I have to write a bad review - HEY AUCTANE get better customer service!!!!!!
---
This is a must have app if you sell on eBay! Absolutely the best shipping manager.
---
shipping actually is less flexible, paying more for smaller items under 5lbs or so
shipping actually is less flexible, paying more for smaller items under 5 lbs or so. no response from the company. would like a total refund actually.
---
Works great and easy to use.
---
They don't tell you why your account is suspended or tell you how to fix it quickly so you can get on with your day!.. this is a major problem
---
it has no help center, it makes it very hard to communicate in this time and age, you can't be without customer service. Occasionally it stops working.
---
Zero customer support. App hasn't worked in well over a month, yet I'm still charged despite not being able to access. Please fix, will consider changing rating.
---
Acutane saves me a ton of time and money. Easy to keep track of all your shipments at your fingertips. Can't believe ever I sold on EBay without it... Thanks Acutane.
---
I'm writing a review for every day that its taking for them to respond to my case
Account suspended without notice, explanation or instructions on how to correct it. Ron Stack Cyclefitinc
---
Terrible customer service response time
Still waiting on any answer to simple question...Poor service and they charge too in fees
---
Not working. No service. Have left us stranded in every way.
---
If you like to have issues with shipping then this is for you
Nothing but issues ever since we started using this program. No customer service, have to send email and wait up to 48 hours for a response, while in the meantime you cant use. I would suggest going elsewhere for a shipping app.
---
App is not reliable, 0 customer support
We've been using this application for almost 5 years as a company. We've had little issues with it in the meanwhile but it always got fixed within a day without us having to contact customer service. Issues like: loading issues, error messages, etc. It's a really good program when it works. It's easier to work with than eBay's shipping program and also you can choose any service from USPS even different international services which eBay doesn't allow you to do so at their ship station however, the prices aren't too good on international services but at least they exist as an option. So now the program has been down for a week, it doesn't load at all. We've contacted customer support (which is a joke by the way as they can be contacted via email only) immediately and we received an auto reply which stated that we should receive a response within 24 hours. Well, didn't hear back for 48 and we were told that the program works fine...IT DOES NOT! So we're unsubscribing...
---
We had auctane it was working and then we shut down our store and went back to just selling off ebay since we did not sell enough to off set the cost of a store. Now we can't get auctane to open so we can ship and we contacted support with no help from them or ebay they keep pointing the finger at each other. When I tried to get a refund through paypal for services they charge us every month but have not received they deny it. This whole system is screwed up for sellers!!!
---
Love this program!! Highly recommended.
Easy to use and has many features. Highly recommended!
---
easy to use, quick bulk label printing
I like it. only issue is that it is using stamps.com and that has it's own subscription per month charges which is making over all pretty expensive.
---
if you have any problems, support non responsive. every so often auctane goes blank. No support. also the rates with ups have been inaccurate then when you go to print postage you find out you paid more!!!
---
Saves me so much time and time is money! Also, great ability to view some cool reports. Very easy to use.
---
customer service is terrible
wonderful when it works, but if problems, forget getting any help from customer service
---
better tha bulk shipping from eBay
10000 % better than the garbage bulk shipping from ebay
---
---
Makes my shipping process a breeze.
Fast
---
Does not offer competitive pricing for USPS International shipping
The shipping prices for USPS Priority International and USPS First Class International are cheaper when shipping through Ebay's own shipping program.
---
---
same problems suspended again
serious problems with incorrect rates after we already thought we paid the shipping. Accounts get auto suspended. Problem app.
---
Wonderful shipping software. Works with my 4x6 thermal printer
This shipping software works great with my 4x6 zebra thermal printer. It's convenient, easy and intuitive to use, and has many customizable features
---
Makes shipping a breeze! A must have for high volume shipping! A+++++++
---
They suspend your service or dont answer messages
If you have a solid business with a lot of sales and daily orders, then you better stay away from this Auctane. My account is not working for more than a week, they dont answer messages, there was NO previous problem or argue with them, they just simply dont answer. So it can really hurt your business for some days and there is no way to talk to them other than emails but again, they dont answer. I openly challenge the Auctane staff to show here in public why my service has been susppended or why they ignore my emails.
---
Customer service is absolutely useless and never replies to the emails
I have had an error which kept on popping up every time I tried to create shipping labels, it said: Unable to find rate node from XML response: 80040B1AAPI Disabled: RateV3. The RateV3 API is no longer available. Please follow the "RateV3 to RateV4" transition guide in the announcements section at www.usps.com/webtools to migrate to the latest version or contact your software provider or shipping administrator for assistance.USPSCOM::DoAuth I have sent over 10 emails over the period of two months. Never got an email back. Why don't they have a customer service phone number, this is not professional whatsoever! Very disappointed.
---
it has bugs and they do not fix it, i liked the app but for 6 moths they were not able to charge my PayPal account even I dod all the steps and the software was register as a pre approved for charge they keep disconnecting me and i lost so many hours. If you have a serious business I rather use another reliable company.
---
Horrendous!!! Just like eBay itself!!! DONT GET IT, SCAM ALERT
Horrendous!!! Just like eBay itself!!! DONT GET IT, SCAM ALERT
---
Worst Customer Service in HISTORY!!!
I have been a customer for over a year. Everything went fine until, amazingly, one of my accounts literally dropped off the face of the earth. When I tried to email someone about it. Not only did i not get an email response, I have emailed about another small issue that happened a day later. NOTHING... NOT EVEN A RESPONSE! DO NOT GET THIS APP!
---
Fantastic application and seamless integration with ebay
Makes my life so much easier.
---
Makes Shipping so EASY and Tracking past shipments great!
Makes Shipping so EASY and Tracking past shipments great!
---
Loved Auctane for 2 plus years. Then, we have had NO CUSTOMER SERVICE. FOR A WEEK! UNACCEPTABLE!!!
I really don't see how a product that is so inherent to people's businesses as shipping could all of the sudden have NO customer service. We have sent numerous emails, to no avail. We have had SO many issues for not having our usual shipping program for a week. Bummer.
---
We have used Auctane for years and have been very pleased with it. However after a year or so on Amazon it got too hard to juggle two different programs. We shifted to ShipStation (Big Daddy to Auctane) and we are satisfied. Auctane is much simpler to use and is highly recommended for anyone exclusively on eBay.
---
Worst program for any ebayer. It will work sometimes, and when you need it most it will not. Not reliable at all
---
When I click the start button it just loads a blank page with the Auctane logo instead of the program. Nothing but problems with this application!
---
it's the easiest shipping program ever
---
Excellent Shipping Software
This software is easy to use and has saved me a ton of time. I have been using it for about two years now and love it.
---
thank you guys for such great App ,it Makes shipping so much easier ,my number one app ,
Love it !
---
Doesn't consistently work all the time..
Unfortunately this program has become very unstable. Didn't even mind that you have to pay to have Stamps.com on top of this program due to the ease of using. But day in and out now the program just isn't working. They seem to be ok with charging you for a service they are not providing.
---
GREAT APP MAKES SHIPPPING A BREEZE
CHECK BOTH PROVIDERS, STAMPS.COM AND EXPRESS ONE, FOR THE VERY BEST PRICE, ALSO USE FLAT RATE AND REGIONAL RATE BOXES FOR HEAVIER ITEMS AT LOWER COSTS!
---
Thw worst customer service ever. Shipstation should be ashamed of this eBay Auctance app.
These people are the absolute worst customer service company I have ever known. I have tried for over two weeks to resolve a problem. They never read my messages because the answers are totally worthless. Shipstation operates this eBay Auctane service and they just leave the customer service hanging. I cannot say enough about their disregard for customer service. I would suggest you find shipping services somewhere else. icky
---