eTextAlert
By L and J, LLC - Web Services
(released Aug 04, 2010)
Visitors to your auctions can get last minute text or email reminders so they don't forget about you. Also allows you to sign-up for watchlist alerts (free!) and seller alerts (feedback left, item sold, etc...)! Seller and watch list alerts can even be sent via gtalk or jabber instant message!
Categories: Listing, Marketing & merchandising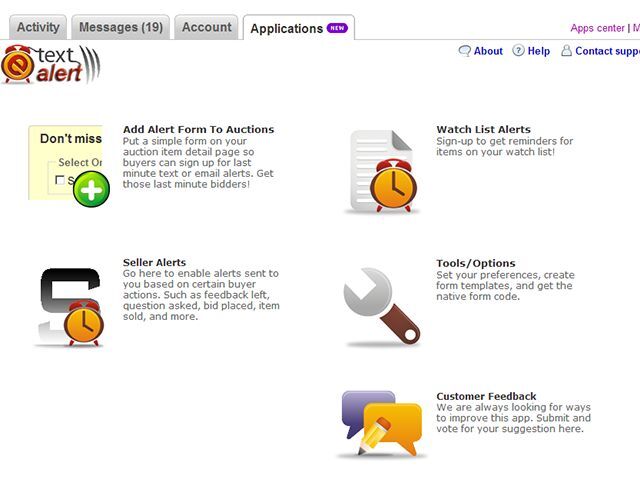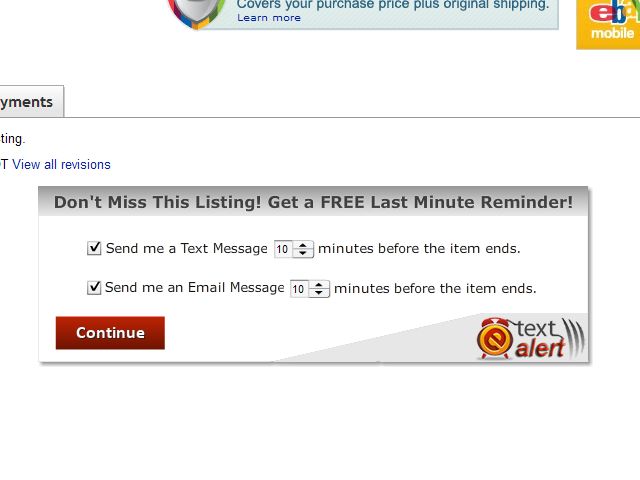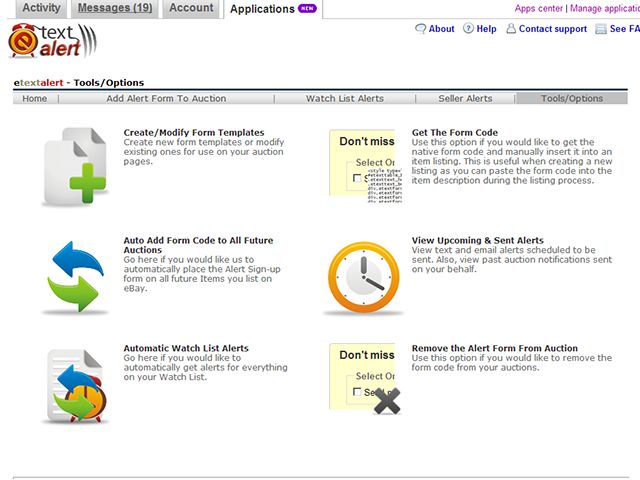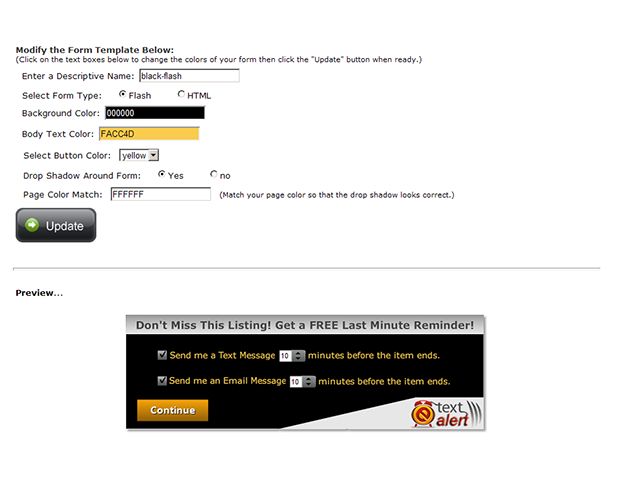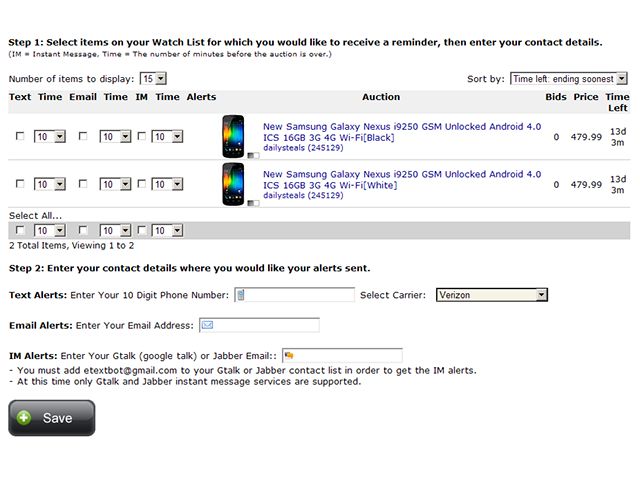 Key features
Provide auction ending reminders to interested buyers via text and email.
Send yourself last minute email, text, and/or IM reminders for your Watch List items.
Get seller alerts for just about all buyer actions.
Quick and easy to use.
Maximize the number of last minute bidders.
Customizable
We're always looking for ways to improve this app, so if you've got an idea send it to us and more than likely we'll add it at no charge.
Description
What Exactly Is eTextAlert?
There are three main features to eTextAlert. The first gives you the ability to send auction reminders to potential buyers. They simply sign-up for a reminder on your auction item page. The second allows you to send yourself last minute reminders for items you're watching. The third allows you to get text or email alerts for certain buyer actions such as when they ask you a question or purchase one of your items.
Feature 1, Auction Visitor Alerts
Simply put eTextAlert will allow you to place a form on your auction item page that will allow visitors to sign-up for a last minute reminder sent via text or email. They get to choose when it gets sent and whether they want a sms text or email or both. For instance they can choose to receive an email 30 minutes before your auction ends and a sms text message 15 minutes before it ends.
Let's face it, the average ebay shopper does not bid on an item right when they find it. They add it to their watch list along with several other similar items and wait till they get close to ending. The problem is a lot of potential buyers will simply forget to log back into ebay and miss your auction.
Why You Should Use eTextAlert On All Your Auctions?
Most importantly it increases the number of last minute bidders
Visitors to your auction will love it and more importantly use it
The form can be customized to match your auction templates
Feature 2, Watch List Alerts
This gives you the ability to set yourself reminders sent via text, email, and/or IM (instant message) for all auctions on your Watch List. Say goodbye to sticky notes. Why not send yourself a text reminder instead?
Top Reasons to use Watch List Alerts?
It's the easiest way to remind yourself of an auction.
You can pick and choose which auctions to get alerts for and when to send them.
You can set it to automatically send you alerts of all items you're watching.
Get alerts sent by email, text, and IM. Pick one or all three!
Feature 3, Seller Alerts
This gives you the ability to send yourself text, email, and/or IM alerts based on certain buyer actions. Get an alert when someone asks you question, when someone bids on one of your items, when someone buys a fixed priced item or wins an auction, when someone actually pays you, and when someone leaves you feedback. We also give you the ability to filter the alerts to specific items and times. So if you only want to be notified when a certain item sells you can do that. This can really help if you sell drop ship items along with items you stock and need to know right away when the drop ship item sells so you can start the shipping process. You can also filter the alerts so they only get sent during certain times of the day, and you can even filter the feedback alerts by type (positive, neutral, negative).
Summary
Alerts can be sent via text message or email or IM or all three.
It's very easy to use for both sellers and buyers
Very Affordable
Text Message or Email or Both
We send reminders via text message and email. We can even send seller alerts and watch list alerts via google talk or jabber instant message!
Easy to Use
We've made everything from the alert sign-up form to the reporting to the watch list alerts easy to use.
Very Affordable
First of all, take advantage of the free trial. Completely risk free. After that, it's a flat fee of $3.95 per month. This includes an unlimited number of auctions and alerts.
Why subscribe to one of our apps?
.
.
- Fanatic customer support. Have a problem or question? Just let me know; I answer support requests fast. .
- Forgot to cancel before your trial was up? No problem I'll refund you. .
- Want a new feature? Just let me know, I'm always looking for ways to improve my applications..
Josh W.
L&J, LLC
Additional resources
Application requirements
Supported browsers:
any modern browser
Supported languages:
English
Supported eBay sites:
ebay.com
Required eBay subscriptions:
None
Application support
Email me at support@etextalert.com
Contact me online at http://www.etextalert.com/contact.html
L and J, LLC - Web Services
This information is not available.
Also from this developer:
By L and J, LLC - Web Services
(released Mar 04, 2011)
Quickly find comparative pricing information for popular items on eBay. Such as the total number of listings, average price, and other details. Easily find the price point for your item and quickly update the p...
Categories: Listing, Research & reporting
By L and J, LLC
(released Dec 05, 2011)
A live chat application for you and your eBay customers! Chat with customers on eBay and your website, custom styled chat buttons, extremely easy to use app, integrates with IM clients so you can answer questio...
Categories: Customer support, Marketing & merchandising
By L and J, LLC
(released Jan 28, 2013)
Display your positive feedback reviews directly on your item pages! Updated 4-20-2017! Complies with eBay Active Content policy! Mobile ready, show related feedback, download your feedback to your computer, and...
Categories: Listing, Marketing & merchandising
I set everything up to a tee and it doesn't work at all.
Created By: bobkimballart
---
AWESOME! Helps me ship faster, answer emails quickly and run my business efficiently.
AWESOME! Helps me ship faster, answer emails quickly and run my business efficiently.
---
VERY HELPFUL FOR BUYERS AND SELLERS
I signed up for the text alerts and was notified when I got bids, items sold, best offer, customer questions. It made doing business with other people efficient.
---
It keeps our store in constant contact with our customers.
Great subscription!
Created By: ogoomartcenter
---
bad app. does not notity every time.
bad app. does not notity every time.
---
Waste of time, doesn't work properly
Created By: simplepleasantthingsantiqueshoppe
---
I use this mainly to let me know when I have questions on my auctions and for a few other things. There are a wide range of options and settings plus the price is more than reasonable.
---
I should have saved the $$$$, quite a few complaints that it causes systems to slow down.
Causes some slow down when customers view my auctions. So far no one has used the app.
---
does what it's supposed to do...
I did have a couple of issues in the beginning but emailed support and they were handled within 24hrs. This app works well!
---
IT IS NOT WORKING HAVE WROTE SEVERAL TIMES AND DONT CARE BUT THEY DO CHARGE THE FEE EVERY MONTH
DONT EVEN TRY IT
---
I love this app! It works flawlessly. I highly recommend.
---
---
A MUST HAVE IF YOU SELL A LOT AND CAN'T BE BY YOUR COMPUTER
I was skeptical at first after reading a few of the reviews, but I can't begin to disagree with some of them! This application is great! At first I was only receiving texts for my sold items. I contacted customer service, and they were awesome!! It was fixed by end of day, and I now receive texts for everything I signed up for. WORTH THE MONEY AND WORTH THE TRIAL!!!! Very happy customer!!!
---
AWESOME APPLICATION - VERY CONVENIENT
EXTREMELY IMPRESSED - TIME SAVING
---
this service never worked for me
Created By: treasureswithjen
---
It seems to work fine for me, I just have 1 issue. that when U add an item 2 sell it should...
My Issue is..when adding items to sell it should either, AUTOMATICALLY be included on your item that you are selling unless you chose to opt the item out..Or have a button somewhere when your listing your item to include it..Because once you get a BID on an item..YOU are NOT ALLOWED to add this feature.. So at this time I am not sure I will stick with this till the application improves..to incorporate an automatic feature when you list.. Otherwise it seems to work for me on my set up..
---
Can't be trusted!
Created By: jjfsuperstore
---
Everything works as expected.
Everything works fine for me and support has been outstanding. I was also getting delayed alerts back in march. I contacted support and they said that eBay was experiencing problems with sending out the notifications to their application. They gave me this link... http://dev-forums.ebay.com/thread.jspa?forumID=1003
---
Email and text alerts are WAY behind! The alerts are about 4-8 hours late. For example, if a potential customer asks a question about one of my listings at 2 pm, I would get the email/text alert around 6 pm. It wasn't just a fluke- the alerts were that far behind EVERY SINGLE TIME, EVERY DAY FOR 7 DAYS! They should be paying us for wasting our time. If you're one of those people that has way too much free time and way too much money, then go for it. Otherwise, do yourself a favor and skip this ap!
Created By: widespreadmosaics
---
Like all the rest when it works it's good!
I'll be canceling. Like all the rest when it works it's good. Unfortunately, it only works about 30-40% of the time.
Created By: snowcapauctions
---
An application like this is great for sellers, the problem is that none of the applications that are offered like this work. I have had both of the text apps, both worked for a little bit and both have stopped working. You cant ever get a responce for tech support either. I would have lost out on several sales if I would have actually relied on these apps, instead I check my ebay store several times a day. PLEASE SOMEONE make an app like this that really works!!!
---
2 Different Membership Levels:
Free Version - Only includes watch list alerts.
Full Version - Pay $3.95 monthly or $28.50 yearly and save 40%!
15 day no-obligation free trial available when paying monthly.