PDFCatalog
By 3Dsellers
(released Aug 02, 2011)
Create a catalog of your eBay items with this easy to use app. "PDF Catalog" embeds your eBay items in a designed pdf file, so you can present your store goods to potential and existing customers.
Categories: Inventory, Marketing & merchandising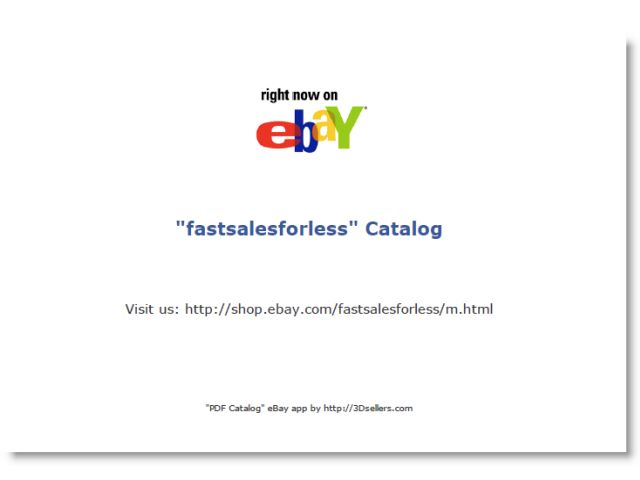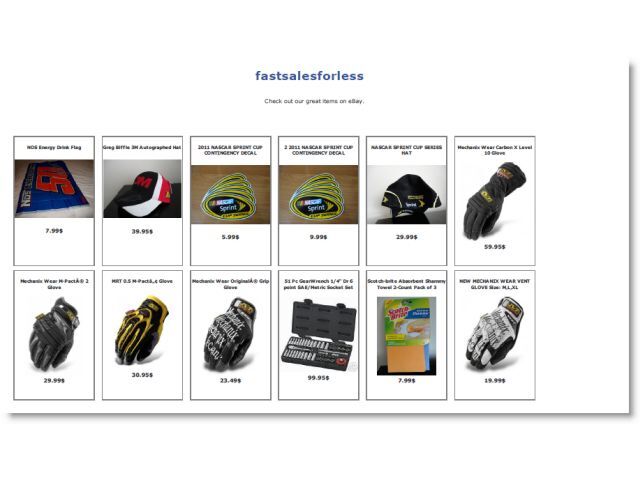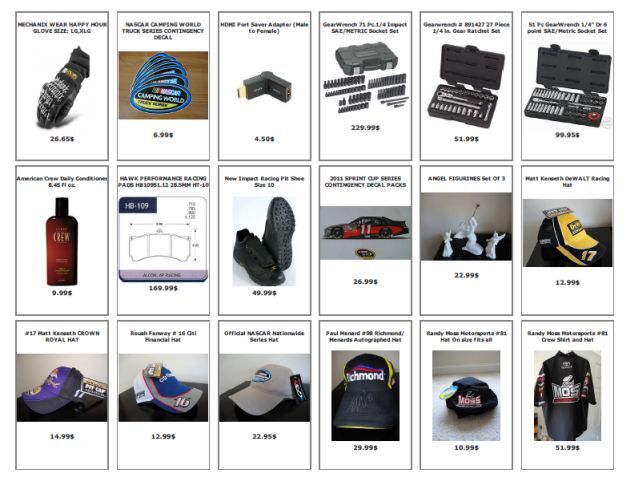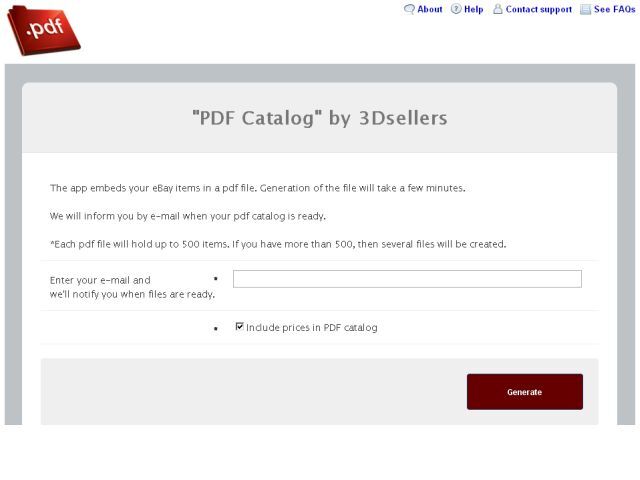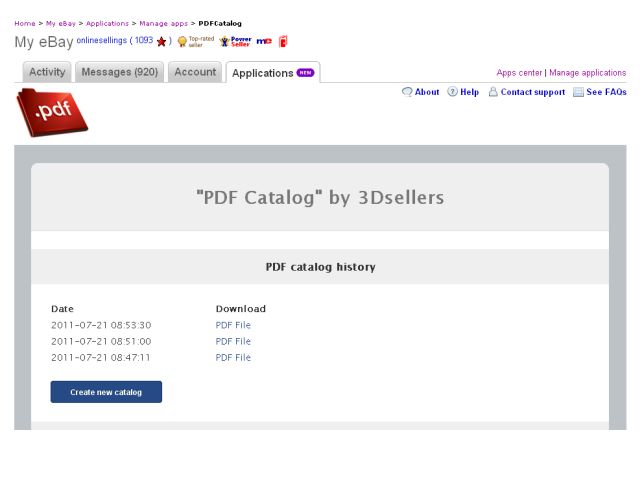 Key features
1) Send your new eBay catalog to friends and customers.
2) You can generate new files when you update your inventory.
3) An easy to use and productive "business card".
4) Will help you boost your merchandising and marketing plans.
5) Totally free.
Description
Create a catalog of your eBay items with this easy to use app. "PDF Catalog" embeds your eBay items in a designed pdf file, so you can present your store goods to potential and existing customers. This is a great app for promoting your eBay items. A simple and easy way to display your goods.
* See screen shots above to see an example.
Additional resources
Application requirements
Supported browsers:
any modern browser
Supported languages:
English
Supported eBay sites:
ebay.com
Required eBay subscriptions:
None
Application support
Need assistance? Have a question? contact us via our support center at http://support.3dsellers.com.
3Dsellers
This application is brought to you by 3DSellers. 3DSellers is one of the leading eBay app developers in eBay's App center offering 12 different apps for eBay sellers. 3DSellers' main goal is to create a strong and stable connection between eBay and advanced technology. Thus, assisting eBay sellers in building a prominent presence on eBay, while simultaneously enhancing the eBay shopping experience.
Also from this developer:
By 3Dsellers
(released Dec 08, 2010)
"Share Your Items" is a complete social media toolkit for eBay sellers. Let your items be seen everywhere. "Share Your Items" is the only app that lets your buyers share eBay items with their friends. The app a...
Categories: Listing, Marketing & merchandising
By 3Dsellers
(released Jan 24, 2011)
Embedded in your listing pages, "Currency Converter" lets your buyers calculate item prices and shipping rates in their local currency or in any foreign currency they desire. The calculation is online, accurate...
Categories: Customer support, Shipping & payments
By 3Dsellers
(released May 31, 2011)
Create an amazing Facebook store displaying all of your eBay items, at the click of a button. Connect with 900 million potential Facebook customers! Sign up today and receive a FREE subscription to our Thank Y...
Categories: Listing, Marketing & merchandising
By 3Dsellers
(released Dec 14, 2011)
The best cross-selling tool for eBay sellers. Smart and good looking! Sign up today and receive a FREE subscription to our Thank You Emails app!
Categories: Listing, Marketing & merchandising
By 3Dsellers
(released Jan 04, 2012)
Add a free translation widget to your listings
Categories: Listing, Marketing & merchandising
By 3DSellers
(released Nov 21, 2012)
Create a beautiful storefront for your eBay items with Webstore! Webstore helps you drive traffic to your listings from search engines AND links your eBay account with a professionally designed storefront. Sig...
Categories: Listing, Marketing & merchandising
By 3DSellers
(released Mar 08, 2013)
Design your eBay store with one of our ready-to-use design templates, customizable & 1-click setup! Sign up today and receive a FREE subscription to our Thank You Emails app!
Categories: Listing, Marketing & merchandising
By 3DSellers
(released Feb 08, 2013)
Improve your eBay feedback score with eBay Feedback Reminder! Sign up today and receive a FREE subscription to our Thank You Emails app!
Categories: Customer support, Marketing & merchandising
By 3DSellers
(released Mar 14, 2014)
Easily increase repeat sales with Thank You Emails! Thank You Emails will automatically send a Thank You Email to each of your buyers recommending other items that you offer. This way you can build great custom...
Categories: Customer support, Marketing & merchandising
in your item description it blocks what you wrote or its hard to see what you wrote
Created By: pony-xpress-online
---
---
Still waiting for report after 1 hour only have around 150 items
Nothing was organic so I would know from how the website works. Don't like the "terms and conditions" on my information and possibly paypal. Unsubscribing will stop them from selling my info? Don't know. Would like to know
---
---
---
Having a tool like this will give me something I will be able to print and mail out to all my buyers
Having a tool like this will give me something I will be able to print and mail out to all my buyers keeping them informed of new products being listed. For me this is a tool that will exploded my business with little or no effort. For every thank you letter being mail out my clients will get something to look at and having them coming back for more. This is a wonderful tool that I have personal been looking for to excel the deployment of my business to a new level and I will be using it for many years to come.
Created By: dmcsupermall.weship2u
---
---
Not enough user friendly options
Not enough user friendly options
Created By: ldymasnewandpreowned
---
---
This is a very nice feature to have when selling
However, in order to be successful this app needs to be able to update itself on the fly. If every time you make a change on eBay you have to go back into the app and create a new page waiting 15 mins for it to be created, it's not worth my having. The app really needs to hook into eBay and create the pages on the fly as items are added or updated. The link to use to get to the catalog is perfect
---
The Thank You notes are awesome! Such a great way to show your appreciation to your customers.
---
Very easy to Use. Looks very Professional!
---
...m
Created By: susasvedjehe-0
---
Catalog can be easily done!
I was introduced by a friend of ebay seller. For example, just by pasting the URL of the catalog of your shop to the mail sent to the buyer, the sales are different. This is a wonderful effect.
Created By: seabouz0701-1
---
Love the vibrant color catalog
---
great for visual listing references.
Created By: capecodfireplace
---
LOVE this app - it has helped with increasing sales with Thank You emails
Not only am I am able to create a PDF catalog either to view online or a printable version, there are templates for the catalogs with the pay version. Also, the thank you emails are AMAZING and have really assisted with branding and promoting
Created By: holtonhobbyhaven
---
Creates a very handy .pdf catalog of your eBay listings!
I can make a .pdf catalog to display all my listings for presentation on a tablet in locations that do not have Wi-Fi or cellphone signals.
---
After the problems accessing the catalog I was told the problem was with ebay. The main catalog now works fine, thank you. If the catalog for one at a time would be fixed they should get a five star. They are working on that part to fix it. Thank you.
---
Did everything it told me to but whenI got the email that it was ready I clicked on the site and it did not work. Period
---
The support is awesome, very reliable, it is very useful, and very easy to use.
---
This is nice but downfall is you cannot pick the order of catalog
Created By: 1022racerifle
---
---
worked once, then it said my domain name wasnt registered, lol! Went to website where they clearly advertise "24/7 customer support", so I called.....after business hours, lol...BUT i can call back on Monday, only 40 hours away. awful
Created By: freshazfunk_llc
---
Good but I can not pick the items I want to display
Good but I can not pick the items I want to display
---
I have used this on my other ebay store and I love it, thanks again
i will enjoy using this app
---
Very easy to use and create catalogs of your auction items. Great product!!
Created By: 580importsncollectibles
---
Iam new on ebay and this kind of ebayapp for free is a great help yo start selling on ebay. I already send all my friends on whatupp my catalog.In the 1.day I started selling my products.
---
Great and thorough application
I love the PDF catalog app. It gives you an at a glance view of all of your offerings in one place. Although you can do this by scrolling through your listings, in my opinion, it allows you to look at your items in a better light and as if you are looking at a catalog you get from an actual store. I love the option to pick the format in which you want your items displayed and the speed at which the items are compiled into one catalog. It frees up time to allocate to other tasks and also compiles your items into a single catalog that you can send to others and save them the time of having to search for, or find them on a website. I highly recommend this app!
Created By: timelesssimplicities
---
untill naw i disused the applicatioj
---
It is simple and easy to use. I like this app!
Created By: arkomali_company
---
---
Love how easy and user friendly this app is
---
Very easy to use. Produced a good looking catalog of all my listings. Was surprised at how quickly the program processed my listings. Thanks
---
this is a prefect tool to have. It will save lots of time and energy.
---
This is an excellent app to get me organized and know what I have
Love using this app
---
easy to use; very useful.
Created By: brassdogsornaments
---
Got More Than I Bargained For...
Signed up for .pdf catalog, and discovered the app developer was sending spam marketing emails to my customers as part of their "thankyouemails" app which I did not subscribe to. Developer is doing what they want with seller's information. Oh, and your thank you email featuring my listings put garbage characters in the listing titles.
---
Excellent products and Free
It is a great product and i have a great experience to see my Catalog in PDF file. The amazing think is that, it is FREE.
---
---
Great app THANKS!!! very useful
Easy to use and great for sending out your products in catalog form.
---
Awesome thanks for helping with this very useful app for sellers
Created By: brandopierc-63
---
application was very fast and easy to set up
Created By: twiztidautoparts
---
helpfu;l putting catalog together
Created By: soaringsportsny
---
shows your products in one easy file!
Created By: redlipsstudio
---
This makes selling so easy
Created By: thisnthat-herenthere
---
If You Sell Colorful Items Then This App Is For You
Imagine having all of your products made into a book in order buy how they appear on ebay! While you are busy working someone else can do that for you and guess what, IT"S FREE!!! I just loved this and mine was small but it gave me a chance to show everyone what I was doing!! Love it!!!! You will love it too!! Try it!!
Created By: missmcduffstuff01
---
Great Experience !
Created By: multiservicios-halcon-0
---
I click on PDF Catalog and there is a listing of everything I have on my computer. It sure saves the hassle of searching through files and folders for what I want.
---
Great option and it's free.
I recommend this for sure. You certainly can't beat the price=free.
Created By: pearliebeskin_0
---
Excellent source for sellers
This catalog is user friendly and provides an easier link to market your products. Also the automated email system saves you a lot of time. I highly recommend this app.
---
GREAT FOR LETTING MY BUYERS KNOW ABOUT MY OTHER ITEM. i ALWAYS PUT A PDF CATALOG IN MY SHIPPING BOXES.
Created By: babydollscenter
---
Get it for free and print out your catalog. I save it
I think this is a smartest, coolest, and nicest thing that we have free catalog. I save
Created By: craftmentouch
---
SO far I have been able to send a catalog to every buyer as they are received with updated products
that we have to offer...
---
Created my first Catalogue in minutes,worked fast and easy
---
I have the free version. But I am satisfied with how the catalog is laid out. I usually send a print out of one page attached to the reverse side of my shipping invoice. Great low cost way to give customers an idea of what else is available in my store.
---
Watch Out, 3dSellers might enroll you in their other products without your knowledge.
If it weren't for a customer forwarding an email while asking a post-sale question, I would have had no idea it happened. 3dSellers enrolled me in their "Thank You Emails" program, and were sending unauthorized communications to my customers post-sale. I had no knowledge (or control) of these post sale emails. After contacting 3dSellers, they sent me a link to the 'dashboard' where I could control what emails they sent. I immediately opted out of all of them and closed my PDFCatalog account.
Created By: revolutionmachinesllc
---
simple for customers to see all of your items instead of scrolling around
simple for customers to see all of your items instead of scrolling around
Created By: world_wide_united
---
Awesome, I can carry my selling items with me with this application, thanking you in advance. ...;-)
On my way to using it and looking forward to showing my PDF catalog but just downloaded it so you'll be hearing from me. ...;-)~
Created By: colloidalsilvergirls
---
At last a program easy to use that lets me know exactly what I have in stock and listed
---
Too simple and nothing special.
*Free Version* There is not much to this app that makes it really worth downloading. Yes it creates a most recent catalog of your items, but looks like with every change you make, you have to DL a new version. Also, there is no way to alphabetize your items or categorize them in anyway, which really what's the point then. I sell books so for me these options would make it worth it. The free version, at least for me, was in color, so that's something.
---
Catalog will not open; no response from Support
Have created my catalog twice and tried opening with two different PDF readers, and I continually get the message that the catalog is either not in .pdf format or corrupt. I am therefore deactivating.
---
kept saying failed to load
nothing came up, useless app
---
good aplication!! :)
Created By: buy_it_ido_tamir
---
---
great app
Created By: aishaswatt504
---
this is worthless does not even let you choose how many per page or even show the whole title
this could be a good application... but it just isnt... seriously 8 images per page? No choice of how they are sorted, how many per page, worthless. i want my money back.
---
SUCKS!!!!!
Created By: mzkueen71*2010
---
This app. is easy too uses and very helpful.
Created By: ban9934.rjlchdr2j
---
---
---
The FAQs in the support section don't help. There is no way to get support when things aren't working. Kinda sucks.
---
A beautiful display of your listings with a professional touch. A great product if you have a need.
While beautiful I am not sure it is very useful. Very easy to obtain but does require updating prior to downloading.
---
Thanks ebay for providing such helpful and easy to use applications!! Way To Go!!
---
---
Not much of a catalog in the free version...
To make things clear ... In the free version you get only a basic gallery consisting of titles and main Item pictures (15 items per page lol). Thats it. No additional pictures, no layout options, no category selection or filter, no description and no prices. Maybe there are those options in "upgraded" version but I was insulted by the lack of content in this "free" version and didn't want to spend a cent. Don't bother with installing this if you are not willing to risk some $.
---
doesn't recognize me as a store or ebayer.
---
Must have...
Created By: westcoastconsigning
---
Always tells me; "Your session has expired. Please refresh your browser." Even when I hit the Contact Support button, I get the same thing! I have NEVER gotten any thing else.
---
After downloading and subscribing, got tons of junk mail in emal account from advertising items
They track what you look at previously, then send out email notices on more, more, more. No one needs all this. Unsubscribing and sending ebay emails to junk and spam mail buckets.
---
I see items that I am no longer selling.
---
AFTER ALL DAY waiting it never even loaded,it is not good at all
this is the second app that i used with 3d sellers that i had issues,i will never try anything with them again
Created By: jbreaking2011
---
thank you for free this support for any one
---
good
Created By: nationwidedistributorgroup
---
---
I would like this catalog to be easier to find
Created By: rmcollectables2015
---
the free version is black and white only and not even HD!
the free version is black and white only and not even HD!
---
It says a pdf catalogue . ok how.. lool up for an answer.. none.. so how do I make a catalogue I clicked the word the icon the everthing I could think of and nothing..
Created By: kelleyskoolstuff
---
very useful tool to have as an ebay seller. thank you
Created By: jenp2012-2012
---
Creates a full catalog for all your items, no need to mess around just choose a design and create a catalog that's ready within minutes.You can share it on twitter and facebook and also add it to your emails, works great!
Created By: electronicsgiantscom
---
Great for promoting my store
It's a great way to show buyers all my recent additions in my store. Also great for showing my inventory to potential buyers that contact me.
Created By: majugeneralsales
---
Will create in minutes a PDF catalog for all your eBay items, or if you choose for a certain category. You can also choose if to save your catalog to an archive. Great feature if you?re creating multiple catalogs to send to different prospect buyers.
Created By: flyingmongoose64
---
I just upgraded to the PDF Premium version and I love the new designs! Also, all the new features are great such as saving the PDFs to archive and creating a catalog for an index. Thank you for all the extra additions!
---
Negative do not use it waste
---
just another way to be charged excess fees by ebay.
Created By: bookofthepast
---
Nice looking, but it includes items I've already sold (2 months ago!!!) as if they were still available. I don't know where it's getting it's info, but it's not at all accurate or up to date!
---
Another GOT ME Application - Do Not Waste YOUR TIME!
Another joke application placed out there to waste your time. There are no free features that offer any value, as soon as you download it will as you to upgrade. DO NOT USE THIS APPLICATION!
Created By: sweetpeaanddeb
---
This is a most have!!! APP Is a very useful !!
---
if it had all the fees, paypal, etc it would be perfect but it is still a handy tool
---
You can print the Catalog and hand it out... email it... I even added the link to my email signature. Great product. Thanks!
Created By: buildcorp-direct
---
Simple, easy to use program.
Wonderful basic catalog that is easy to use and understand.
Created By: allisonswarehouse
---
i don't like it
Created By: chrifrank78milcia
---
---
love this app it works great
love this app it works great
---
Nice catalog - use as frequently as you like.
---
Very Basic but Useful App
PDF Catalog is definitely with the price (FREE!). This is a very basic app, with virtually no ability to customize to meet specific business needs (e.g., no sorting, no ebay listing numbers, no page numbers). The quality of the photos is good. Unfortunately, PDF Catalog does not always use the current primary photo from the ebay listing. The text provided is the listing headline - good feature. Again, unfortunately, the format of the text leaves a lot to be desired. Bottom line - you get what you pay for - as a free app, this is worth a try. Don't expect much in the way of support. But if you are looking for a basic catalog that shows all of your ebay listings (and prices if you choose - the only bit of customization available), give PDF Catalog a try.
Created By: okranchlandandcattlecompany
---
this will open doors
Created By: usbeadwarehouse
---
Great for a quick marketing booklet...
...or inventory summary that we can show to local customers in-person. This application is perfect for printing out a professionally organized resource of your current products.
Created By: martinxcordero
---
Would be nice if we could customize the titles as the long titles do not play well with print out catalogs for selling purposes.
---
Great product love it!
Created By: haldanecreations
---
A BEAUTIFUL PDF IS WHAT THEY ADVERTISE? NOT BEAUTIFUL AT ALL! MORE LIKE A BEFUDDLED MESS! WHAT A WASTE OF TIME
Created By: sistersgreene14
---
Never works the first time - I quit using - too much frustration!
Instructions say you can list up to 500 products; mine quit working after 400. Every time I tried to use it I would have to contact support, waiting up to 24 hours to hear back. Easier just to link to my eBay store.
Created By: homeprofitscenter
---
Have really used to it's fullest
Building email list
Created By: jazzyjazzproductions_sales
---
I like this App because I can send a complete list of my products to new customers.
Created By: phantomwarrior1327
---
Fantastic! Love this app! Works great with our eBay store.
Now I can provide a copy of what is on our eBay store for new customers to see an example of what we offer.
---
App is not very helpful for my needs. Thanks
App is not very helpful for my needs. Thanks
Created By: hutchersongroup
---
I really like the notification settings.
---
Just ran it for the first time and looking it over it's just really terrific. Simple to use
I read that people want more and I get that. Leave this one alone PLEASE. I understand why people would want more options but for free this is simply wonderful
---
Love being able to create a catalog BUT~~~~
I would love to be able to edit the size of the text and photos also to be able to categorize items or choose which items you want in what order. Its good but not perfect!
---
Great tool too advertise to your existing customer base!
Probably the most simple APP to use. Enter your email address and click generate and your done. A few minutes later you will receive an email with a link to download the completed PDF. It has your entire stores product images in a gallery format which look excellent. The best thing is that when you click the image it takes you to the listings. I use it to advertise to my previous customer base. In Outlook 2010 I create a group list. Then I create an email to say whatever I want. For example, the last one I sent I told about new products for the summer of 2014 from SANIS (my manufacturer. I always explain in the email that it is a special PDF that is clickable which is the best part for your customer. When you send it the TO: goes to yourself and you attach the Group List to the BCC. Reason being no one else sees to who else you sent the email. Attach the PDF to attachments and you are ready to send. Free custom advertising directly to your customers. Keep up the good work 3DSelllers.
---
It would be nice if I could sort my items, or if they were sorted by store category.
---
Works well best apps
Created By: jafferusa2011
---
I does what it says, a pdf catalog and it's free.
---
---
What a great idea and wonderful way to showcase Ebay items. Thank you for your hard work,
Created By: isellyouprofit
---
It does what it says but with no organizational options has little value.
Yes it creates a PDF catalog. But it does not sort your catalog by category or allow you any options on how it is produced. As a result, you get a jumbled mess as your store grows in size.
---
---
It only took a few minutes to understand this app. Now it's really helpful to my customers and me.
Created By: collegedreaminkid
---
---
Great and easy catalog generator.
This is a great app! We use it all the time and it very easily gathers all our products into a nice looking catalog that we can give to our customers. Great job!
---
I would like it to let me group items together and only print out lists of items, like all the jewelry or all my hotwheels only.
---
How cool to just make a pdf file of your store offerings? This used to be called a mail order catalog back in the day ;-) They give you the option of showing the prices or not showing them - which is awesome. I made one of each. And I will continue to update as my products change. It's really great to be able to post a link to all of your items in this format from your Facebook page, etc. The greatest thing about it is that it's actually a little portable STORE because every product is a clickable link~!!! Very cool~! Thank you for this~!
---
I have over 1000 listings. This is the easiest way for me to do inventory. Love it!!!!
---
Great for a backup source of your current listings.
I use this program prior to uploading multiple new listings as a backup source of sales progress. The main thing I dislike about the program is it does not show a current date on the cover page so you have to manually perform this action. I would like to see an option for editing the cover page with user specific desired text. Otherwise I am very happy with the product as it fits my needs well.
Created By: serenity_4101
---
---
good
Created By: pedreiraantiques
---
We accidentally found this app and tested it, as we get request for our catalog (which has been impossible to create). If you are like us and have high turnover of your items, you will love this app! It takes just a few minutes to generate once you initiate the process. Then you get a link with all your products in a pdf 'catalog'...plus each one is linked back to your store. You can make a new catalog anytime you add new inventory, or get a request for your catalog! Thank you!
---
---
Nice app for free i can recomand
---
I love this application!!!
It is useful for potential buyers locally and for my inventory control.
Created By: anilouise2012
---
Point and click and there are your items in and portable PDF WOW!!
We all just need to capture an overview of our collections for reference especially if selling on behalf of others. Great simple product. Ideally there needs to be a PDF for my purchase history so I can identify items years later.
---
Great looking catalog for ebay items
---
Like to be able to check without having to go on line.
---
Awesome! great free application
Incredible program! It gives a very professional looking layout and links the buyer directly to your store for purchase and compatibility information.
---
it allows me to print a catalogue and be able to quick reference items when chatting with customers
---
EZ TO USE. AWESOME
Created By: icollect30-30
---