Currency Converter
By 3Dsellers
(released Jan 24, 2011)
Embedded in your listing pages, "Currency Converter" lets your buyers calculate item prices and shipping rates in their local currency or in any foreign currency they desire. The calculation is online, accurate and quick.
Categories: Shipping & payments, Customer support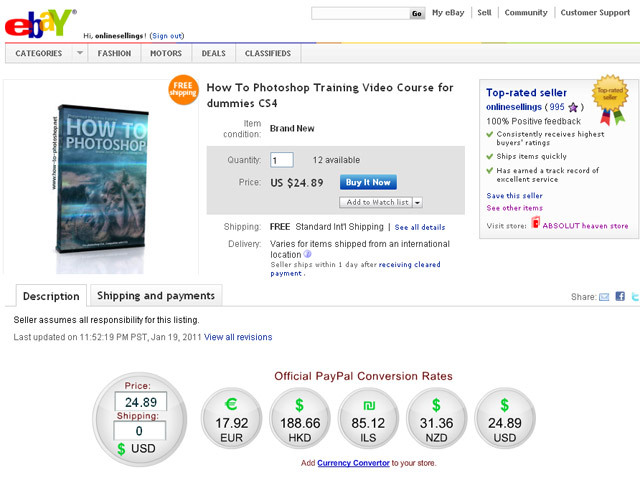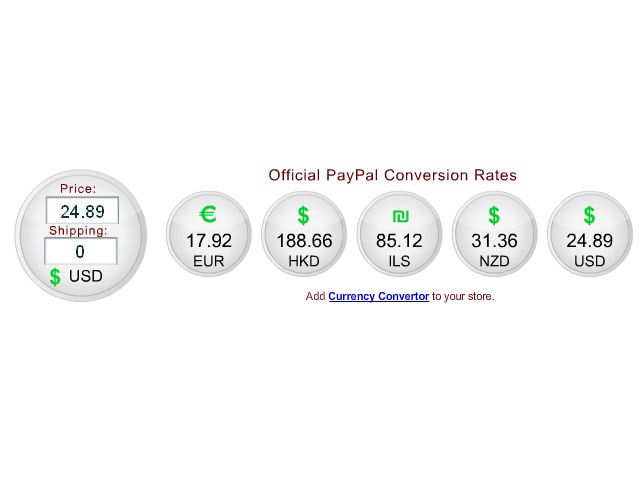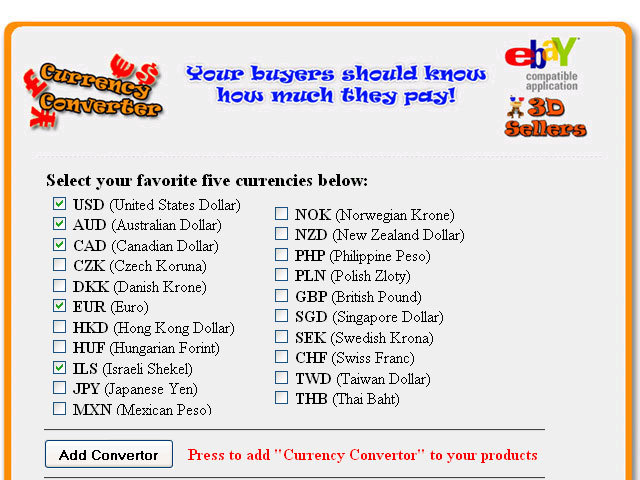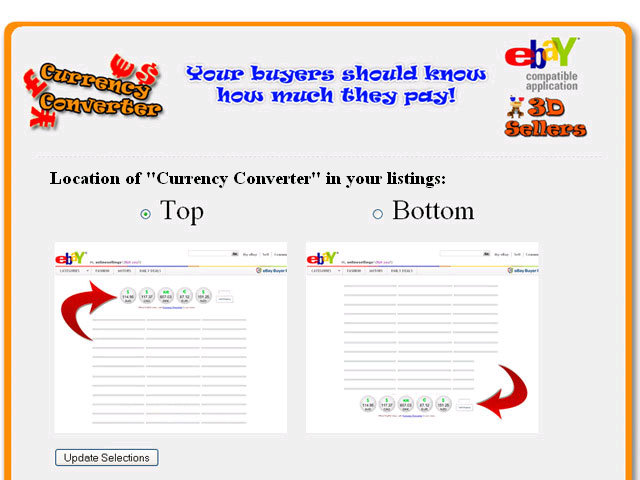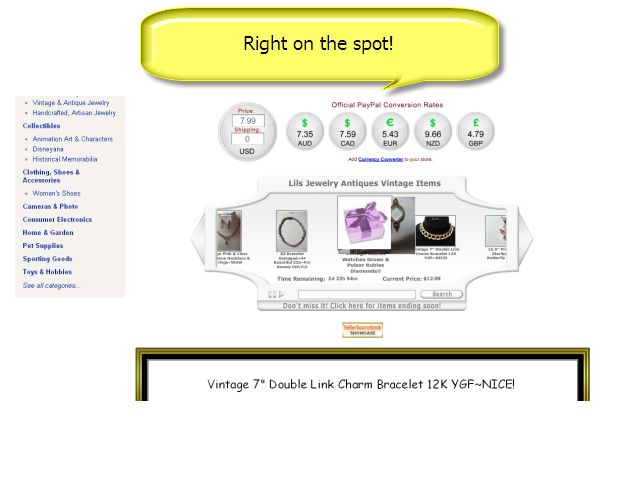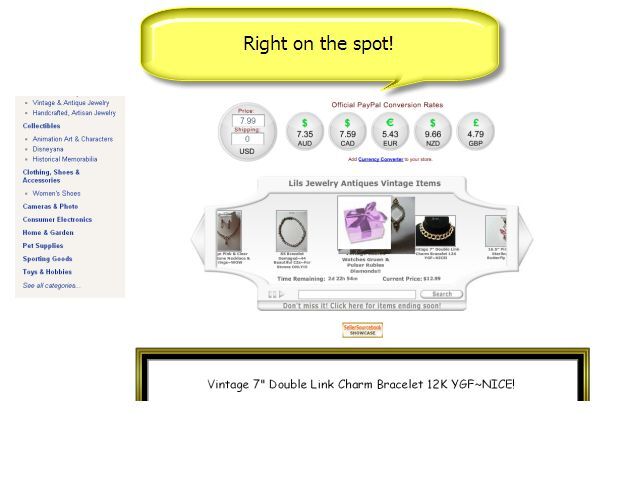 Key features
1. Integrates with
official PayPal conversion rates.
2. Calculate eBay item prices and shipping rates online, quickly and on the current eBay listing page you're visiting.
3. Accurate and up to date.
4. Intuitive, fun and easy to use!
5. Benefits sellers and buyers alike.
"Currency Converter" - right on the spot!
Description
Currency Converter lets your buyers calculate item prices and shipping rates in their local currency or in any foreign currency they desire.
Currency Converter calculates the price buyers will pay according to PayPal's official rates, so your curious international buyers will know how much they will pay.

Note for sellers: The final price your buyers will pay is the price stated at eBay's and PayPal's checkout and payment phase.
Additional resources
Application requirements
Supported browsers:
any modern browser
Supported languages:
English
Supported eBay sites:
ebay.com
Required eBay subscriptions:
None
Application support
Feel free to contact us 24\7 at email - support@3dsellers.com or via LIVE CHAT on our website.
3Dsellers
This application is brought to you by 3DSellers. 3DSellers is one of the leading eBay app developers in eBay's App center offering 12 different apps for eBay sellers. 3DSellers' main goal is to create a strong and stable connection between eBay and advanced technology. Thus, assisting eBay sellers in building a prominent presence on eBay, while simultaneously enhancing the eBay shopping experience.
Also from this developer:
By 3Dsellers
(released Dec 08, 2010)
"Share Your Items" is a complete social media toolkit for eBay sellers. Let your items be seen everywhere. "Share Your Items" is the only app that lets your buyers share eBay items with their friends. The app a...
Categories: Listing, Marketing & merchandising
By 3Dsellers
(released May 31, 2011)
Create an amazing Facebook store displaying all of your eBay items, at the click of a button. Connect with 900 million potential Facebook customers! Sign up today and receive a FREE subscription to our Thank Y...
Categories: Listing, Marketing & merchandising
By 3Dsellers
(released Aug 02, 2011)
Create a catalog of your eBay items with this easy to use app. "PDF Catalog" embeds your eBay items in a designed pdf file, so you can present your store goods to potential and existing customers.
Categories: Inventory, Marketing & merchandising
By 3Dsellers
(released Dec 14, 2011)
The best cross-selling tool for eBay sellers. Smart and good looking! Sign up today and receive a FREE subscription to our Thank You Emails app!
Categories: Listing, Marketing & merchandising
By 3Dsellers
(released Jan 04, 2012)
Add a free translation widget to your listings
Categories: Listing, Marketing & merchandising
By 3DSellers
(released Nov 21, 2012)
Create a beautiful storefront for your eBay items with Webstore! Webstore helps you drive traffic to your listings from search engines AND links your eBay account with a professionally designed storefront. Sig...
Categories: Listing, Marketing & merchandising
By 3DSellers
(released Mar 08, 2013)
Design your eBay store with one of our ready-to-use design templates, customizable & 1-click setup! Sign up today and receive a FREE subscription to our Thank You Emails app!
Categories: Listing, Marketing & merchandising
By 3DSellers
(released Feb 08, 2013)
Improve your eBay feedback score with eBay Feedback Reminder! Sign up today and receive a FREE subscription to our Thank You Emails app!
Categories: Customer support, Marketing & merchandising
By 3DSellers
(released Mar 14, 2014)
Easily increase repeat sales with Thank You Emails! Thank You Emails will automatically send a Thank You Email to each of your buyers recommending other items that you offer. This way you can build great custom...
Categories: Customer support, Marketing & merchandising
Good
Created By: susasvedjehe-0
---
Have had no problems with this app. always present when needed
Created By: desertmodestyandmore
---
---
---
eBay flagged most of my listings for having a non-compliant link and app didn't work!
The app didn't work and in order to remove the link, I had to edit 390 out of 508 listings to be in compliance with eBay's new policy of no outside links. Complete waste of time I really did't have time to spare!
---
Easy to use and tons of options for conversions!
---
1400 listings non-complaint thanks to their app
Do not install this on your ebay store. You will have all listings go non-complaint with javascript. I called help desk at ebay and they confirmed that it is this company's apps. Why ebay has not pulled their app is a problem too.
Created By: laserprinterkits
---
---
WORKS GREAT AND SAVES TIME!
Created By: detroit1370-8
---
---
KEEP ON YOUR IMPROVMENT
Created By: hayaalmajid003539
---
sad that i have to unsubscribe do to ebay not allowing active content.
---
Customers in other countries want to know the price of things in their currency, this is an easy way to find out.
---
Never located in the correct place
Every time I make a new listing this converter is located 2 on top of my description or 2 on the bottom of my description or not there at all. I have changed my settings for only the bottom and it still gets put everywhere but there. The pricing is correct, I hope, but not the position.
---
This is the ONLY conversion site I will use because it is very user friendly.
I tell everyone about this site.
---
---
the best
Created By: slavigigov-bg
---
We subscribed to this application. It was easily installed at our eBay account. It was very simple to setup. Now its active on our listings. It will help International Customer to see how much they have to pay for the item they will pay.
Created By: bargainseller2016
---
It states free yet charged me.
Created By: fashionsplusmorestuff
---
this app was good but lately has crashed my ads so I had to unsubscribe.. the bar is still at the bottom with a large play button over it... turned into a pain in the a$$
Created By: world_wide_united
---
---
good for international buyers
I'm getting into international selling and this help buyers abroad know what a product will cost them all in one place. NICE!
---
Very handy
Created By: blindjohn1933
---
Great tool for shipping and learning.
Created By: danieflahert_0
---
X-rates are not even close to accurate
Within a couple of days of installing your app, I had to "unsubscribe". The "official PayPal exchange rates" are so far from being accurate it's not even believable. Example: Today, one of my items with a British Pound x-rate (from USD) is £99.99, but the 'official PayPal exchange rate' shown to buyers is £81. A difference of over £18 is difference of over USD 24! (Your prices would bankrupt me.) And while the buyer would ultimately have to pay the actual exchange rate, they aren't very happy at seeing this actual price when it comes time to purchase, after seeing your app shows a much lower price. Irrespective of the rates shown being "official PayPal" rates, it's YOUR app, and it apparently doesn't work. What's really ridiculous is that Sterling hasn't traded at the displayed rate your app put on my site since Sept of 2014!
Created By: law_de_lauriston
---
I like that they convert the cost for buyer
Using the price converter my customers can see their actual cost.
---
Great option and it's free.
I recommend this for sure. You certainly can't beat the price=free.
Created By: pearliebeskin_0
---
I always get frustrated when I can't find a currency converter on others pages so now I am up to date
Created By: ghettofabulousfurnishings
---
The Currency Converter does what it is supposed to both quickly and accurately.What more can you ask for?Recommended to all sellers.
---
Helpful to my international customers
Great app. More international buyer are coming to my store. Thanks from http://stores.ebay.com/exclsv90210-Fashion
---
Super! Thank you!
Created By: hellomyfriends555
---
Amazing would recommend this to everyone
---
Great for all sellers
Created By: valuecity_electronics
---
This app make my description look professional
Created By: aundamunskyline
---
10+
Created By: libero.ninacem
---
GREAT APP for INTERNATIONAL BUSINESS
The Currency Converter app is a no brainer for those looking to expand their International business. Just pick 5 of the most popular currencies of your best customers and you are on your way. Less running for a calculator or wondering what the conversion rates are and more "POINTING, CLICKING and BIDDING/WINNING!" Thank you C/C software app developers and support staff!
Created By: theolddrumshop
---
Why is it unavailable? to me ?
Created By: adesignerrose
---
Inconsistently shows up on listings
The currency converter does not appear on all listings - this seems to be a random occurrence.
---
Makes persishing items from other places much easier. No more guessing.
I would highly recommand anyone who buys in different parts of the world to use this tool. It has been a life saver for me in time and money.
Created By: southernbelle1858
---
---
---
Worked for a while and now it's leaving broken code all over my listings. Not cool. Done.
Created By: hotdealsforyou-com
---
---
Does exactly what it says
it works fine.
Created By: billathomewilliam
---
I love it and it looks great on the page. very helpful to my international customer base.
---
Makes it easy for other countries to understand the total price in their currency.
Created By: littleonesunlimited
---
Worldwide sales may not be the mainstay of my business but every sale helps and people who use different currencies, even if they immigrated to America but are more familiar with the currency of their birth country must enjoy being able to see the conversion rates. I also find it interesting to see the differences and feel that catering to different groups of peoples is one of the foundations of a good business. Thanks for the app!
Created By: exquisitesportstreasuresllc
---
Very informative and a great aid for both seller and buyer
Assists the foreign buyer in determining his costs when purchasing an item.
Created By: h-mtechsvc3211
---
Love It !
Created By: kellertheseller
---
confusing and not working or hard to understand how it works
Created By: fromestates2u
---
worth getting
Created By: summitpointauto
---
initially attached to some listings but not all
Initially attached to some listings but not all and did not show up on new listings. It's apparent that over time it gets lost in the shuffle. Very unhappy.
---
doesn't activate - doesn't work
---
---
This application worked great and allowed me to create what I needed the first time.
---
Never installed this app to be used, but noticed that the converter was being added to my auctions without prior approval. I would try and remove the converter from my auctions, and the next day, it would automatically be included again. Completely SPAMMED the top of my listings with this converter!!!
Created By: virtual_odyssey
---
Really helps cut down on those emails asking for shipping fees before bidding! Thanks so much!
Created By: clcmasterworks
---
Let's you see currency for other countries
Created By: connoraubreeandryder*nana*
---
Love this tool...helped all my sellers!
---
Stands out on my listing page to assist potential buyers!
---
---
Love it! And so do my international customers.
I love that it makes it quick and easy for my international customers to decide if my item is in their budget.
Created By: gemsandtreasuresofgrace
---
I'm new to this business, everything is fine.
---
---
(There have been no reviews for this application.)
---
I've seen times I was going over all the internet looking to convert prices. This is so handy to have on my computer.
---
More International Sales!
I have had many more international sales after installing this product. It is great to let international buyers know the price in their own currency, so they don't have to ask, because it is possible they do not speak English. I highly recommend adding this free program to all listings.
Created By: highstreet_boutique
---
I ship worldwide, its nice to have this currency converter available to help my International customers. I do wish there were more currencies available.
Created By: closeout_bliss
---
Great International marketing tool!
Use it to help your International customers convert to their currency.
Created By: jdsattictreasures
---
MORE CURRENCIES SHOULD BE ADDED
---
---
Great for my overseas customers. Thanks so much.
.
---
Gives area's out side of the US an idea of what they will be paying with #'s they understand!
Great Program!!!
Created By: allies_jewels
---
Great customer service, though it took me a while to figure out how to get this to work. You cancel and then reinstate and all works great. I think it stopped working as Good Til Canceled items ran out after the security bleach on Ebay and my password change. It seems like all started working like nothing ever happened now. I got fast responses to messages to the support staff.
---
Error message every time I select the currencies
I tried several times to put the currency tab at the top but each time after selecting my currencies I received the same error message to go back and restart the App. This is the second app that does not work with my iMac.
---
I Had Many international customers1
Works great many different currencies to choose from, best of all its free.
---
---
For me it really necessary application
Created By: stamps-haborcz
---
very good
Created By: retromania_hfpx
---
The code is stuck on my HTML making the page slow to load after I've cancelled the application - very annoying to go through every listing and erase.
Created By: recyclingethic
---
Great quick tool for buyers to see price they will pay in their own currency.
Great quick tool for buyers to see price they will pay in their own currency.
Created By: avalonian1976
---
Useful tool for international transactions.
Very useful application for international transactions. Sipmly choose five currencies and place them at the bottom of your listing. Customer can calculate quickly price in these five currencies so he/ she can deside to purchase without leaving page.
---
Does what it says, just wish it was a little better looking
---
Love it
Created By: bigcountrywill0909
---
---
Excellent tool for Ebay sellers!
The currency converter makes it so easy for foreign buyers to buy from you
---
Ice Cream Moci Jalan Mochammad Ramdhan no 11 Bandung
Created By: anakbandungasli
---
It is very helpful and useful to get the right price in the local currencies.
---
Innacurate rates, AVOID at any cost!
It will happen that your customer will see "the lower price" in the currency converter and keep asking you why they have to pay more. Very bad experience :(
---
great support applications
This application of the knowledge of the price that has been exchanged for currency in accordance with that in the select. . . thank you this app is good, why only 5 currencies?
---
---
very east to instal and very nice to have.
---
It has it's ups and downs but overall a good app
When I change the price on my item the currency converter does not convert it, I am not sure how to change it, or if I can change it. Other than that I love this app it works nicely.
---
If you do ANY international shipping this is a must have program. And if you only ship within the USA, this is a must have program so anyone can calculate payments into their known currency.
Created By: seanfoxbell51
---
help to bring more buyers.
---
---
I received this message when trying to start this app: "error has occure, please login again." No matter what I do I cannot get this to work for me.
---
Best App
Created By: collectibleandthings
---
Just set this one up and let it do all the work - very useful app.
---
Subscription and usage - Free