SecretSale
By OnPagePromotions.com
(released Jul 05, 2011)
Shhhh! SecretSale is like eBay's Daily Deals only better for all eBay sellers. It is FREE for you to use One of your items per day goes on SecretSale. We promote your item in our daily emails. Only our opted-in buyers know your SecretSale price and buyers have only 48 hours to buy. Don't miss out on the chance to promote your items to these buyers!
Categories: Marketing & merchandising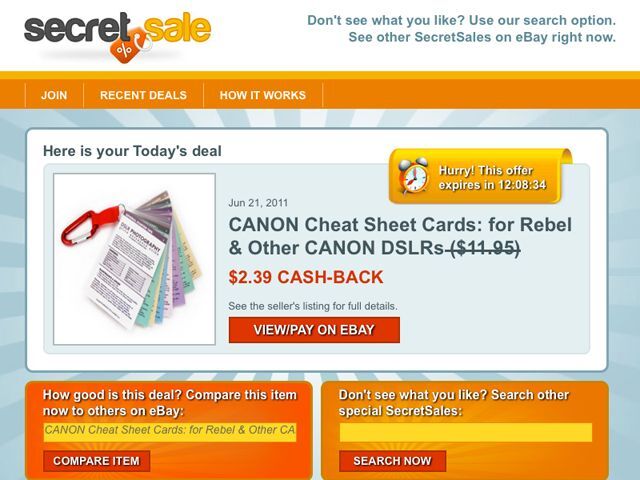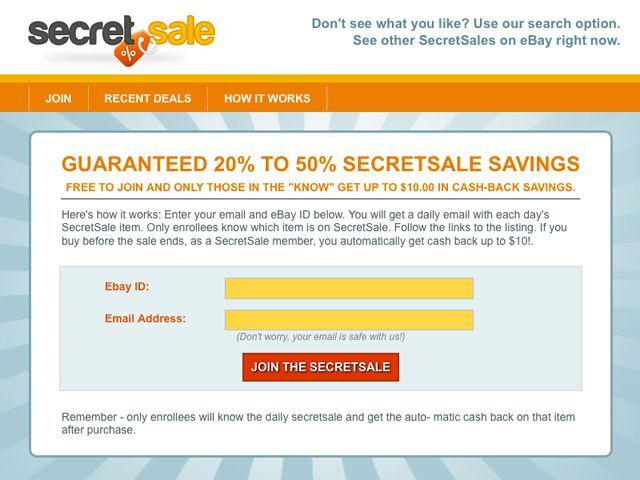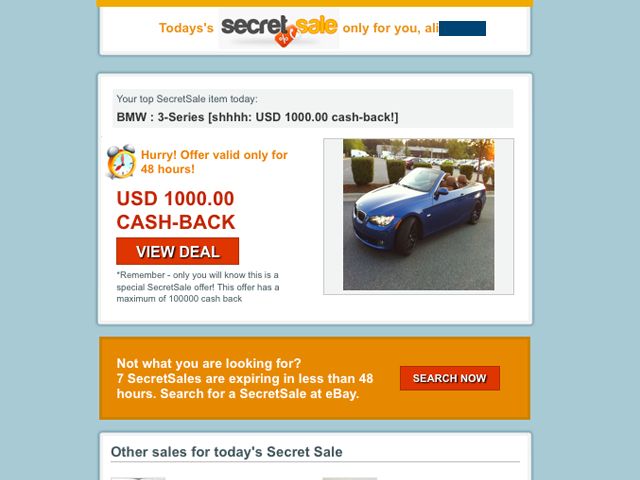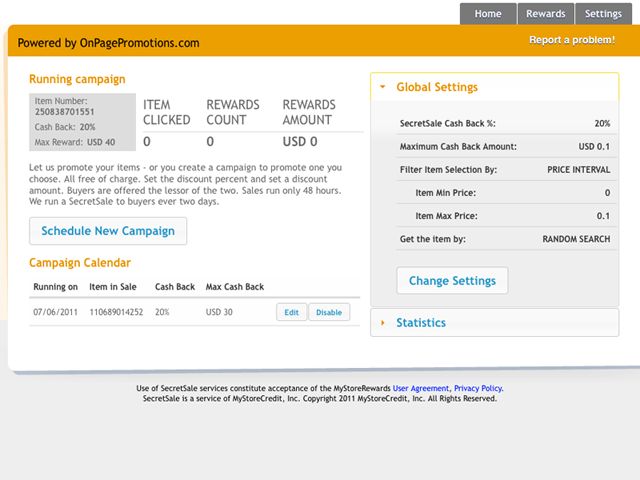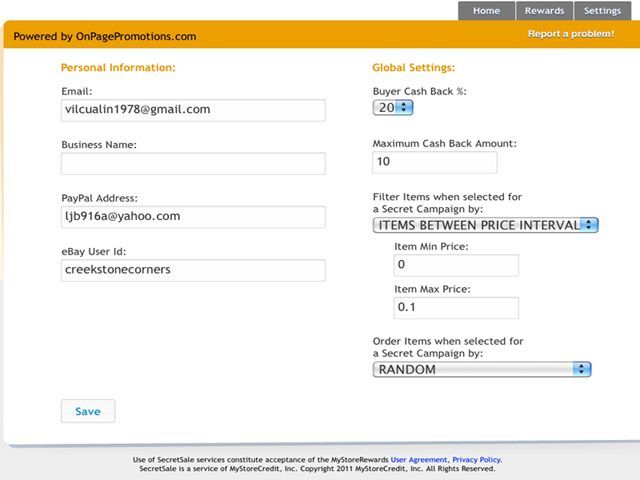 Key features
FREE to every eBay seller who joins!! Our system will pick one of your items every day, but you can say "no" or choose a different item as your SecretSale. You control the cash-back discount you offer (minimums do apply). When a SecretSale buyer purchases, the buyer pays full price and then gets a cash-back discount. Our system calculates and sends the buyer their SecretSale cash-back discount, automatically for you. Because our service is free, we ask that you allow us to invite your buyers to opt-in to our SecretSale newsletter via a link in your listings to our About Me page, and through a thank you email we send after all your eBay sales. You can change anything, anytime and there are no long-term contracts. Did we mention it is FREE for you? :)
Description
Have you heard about eBay Daily Deals? Nice program. Unfortunately, eBay invites only ~100 eBay sellers to participate at a time. What about the rest of eBay's sellers like you? You can use our SecretSale service to drive your sales for a lot less cost and hassle -- like FREE!
Did we mention that eBay's Daily Deals also require very, very deep discounts (like 75% off!!) which makes the program unprofitable for most eBay sellers?
SecretSale is a much better option for you to offer your own Daily Deals to opted-in eBay buyers. We welcome all sellers. You control everything. The items and discounts you offer in a SecretSale deal are controlled by you, so no SecretSale offer is ever unprofitable!
WHAT WE DO:
SecretSale helps you promote one of your items as a SecretSale item, everyday. The sale is secret meaning ONLY our opted-in SecretSale buyers will even know your item is on sale. All other buyers pay the regular price. We promote your item to our opted-in buyers in our targeted SecretSale email newsletters. When a buyer purchases, he/she will pay you the full listing price and then get back the SecretSale discount as a cash-back payment within 7-days of purchase. We will issue the cash-back discount for you automatically. SecretSale takes 10 minutes to set-up and then runs automatically without any more of your precious time.
You can use SecretSale FREE. Yes, we promote your SecretSale items to our opted-in buyers in our emails FREE of charge. In fact, everything we do for you at SecretSale is free. You don't pay us a thing. Nada. Nothing. Zip. Free. Gratis. Nothing. Zero. Got that? Yeah, its free. We make our money as an eBay affiliate -- not by charging sellers.
This is a no risk offer to you! If we don't drive a sale, you lose nothing. Only buyers in our SecretSale opt-in newsletter will even know your item has a SecretSale price. Every other buyer sees your regular price. We do all this FREE and we won't add even one minute of extra work or hassle to your already busy day.
Because we are free to use, we do ask that you allow us to also invite your buyers to join the SecretSale opt-in newsletter we send. We do that automatically by inviting your buyers to opt-in after each sale and we also offer buyers an easy-to-use email sign-up form within our "About Me" page on eBay, which will have a link from your listings.
So let's sum up: You sign-up for SecretSale in about 10 minutes. From that point on, we promote your items – free of charge – to known, opted-in eBay buyers in our SecretSale newsletters. If we drive a sale from one of our SecretSale opted-in buyers (sale prices are only good for 48 hours), you agree to give our SecretSale buyer a cash-back sale discount on the regular price you list. You allow us to invite your buyers to opt-in, and eBay's affiliate program covers the costs for you. Everything is free to you and fully automated (including sending the cash-back amount), so you won't need to do any extra work. Sounds good? Please sign-up today!
Additional resources
Application requirements
Supported browsers:
All modern browsers.
Supported languages:
English
Supported eBay sites:
ebay.com
Required eBay subscriptions:
None
Application support
Contact us at:
CustomerService@OnPagePromotions.com