SalesClock
By OnPagePromotions.com
(released Apr 15, 2011)
Too many page views not enough sales? Grab your buyers! Put a SalesClock on your listings and offer a 15 minute SalesClock.
Categories: Listing, Marketing & merchandising
If you are subscribed or want to subscribe to this application please
click here
for details.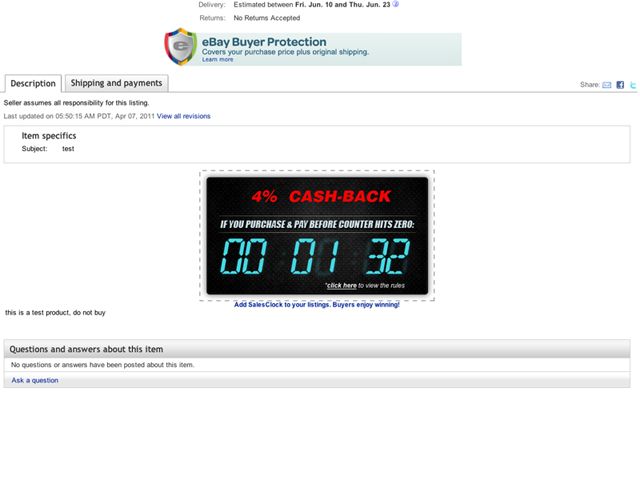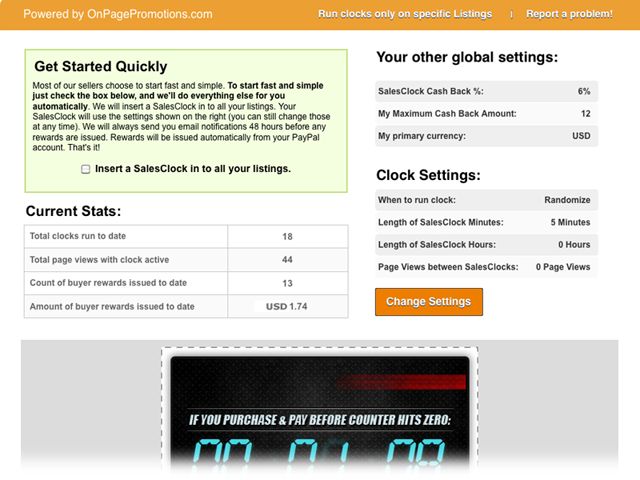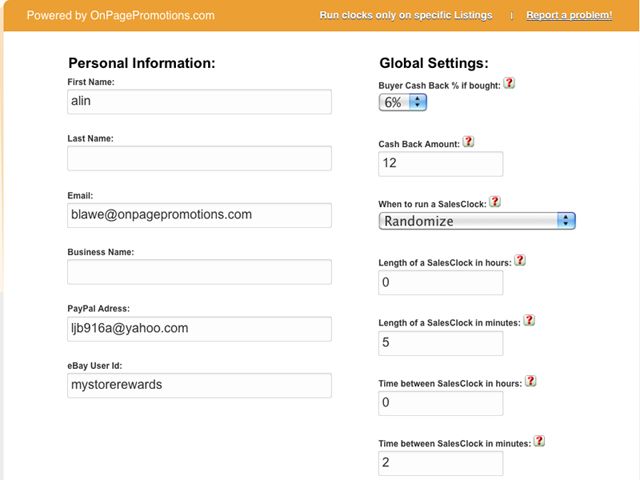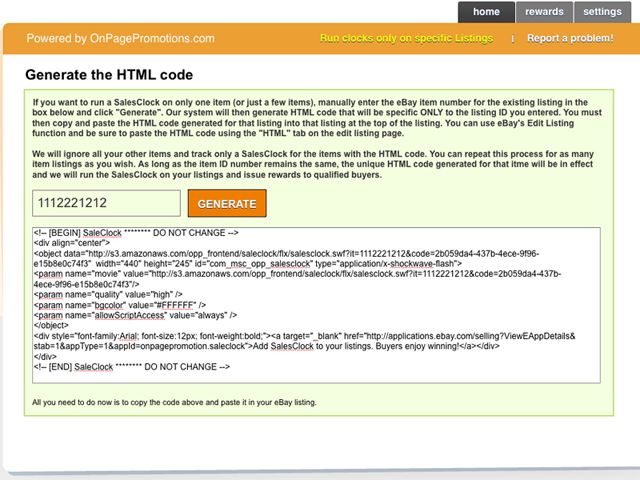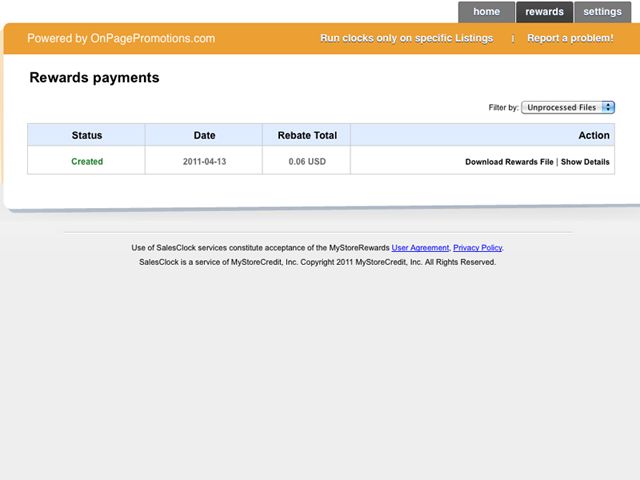 Key features
Stimulate more sales if you have many page views, but not enough buyers. SalesClock automatically places a count-down clock at the top of your listings after so-many page views without a sale. The SalesClock offer to the buyer is simple: Buy before the clock expires and get a cash-back reward! SalesClock creates the same type of buyer frenzy as seen during the last minutes of an auction. Your SalesClock is completely hidden when not active. Everything is fully automated. Four minutes to start SalesClock on your listings. You won't spend another minute on it.
Description
Turn page views into more sales. Simply add a SalesClock to your listings and grab the attention of your buyers. They'll buy more! After a few page views without a sale, your SalesClock will automatically launch at the top of your listing. Your SalesClock is a count-down clock that runs from 1 minute to 1 hour and offers your very next page viewing buyer a cash-back reward only if they purchase that item before your SalesClock expires. You set the length of the SalesClock (15 minutes is the default) and how much of a cash-back reward to offer for purchase before the clock expires (you can even cap the reward). The SalesClock does everything else. Your SalesClock brings back the excitement of the old eBay auction days when buyers would make frenzied bids in the last minutes of an auction. SalesClock brings that same level of excitement to your fixed-price listings (it only goes on your fixed-priced sales!). What's more, SalesClock is 100% automated. You determine your own SalesClock parameters. We then place it in your listings, automatically calculate and issue any buyer rewards from your PayPal account and you get more sales. Set-up takes two minutes, with another two minutes to set-up your PayPal account. After that, you won't need to spend another minute on SalesClock. Your time is valuable so we automated everything. And all this costs you one incredibly low-monthly fee of just $7.95/month, for unlimited transactions, unlimited listings and unlimited sales.
Additional resources
Application requirements
Supported languages:
English
Supported eBay sites:
ebay.com
Required eBay subscriptions:
None
Application support
Customer Service: customerservice@onpagepromotions.com