MyStoreMaps
By MyStoreCredit, Inc.
(released Aug 18, 2009)
Track your buyer locations – regionally or internationally -- by easily adding a customizable, rotating map to your listings.
Categories: Shipping & payments, Marketing & merchandising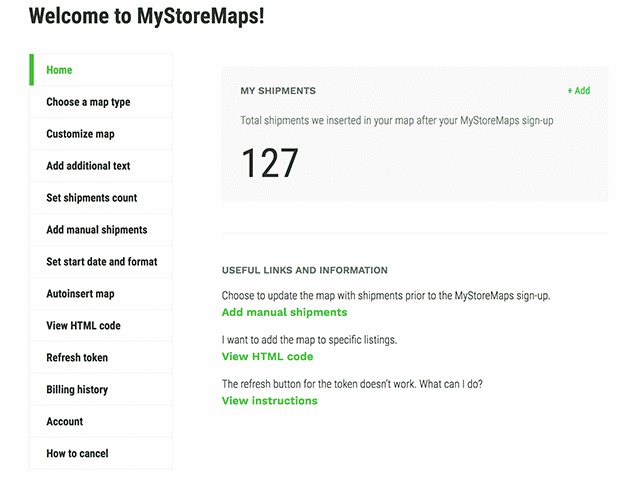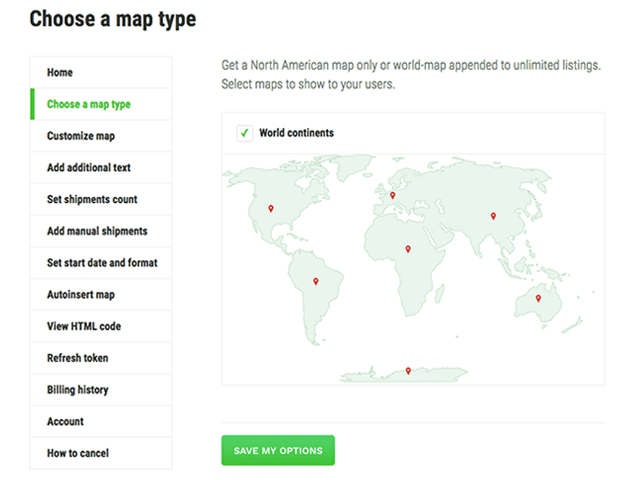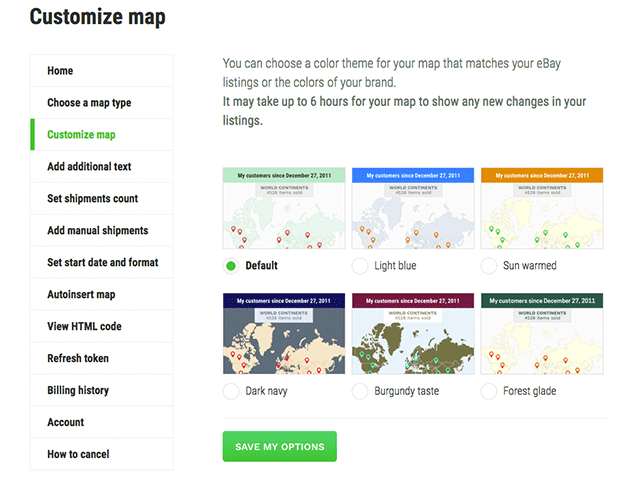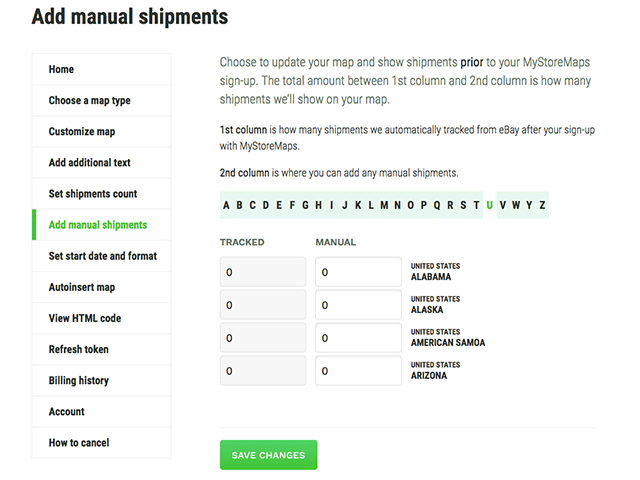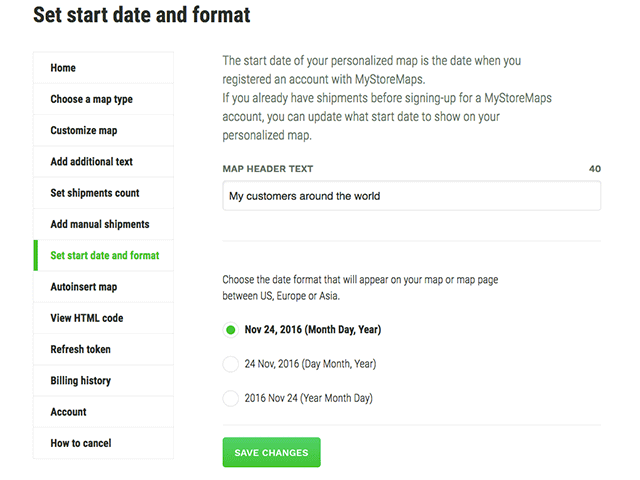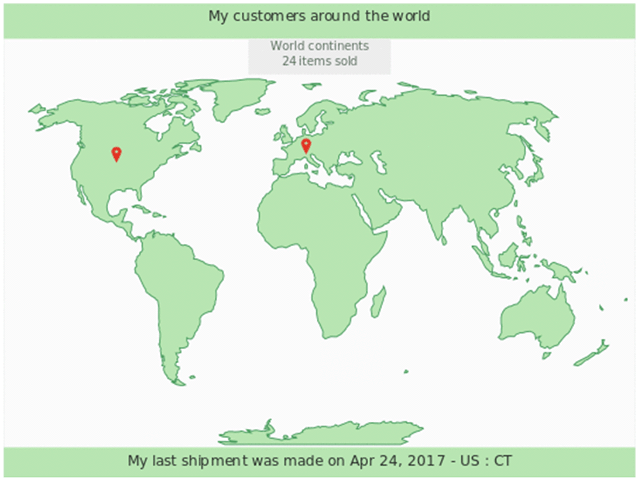 Key features
Add a graphical North American-only map or a World map to all your listings for a low-monthly fee
Show-off your existing buyers quickly and easily right on your selected map
Give potential buyers a clear and powerful signal of trust about you
North America Only Maps: Cover all US states, Canadian provinces, Mexico and Caribbean Countries
World Map: Includes all North America plus every other country of the world
Buyers can click on your map from inside your listing to see detailed counts for each country
We add 120-days of sales history (max allowed by eBay) automatically, plus EVERY sale after you start
You can manually add older sale counts quickly and easily
You can customize map colors and text to fit your brand image or listing template
Bonus: Map is automatically translated to your buyer's local language
Bonus: Sign-up for the world map at a low monthly cost
Description
Your MyStoreMaps will show a customized flash-map in all your listings showing your past buyers in North America or around the world. We place a virtual red stick-pin into every state or country where you have shipped to a buyer. The red stick-pins let your buyers quickly see your experience shipping to their geography. Sign-up takes under two minutes. MyStoreMaps will automatically create and insert a custom MyStoreMap at the bottom of all your listings within 24-hours. If you use a template, you can choose to insert your MyStoreMap as HTML into your template.
We will automatically load your most recent 120-days of sales/shipments to get your map started (max history available on eBay). We make it very easy for you to add your own previous shipment counts to your map. If you don't have your past history, some sellers estimate past counts to the best of their ability. In all cases, after sign-up we will constantly track your sales and update your maps. You can even customize your map colors to match your template and edit all text to create your own shipping policy page.
Every seller can get a North American map only or world-map appended to unlimited listings. If you want to attract more international buyers, you can sign-up for maps covering the entire world at a minimal monthly cost.
Once in your listings, the maps load quickly. Buyers are invited to click-on your map to see your detailed shipment counts for each geography. That gives your buyer confidence you can deliver their item to their geography. This is a great tool to boost your buyer's confidence in buying from you and to demonstrate your extensive shipping experience.
Additional resources
MyStoreMaps FAQs
Application requirements
Supported browsers:
Internet Explorer 6 or later, Firefox 2 or later, Chrome 3 or later, Opera 8 or later
Supported languages:
English
Supported eBay sites:
ebay.com
Required eBay subscriptions:
None
Application support
Report a problem by filling the form on this page: http://newage.mystoremaps.com/help
Email support provided through customerservice@mystoremaps.com
MyStoreCredit, Inc.
MyStoreCredit operates both MyStoremaps and MyStoreRewards. MyStoreRewards was awarded PayPal's Most Innovative Application of the Year award in 2006. MyStoreCredit was one of eBay's very first Certified Solution Providers and has been operating on the eBay platform for over 5 years. The company has clients in 52 countries around the world.
Also from this developer:
By MyStoreCredit.com
(released Aug 14, 2009)
FREE way to increase repeat sales by as much as 500%. Easy to use. You control rewards.
Categories: Marketing & merchandising, Research & reporting
Nice app, but lousy billing
First off, I like the idea of the app and it has helped sales...but their billing is spotty. Sometines they will bill you twice in a month, but the correct the mistake. However, every year or sometimes twice I have to figure out how to tell Paypal to pay them. Why does this happen every year? It is pain to correct this, because the people who run this app cannot do it themselves. I like this app when it was free...then it went to 2.95usd a month and now 3.95 a month and the billing is still screwy.
---
Excellent Customer Service!
I developed an issue with this apps due to my fault without realizing it. Customer and Technical supports worked with me above and beyond in getting me back on track! This apps really does increase sales. While I was down for almost 3 months I didn't have 1 international sale and I have them all the time since I subscribed to this app. I'm retired from a corporate sales support career and I know the difference between good, average, and bad customer service. I rate MyStoreMaps app a 5 Stars as it has increased my sales, is user friendly, and I rate their Customer Service as Excellent, Superb, Fantastic, and Incredible! Why? Because they not only have the expertise, proficiency, and ability to be problem solvers, they actually CARE about their customers. ***** ***** ***** ***** *****
Created By: bigbunny01956
---
Excellent customer service!
I was having problems for several months with a glich in the billing for my account. I finally emailed customer service at MyStoreMaps. Michelle and her tech team got my account back up and running. She was extremely helpful and patient in researching and fixing the problems. THANK YOU!
---
Shows buyers all of the countries you have shipped to
Gives buyers in every country confidence that they will get what they order. We ship all over the world every day and I give MyStoreMaps the credit. It really drives international sales! (It's good for U.S. sales too)
Created By: heartforethiopia
---
Ultimately ended up costing me thousands of dollars in,lost revenue! and HOURS
Incredible losses based on an application, that didn't update. eBay actually pulled, and deleted every single one of my listings, because of this stupid application's java-script, and hyperlink. What a stupid thing to lose all that money, and deal with such frustration over. Never Again!
Created By: pinnacle-liquidation
---
Have Used This App For 6 Yrs
---
This was a nice free service that I used for several years. They made some changes
Created By: collectibles_unlimited
---
They have this thing called refreshing your token. It's such a long road map to try and get this done. No phone customer support. Not worth having.
---
This app is a must have. I have had people from other countries tell me the only reason they decided to buy from me over someone else was because i showed how experienced i was with MyStoreMaps. Well worth the small fee they charge, I highly recommend using it, and I only use a couple apps and this is one of them.
Created By: bostonsales2017
---
Don't advertise on my listings.
This is a paid app. If I wanted ads from you under the map for your service, it should be free. Canceling.
Created By: thisisonlineshopping
---
Awesome when things work out so well.
Easy and accurate
---
most functions only work after trial.
---
This map has given me a lot more sales!Thanks!!!
very nice!
---
https://newage.mystoremaps.com/help
The page you have requested does not exist: 'https://newage.mystoremaps.com/help'
---
I te been doing a great experience thank You
---
a great promotional application.
It lets future customers see where my guitar straps have sold nation wide.
Created By: downtoearthleatherwerks
---
Hard to get in touch with TWO STARS rate
My storemaps works great I love the Map, but its just hard to get in touch with them, had it for 3 years never could get in touch with them they never call you backs
Created By: losangeles-discounts
---
MyStoreMap support is NONEXISTENT !
After repeated emails - NO SUPPORT BY MYSTORESMAPS PROVIDED. Very disappointing !
---
I liked the previous map where it showed all the states and countries you ship to.
Created By: shabbychic6912
---
How the heck do you rid of this??
Left an ad on every listing after I cancelled. .99 cents a month I'd do it. $12.99 no way.
Created By: twincitiessales
---
charge my PayPal but no maps
---
---
You pay for the program to load up. 10 minutes and nothing loads up. Not impress and would not use.
Created By: oemwheelsdirect
---
Excellent program. Horrible customer service!!!!
The application on the listings is great! Contacting customer service is an extremely difficult and BAD experience.
---
Nice App for keeping track where your buyers are located. Where there's a demand for what you sell.
Had app for about a year then for some reason it just wasn't there anymore. Plan on getting it back again.
Created By: antweekers101
---
I LOVE SEEING WHERE MY ITEMS TRAVEL. CUSTOMERS MAY LIKE IT AS WELL.
I JUST LIKE THE VISUAL OF WHERE ITEMS HAVE TRAVELED. I THINK CUSTOMERS MIGHT FIND IT INTERESTING TOO.
---
KEEP CHARGING ME AFTER CANCELLED THIS
Created By: young-electronix
---
you wrecked it by not allowing detailed info anymore. If you change it back let me know
unsubscribed
Created By: comicbookparadisecy
---
This service is so terrible and I would never refer anybody for using mystoremaps. After you cancel the subscription, then they will email you over 100 times in 3 days about this Dear my_bc3137, MyStoreMaps Automated Removal Process couldn't automatically remove the HTML Code of your map from all your eBay listings. While your maps are no longer showing, the HTML code may still be present in some of your listings. This can be because of the following reasons: Your eBay token has expired You no longer have any listings on eBay eBay doesn't allow automated updates for certain listings such as listings that will end soon, and so on. You must remove the MyStoreMaps HTML Code manually. To do so, follow these steps: Log-in to your eBay account Edit each active listing Remove all code between these tags: GE and Then follow these steps in order to completely uninstall MyStoreMaps: Do not used they services, you will regret it.....
---
Used the application for one year, very like
---
Was Great back a few month - then overfilling, double billing and probably now billing after i quit.
Created By: arizonarich0504
---
Loved it at first...then they kept telling me that the acct was suspended?
If your Paypal acct doesnt have the necessary funds to pay them, they send you continuous suspension notices that just get your BLOOD BOILING. Even when funds are added to Paypal acct, the harassment continues.
---
Very usefull application. Highly recommend!
Use this app several years and it help for my customers and for my hobby.
Created By: alexcatfish09
---
---
The world map with pins where I've shipped -- SO COOL!
So cool! It shows all the places I've shipped on a graphic map in all my listings. Yay, I'm taking over the world! :-)
---
OK for free...but $12.95 every month?...!
The map is a fun thing to look at, but I'm glad most eBaY buyers don't read much-the thing says our last shipment out was in June of 2015! There is absolutely no evidence that it is an aid to sales. The slow times are still just as slow; and the 'good' times have a LONG WAY to go to get back to 2013 levels. In truth, most buyers never scroll down far enough to read the description...much less to see this map at the very BOTTOM of the listing. It was OK for free, but $12.95 per month? Not in this life! Thanx, but no thanx.
---
I like the way show the deliveries around the world
---
1st month free trial, never saw the ap on my site.
Cancelled service in the same month as free trial, continue to receive past due notices for payment. If anyone from this ap reads this please stop sending past due notices. The account shows cancelled.
Created By: backroadfinds
---
it shows all the states and country's you sold to. I love it
Created By: losangeles-lowprice
---
gives my customers at a glance where and when my sales are
Created By: mitzisgreatfinds
---
it is a fine automatic graphic. That does nothing
It says they will charge you $8.95 per month. The bill was 12.95 per month. Customer care doesn't respond to this app or any of the other ones. No thanks. I would like a refund. It will take me a month to get your HTML off all my listings. and that still is more harm than good.
Created By: suzyssurplus-ishkabiblemoney
---
Love the app. Works perfectly without a hitch. Shows our customers that we are truly an international seller.
Created By: americanmade-us
---
Great visual information of where buyers are purchasing from.
I like it very much.
---
Free plan is discontinuing
Free plan is discontinuing
---
Was nice, years ago. Not worth paying $12.95 a MONTH for! That's far too much for a script.
This is a very good way to show your customers that you are actively selling and helps build trust, but eBay Feedback is really the only true trust builder, and free, so its just not worth paying for to everyone. They slowly took all the features until they are now finally forcing all free accounts to the paid version. They should've been happy I promoted their links on my listing for so long. You can do this yourself very easily yourself. Hint: upgrade to paypal business (free), download transaction report (this will include EVERY zip code for YEARS of sales history) Finally, use those zip codes to create your very own map, free. With some research and work its possible to make this process automated. It was good while it lasted, but I will be removing this from my listing now.
---
good so far but haven't used for very long.
---
Great to have in my site for the extra sales!!!A+++++
This is helping me a lot to increase my sales as many buyers are looking now where the item is been sold and its easy to see from the buyer's end. It's a Great tool.
---
problems using it
Created By: djadammartinez2012
---
Used to work fine, but eBay does not work anymore. Very disappointed, has cost my store money and lost sales.
---
think its a nice idea for buyers to see the sales you had.
---
Maps don't always show up; billing system is unreliable; not user friendly; ebay no longer allowing.
After a couple years, I'm unsubscribing. Hard to do business with.
---
I love the map embedment to listing. AWSOME, AWSOME, AWSOME
Have been using this tool for 3 years already, has definitely helped in sales. Great tool.
---
Good while in subscription but after that complicated to delete html codes.
It should automatically delete html codes once the subscription is finished. This way it's complicated for users.
Created By: constantinopolis
---
Okay
Created By: sawasdee.thailand.store
---
This app works well and I love being able to show potential customers a map of all my previous customer shipments
Created By: thewestcoastpeddler
---
I believe that when potential buyers see this and see where I have shipped it coupled with my excellent satisfaction ratings influence buyers---especially international buyers to make a purchase. It is visually very pleasing and updated without any problem Have not had a single problem with this app!! Love it
---
Like sharing the statistics
---
I am pay for My store map!I don't have my maps on the my listing.
I am pay for My store map!I don't have my maps on the my listing.
---
---
I like being able to see where the location is when I make a sale.
---
if you sign up for free, they will not contact you to let you know they are billing
free is only for a second then they charge month over month, but don't notify you until they've racked up a few months worth of fees. A SCAM!!!!
---
CANNOT COLLECT FEES AUTOMATION POOR KEEPS CANCELLING
Created By: easyliving100
---
we love this app and would really feel losing this app to ebay eliminating active contact would create a great business loss fo us. This app allows international customers who do not speak English to be assured that we successfully ship to their location. We really appreciate what this app does for us and would not want to do without it!!
---
I love being able to see where all I've sold. I've sold in every US state but one (New Mexico), and almost all of Canada! Thanks for a great app, that is fun to watch. Christina OddBodies Boutique
---
I feel that this app has increase my international sales. I believe that it helps buyers feel confidant with purchasing from my eBay store.
Created By: olympicposter
---
Excellent App
Created By: merchandisejungle
---
great application!
Created By: allforall2015
---
Great To see Productivity on Ebay !!
Its a wonderful Feature
Created By: whwauthentichomme
---
It really help a lot it boots up your sale quickly.
Created By: l.a.discounts
---
love this app. It to me serves as a personal motivation tool as well as showing my buyers they can sorta trust that I send packages all over. I can not say if it helped my sells in any way except motivation to list more and more. its still worth every penny in my book. I love it.
---
---
neat how it populates the various states and countries
neat and awesome how it populates various states and countries.
---
---
---
this app is awesome that shows how world class you are....
---
---
Great application. highly recommended.
This application is great because shows places you already sold your items, and customer know that you are a good seller.
---
---
I notice I have more buyers since I am subscribed to My store maps
I notice I have more buyers since I am subscribed to My store maps
Created By: littlesunshine2015
---
It is very interesting to see your shipment distribution on the map!
---
Map is a nice feature to listings
---
Tracks and shows others who Ive sold to....awesome!
---
---
(There have been no reviews for this application.)
I don't think so increase the sales
I don't think so increase the sales. if was free , doesn't hurt to have it
---
Do Not Use - They Charge You To Remove Maps and Bad Code
Do Not Use - They Charge You To Remove Maps and Bad Code
Created By: midwestcoin_dot_com
---
Without notice charged my account $64 and phone number is bogus and emails not returned. They will take your money and RUN !!!
---
great apps shows where customers are
great apps shows where customers are
Created By: burnstaruber0
---
Great input for customers
I enjoy the visual impact of this application. It shows the appeal of my listing across the whole country.
Created By: cherylkth-2008
---
Great Vision of a world full of customers!
I love this app because it simply and elegantly shows who's bought from you in the past and where in the world they've bought from....it's great!!
Created By: resale.universe
---
No "Unsubscribe" option anywhere!
It's a good app and does what it describes. Nice map at the botom of each listing with flags. I decided to cancel because I needed to tinker with html of my listings and wanted simplicity of code. Turns out, in "Manage Applications" even under "other actions" there is no Unsubscribe or cancel in sight. Other applications do have it. I wrote email to customer service asking to cancel. After that I got eBay message that my account is under delinquency and will be canceled in 30 days unless I pay balance. But if I pay balance now, it will be reinstated. I have to endure in delinquent status for 30 days??? I rate the app as excellent, no problem. Just hope they will fix this flaw.
Created By: punkedelics4u
---
works as described
Created By: onfairywingsfl
---
It gives customers confidence in our ability to ship to their location. It is also a great visual that helps build trust in us as sellers. I love this app!!
Created By: night-owler78
---
See where\ my stuff is going
pretty neat to see where all of my stuff is going.
---
Increased my International sales greatly
---
Not bad, but too expensive
As I said in the title, not too bad, but too expensive. And how can they prove what they claim, that if you had it you sell more abroad?
Created By: motoricambi.minoldo
---
This application gives my eBay store an excellent upgrade.
---
doesn't work at all
Created By: floridadeals2
---
allows people to see who you do business with
Created By: micksbarginbunkerpa
---
Worst Customer service and relation ever
I subscribed and cancelled this app before the trial period. it showed in my apps as cancelled a few days after i signed for. Got an invoice from them and tried several times to call them but they don't take calls and messages left are not returned. They took the money from my paypal account which i had to call paypal to create a case before paypal refunded the money back to me. Don't ever get this up. the trial is not even worth it and once you sign up they will not stop billing you even when its shown in your app as cancelled.
---
Very nice idea! Clients can see we are shipping to any place around the world!
Instead of contacting us asking if we can ship to whatever country they are from, clients can just take a look at the maps and see that we are shipping everywhere!
---
This is a big pain if you add to all your items and then decide not to want.
This will waste a lot of your time. I doubt it is even useful at all as they claim. They would try to get you to subscribe for a fee and they have glitches as well. If you like to waste ton of time trying to edit each of your item to move the code then go ahead if you do not than better stay away like a plague as it will only create frustrations. They claim that they have an auto removal link. Yes they do but does not work since it require a Token and you may have to change that when you unsubscribe. Just a pain in the @ss .
---
I previously reviewed this app and gave it 1 star because it would not start, well it was working the next day, but the map looks ridiculous. It say customizable, but good luck figuring it out. It just quickly rotates between countries and you can't see any real detail as to where you've sold, just some large red arrows. If you click on map details, you get a message that says data can not be retrieved, no pins will be shown. As far as all the reviews that said you can't cancel your subscription, I did not have that problem. It said I had 6 days left on my free trial, PayPal had not been charged. I just clicked on the actions arrow in my apps and selected cancel subscription and it was done immediately.
Created By: augusthillsales
---
MyStoreMaps is a great app to have on eBay. It shows my potential customers that I've sold items to various locations in the world. Most importantly its shows my last shipment, which is good. They know I'm an active seller and that builds trust.
---
Lazy people runnig a business should never exist ever.
The worst service ever, customer service is nonexistence and the Automated Removal Process that they offer is a scam, you'll have to do it yourself.
Created By: authenticlowsales
---
Thank you for this short preview!
---
Mildly interesting app but NO customer service whatsoever. They will not renew or cancel upon request, indeed there is no communication at all. Don't bother.
Created By: senator.blutarsky
---
Love it overall but would like it to also show international sales.
Only my US sales show up on the map, and I have had many international sales. I can't figure out why. Otherwise, it's great.
---
Help me to make more businesses!
---
This app not only gives your buyers valuable information but their customer support is OUTSTANDING!!
Being totally honest when I first installed this application I felt that it gave my lookers and shoppers valuable information helping them to make a buying decision. I later discovered that there were some internal issues that I felt were giving me incorrect information. I contacted their customer service team and the service that I received from them was second to none. We all worked together as a team, they kept in constant contact with me, kept me in the loop and my concerns were corrected in a timely matter. I do business the old-fashioned way, I believe the customer comes first and I believe the definition of good customer service is giving the customer more than they expect. MyStoreMaps has the exact same philosophy. It's a GREAT tool to use from a VERY reputable, reliable company. I only wish I could give them more than a 5 star rating. They deserve it. Nowadays it is not easy to find a company with these standards. You can't go wrong using MyStoreMaps!
---
Its great when it does work, unfortunately the application rarely works.
I would not recommend this application as it is unreliable. It rarely works and frustrating to have to check, then wait hours to see if it will work after starting it over.
---
I like it.
Created By: superjusticeforever
---
It works perfect. I have it since I opened my store. We need more apps like this one. Thank you
Created By: erikarubisjewelrycollection
---
MAP IS FINE, CAN'T REACH THE COMPANY, HOWEVER. AVERAGE REVIEW.
MAP IS FINE AND FUN, BUT IT IS IMPOSSIBLE TO CANCEL...I CAN'T FIND AN ADDRESS EITHER FOR EMAIL OR USPS. THEY DO NOT TAKE CANCELLATIONS BY EMAIL, I HAVE HEARD. ALL THE FUSS TO STOP IT IS REALLY NOT WORTH IT TO ME....
Created By: grandmasgreatgoodies
---
Does not show map. Shows invitation for other sellers to opt in instead.
I signed up to show how many shipments I made and where. All it shows is a message inviting other store owners to opt in. No map. I opted in the invite in my own listings. it replied you must be linked to a Pay Pal account. I am linked. It is not free. Used me to advertise and gave me nothing in return.
---
Less then poor, will not return calls.
No communications at all, after three calls.
---
Refreshing to seller mind to see all the happy customers!
---
You tell me I have to refresh, but I can't.
It will not let me refresh.
Created By: pegsecondserve
---
Will increase your international sales and exposure for sure
It does give confidence to international buyers to buy from you, it works.
---
Horrible...App does not work and NO CUSTOMER SERVICE
Worthless app, ZERO customer service provided dont waste your time and money
---
This is an excellent tool for sellers to show where their items are being sold
This seems to benefit my sales.
Created By: bighornnevada
---
It lets me and my customers see all the different places I sell to
I just think it is very valuable. Please refresh my Token. Thanks in advance.
Created By: lovemyneedles
---
I use this Application to display all the places where by buyers are locate worldwide.
---
GREAT APP..HIGHLY RECOMMEND
After speaking with Brian the President of MyStoreMaps application he assured me of the changes to come and let me know that they truly care about being of service to all members on eBay but even more so those of us that have reached the pinnacle of Top Rated Store Status. The price was a little prohibitive but they are working on fixing that issue. I would highly recommend this app it allows International and National buyers see you are a real business and have sold all over the USA and the world.
Created By: bobssportscollections
---
Love seeing the maps fill
Adds a level of confidence in a sellers ability to deliver
---
Shows buyeers how sucessful you are!
---
i have try to contact support more then 10 times but no one have answer me,not once,i have bill for
you are billing me but not providing service !!!!
---
Was quite happy, until recently
Just recently noticed map isn't updating properly. Now I've been advised that it isn't mobile-user friendly and upgrading for a monthly fee is recommended. But after reading many poor reviews about billing issues and customer service being nonexistent, I think I'll pass. For now, at least.
Created By: oldcoolclosetbuys
---
I love to see where my items go
I like to know where my items go
Created By: jnlantiquecollectiblebargains
---
works like it should great app
allows my buyer more info.
---
Very helpful for customers to validate your shipping history.
Created By: luckysparkles
---
Interesting and Enlightening!
I don't know if it makes a difference to the buyers, partly because of the products I sell, but it is interesting to see where most of my sales come from. I wish I had the world map right now but it's at the bottom of my to do list! I haven't delved that deeply into what it can do, but it would be great if you could zoom in and see sales for specific regions as well as the customer reviews that apply to that region. Overall, though, it's a cool app and I'm glad I got it!
Created By: exquisitesportstreasuresllc
---
---
Works well
Created By: bostonartauctions
---
Horrible. Did not work well
Did not load properly and many did not load at all. Ruined my listings even after I cancelled.
---
Unable to complete my payment due to an [UNEXPECTED ERROR].PLEASE CORRECT THIS ERROR.Thanks.
---
Great way to build confidence from your buyers
THis is one of my favorite apps. I like how it gives your customers an idea of how many customers you've had before them. It also gives an idea of where you ship. Helps to build confidence in you as a seller. Good app
Created By: homelivingandmore
---
The app is 5 star but the CS isn't
One of the best apps I have seen and used. But Customer Service has been unresponsive and the lack of updating has a decidedly negative affect on potential buyers.
---
Trying to renew does not work.
I tried numerous times to renew the app but it wont renew so I gave up. It's a shame because I really liked this app!
---
no support from the customers service
It was a good application when I tried it as a free trial.The maps are not working after I activate it with payment.The customer service is not replying or solving the problem.I had to cancel it after paying some monthly fees.
---
Good Reporting For Free Can't Best That
Created By: auctionjohn2011
---
waste of time
Created By: the1garagesalequeen
---
Positive addition to listings.
---
I've seen it on other sites and was impressed looking at things I was not looking for and buying!
We will see if it gets me more customers
---
---
Looks great on listings! Love it.
I got this app a few years ago out of curiosity and I do not regret it. It records the location of where you sent your items and places it on a map. Not only does this give spice to your description, but every now and then I like to look at it. I never really payed attention to where I send my item, but after I used this app, it's just mind-blowing to see all the different places you have sent your items. Oh and one last thing, I appreciate the fact that this app doesn't nag you to buy the paid version nor does it deprive you of essential features when you use the free version.
---
Let's both customers and us see where we do business and ship too...fun and cool
Created By: fromestates2u
---
looks fantastic on my listings- thank you for providing this for free.
---
really super...love the idea...accidently let it run out and now wish to resubscribe
can't seem to activate...must try again
---
the shipments are not showing up on the page
the shipments for the past 30 days are not showing up on the maps.
---
Installed just as free period ended. Cancelled and still billed.
Untimely service. No way to reach a live person regarding issues. The map only showed a few of the current deliveries so is unhelpful to me at this point. My previous store map showed delivery all over the world. Still charging me even after cancellation. Wasted expense for what is offered. If I could go in and add past shipments then it would be worth it.
---
super easy and helpful app that puts you on the map!
shows customers that your ship everyone in a glimpse!
---
NO COMMUNICATIONS RETURNED! DOES NOT FIX PROBLEMS, THEN INVOICES ME!!.. FOR only random maps SAD!
Please Fix this Issue I am being Biolled and for over a Year ... service.. now ???????
---
i have cancel the suscription
i have cancel my suscription have from my paypal account the payment for this month please i need refund and cancel total in my account
---
This app is everything it says it is and more, it's a very nice VISUAL AID tool that shows on bottom of each listing the sales UP TO DATE with your store. I chose to manually install ALL OUR SALES since we started selling, I must admit the ticker tape scrolling below map IS VERY IMPRESSIVE. ****I WOULD HIGHLY RECOMMEND THIS APP
---
Application Does Not Update or Add On To New Auctions
We currently have a subscription, but maps do not update nor does the app work on any newer listings.
Created By: eclectic-addict
---
Gives buyers insight into sellers international activity
Shows a buyer where a seller has shipped, provides valuable info.
---
SCAMM. EBAY JUNE 1ST WILL NOT ALLOW ACTIVE CONTENT!
SCAM PLEASE READ! YOU CAN NOT REMOVE ACTIVE CONTENT WITHOUT HAVING TO PAY TO HAVE IT REMOVE! HEADACHE! EXTORTION! DO NOT BUY! YOU WILL REGRET IT LIKE I HAVE. JUNE 1ST NO ACTIVE CONTENT ALLOWED. YOU WILL HAVE TO PAY TO HAVE IT REMOVED!
Created By: 1947transistor2012
---
GREAT FOR CUSTOMERS TO SEE WHERE YOU HAVE SHIPPED TO
---
It helps to show how good my sales are.
---
Limited directions on operating app
Tempted to drop it. Not enough clear instruction. Not able to see map without going to a listing.
Created By: fathersontreasurehunters
---
Exactly What I Was Looking For!
It is so cool to see where most of your items are shipped!
---
My Store Maps RARELY WORKS
I have had this service for at least a year and it RARELY IF EVER WORKED RIGHT....They know how to deduct the $ from your account but they can't seem to get this app to work. SAVE YOUR MONEY!!!
---
Good homes found for my Ebay items!
What a great way to show the world and reassure me that my Ebay items have found good new homes within the United States and Internationally.
Created By: buyingoldthings
---
No New Shipments Have Shown Up On Map Since September, 2014
I like the Storemaps on my listings, but no new shipments have shown up on my listings since September, 2014. It is now nearing the end of March 2015. Why is this happening?
---
customers love seeing that i do business all over
nice service, lets my customers know I do business across the ?US.
Created By: snowflakesnsparkles
---
Great app that provides good data to potential customers.
Created By: harold_zeigler_ag
---
Excellent selling tool. Highly recommended.
Customers can see where you shipped and how many items you shipped. It helps establish trust in the buying experience.
---
Love this because it shows every location that I have shipped to.
Created By: connoraubreeandryder*nana*
---
it allows more information to be visual
Created By: bellemagnolia555
---
I thought that this App was the way to go to give my buyers something extra for buying from me, and it works great!
---
Great marketing tool but the price
We used mystore maps when they first started. The amount you paid was by how many feedback your had on your eBay ID. Now they charge $12.95 each month which is too high. I would prefer them charge based off you last 100 feedback's instead of a flat fee.
---
Adds a professional touch, shows I'm up to the challenge of being a worldwide seller!
Adds a professional touch, shows I'm up to the challenge of being a worldwide seller! I think it instills confidence in buyers from different countries. Plus it looks cool. And, what's a few bucks a month.
---
Builds Great Credibility, and so cool to see where everything went! A MUST!
Absolutely worth it.
Created By: estateofdisbelief
---
I think its Awesome seeing pins in the map. Shows everyone all the places I have sold items. Cant wait to fill in the whole world someday. Just curious I have two sales to Puerto Rico but they don't show as a pin in the map. Anyway to fix that. Would be great. Thanks and keep up the good work.
Created By: monsterdeal69
---
Excellent Visual Sales Aid- You can view the States on the Map you have shipped to.
---
It's something for customers to see that shows that your sales practically cover the map adding a sense of assurance when purchasing.
Created By: 1pigeon_racer
---
Will not return multiple phone calls
Easy to apply, impossible to cancel - Call mutiple times with no response from them very poor service
---
This application used to work well, but it hasn't updated ANY of my shipments since January 29.
I've refreshed my token on your app and it's not working. What's going on?
Created By: hotdealsforyou-com
---
LIKE FREE APP. KINDA COOL TO SEE WHERE YOU HAVE SOLD
---
Great app! Helps build trust amongst buyers.
---
I get a lot of feedback about how much people love this on my listing....including me!!
Created By: thecutestclosetstore
---
wish there were more details in the maps
---
Great selling tool...it shows customers that you will ship to any place and how many sales i have made throughout country and internationally as well!
Created By: charlottekay1219
---
I have good feedback from my fast shipping, not your maps,
---
This really SUCKS now, was working great for so long.....
I used the free trial several times, and all my listing looked great for at least a year. Then I made the mistake of upgrading for a fee, and none of my listing have maps. I get an error referencing a token. Made several calls, and sent many emails, no response. Wonderfulllllllllllllllllll, and I'm still getting billed. theskepticeclectic
Created By: theskepticeclectic
---
---
Customer service does not exist... four emails and three phone calls unanswered... horrible !!!
And ... after canceling the "unnecessary service" in December they still billed me for a "Fee" to renew my subscription...although I had canceled the service on ebay, PAY PAL, and by email. Stay away from these people ! The reason people subscribe is that it is CHEAP! Yes... and it should be... no customer service at all... Google "Problems with mystoremaps!" Worthless...and almost impossible to remove these bloodsuckers! STAY AWAY! ebay should wake up and put pressure on these people... who will not return questions, or requests... no return emails, no returned phone calls... and never an actual person to answer the phones! A very poor excuse for a business! STAY AWAY!!!
Created By: eventhorizonindustries
---
30 days free?? hmm...guess not!
I cancelled two days before it was due and I was still charged, bad business!! plus it does not clear itself OUT of your listings after u cancel
---
Excellent App. A great addition to my auction.
Just great. I love it. No issues or problems. I would definitely pay for the international map service if my sales merited it.
---
---
Excellent tool for buyer reassurance and sellers geographic sales tracking.
Before finding this application, I longed to track my geographic sales, and was actually considering the old pin in a wall map method. Thanks MY STORE MAPS!
---
---
Provides Buyers with an excellent view of Shipment locations
Promotes confidence in your Buyers that you have previously shipped to their location, especially when it includes International Shipments.
Created By: riverspryte401
---
I like it, because it lets me know where I have shipped the items to
I like to know where my items are being shipped to. I think it is a good source of tracking the items.
Created By: babyunlimited
---
---
Useless application. Does not work half of the time. My Paypal account was charged after I canceled.
The application is useless. It does not work properly. My Paypal account was charged after I canceled. I had to waste my time and open a paypal dispute to get my money back.
---
I love that my customers can see where my other customers are, it validates my online presence and creates a good vibe on my listings.
Created By: fugitiveprices
---
added insight for customers
I like this application, it helps build trust between prospective customers and myself by seeing all the states I have shipped to and the number of transactions.
---
A++++++++++++++++++++++++++++++++++++++++++++++++++++++++
AAAAAAAAAAAAAAAAAAAAAAAAAAAAAAAAA
---
The map contends that it will load 120 days of past sales when you start and that it did not do. Now it appears that I've sold 0 items and when I manually entered in my sale from a buyer in Israel the map didn't register the addition. Good idea but the execution has failed.
---
Can only chose between domestic or international maps so, though I sell all around the world, potential buyers may never discover this fact by viewing the map. Also, even though I've been a subscriber to this app for almost a year, I've yet to discover, where and/or how to view the reports.
Created By: circa1820sfarmhouse
---
I feel this is an excellent product, but at this point in time I'm too small for it to be a value.
Excellent product. It adds value to your credibility. I'm just to small for it to be a useful value. I will add it if and when I increase my listings.
---
I LIKE IT
Created By: chrifrank78milcia
---
Great tool for buyer and seller, easy to start! Highly recommended!
Use to track where there's a higher selling base of customers. Easy to set up in a few key strokes!
Created By: jdsattictreasures
---
Did not increase my International Business
Crazy ridiculous prices they expect you to pay for putting a simple stick pin map in your listings. This did not increase my international business any % over the previous year. Cash in the trash.
---
Great application!
Created By: happysandiegosales
---
Love the maps, allows me to see where my sales are going!
The ability for myself as well as customers to see where my items have been going!
---
Watch Out! Makes You Look Bad
I usually sell over 100 items per month, and have been doing so for over a year. The map shows five sales... it makes me look REAL weak. I'm still trying to figure out how to get it off my listings.
Created By: downsizingfamily
---
Awesome app looks Great on the listing it"s an eye grabber. Highly Recommended
---
Very nice to see at a glance how many items being shipped to a particular state or region to help see what types of items are selling there.
---
I would like to change my prior review to Good!
I left a prior review that wasn't so flattering about this application due to the fact that I a number of problems with the app that weren't getting fixed. Well, they did follow through and fix the problem, so I would like to change my rating to Good. This really is a wonderful application because it enhances your sales due to the fact that each customer can see everywhere in the Nation and Overseas that you have made sales. They just click on the map and there it is....pretty cool. I would recommend.
Created By: chandlerjewelry
---
Very excellent app for sellers
I used this app for a long time and it is a very useful app that help customers to see the successful sales of the seller, and it helps promote the good reputation of the seller and increases the sales. 5 star app, thank you.
Created By: prettywoman2015
---
Helps buyers see where you have sold and have more confidence in you selling record.
---
very bad customer services
more than 5-6 mails no replys
---
My Store Maps is Wonderful
I have been wanting to use this app for some time, and found it. I still don't know what I will be charges but I feel that this has increased my international sales tremendously. I think it gives buyers confidence that you are serving all areas of the world, and whatever it costs I think will be worth it. I highly recommend this product it loads fast and shows buyers your sales, and along with your feedback it can provide confidence and boost your sales.
---
Poor Customer Support All Of A Sudden Stopped Updating My Account Shows I Am Paid Subscribed Nothing
Terrible Customer Support, Not Sure What Is Going On, Signed Up As A Paid Account And All Of A Sudden Nothing, No Updates Nothing, Not Happy Liked It When It Did Work
Created By: fullcircleparts
---
Helps show sales and build confidence in both seller and buyer
simple auto update
Created By: thenewyorkstudio
---
This is really great! I love that once I'm subscribed I don't have to remember to update every listing. I think that it gives buyers confidence to see where I ship and I have had a few international buyers -- I suspect they feel more like buying when they know I've shipped internationally before.
Created By: ameliaariella
---
Not to bad but not the greatest
Should be a little now interactive. Like current weeks sals show in a differant color. Shouls have a lower price. Be more colorful with say a goggle map style overlay, etc.
Created By: digital_numismatics
---
This will not work with Ebay
i spoke with this applications customer support and they said that the problem is now only on Ebay's end of the problem and to call them but then when i talked to Ebay they wouldnt even look to see whether or not i was the one that was causing the issue and it may not be any of either of there faults but Ebay refused to even look and that was rediculous i thought even though they do not handle third party apps its not about that i am an Ebay member that is what matters most
---
My sales increased the very day I started this app
Folks seem to be more secure now... with this info provided.
Created By: abcsofgardening
---
I love this app! It's easy and hassle free!
I give it a thumbs up!
---
Some times application doesn't update selling and also last shipping day for a long time
A few times application doesn't update selling for long time.(at least 1 week , after 1 week always contact the support ) There is not other solution then to contact the support. The solve the issue but it also take a few days. Bottom line 10 days without updated the selling quantity and also without updated the last shipping day.Very bad!
---
Excellent app for ebay sellers and buyers
i like this app, its fun and gives good info about seller activity.
---
---
Love the maps! Gives a great look into where I ship! Customers seem to like it.
Created By: allskills6782012
---
Sent customer service several emails to no avail...
Created By: rt_mercantile
---
Have used since 2012, helps to immediately provide comfort to your customers
Have used since 2012, helps to immediately provide comfort to your customers
---
I REALLY LIKED THIS FEATURE..I WISH IT WERE A STANDARD FEATURE OF MY EBAY STORE PERMANENTLY
I CAN'T SAY ENOUGH ABOUT THIS FEATURE.I WISH IT WERE STAYING.
Created By: stainglassartist
---
very nice program very nice
they do it for you great to have!
---
Very disappointed for 2017 rates. No more free version
Very sad the free version is going away. Cancelled my account for that.
---
Status pending for a week
Status Pending for a week now and can't get through to the company. Emailed and left messages, no answer. Horrible!
Created By: the_shopping_network
---
This app works well, has several options that are easy to use and lets my buyers know my selling area.
---
Pending Status for a Week
Don't bother with it
---
Status says pending for a day now and I can't take it off my apps
I thought the app looked good, clicked on it and has ever since been pending and it's over a day. When I try to unsubscribe to get rid of it, it says contact customer service by email or phone. No thanks!!! I don't need the hassle. I just want it gone if it's not going to work!!
Created By: *kreativekollections*
---
world map does not work.
Created By: unsubstantiation
---
Shows my last shipment as 2-1/2 months ago and a total of 17 items shipped. I shipped yesterday and have sold a LOT more than 17 items. By the reviews, it looks like it's going to be quite the process to delete this from all of my listings. It looks awful! Doesn't give my customers comfort in knowing that I have sold a lot on eBay. Does the complete opposite. Wish I would have never subscribed to this crap. I just e-mailed customer support, but it looks as though I will never hear back from them judging be other reviews. Ridiculous time waster. If you are thinking about adding this to your store, STOP. Read other subscribes reviews and walk away. No, run....
---
---
---
Has worked well from the beginning.
---
---
just lost money and not help nothing..simple take out from my auctions.
i think this not help to sell ..im just stopping to pay extra money with certain experiences..i think buyer purchase by the item he is looking for ,not for aplications as this... take out from my ebay this !
---
Buyers can see all the sales you have all over the world , it's great !! The only problem I have ever had is that there are times when it is slow to update.
Created By: cherylssoutherncharm
---
Leaves HTML code in every listing
After realizing that free app wasn't showing all North American sales, I cancelled. Map made it look like I hadn't sold anything for the past 45 day. Looked at the reviews (too late;/ and realize this developer has not responded to any review for over 6 months. A lot of complaints about customer service. Got nervous and decided to un-subscribe. So far every single listing I have still has the HTML code. Have started to remove code from each individual listing. Going to take a while, but it just doesn't look good to have no sales showing for last 45 days. Not helpful. Really didn't need the extra work to try to get rid of code. A little help? Doesn't sound like I should hold my breath. Thank goodness I didn't sign up for paid international map.
Created By: mygrandpastreasures
---
Script did not removed after unsubscribed
I had to manually removed each listing.
---
I have sold over 30 items on this account and it shows only selling nine?????
Created By: hometowncustom
---
Application is a great resource!
Application is a great resource! Also helpful to me as a seller to see and keep track of the different areas that my sells are doing well.
---
very easy to use,upgradeable fast on all items.
---
DOES NOT SHOW ON ALL MY LISTINGS AND THIS EVENTUALLY DOESN'T HELP,
APPLICATION DOES NOT SHOW ON ALL MY LISTINGS AND THIS EVENTUALLY DOESN'T HELP, THEREFORE I LOOSE CUSTOMERS CREDIBILITY AND BIDS BY NOT HAVING THIS APPLICATION WORKING PROPERLY IN YOUR SERVERS...PLEASE UPDATE THIS ISSUE.
---
(There have been no reviews for this application.)
It's nice to see the seller's experience over time with these maps.
---
Great way to let buyers know where you have sold.
---
Gives a clear picture of your sales geographically
It does take a bit to load up but once it does it is great picture of your sales.
---
Love it
Created By: bigcountrywill0909
---
CANT WAIT LOVE TO SEE WHERE MY GREAT CARDS ARE GOING
Created By: gatornation69
---
Ok, But does not show All-time sales.
It should show all of my sales from the beginning.
---
Takes pages to long time to open!! Do not like at all, want it removed from my store....
Created By: venicebeachtreasures
---
Nice App. no brainer help with my sales and customer trust me more and know it.
---
More customers due to MY STORE MAPS!
AAA++++ I have gotten more customers from having this Map! Thanks so much!
Created By: fitnesssourceltd91
---
It works well collecting my sales
I think it gives buyers more sense of my sales being legit. One thought. How do I take off cancelled sales?
---
Fantastic App! Love, love it!
It is not only fun to see where your items are shipped to but it also provides future buyers with confidence in buying from you, knowing that you are experienced in world wide shipping.
---
Stops updating shipments out of nowhere
While people do like maps and while the app itself looks like a great idea it appears buggy. Showing prospective buyers that the last sale you recorded wss perhaps that very same day is great and surely causes some people to click buy since it is apparent the store is moving product and has done so recently. However, when it stops working out of the clear blue it has the opposite effect...and in a big way. Example: The first two weeks of this app being used my sales increased drastically enough that during those first two weeks I surpassed that same month from 2013. Then.... It stopped updating sales showing that I hadn't sold anything for a day, then two, then three, then a week. so that 'big bump' I experienced initially took a drastic nosedive as I went from moving 5-8 items per day to 5-8 per week. Very frustrating. If they work out the bugs - it has amazing potential - but until then - AVG at best.
---
Invalid Traffic Reports, Possible Glitches or Agent Push Invalid International Sales Expantion
Some items sell do not qualify international sales due foreign nations policy on goods or requires modification such as electrical adapter or converters or items not protected due copyright or patent protection clause. 99% MyStoreMaps reports or recommendations are views abroad outside the U.S.A. As past agent that traveled for a global manufacture that included work as installation, sales, training or etc - tested if reports accurate contacted old sources abroad to look at my seller site while on phone to communicate if they see it or items translated or etc. This valid test actual abroad views were never presented on MyStoreMaps. Done test Jan 4, 2013 my opinion was security breach reported thanked no follow up. Not best use determine authentic sales expansion or traffic if report invalid too glitchy Based this refuse International selling program.
Created By: circassian-2012
---
Never update my last selling item?
---
Never update my last selling item
---
This application lacks good support. Even after you disable MyStoreMaps it leaves a link in your listing, which is total BS! The APPLICATION SHOULD COMPLETELY REMOVE EVERYTHING...
---
Great App fro our clients
---
If you ever decide to unsubscribe the app is sneaky and leaves their as on every one of your listings, unless you wish to go in and edit EVERY listings HTML. Avoid like the plague!
---
Amazing Way To Track Where Your Items are being sold
I had no idea I had so many items being sold to the East Cost until I used this app
---
need for this app tobefree for more than just 50 listings!GOOD APP!
---
Unsubscribed and still charges me. Customer Service never calls back.
Unsubscribed and still charges me. Customer Service never calls back
---
---
Good and useful application.
Good and useful application.
---
Highly recommended app. Great value and a useful selling tool.
This is a great way to show potential buyers your sales history and boost new sales. The customer service and tech team are great if you have an issue. Thanks especially to Michelle Atkins for all her help with my set up. There was a problem initially and she worked with the tech team to get everything on track and working perfectly!
Created By: abouttime1010
---
I wish it was a bigger map,
Created By: rainbowmountains1
---
---
I would suggest to make the graphics more up to date than it is today. but generally, it's a great tool.
---
works just like it supposed to
---
(There have been no reviews for this application.)
I haven't got a increase in sales.. I used this for I think a year
Created By: choldingsceylon
---
had some issues not updating for last few months, but now work great. Thanks
---
After uninstall in ALL your auctions remains "FREE! Sellers: Add a FREE map to your listings. FREE!"
I had to manually remove the remaining HTML code from all of my 500+ listings. I hate you!!
---
(There have been no reviews for this application.)
Its very easy to read and pronounce
this is all new to me ,have no exsperience in this type of applications
---
Tease you with a low starting price and it inflates as your feedback inflates.
Then you cancel subscription and get billed for two months of use. No way to pay your bill, so, in the end what will happen???
---
Very good, but it sometimes shows incorrect places I shipped to.
---
My store is really a good application
My store is really a good application
---
(There have been no reviews for this application.)
Application froze at 26th March and map did not update
Application froze at 26th March and map did not update Until the error has been used very well. But history is on sale from March 26 will not appear on the map. Send e-mail to which you want to know why hayeotneunde, do not reply. I would like to know the source of the error. Although busy with work or problems, I want to tell you how to solve. Except for the error, but I think a very good program. The great programs and services that give very thankful.
---
I am very satisfied with this application!
This app helped me increase sales.
Created By: 17th_ab_513th_pir_f_company
---
Good experience after minor glitch
I had a glitch and received excellent coaching with high speed responses. I would recommend this App to all Ebayers. Superb value and very unique.
---
I love being able to see where all my packages go by map.
Created By: jillybeanfarms
---
---
Great APP - Shows your Worldwide Buyers
Really nice to be able to show your potential Buyers that you ship worldwide. It also shows the date the last shipment was made. It's colourful and a great addition to your page!!!
---
---
I love this app! My customers can see that I have shipped items all over the country. I think it offers a level of security. I would have given it 5-stars, IF there were also a world map view.
---
At the day of installing i sold few items, coincidence?
---
A "no effort, great fun" app
It's neat to see where sales come from and challenge myself to find ways to sell to different places/markets. So easy to add to an account; almost a "no-brainer"
Created By: collegedreaminkid
---
Professional Boost to item, peace of mind
Professional Boost to item, peace of mind
---
I thought it was pretty cool to see wear all my customers were
I was very surprised when I saw the map, but I son't know if customers would appreciate knowing their location was on a map even though it wasn't associated with a name in the age of big brother watching I'm not so sure this is a good thing?????
Created By: missmcduffstuff01
---
Loads automatically and shows potential buyers that you have buyers all accrosss the country or world. Just has to generate buyer confidence in buying from you. I love it!
---
Just not worth the hustle.
They Promote free Upgrade to international maps and then bugging to get money for it. Also it adds update on revisions in description every time their spider come in which if you have 1000 items you will then have to manually remove. If a user has high ratings and a power seller this will not help much the seller but instead will help more this app owners because the international buyers will buy and view page regardless if it has this map or not. It is a neat app to have but i thing MyStore Maps need to compliment top rated sellers with it and not to charge unless they can find a way that their map contributed to a sale. That is my 10 cents. i just wasted a lot of time removing the update item date from over 400 listings and still many do have it.
---
They take money out from you
This account was cancelled, but yet they keep taking their money out, even when you email them and call them to say you dont have this account
Created By: homeofheatherscorner
---
pretty cool to see where I send orders to .
it is free, try it out
---
NOT A BAD APP BUT CUSTOMERS DON,T LIKE IT.
A FEW CUSTOMERS COMPLAINED THAT I SHOULD LOWER MY SHIPPING COST AND NOT TRY TO SHOW OFF ALL MY SALES.BUT IT DOES,NT EVEN SHOW MY TRUE SALES AMOUNT TOTALLY SINCE DAY ONE.
Created By: mrwubblescoins2012
---
I love it!
Created By: bestofferdeals
---
Bad, Won't go away. We apped it, looked bare, removed it. And the HTML won't go away. Please remove!
the HTML won't go away even though we have unsubscribed from this app, leaving the listing with a huge white space before 2 other apps. Please remove this app and all it's HTML from our listings!!
---
Terrible. I downloaded it and it looked bare, so I removed it. The empty space will not go away.
The app leaves a large gaping space in my listing. I deleted the app and it still shows up in my HTML feed on each item, leaving a HOLE in my listing before 2 other apps. Please remove!
---
Who cares where you have shipped items?? This is a RIDICULOUSLY PRICED AND WORTHLESS APP. Didn't realize it has charged me over $400 for services behind the scenes. WORTHLESS!!!!
Created By: chickenfarmer
---
This is a very handy application. It works perfectly fine and it positions itself at a convenient location
---
It's fun to see where all your items going!
---
Your maps are right on top of several of my listing. Buyers can not read the description....Removed your app from my listing. Thank you.
---
---
I really enjoy being able to see where I've shipped to all over the country. I also enjoy seeing on other people's Ebay pages.
Created By: partsandwares
---
Nice eye-catch module for listings
Good idea, good realisation.
Created By: united_parts_of_chicago
---
great tool to show customers how many people are buying from my store.
Created By: mystic_andara
---
Looks great and works as advertised! Wish other apps worked this well.
---
I still dont have this on my page, emailed several times no response very disappointing paid service
Would like to have someone respond. This is horrible that it is offered but no response or no action taken
Created By: jessejamescomics
---
very difficult to fix a problem.
last shipment has been stuck on oct 13,2013 for 6 months
---
very satisfied! describes in detail the products delivered!
Created By: vlublennij2012
---
I love this App. It shows my potential customers where my products are being bought from.
Created By: phantomwarrior1327
---
Make Foreign Buyer Comfortable Buying from You!
I feel that it has improved my foreign sales because Foreign Buyers know you have a track record of selling to Foreign Countries.
Created By: lojo-curiousgoods
---
Doesn't seem to increase international sales. They take 5 or more days to respond to emails. Save your money and buy yourself an extra cup of coffee every month!
Created By: southerndiscountdeals
---
Works great! I havn't had any problems yet
---
I love showing my customers how many places I have shipped too!
Works well, no problems.
---
lets potential customers know I ship everywhere
Created By: secondscount1
---
---
Completely screwed up my listing ability. Once you have it, you can't get rid of it!
When I try to relist, I get computer text in the description box. I can do it, but it takes to long. I cancelled the app, but just the map disappeared. Everything else is still running. THIS SUCKS! Fix it! I DON"T WANT IT!!!!!!!!
---
excellent!!!!!!!!!!
Created By: nadirgold1970
---
no contact information horrible
can not contact support????????????????? gives me error messages when I try, yall over charged me I want my credits
Created By: mowerpartsusa
---
Awesome. Helps to know that I could have a future of more buyers!
Awesome
Created By: joeandandysdiscountstore1
---
worst software and support ever
When I contacted them to resolve several outstanding issues their response was to ask permission to simply cancel my account.
Created By: worldofautographsinc
---
Why when I hit contact support it give a error? is not way to contact you!!
---
Accurate, detailed, overall a great addition for a seller!
Created By: soccerskillz101
---
SCAM! AVOID!
Created By: search-4-jasound
---
Item wouldn't load and couldn't get it off my sales pages.
Created By: boomersoonerorangepower
---
dont work paying for no service
dont work paying for no service, why is there always problems with this ???????????
---
(There have been no reviews for this application.)
Makes it look like my last shipment was in March! Cant get map off my site!
Created By: thebamboolady
---
OUTSTANDING . It lets your Buyers Know Your working Hard and All People are Buying from You
I hope it will Give the Buyers More Convinced in My sales. vietvet58
---
Free version is very limited!
---
Show your customers all over the world, on our world map (which includes North America). Monthly subscription pricing is based on feedback score at the time of your monthly billing, as follows:
Up to 500 feedback: $2.95 per month
501 to 1,500: $3.95 per month
1,501 to 3,000: $4.95 per month
3,001 to 5,000: $8.95 per month
Over 5,000 $12.95 per month
Feedback = your feedback count at time of billing.