Back Office Live for eBay
By MTI Commerce Inc.
(released Oct 28, 2012)
Optimize your eBay business workflows through efficient Inventory Management, Customer Communications and Email Marketing.
Categories: Inventory, Finance & accounting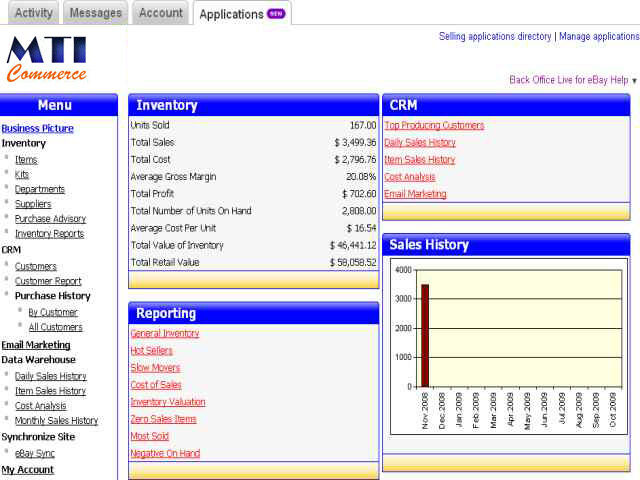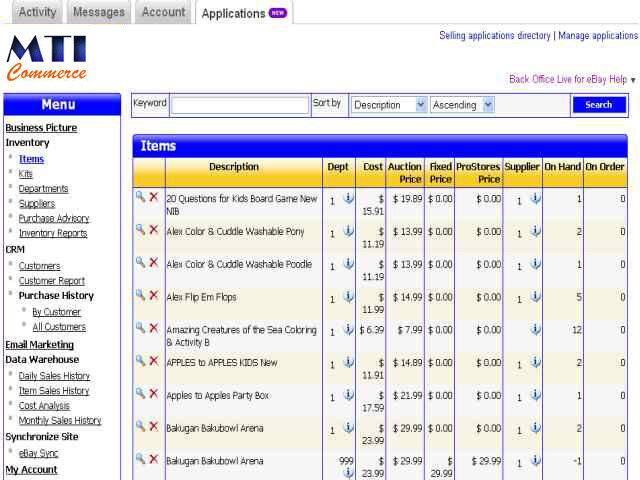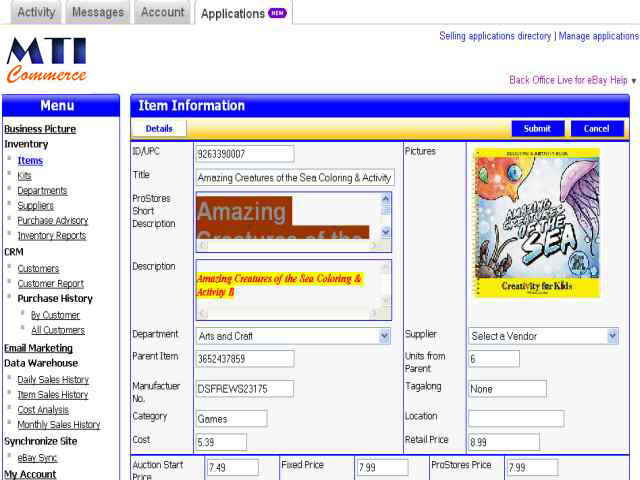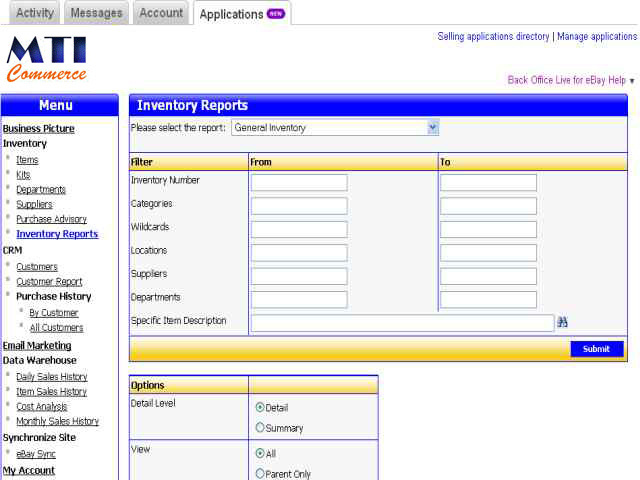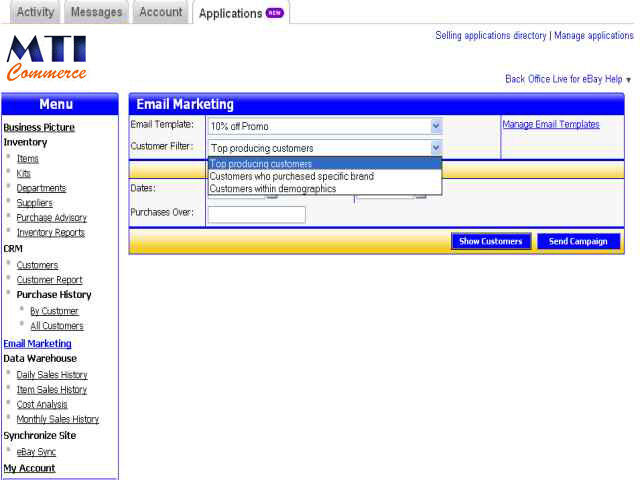 Key features
Simple Inventory control, Essential and Powerful Cost Analysis(item cost, listing fees, final value fees, Paypal fees, and actual profit on each item listed), purchaseAdvisory, Inventory and financial Reporting, CRM (Customer Relationship Management), Email marketing, Data Warehousing and more
Description
Take your business to the next level with Back Office Live for eBay
Back Office Live for eBay is a total business management and CRM solution for eBay sellers. Benefit from the Back Office System that manages thousands of retailers for two decades, features includes:

Inventory control
Purchase Advisory
Sales and Tax collected reporting
Inventory and financial Reporting
CRM with history
Email marketing,(Requires Gmail Business account subscription)
Data Warehousing
It?s a new ball game. We will change the way for you do business on eBay for ever!
Created by a Leader in Online Retail Technology
Core Features

Effective Inventory Management
Your biggest asset is your inventory. Knowing what is moving off the shelves, and what?s not, will make or break the profitability of your business. With Back Office Live for eBay you can not only organize your inventory into departments, suppliers, etc., but by syncing end-of-day, BOL will automatically update and adjust your stock levels based upon your real-time sales and listings. Having an on-line inventory management tool will greatly reduce the number of physical inventories that you need to perform a year.
Essential and Powerful Cost Analysis
With Back Office Live for eBay you will no longer have to go through a complex process and lots of paper work to figure out your exact cost of sales. Back Office Live for eBay provides a true cost of selling on eBay, which includes your actual cost of the item, eBay listing fees, eBay final value fees and PayPal fees. This feature will help you save significant time and money and give you knowledge of your exact profit picture.
Purchasing Advisory
Wandering the stockroom looking for out-of-stock or short supply merchandise is a waste of your valuable time. Let Back Office Live for eBay take the guesswork out of purchasing by automatically generating a recommended order report based on your actual sales and business trends.
Customer Relationship Management
The biggest tool of retail giants is targeted merchandizing. With Back Office Live for eBay, you can easily keep track of your customers, their purchase history, shopping habits, and more.
Email Marketing
Email Marketing helps you tailor your marketing efforts to the specific interests of each customer. You have the ability to customize your campaign to your top producing customers, to customers who purchased a specific brand or to customers within specific demographics. Your customers will know about upcoming special deals or products that most appeal to them. This effort will result in greater exposure to your customers and increase sales and profitability without any additional marketing cost to you. This Function requires a gmail business account subscription from Google.
Data Warehousing
Back Office Live for eBay stores your historical information for 13 months rotating. You can manipulate your historical data to spot trends in item movement and your customer?s purchasing habits and make the necessary managerial moves to stay ahead of your competition.
Powerful inventory and financial reporting
Back Office Live for eBay provides intuitive and powerful financial and managerial reporting to help you adjust to market conditions and become more profitable.
Additional resources
Application requirements
Supported browsers:
Internet Explorer 7 and greater, Firefox 3 and greater
Supported languages:
English
Supported eBay sites:
ebay.com
Required eBay subscriptions:
None
Application support
MTI provides FREE email Support and Paid Priority Support.

Back Office Live support includes toll free phone support, on-line help, email support and frequently asked questions as well as a Knowledge base builder which grows as we receive more questions. All phone calls are live or will be returned within 2 hours, all emails will be responded to within 24 hours. Our entire Support team are in the United States and comprised of professionals with eBay and retail business experience who can help you run your eBay business more efficiently and profitably. See additional resources links for more information.
Free email Support;
support@mtiretail.com Please include your eBay ID and the Application name which you need help with. support@mtiretail.com