Listing Analytics
Release Date: Sep 14, 2010
Categories: Research & reporting, Listing
Get a new level of insight into the visibility, clicks, and sales that your listings are generating. Learn about your best and worst performers and revise listings right from the app to maximize sales.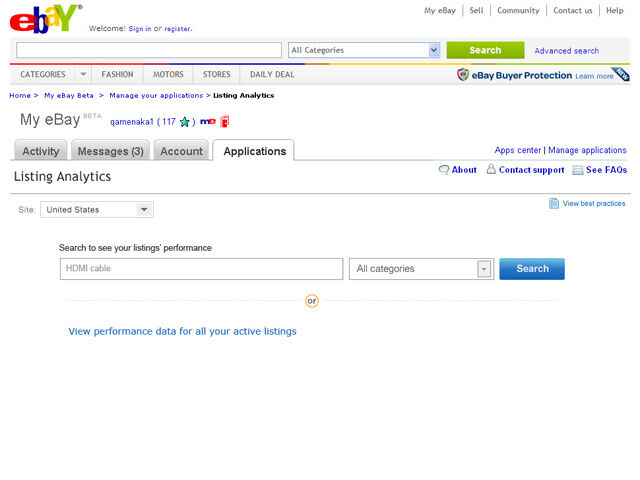 | | |
| --- | --- |
| Supported browsers: | IE7, FF3, Safari 4, Opera 10. and Chrome 4. |
| Supported languages: | English, French, German |
| Supported eBay sites: | ebay.com |
| Required eBay subscriptions: | |
Listing Analytics, an application that presents key metrics about the performance of your eBay listings, is provided by eBay Inc. in conjunction with Terapeak, an eBay Certified Provider and leader in eBay research.
Said it was free, said 7 day trial for premium service, never let me even see what it does
by: Review created: Apr 22, 2014
Review:I downloaded it gave it access to ebay (hadn't even gotten to clicking on the box for amazon) and it said my free trial ended and I hit a credit card wall. I'm not signing up for your service if I don't even know if it does anything. Don't waste your time.
~Experienced seller on amazon, new to ebay.
---
I think it is worth the price
by: Review created: Apr 21, 2014
Review:I didn't get to spend much time with the trial, but would love to grow enough to be able to afford it.
---
Product, customer, clinch a deal the trend data analysis requirements, etc
by: Review created: Apr 20, 2014
Review:I want to know how about the what is customer buying, daily deal details,the futer trend chart and take more actions to listing and improve customer actually demand
---
I do NOT trust Terapeak. Their claim of free support looks Very Fishy, and is a Potential Disaster
by: Review created: Apr 19, 2014
Review:This link leads to a private company called Terapeak and probably other private companies, most/all not beholden to EBay.
There are numerous options that could lead to huge charges on an Ebay account charge-back card number - without your knowing.
In fact, a quick Google search... "Terapeak, scam" leads to some EBay account people claiming they have been charged thousands of dollars without their permission because of clicking this Applications Link.
I think you should do your own research about Terapeak before ever clicking anything here.
I did not give my final approval to Terapeak to activate an account. Nevertheless, I am concerned that I will be ripped-off because of even going as far as I did with this link.
I would like to notify Ebay that I will keep careful watch of any potential charges from what looks like a crooked Terapeak.
I am pretty good at detecting scams, and this looks like one.
I am sure that time will prove me correct.
My appreciation from you and EBay is welcome
---
Excellent apps!!!
by: Review created: Apr 19, 2014
Review:It can help me to looking in overview with my historical sell,Thank you for free app.
---