Smart Gallery
Release Date: Oct 04, 2012
Categories: Listing, Marketing & merchandising
Free cross sell galleries that let you advertise your other products in all of your listings. Sell more to each buyer by targeting them with other items you sell. The only eBay app that let's you pick the specific items YOU want to cross sell. You can feature related products, advertise your most profitable items, and more!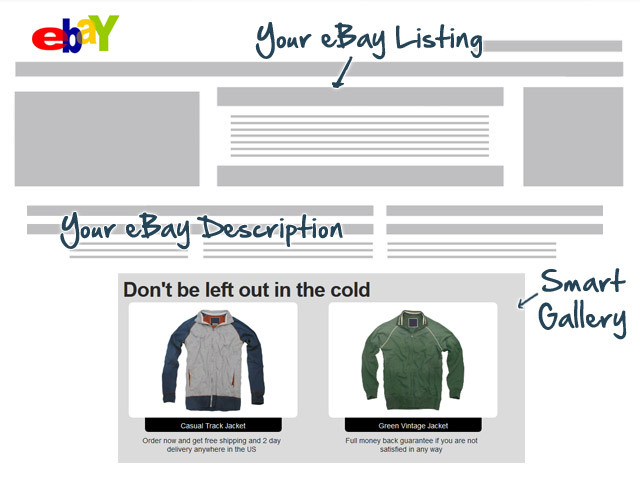 | | |
| --- | --- |
| Supported browsers: | Internet Explorer 7 or later, Firefox 3 or later, and Google Chrome |
| Supported languages: | English |
| Supported eBay sites: | ebay.com |
| Required eBay subscriptions: | |
Page Mage was founded in 2008. We are transforming the way sellers market their products on eBay. We provide easy to use applications for creating better listings and bigger profits. Our eBay App Center applications including Billboards and Smart Gallery let you create breakthrough listing designs and more effective use of your listing space to stand out from your competition, look more credible and professional, and sell more. Page Mage was awarded the 2011 Ecosystem Champion Award by eBay for our support of the eBay seller community.
Also from the developer
By Page Mage, Inc. (Released on: Feb 24, 2011)

It's free to create a unique template or a banner with your existing templates to make your listings stand out and sell more. Brand your listings, cross-sell hot items, advertise special offers, communicate policies and more. Create from scratch or use...

Categories: Listing, Marketing & merchandising
Bad service
by: Review created: Nov 17, 2014
Review:I cant login over 50 days.Your support dosent answer me emails.
When i try to login :
We're Sorry!

We could not log you in!

This page requires that you use eBay login screen and subscribe to our application.

We apologize for any inconvenience. If you think this is in error please contact us at support@pagemage.com with error code 'Invalid Signature'
Please answer me and tell me how to fix it!
---
Instantly appears in the listing
by: Review created: Nov 08, 2014
Review:Instantly appears in the listing. The only thing I would change is how many galleries you can make on the free version.
---
I cannot cancel this blasted thing. They do not have customer support response. Totally frustrated!
by: Review created: Oct 05, 2014
Review:Do not Use This Product. They have NO Customer Service. I warn You, Don't. I have sent several emails and no response.
---
good site
by: Review created: Oct 01, 2014
Review:it works. But i already have the same kind of site
---
Smart Gallery Failed
by: Review created: Sep 15, 2014
Review:It was going fine until it failed...now it doesn't show up completely in my ads and looks bad! Also, when I try to put it into all my ads, it won't go...not sure why...then when I try to pick which ads, the new ones don't show up.... what's going on??
---