Smart Gallery
Release Date: Oct 04, 2012
Categories: Listing, Marketing & merchandising
Free cross sell galleries that let you advertise your other products in all of your listings. Sell more to each buyer by targeting them with other items you sell. The only eBay app that let's you pick the specific items YOU want to cross sell. You can feature related products, advertise your most profitable items, and more!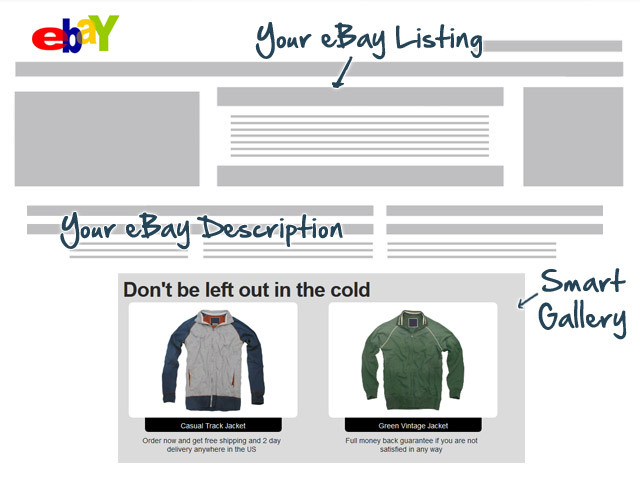 | | |
| --- | --- |
| Supported browsers: | Internet Explorer 7 or later, Firefox 3 or later, and Google Chrome |
| Supported languages: | English |
| Supported eBay sites: | ebay.com |
| Required eBay subscriptions: | |
Page Mage was founded in 2008. We are transforming the way sellers market their products on eBay. We provide easy to use applications for creating better listings and bigger profits. Our eBay App Center applications including Billboards and Smart Gallery let you create breakthrough listing designs and more effective use of your listing space to stand out from your competition, look more credible and professional, and sell more. Page Mage was awarded the 2011 Ecosystem Champion Award by eBay for our support of the eBay seller community.
Also from the developer
By Page Mage, Inc. (Released on: Feb 24, 2011)

It's free to create a unique template or a banner with your existing templates to make your listings stand out and sell more. Brand your listings, cross-sell hot items, advertise special offers, communicate policies and more. Create from scratch or use...

Categories: Listing, Marketing & merchandising
So Far, works pretty good with a few bugs
by: Review created: Jul 24, 2014
Review:On occasion, an item will delete itself and it can be a little bit of a chore to find certain items to add to the gallery, but overall, it looks nice and is functional. Simple enough to use as well which we like to see!
---
A Great and easy way to create adds in one place
by: Review created: Jul 10, 2014
Review:I like the way i can create my adds with ease, and a very simple way to hold all of my information in one place, without retyping over and over. I may pay for the full service in the near future.Thank you for this easy page.
---
Love It!
by: Review created: Jun 13, 2014
Review:Installed in 5 minutes or less! Appeared on my Ebay page instantly!!
---
Terrible AP-Does not function... Do not waste your time...
by: Review created: May 24, 2014
Review:AP is poorly written, does not function. Do not waste your time even with the free version. Weak on all levels...
---
loved it while it worked but that was only about 2 weeks after paying.
by: Review created: May 22, 2014
Review:My listings were great but updates failed and images stopped showing. Had to cancel can not have listings with broken app running.
---