Outright
Release Date: Sep 20, 2013
Categories: Finance & accounting , Inventory
Join the 50,000+ eBay sellers using Outright-GoDaddy Bookkeeping to organize their finances and prepare for taxes. PayPal is now required to report online sales to the IRS, so it's more important than ever to organize your finances. Everyday, automatically, your PayPal, eBay, bank and credit card accounts are organized. Outright imports up to 2 full years of sales history, listing and final value fees, even shipping and PayPal fees. Sign up and receive the eBay Sellers' Tax Guide FREE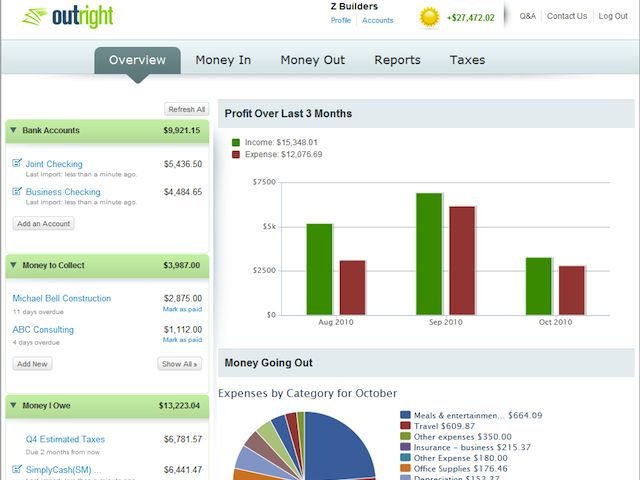 | | |
| --- | --- |
| Supported browsers: | Internet Explorer 7,8 & 9 and Firefox, Safari & Chrome |
| Supported languages: | English |
| Supported eBay sites: | ebay.com |
| Required eBay subscriptions: | None |
Outright is the leading provider of automatic accounting for the self employed with over 120,000 customers. Outright is located in Mountain View CA
awsome app,gives me lot of help to prepare my taxes's and reports
by: Review created: Jan 30, 2015
Review:awsome app,gives me lot of help to prepare my taxes's and reports
---
really great app for tracking all your expenses and income
by: Review created: Jan 30, 2015
Review:great for new businesses or individuals who sell on ebay, can link your credit cards, banks, paypal, very convenient and easy to use. send invoices etc great!
---
Says free but first pop up is.....time to upgrade $9.99 per month to continue?!?!
by: Review created: Jan 29, 2015
Review:Good app when not scamming
---
No response from tech support about issues.
by: Review created: Jan 27, 2015
Review:Had issues with getting the ebay token to work and received an error message. Emailed tech support but did not receive any answer so I cancelled my service.
---
great when it was free
by: Review created: Jan 22, 2015
Review:not intuitively easy to use but handy when it was free. NOT WORTH the 9.99 a MONTH. For that much they should be doing my taxes for me. Oh and btw, the exporting your monthly transactions is IMPOSSIBLY complex as GoDaddy has now broken up your transactions into two categories of expenses and two income. Exporting and printing was so much easier before GoDaddy "Organized" it.
---
Subscription: Monthly and Annual subscriptions available