Outright
Release Date: Sep 20, 2013
Categories: Finance & accounting , Inventory
Join the 50,000+ eBay sellers using Outright-GoDaddy Bookkeeping to organize their finances and prepare for taxes. PayPal is now required to report online sales to the IRS, so it's more important than ever to organize your finances. Everyday, automatically, your PayPal, eBay, bank and credit card accounts are organized. Outright imports up to 2 full years of sales history, listing and final value fees, even shipping and PayPal fees. Sign up and receive the eBay Sellers' Tax Guide FREE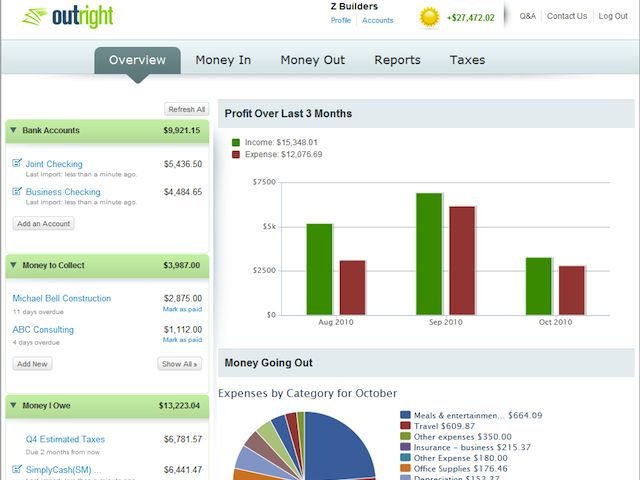 | | |
| --- | --- |
| Supported browsers: | Internet Explorer 7,8 & 9 and Firefox, Safari & Chrome |
| Supported languages: | English |
| Supported eBay sites: | ebay.com |
| Required eBay subscriptions: | None |
Outright is the leading provider of automatic accounting for the self employed with over 120,000 customers. Outright is located in Mountain View CA
combined 2 ebay account and messed everytghing up
by: Review created: Oct 05, 2015
Review:i have 2 ebay accounts. Different info from both accounts was showing up on this one account. It messed everything up
---
every month outrite has suspended me for over due fees.
by: Review created: Oct 05, 2015
Review:I pay them with new credit cards and supposedly it is o.k and I'm able to access my account. Then again I'm suspended as if I had never paid and the total is added on. I can't find anywhere to contact you. I wish to get away from this. It has become a monster for me. Help!!
---
Peice a Crap App!!!
by: Review created: Oct 04, 2015
Review:It will not let me log in, When I click contact support, It goes to blank page. When I reset password it sends me a new temporary password...that still does not work. Biggest waste of money!!!
---
Application is great for filing income tax.
by: Review created: Sep 30, 2015
Review:This application is all I need to copy for my accountant at the end of the year, so no need for a spreadsheet on my ebay account.
---
Won't Let Me Pay My Bill
by: Review created: Sep 30, 2015
Review:Have tried to pay them many times but wont accept my payment
---
Subscription: Monthly and Annual subscriptions available