Outright
Release Date: Sep 20, 2013
Categories: Finance & accounting , Inventory
Join the 50,000+ eBay sellers using Outright-GoDaddy Bookkeeping to organize their finances and prepare for taxes. PayPal is now required to report online sales to the IRS, so it's more important than ever to organize your finances. Everyday, automatically, your PayPal, eBay, bank and credit card accounts are organized. Outright imports up to 2 full years of sales history, listing and final value fees, even shipping and PayPal fees. Sign up and receive the eBay Sellers' Tax Guide FREE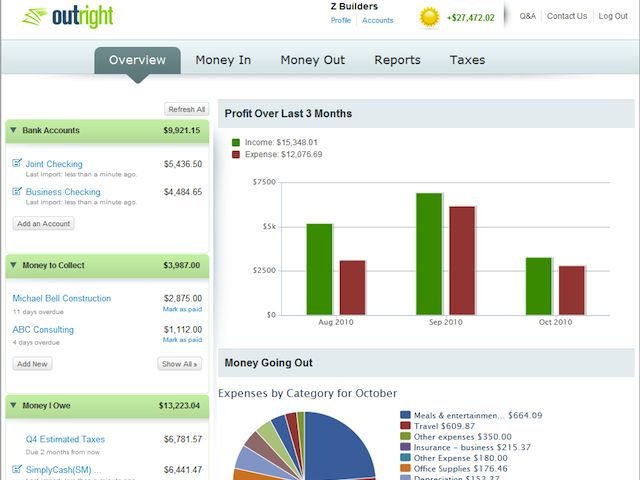 | | |
| --- | --- |
| Supported browsers: | Internet Explorer 7,8 & 9 and Firefox, Safari & Chrome |
| Supported languages: | English |
| Supported eBay sites: | ebay.com |
| Required eBay subscriptions: | None |
Outright is the leading provider of automatic accounting for the self employed with over 120,000 customers. Outright is located in Mountain View CA
Makes Life Easier
by: Review created: May 27, 2015
Review:This application works great, and makes keeping track of expenses, etc. way easier for accounting and tax purposes. I use the mobile app also, so entering and editing expenses and income is very convenient.
---
Must have for online sellers!
by: Review created: May 25, 2015
Review:THE BEST for tracking financial information for online sales. I use it for ebay/amazon and it just makes everything so much easier.
---
Be careful with this app. It charged more than mentioned
by: Review created: May 23, 2015
Review:I signed up for the $9.95 per month plan cause I figured it would be nice to organize my finances. I was being charged $14 per month and found their program to be of no use for me
---
this is NOT bookkeeping at all, what a joke, and just try to cancel, misleading deceptive unethical
by: Review created: May 22, 2015
Review:have been trying for over 6 weeks to cancel this farce, with both ebay and go daddy, to no avail, forced me to pay the entire year price for adding and subtracting my pay pal funds, their idea of bookkeeping is laughable, so anyhow, 9
$96 and some odd cents down the tube for nothing in return but a big headache
---
I don't understand the reports
by: Review created: May 20, 2015
Review:I don't understan it
---
Subscription: Monthly and Annual subscriptions available