Outright
Release Date: Sep 20, 2013
Categories: Finance & accounting , Inventory
Join the 50,000+ eBay sellers using Outright-GoDaddy Bookkeeping to organize their finances and prepare for taxes. PayPal is now required to report online sales to the IRS, so it's more important than ever to organize your finances. Everyday, automatically, your PayPal, eBay, bank and credit card accounts are organized. Outright imports up to 2 full years of sales history, listing and final value fees, even shipping and PayPal fees. Sign up and receive the eBay Sellers' Tax Guide FREE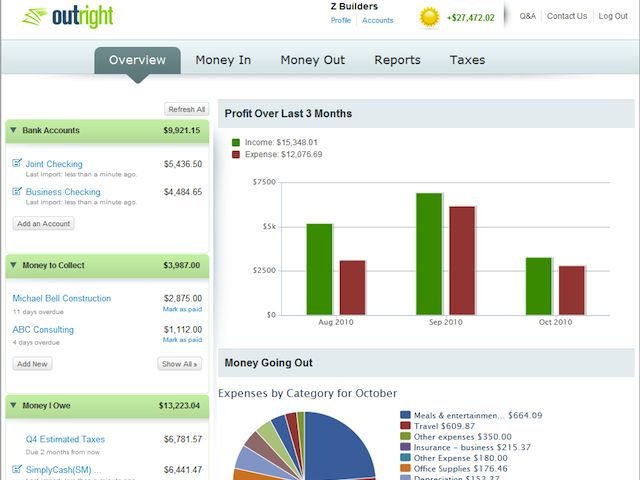 | | |
| --- | --- |
| Supported browsers: | Internet Explorer 7,8 & 9 and Firefox, Safari & Chrome |
| Supported languages: | English |
| Supported eBay sites: | ebay.com |
| Required eBay subscriptions: | None |
Outright is the leading provider of automatic accounting for the self employed with over 120,000 customers. Outright is located in Mountain View CA
Comprehensive and easy to use!
by: Review created: Apr 17, 2014
Review:This application seems very helpful in categorizing business, personal, ebay, and pay pal expenses to make it easier to estimate quarterly taxes. So far it looks helpful, but I have always been a Intuit Quick Books user for years, so I'll have to use this application longer and see how accurately it estimate taxes compared to Quick Books. Nonetheless, the ease of tracking expenses dealing with you ebay and pay pal account, I cannot complain there.
---
No Customer Support. Software Glitches. Operation Problems.
by: Review created: Apr 15, 2014
Review:Unable to reach anyone in real time to resolve issues when there are problems and glitches ---- AND THERE ARE PROBLEMS AND GLITCHES. Not what Outright provided before being taken over by GoDaddy. Not the level of service or software expected.
---
Not What it Was
by: Review created: Apr 15, 2014
Review:As is nearly always the case with GoDaddy, they've managed to ruin what WAS a great application. If there's a problem they take forever to address it. After giving up on the app completely, I decided to cancel my subscription. That was more than 30 days ago and it still shows "Pending Cancellation" and I get increasingly threatening notices to pay up. Perhaps GoDaddy should stop spending all the $$$ to have supermodels and NASCAR drivers on camera and focus on customer service and infrastructure. Just a suggestion.
---
terrible problem paying for Outright fees
by: Review created: Apr 14, 2014
Review:Again, I am getting msgs from Ebay that I not paid my Outright fees. However, I went through this a week or two ago with eBay, Paypal, Outright. I normally pay via credit card, and updated. eBay is not reflecting the update, so just redid it. tried to do a one time payment with Paypal, and Paypal declined although I have sufficient funds.

there is something terribly wrong with the programs if they are not updating or acting. at this point I am totally frustrated as to how to pay, who to pay, etc.
---