Outright
Release Date: Sep 20, 2013
Categories: Finance & accounting , Inventory
Join the 50,000+ eBay sellers using Outright-GoDaddy Bookkeeping to organize their finances and prepare for taxes. PayPal is now required to report online sales to the IRS, so it's more important than ever to organize your finances. Everyday, automatically, your PayPal, eBay, bank and credit card accounts are organized. Outright imports up to 2 full years of sales history, listing and final value fees, even shipping and PayPal fees. Sign up and receive the eBay Sellers' Tax Guide FREE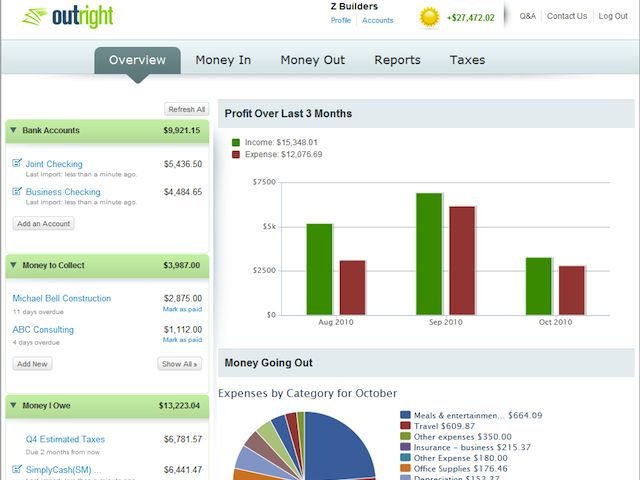 | | |
| --- | --- |
| Supported browsers: | Internet Explorer 7,8 & 9 and Firefox, Safari & Chrome |
| Supported languages: | English |
| Supported eBay sites: | ebay.com |
| Required eBay subscriptions: | None |
Outright is the leading provider of automatic accounting for the self employed with over 120,000 customers. Outright is located in Mountain View CA
Worst Customer Service EVER - NO CANCEL BUTTON!!
by: Review created: May 20, 2016
Review:All of a sudden they say that they are not getting paid by my PayPal account. I go and pay, and then try to cancel the subscription, and after 3 times trying to pay and thinking it's paid, I keep getting suspension notices. I try to email support, no access to it. I WANT OUT!!!
---
Love the app but you have no way to pay and your account gets suspended
by: Review created: May 20, 2016
Review:We love outright for our recordkeeping and tax prep. Getting support to fix an app created issue is virtually impossible. Last year we worked around the no way to pay issue by paying through godaddy outright. This year its not an option, we cant get to the screen. In a nutshell, when you attempt to pay and continue service you get an error message and no way around it. If you attempt the contact button for help, you get sent to a blank screen. We really wish Outright and Ebay would fix this. From the other reviews it looks like this has fallen on deaf ears. Hopefully there will be a fix that allows payment for outrights services. We love the app for recordkeeping but are at an impasse due to their technical issues. The outright/paypal/ebay payment api is very broken. It seemed to have happened when paypal and ebay split.
hope you don't end up with the same issues or better that paypal/ebay/outright would fix. thanks
---
Subscription: Monthly and Annual subscriptions available