Start of layer

eBay Certified Provider Solutions

The eBay Certified Provider Program recognizes third party companies excelling at providing the tools or services for eBay sellers. The Certified Provider designation helps an eBay seller identify providers with the expertise and experience to assist in growing their eBay business. In addition to other criteria, companies must have extensive experience with eBay, pass certification exams and provide a number of proven customer references checked by eBay.

End of layer

- opens in a new window or tab
SecretSale
Release Date: Jul 05, 2011
Categories: Marketing & merchandising
Shhhh! SecretSale is like eBay's Daily Deals only better for all eBay sellers. It is FREE for you to use One of your items per day goes on SecretSale. We promote your item in our daily emails. Only our opted-in buyers know your SecretSale price and buyers have only 48 hours to buy. Don't miss out on the chance to promote your items to these buyers!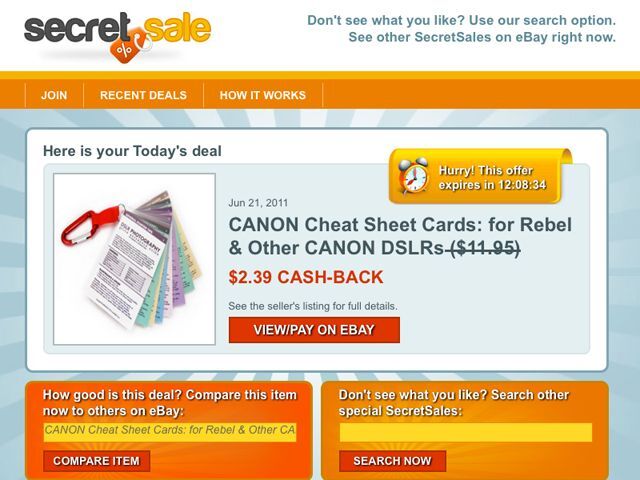 | | |
| --- | --- |
| Supported browsers: | All modern browsers. |
| Supported languages: | English |
| Supported eBay sites: | ebay.com |
| Required eBay subscriptions: | |
OnPagePromotions.com has received more awards from PayPal and eBay than any other external developer. We have successfully handled over 21 million eBay listings and millions of cash-back transactions. We also offer MyStoreRewards, MyStoreMaps, SocialSale, SalesClock and now SecretSale.
Also from the developer
eBay Certified Provider

By MyStoreCredit.com (Released on: Aug 14, 2009)

FREE way to increase repeat sales by as much as 500%. Easy to use. You control rewards.

Categories: Marketing & merchandising, Research & reporting
eBay Certified Provider

By MyStoreCredit, Inc. (Released on: Aug 18, 2009)

Track your buyer locations – regionally or internationally -- by easily adding a customizable, rotating map to your listings.

Categories: Marketing & merchandising, Shipping & payments
This is a scam.
by: Review created: May 09, 2013
Review:Asked for support and was sent to a scam page trying to sell me things. Then I went to an http: address provided by them for support and the page is not found. In PayPal I tried to click on the remove as a third party button and it just takes you to a page that says Fatal Error. How do you even un-enroll from this subscription when you are not given the option by eBay? The drop down box does not even drop offering you options to unsubscribe. Beware!
---
secret sale gave email address of one of my customers to ebay.
by: Review created: Apr 13, 2013
1 of 2 people found this review helpful
Review:please opt me out i want to unsubscribe from the secret sale app NOW what happened to private no i dont mean pirate
---
NOT HAPPY AT ALL
by: Review created: Mar 18, 2013
3 of 4 people found this review helpful
Review:I download the free program on my new Ebay account for further reading and learning about the program after my vacations. Came back to work and noticed Secret Sale had sent 252 emails with 30% off on my items for sale without my authorization. Checking on the settings of the program, I noticed it comes with a 30% settings as default. I am very disapointed about this practice as I am the one who decides how much, and when I sould give 30% to what I am selling. I hope you fix this as you sent this campaing without any authorization. You do not give enough time to read emails and agree or not. Have some one from your Secret Sale department give me a call A.S.A.P.
---
Good Exposure
by: Review created: Mar 01, 2013
2 of 2 people found this review helpful
Review:The way I see it, any exposure is good exposure. Secret Sale offers one of our items at a reduced price in an email to it's members every day. I'm not sure how many people receive the email but I am sure that we are getting some activity from it. And again, that's a good thing; especially for free!
---
Excellent support with timely and effective responses!
by: Review created: Feb 28, 2013
2 of 2 people found this review helpful
Review:this program has increased my visibility and traffic is up since starting the program. i am pleased with the simplicity and hope to do much more with this selling tool in the future. it is easy to enable and try, and the seller has nothing to do unless they want to edit the item that is showcased. it is great that a new blast is sent every 48 hours as this works well to keep recipients informed on the items you are hoping to promote. it is actually one of the better working applications i have tried here on ebay. good job so far, keep improving this program and it will be successful!
---