Start of layer

eBay Certified Provider Solutions

The eBay Certified Provider Program recognizes third party companies excelling at providing the tools or services for eBay sellers. The Certified Provider designation helps an eBay seller identify providers with the expertise and experience to assist in growing their eBay business. In addition to other criteria, companies must have extensive experience with eBay, pass certification exams and provide a number of proven customer references checked by eBay.

End of layer

- opens in a new window or tab
SecretSale
Release Date: Jul 05, 2011
Categories: Marketing & merchandising
Shhhh! SecretSale is like eBay's Daily Deals only better for all eBay sellers. It is FREE for you to use One of your items per day goes on SecretSale. We promote your item in our daily emails. Only our opted-in buyers know your SecretSale price and buyers have only 48 hours to buy. Don't miss out on the chance to promote your items to these buyers!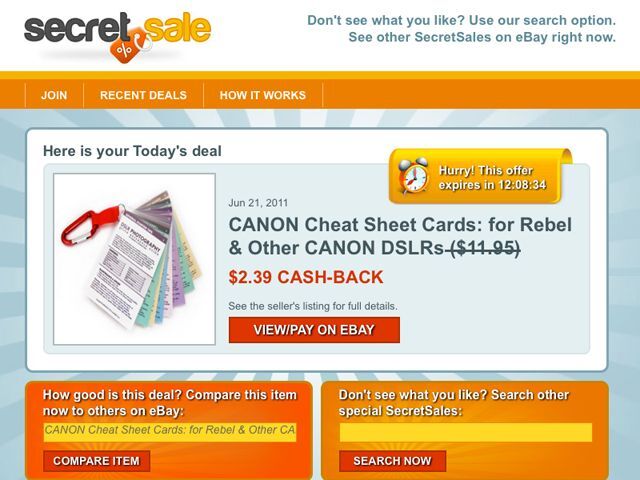 | | |
| --- | --- |
| Supported browsers: | All modern browsers. |
| Supported languages: | English |
| Supported eBay sites: | ebay.com |
| Required eBay subscriptions: | |
OnPagePromotions.com has received more awards from PayPal and eBay than any other external developer. We have successfully handled over 21 million eBay listings and millions of cash-back transactions. We also offer MyStoreRewards, MyStoreMaps, SocialSale, SalesClock and now SecretSale.
Also from the developer
eBay Certified Provider

By MyStoreCredit.com (Released on: Aug 14, 2009)

FREE way to increase repeat sales by as much as 500%. Easy to use. You control rewards.

Categories: Marketing & merchandising, Research & reporting
eBay Certified Provider

By MyStoreCredit, Inc. (Released on: Aug 18, 2009)

Track your buyer locations – regionally or internationally -- by easily adding a customizable, rotating map to your listings.

Categories: Marketing & merchandising, Shipping & payments
it's ok
by: Review created: Dec 04, 2013
Review:Think you could do more then one at a time out auto schedule it?
---
What they don't tell you...
by: Review created: Oct 18, 2013
4 of 4 people found this review helpful
Review:They imply (but don't say) that eBay will give the discounts to buyers. Not so.

You have to read the Entire agreement before you discover that, no, it's YOU. In my case, I already offer huge discounts and if I sold one on Secret Sale, i would have to sell 31 in the ordinary way just to get my loss back.

Oh, it gets worse. If I had been on vacation the last three days and missed their emails, I would be out of business for weeks. If you don't opt out in Each Individual Sale, you are automatically opted in.

And a bit worse. I called eBay help who knew nothing about it. So I've spent a couple of hours trying to get it off my account. I think I finally stumbled onto how.

Only a single star for this bunch. Onerous is a good word.
---
Sorry this didn't work for me.
by: Review created: Oct 03, 2013
1 of 1 people found this review helpful
Review:I really hoped it would spread the word about our new product. Frankly, the emails are getting annoying to me. I am willing to try it again for holiday shoppers.. since our product is perfect for EBay businesses who do lots of shipping.

---
Good App but no results...yet
by: Review created: Sep 14, 2013
Review:I like this app, it is simple and easy to use. Items are picked randomly or chosen and randomly picked items are rarely repeated. However, the app has sent over 1 mil emails for my products and I have yet to see results. Not sure if it's my items or lack of interested buyers. Will try this app for a bit longer and see what happens.
---
steals all your contacts then spams them BAD
by: Review created: Aug 25, 2013
2 of 2 people found this review helpful
Review:they steal all the emails of your sales then they spam them every single day. BAD
---