Start of layer

eBay Certified Provider Solutions

The eBay Certified Provider Program recognizes third party companies excelling at providing the tools or services for eBay sellers. The Certified Provider designation helps an eBay seller identify providers with the expertise and experience to assist in growing their eBay business. In addition to other criteria, companies must have extensive experience with eBay, pass certification exams and provide a number of proven customer references checked by eBay.

End of layer

- opens in a new window or tab
MyStoreMaps
Release Date: Aug 18, 2009
Categories: Shipping & payments, Marketing & merchandising
Track your buyer locations – regionally or internationally -- by easily adding a customizable, rotating map to your listings.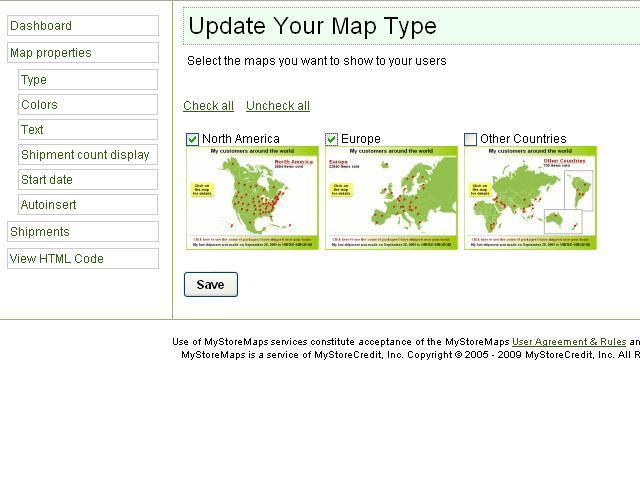 | | |
| --- | --- |
| Supported browsers: | Internet Explorer 6 or later, Firefox 2 or later, Chrome 3 or later, Opera 8 or later |
| Supported languages: | English |
| Supported eBay sites: | ebay.com |
| Required eBay subscriptions: | None |
MyStoreCredit operates both MyStoremaps and MyStoreRewards. MyStoreRewards was awarded PayPal's Most Innovative Application of the Year award in 2006. MyStoreCredit was one of eBay's very first Certified Solution Providers and has been operating on the eBay platform for over 5 years. The company has clients in 52 countries around the world.
Also from the developer
eBay Certified Provider

By MyStoreCredit.com (Released on: Aug 14, 2009)

FREE way to increase repeat sales by as much as 500%. Easy to use. You control rewards.

Categories: Marketing & merchandising, Research & reporting
Great app
by: Review created: Aug 24, 2015
Review:I use this Application to display all the places where by buyers are locate worldwide.
---
Over charges for service.
by: Review created: Aug 20, 2015
Review:I like the idea of the map services but to charge an Ebay seller based on the number of feedbacks is absolutely absurd. The application should give a greater discount to those that already have a high ebay feedback number or should base their fees on the number of items listed using their app. This is a poorly designed fee structure and needs to be corrected of those of us with high feedback will stop using them. The developer got this one backwards. They should be paying the sellers a fee to allow their product on our sales. Any seller with more than 5,000 feedback should get a fee from the developer for using their product. The other problem is that you call their customer service and NO ONE ever answers and if you leave a message they never call you back. Not going to use this App ever again unless they change their fee structure. Way over priced.
---
Love seeing the maps fill
by: Review created: Aug 20, 2015
Review:Adds a level of confidence in a sellers ability to deliver
---
Maps for the Ages!
by: Review created: Aug 18, 2015
Review:Shows buyeers how sucessful you are!
---
i have try to contact support more then 10 times but no one have answer me,not once,i have bill for
by: Review created: Aug 18, 2015
Review:you are billing me but not providing service !!!!
---
Show your customers all over the world, on our world map (which includes North America). Monthly subscription pricing is based on feedback score at the time of your monthly billing, as follows:
Up to 500 feedback: $2.95 per month
501 to 1,500: $3.95 per month
1,501 to 3,000: $4.95 per month
3,001 to 5,000: $8.95 per month
Over 5,000 $12.95 per month
Feedback = your feedback count at time of billing.