Start of layer

eBay Certified Provider Solutions

The eBay Certified Provider Program recognizes third party companies excelling at providing the tools or services for eBay sellers. The Certified Provider designation helps an eBay seller identify providers with the expertise and experience to assist in growing their eBay business. In addition to other criteria, companies must have extensive experience with eBay, pass certification exams and provide a number of proven customer references checked by eBay.

End of layer

- opens in a new window or tab
MyStoreMaps
Release Date: Aug 18, 2009
Categories: Shipping & payments, Marketing & merchandising
Track your buyer locations – regionally or internationally -- by easily adding a customizable, rotating map to your listings.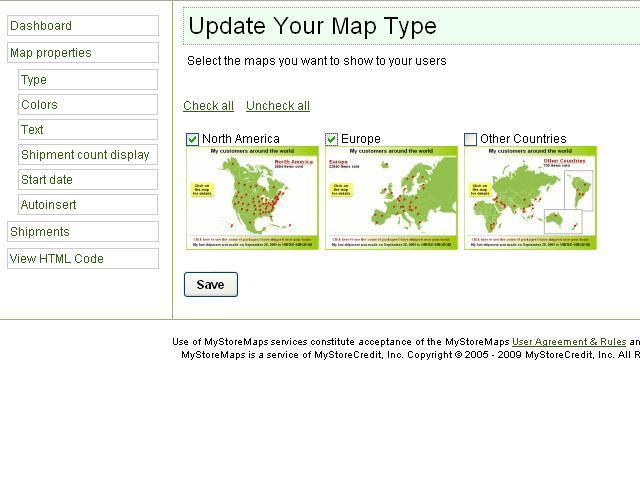 | | |
| --- | --- |
| Supported browsers: | Internet Explorer 6 or later, Firefox 2 or later, Chrome 3 or later, Opera 8 or later |
| Supported languages: | English |
| Supported eBay sites: | ebay.com |
| Required eBay subscriptions: | None |
MyStoreCredit operates both MyStoremaps and MyStoreRewards. MyStoreRewards was awarded PayPal's Most Innovative Application of the Year award in 2006. MyStoreCredit was one of eBay's very first Certified Solution Providers and has been operating on the eBay platform for over 5 years. The company has clients in 52 countries around the world.
Also from the developer
eBay Certified Provider

By MyStoreCredit.com (Released on: Aug 14, 2009)

FREE way to increase repeat sales by as much as 500%. Easy to use. You control rewards.

Categories: Marketing & merchandising, Research & reporting
Good homes found for my Ebay items!
by: Review created: Mar 26, 2015
Review:What a great way to show the world and reassure me that my Ebay items have found good new homes within the United States and Internationally.
---
No New Shipments Have Shown Up On Map Since September, 2014
by: Review created: Mar 20, 2015
Review:I like the Storemaps on my listings, but no new shipments have shown up on my listings since September, 2014. It is now nearing the end of March 2015. Why is this happening?
---
customers love seeing that i do business all over
by: Review created: Mar 19, 2015
Review:nice service, lets my customers know I do business across the ?US.
---
Great App!
by: Review created: Mar 17, 2015
Review:Great app that provides good data to potential customers.
---
Excellent selling tool. Highly recommended.
by: Review created: Mar 16, 2015
Review:Customers can see where you shipped and how many items you shipped. It helps establish trust in the buying experience.
---
Show your customers all over the world, on our world map (which includes North America). Monthly subscription pricing is based on feedback score at the time of your monthly billing, as follows:
Up to 500 feedback: $2.95 per month
501 to 1,500: $3.95 per month
1,501 to 3,000: $4.95 per month
3,001 to 5,000: $8.95 per month
Over 5,000 $12.95 per month
Feedback = your feedback count at time of billing.