Terapeak Keywords
Release Date: Jan 15, 2015
Categories: Marketing & merchandising, Research & reporting
Build your listing titles faster and more effectively using Terapeak Keywords research!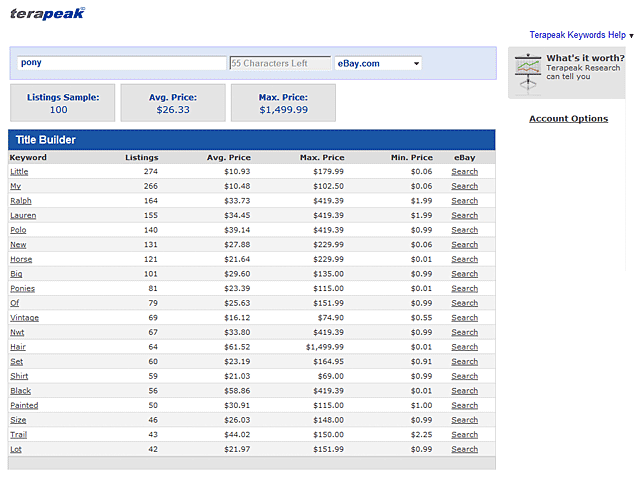 | | |
| --- | --- |
| Supported browsers: | Internet Explorer 6 or later, Firefox 2 or later, Safari 2 or later, Google Chrome |
| Supported languages: | English |
| Supported eBay sites: | ebay.com |
| Required eBay subscriptions: | None |
Terapeak, an eBay Certified Provider, was founded in 2002 by brothers Anthony and Andrew Sukow while running their eBay Power Seller business. Terapeak then quickly established itself as the industry leader for eBay Research and eBay Education by being the first to provide eBay seller, eBay category, eBay Motors Parts and Accessories, and eBay international research. Terapeak is also the only company to focus exclusively on eBay research. Terapeak places focus on eBay Motors Parts, education, innovation and the customer experience. Terapeak also boasts the largest customer base for eBay research and is the fastest growing eBay research and eBay education company.
Also from the developer
By Terapeak (Released on: Aug 14, 2009)

Marketplace research will help you make more money on each sale. Sellers using Terapeak average 65% more profit per sale than other sellers.

Categories: Marketing & merchandising, Research & reporting
Wish I could give this application zero stars.
by: Review created: Jan 24, 2015
Review:I've been an eBay seller for about 4 years now and have just subscribed to the free Terapeak Keywords application. I have one question for you. Are you people brain damaged?

You offer no tips, guides or tutorials for new users. The eBay interface offers none of the resources and options seen when I Google Terapeak for more information (which I shouldn't have to do). There are simply no instructions or steps to follow other than to blindly push ahead by trying to make sense of the inexplicable data that results.

I only used it a short time but it's so self limiting there is no point in continuing. Heck, even your "contact us" page is so rudimentary I can't even see my complete comments all at once, resulting in spelling errors and repeating words.

Um, not confidence inspiring.

Free? Yes.
Easy, time saving and effective? No, no and, definitely, no.

Yeah, no thanks.
---
Awesome tool for eBay sellers a must Have for your eBay Business
by: Review created: Jan 19, 2015
Review:Increase my sales overall by having this Free app
---
Alright but has bugs
by: Review created: Jan 18, 2015
Review:While I id like this app alot , a week after subscription I noticed it did not appear on some listings 1/2015.I am sure it will be worked out and I will try it again in a few months once the bugs have been worked out. I gave it 4 stars because it is a very good app and just needs some tweaking.
---
Application never opened. Sad.
by: Review created: Jan 17, 2015
Review:I can't rate something that DOESN'T WORK.
---
terapeak helps a beginner or a seasoned vet
by: Review created: Jan 11, 2015
Review:I love it it really helps me with everthig I need for using eBay better and more lucrative it's awesome
---