Outright
Release Date: Sep 20, 2013
Categories: Finance & accounting , Inventory
Join the 50,000+ eBay sellers using Outright-GoDaddy Bookkeeping to organize their finances and prepare for taxes. PayPal is now required to report online sales to the IRS, so it's more important than ever to organize your finances. Everyday, automatically, your PayPal, eBay, bank and credit card accounts are organized. Outright imports up to 2 full years of sales history, listing and final value fees, even shipping and PayPal fees. Sign up and receive the eBay Sellers' Tax Guide FREE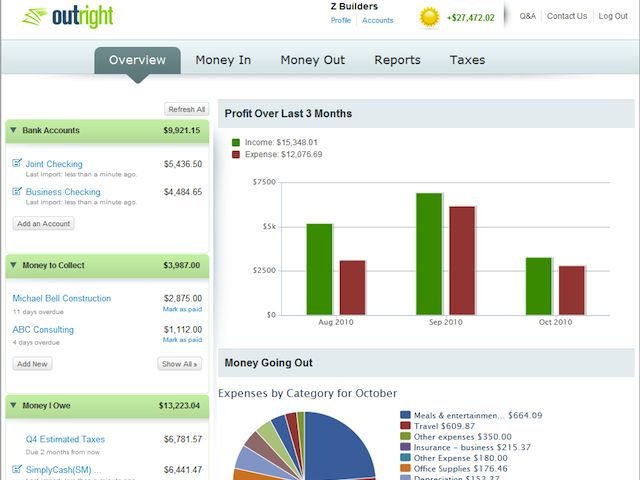 | | |
| --- | --- |
| Supported browsers: | Internet Explorer 7,8 & 9 and Firefox, Safari & Chrome |
| Supported languages: | English |
| Supported eBay sites: | ebay.com |
| Required eBay subscriptions: | None |
Outright is the leading provider of automatic accounting for the self employed with over 120,000 customers. Outright is located in Mountain View CA
GO DADDY*****
by: Review created: Dec 09, 2013
Review:FIVE STARS GOES TO THIS APP, BEST THING THAT EVER HAPPENED TO SMALL BUSINESS!!!! THANK U SO MUCH FOR MAKING LIFE A LITTLE EASIER...GOD BLESS...
---
Great software
by: Review created: Dec 08, 2013
Review:Creates a great overview for sellers to see where their money is coming and going to provide a basis
---
Provides Broad Stroke Accounting Figures at the touch of a Button
by: Review created: Dec 06, 2013
Review:As a finance guy who used to trade on the stock market and switched to trading real inventory instead of paper stock, I Like Numbers. I like to Crunch Them, Play with them and make sure they line up. That said, this is NOT a replacement for a full blown accounting inventory system that I need for my store that has well over 1000 items in stock RAMSAYSVAPOR, but it keeps me abreast of where I am at for the most important ones, especially Profit and loss. The automation is great and I look forward to continued improvements. I set up me ebay account as well as my paypal to cover my website sales, and for the last two months everything has streamlined perfectly. No duplicates, no errors, I am very happy. In one glance, I know where I my bottom line is at.
I haven't used any of the tax portions of it yet, but as the holiday ends and tax time arrives, I am sure I will when I receive that "special K" paperwork from ebay. I am expecting good things.

Try the free period and sing up!
---
Very Well put together
by: Review created: Dec 06, 2013
Review:Good app well done is all I have to say, saves me tuns of money and time.
---
Awesome app. Great job of keeping track of all expenses!
by: Review created: Dec 05, 2013
Review:Does all expense tracking. Great tool for all bookkeeping needs!!
---