Outright
Release Date: Sep 20, 2013
Categories: Finance & accounting , Inventory
Join the 50,000+ eBay sellers using Outright-GoDaddy Bookkeeping to organize their finances and prepare for taxes. PayPal is now required to report online sales to the IRS, so it's more important than ever to organize your finances. Everyday, automatically, your PayPal, eBay, bank and credit card accounts are organized. Outright imports up to 2 full years of sales history, listing and final value fees, even shipping and PayPal fees. Sign up and receive the eBay Sellers' Tax Guide FREE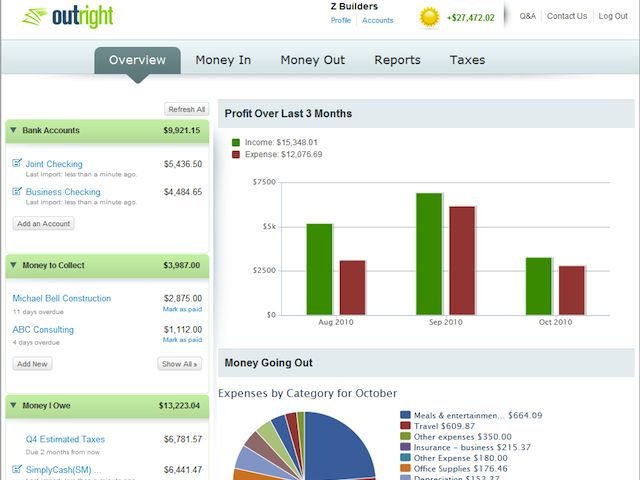 | | |
| --- | --- |
| Supported browsers: | Internet Explorer 7,8 & 9 and Firefox, Safari & Chrome |
| Supported languages: | English |
| Supported eBay sites: | ebay.com |
| Required eBay subscriptions: | None |
Outright is the leading provider of automatic accounting for the self employed with over 120,000 customers. Outright is located in Mountain View CA
VERY BAD
by: Review created: Jul 30, 2015
Review:CAN NOT UNSUBSCRIBE WHATEVER YOU DO.....BE AWARE
---
Great Feature Just not for Me
by: Review created: Jul 29, 2015
Review:Please Cancel this app Thank You TDMLLC
---
There is no phone number.Even urgent can not contact directly suckssssss
by: Review created: Jul 22, 2015
Review:There is no phone number.Even urgent can not contact directly suckssssss
---
having difficulty opening my page on godaddy.....no reports are showing
by: Review created: Jul 19, 2015
Review:nothing is happening on my godaddy page, no reports or anything is coming up, when I try to open it from applications on ebay. This has been going on now for over 2 weeks.
---
Easy way to get your business started on the right foot!
by: Review created: Jul 19, 2015
Review:Excellent easy to use bookkeeping program for small sellers. Tracks sales and income, and allows you to categorize expenses easily. Should make tax time a snap -- your Schedule C prints right from the program.

You can link bank account(s), credit cards, Pay Pal Account, EBay, Etsy, Amazon etc. so that sales and expense data is imported automatically.

They have an ap to use to report mileage and it imports to the bookkeeping system as an expense -- already calculated at the correct IRS allowable rate.

The reports, charts are very helpful in analyzing income and expense data over time. There is even a map that shows which states you do business in -- color coded by volume.

You can also use it to track your time (and to send invoices should you need to do so).

I have been very impressed and have found the application easy to use -- well worth the fee. Just understand that it is not an inventory tracking system.
---
Subscription: Monthly and Annual subscriptions available