Outright
Release Date: Sep 20, 2013
Categories: Finance & accounting , Inventory
Join the 50,000+ eBay sellers using Outright-GoDaddy Bookkeeping to organize their finances and prepare for taxes. PayPal is now required to report online sales to the IRS, so it's more important than ever to organize your finances. Everyday, automatically, your PayPal, eBay, bank and credit card accounts are organized. Outright imports up to 2 full years of sales history, listing and final value fees, even shipping and PayPal fees. Sign up and receive the eBay Sellers' Tax Guide FREE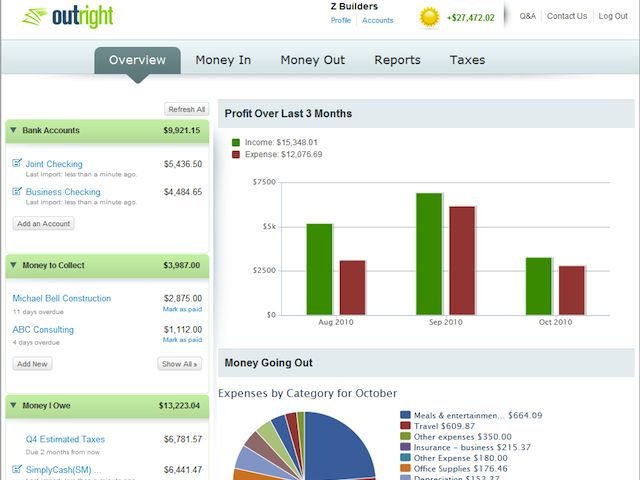 | | |
| --- | --- |
| Supported browsers: | Internet Explorer 7,8 & 9 and Firefox, Safari & Chrome |
| Supported languages: | English |
| Supported eBay sites: | ebay.com |
| Required eBay subscriptions: | None |
Outright is the leading provider of automatic accounting for the self employed with over 120,000 customers. Outright is located in Mountain View CA
totally sucks
by: Review created: Feb 06, 2016
Review:cannot access my account that i upgraded to at 9.99 month. I try to log in and says wrong log in password, so i get new password, then it says doesn't recognize log in. i call customer support and they say Go Daddy cannot help, that they are not affiliated with outright so i should contact them. you look for Outright and every number and website refers you back to Go Daddy. So, I subscribed to something I cannot access, and no one can help with, yet they are charging me 9.99 month! I even tried to cancel this account and open a new one online through the Go Daddy bookkeeping and it will not allow me. Says I am already subscribed, yet the Go Daddy rep Thomas Steinback said my old account is inactive and he cannot find me anywhere in the system and cannot help me. He said to contact Outright, which I cannot find any contact info anywhere for them. I don't know what is going on, but it isn't right. I just want to download all of my info to one application to help file my taxes
---
Great start! So far so good!
by: Review created: Feb 02, 2016
Review:The startup and import was so easy. I am not very tech savvy. Within an hour of getting the app, the past 12 months plus of all my Ebay and Paypal activity was imported saving me tons of data entry. It automatically learns as new vendors are paid classifying expenses and it is so easy to classify the unclassified entries. Love it so far. Highly recommend this app! Money very well spent.
---
Subscription: Monthly and Annual subscriptions available