Outright
Release Date: Sep 20, 2013
Categories: Finance & accounting , Inventory
Join the 50,000+ eBay sellers using Outright-GoDaddy Bookkeeping to organize their finances and prepare for taxes. PayPal is now required to report online sales to the IRS, so it's more important than ever to organize your finances. Everyday, automatically, your PayPal, eBay, bank and credit card accounts are organized. Outright imports up to 2 full years of sales history, listing and final value fees, even shipping and PayPal fees. Sign up and receive the eBay Sellers' Tax Guide FREE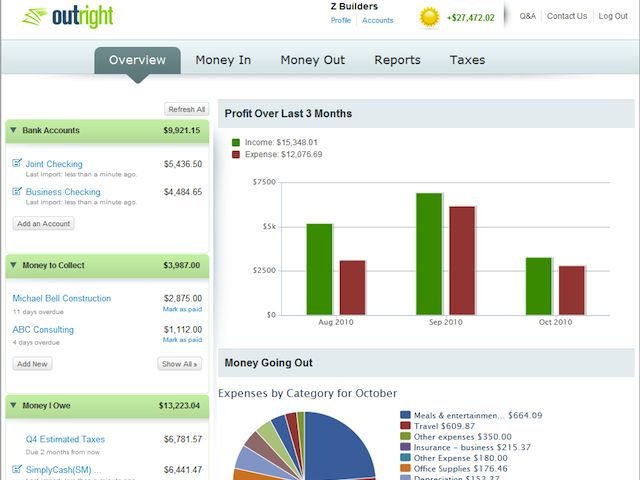 | | |
| --- | --- |
| Supported browsers: | Internet Explorer 7,8 & 9 and Firefox, Safari & Chrome |
| Supported languages: | English |
| Supported eBay sites: | ebay.com |
| Required eBay subscriptions: | None |
Outright is the leading provider of automatic accounting for the self employed with over 120,000 customers. Outright is located in Mountain View CA
Pointless
by: Review created: Nov 20, 2015
Review:This is so unhelpful!! What is the point??
---
Ebay fees are wrong for every month but one!! A waste of money if you have to calculate all anyway!
by: Review created: Nov 18, 2015
Review:All but April's ebay fees are incorrect. I have tried to reach Outright/GoDaddy but hit a dead-end with every turn.

Phone 480-505-8877: was told they had never offered any service through ebay.

Phone 888-518-3339: wrong number; given this number by ebay but is a private individuals housing business number

$65.98 wasted
---
All month UNABLE TO ACCESS even though I was billed for the service
by: Review created: Nov 14, 2015
Review:I have been UNABLE to open my account through EBAY even though I PAID my monthly fee for this service .Call me 714-292-7468 so I can get this working ASAP !
---
BAD
by: Review created: Nov 12, 2015
Review:BAD
---
doesnt work
by: Review created: Nov 11, 2015
Review:I requested a new password, entering my email. They did not send it to me and and I can't access the program. I can't even access the support. I tried three times.
---
Subscription: Monthly and Annual subscriptions available