Outright
Release Date: Sep 20, 2013
Categories: Finance & accounting , Inventory
Join the 50,000+ eBay sellers using Outright-GoDaddy Bookkeeping to organize their finances and prepare for taxes. PayPal is now required to report online sales to the IRS, so it's more important than ever to organize your finances. Everyday, automatically, your PayPal, eBay, bank and credit card accounts are organized. Outright imports up to 2 full years of sales history, listing and final value fees, even shipping and PayPal fees. Sign up and receive the eBay Sellers' Tax Guide FREE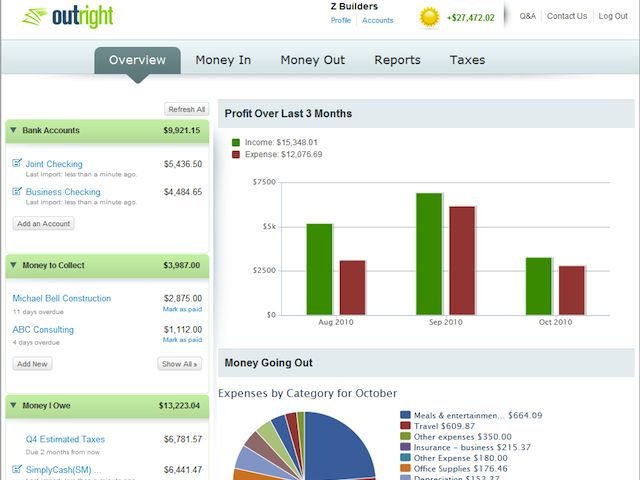 | | |
| --- | --- |
| Supported browsers: | Internet Explorer 7,8 & 9 and Firefox, Safari & Chrome |
| Supported languages: | English |
| Supported eBay sites: | ebay.com |
| Required eBay subscriptions: | None |
Outright is the leading provider of automatic accounting for the self employed with over 120,000 customers. Outright is located in Mountain View CA
Great APP
by: Review created: Mar 09, 2014
Review:Very easy to operate and saves a whole lot of time doing your taxes.
---
Bookkeeping made simple!
by: Review created: Mar 09, 2014
Review:Definitely love all the features of this app, though it is too bad they decided to charge for it this year.
---
Excellent Software for tracking small business financials
by: Review created: Mar 06, 2014
Review:I link my credit cards, ebay, paypal and business bank account to this software. Once set up it takes little maintenance. See your performance quickly on the home screen or dive down to specific transactions or accounts.
I use the free version and I highly recommend it.

The paid version I believe is currently ten dollars month. While it's nice software, I'm not sure its worth that, even with the tax reporting. $5, yes I'd do that. Maybe a one time $25 or $50.

I do have regular problems with refreshing my bank account, currently it's been 10 days since it's synced but all my other accounts sync perfectly. It may be my bank's website. Another knock is that only the current month is shown graphically on the home page. One cannot go back and view a previous month's charts, though the data is all there for years.


Again,I highly recommend the free version, but export your reports for taxes in January because they take that ability away come February unless you're on the premium version.
---
they wont let you go back to the free app, they make it hard to contact them...they suck
by: Review created: Mar 05, 2014
Review:why cant I go back to the free app you fing rip offs!!!!!!

why do you make it impossible to contact you?????
---
Contact us through twitter or facebook? I am not 17, I have neither one
by: Review created: Mar 04, 2014
Review:No response to "support tickets" No other way to contact except Facebook or twitter? I shall be looking for a more professional bookkeeping app immediately
---