Start of layer

eBay Certified Provider Solutions

The eBay Certified Provider Program recognizes third party companies excelling at providing the tools or services for eBay sellers. The Certified Provider designation helps an eBay seller identify providers with the expertise and experience to assist in growing their eBay business. In addition to other criteria, companies must have extensive experience with eBay, pass certification exams and provide a number of proven customer references checked by eBay.

End of layer

- opens in a new window or tab
SecretSale
Release Date: Jul 05, 2011
Categories: Marketing & merchandising
Shhhh! SecretSale is like eBay's Daily Deals only better for all eBay sellers. It is FREE for you to use One of your items per day goes on SecretSale. We promote your item in our daily emails. Only our opted-in buyers know your SecretSale price and buyers have only 48 hours to buy. Don't miss out on the chance to promote your items to these buyers!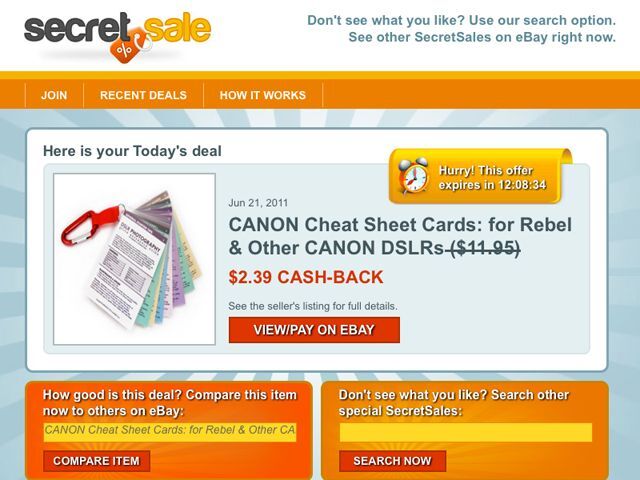 | | |
| --- | --- |
| Supported browsers: | All modern browsers. |
| Supported languages: | English |
| Supported eBay sites: | ebay.com |
| Required eBay subscriptions: | |
OnPagePromotions.com has received more awards from PayPal and eBay than any other external developer. We have successfully handled over 21 million eBay listings and millions of cash-back transactions. We also offer MyStoreRewards, MyStoreMaps, SocialSale, SalesClock and now SecretSale.
Also from the developer
eBay Certified Provider

By MyStoreCredit.com (Released on: Aug 14, 2009)

FREE way to increase repeat sales by as much as 500%. Easy to use. You control rewards.

Categories: Marketing & merchandising, Research & reporting
eBay Certified Provider

By MyStoreCredit, Inc. (Released on: Aug 18, 2009)

Track your buyer locations – regionally or internationally -- by easily adding a customizable, rotating map to your listings.

Categories: Marketing & merchandising, Shipping & payments
I like this very much
by: Review created: Jul 14, 2014
Review:I really like this as it is a way to promote your items. I am not sure that it has lead to any sales but I do enjoy getting that email every day telling me that this item or that item is the featured secret sale item of the day. It is another way to promote your items and get them seen.
---
my customers hate this... find it sketchy and blamed me. deleting it now
by: Review created: Jun 10, 2014
Review:Horrible sketchy app from onpagepromotions.com
---
Final Summary - No noticeable increase in sales BUT terrible resulting problems with eBay
by: Review created: May 18, 2014
Review:The most obvious end result was that there was no noticeable increase in sales, the main reason for subscribing to this app. The real problem, however, came weeks after signing up. When I was contacted by the app people to make a minor change with my PayPal set up, I was very obliging. When we were done we ended up with major changes including a new business PayPal account. Then days later I learned that my customers could not buy anything from my eBay store because the changes caused PayPal to reject any and all payment attempts by customers. Then when trying to work with the app people, PayPal and eBay to resolve my critical problem, the app people were unavailable, and, PayPal and eBay walked away having done nothing. I canceled my subscription to Secret Sale and am now trying to get eBay and PayPal working on my store. eBay and PayPal both made the point that the app, like all of their apps, evidently, work independently of PayPal
---
Pending rewards to an unknown email
by: Review created: Apr 30, 2014
Review:There was pending rewards to an email that was not found to have purchased anything in our account. Removed this app immediately, scam
---
Poor Support and No Follow Through
by: Review created: Mar 04, 2014
Review:They didn't send the rebates to customers and it's been over a week and they haven't responded to their support requests.
---