Outright
Release Date: Sep 20, 2013
Categories: Finance & accounting , Inventory
Join the 50,000+ eBay sellers using Outright-GoDaddy Bookkeeping to organize their finances and prepare for taxes. PayPal is now required to report online sales to the IRS, so it's more important than ever to organize your finances. Everyday, automatically, your PayPal, eBay, bank and credit card accounts are organized. Outright imports up to 2 full years of sales history, listing and final value fees, even shipping and PayPal fees. Sign up and receive the eBay Sellers' Tax Guide FREE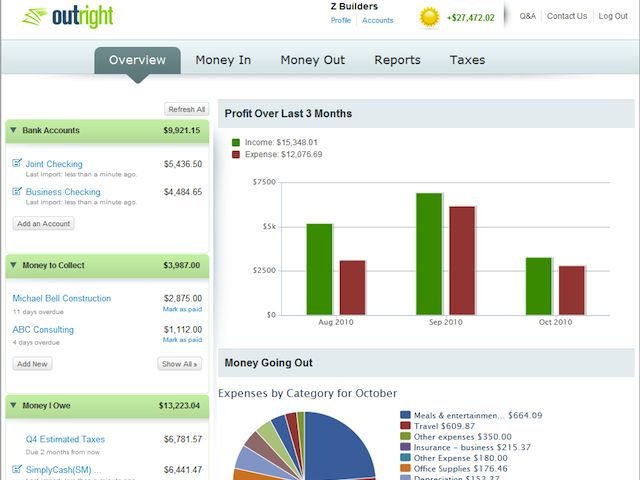 | | |
| --- | --- |
| Supported browsers: | Internet Explorer 7,8 & 9 and Firefox, Safari & Chrome |
| Supported languages: | English |
| Supported eBay sites: | ebay.com |
| Required eBay subscriptions: | None |
Outright is the leading provider of automatic accounting for the self employed with over 120,000 customers. Outright is located in Mountain View CA
great when it was free
by: Review created: Jan 22, 2015
Review:not intuitively easy to use but handy when it was free. NOT WORTH the 9.99 a MONTH. For that much they should be doing my taxes for me. Oh and btw, the exporting your monthly transactions is IMPOSSIBLY complex as GoDaddy has now broken up your transactions into two categories of expenses and two income. Exporting and printing was so much easier before GoDaddy "Organized" it.
---
NO PHONE SUPPORT FOR EBAY SOLD APPLICATION
by: Review created: Jan 22, 2015
Review:DON'T BUY THIS VIA EBAY, THERE IS NO PHONE SUPPORT, you have a question, you write to them, they answer in 24 to 36 hours. WHAT KIND OF SERVICE IS THAT?
---
ZERO Stars! RIPOFF!
by: Review created: Jan 19, 2015
Review:First Outright was free then they switch to GoDaddy Bookkeeping and block you from accessing your data without paying $99/year for subscription. There should have been at least last year access you depended on before blackmailing you to get the data you were told was available. No notice and no trial to see if the new version is even worth it. I will never use GoDaddy agian for anything! eBay should have communicated this switch to us. Now I relied on something for sales tax calculations that I can't access. I would have used other had I known it. GoDaddy agent was a smartA*s used car salesman. Don't trust your data to these scammers! Whoever ok'ed this "service"/vendor at eBay should be fired!
---
Just what I needed
by: Review created: Jan 19, 2015
Review:Application accounts for all action in ebay and paypal. Easy to adjust. Split transaction are no problem.
---
junk
by: Review created: Jan 19, 2015
Review:junk
---
Subscription: Monthly and Annual subscriptions available