Outright
Release Date: Sep 20, 2013
Categories: Finance & accounting , Inventory
Join the 50,000+ eBay sellers using Outright-GoDaddy Bookkeeping to organize their finances and prepare for taxes. PayPal is now required to report online sales to the IRS, so it's more important than ever to organize your finances. Everyday, automatically, your PayPal, eBay, bank and credit card accounts are organized. Outright imports up to 2 full years of sales history, listing and final value fees, even shipping and PayPal fees. Sign up and receive the eBay Sellers' Tax Guide FREE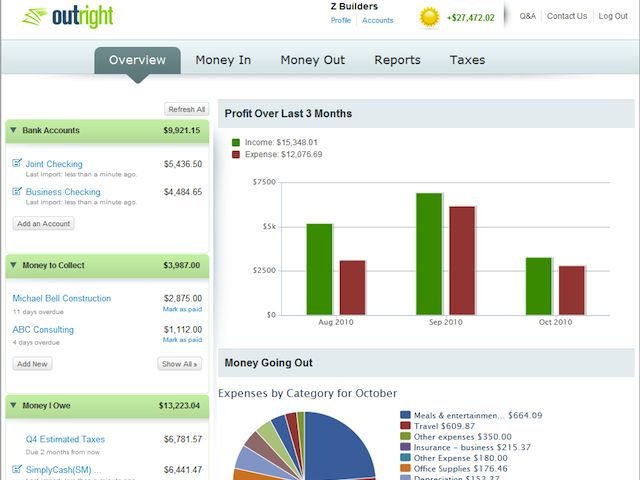 | | |
| --- | --- |
| Supported browsers: | Internet Explorer 7,8 & 9 and Firefox, Safari & Chrome |
| Supported languages: | English |
| Supported eBay sites: | ebay.com |
| Required eBay subscriptions: | None |
Outright is the leading provider of automatic accounting for the self employed with over 120,000 customers. Outright is located in Mountain View CA
Nothing But Trouble
by: Review created: Feb 25, 2015
Review:Since Go Daddy took this over it has been nothing but trouble and now they suddenly are holding my information hostage so I will pay them $9.99. These people are nothing but scam artists and eBay should rid themselves of the headache.
---
Easy to use
by: Review created: Feb 24, 2015
Review:Easy to use and very useful. Works great compared to other bookkeeping tools/software I have used in the past. And definitely better than doing it by hand.
---
Outright is awesome
by: Review created: Feb 23, 2015
Review:I've used it before and it was easy - and now that i have an ebay, an etsy and 3 websites, well its amazing
---
helpful
by: Review created: Feb 22, 2015
Review:the major problem was trying to print the results it was not formatted to fit in a a4 page and was not easy to use
---
not satisfied not accurate
by: Review created: Feb 21, 2015
Review:not accurate
---
Subscription: Monthly and Annual subscriptions available