Start of layer

eBay Certified Provider Solutions

The eBay Certified Provider Program recognizes third party companies excelling at providing the tools or services for eBay sellers. The Certified Provider designation helps an eBay seller identify providers with the expertise and experience to assist in growing their eBay business. In addition to other criteria, companies must have extensive experience with eBay, pass certification exams and provide a number of proven customer references checked by eBay.

End of layer

- opens in a new window or tab
MyStoreMaps
Release Date: Aug 18, 2009
Categories: Shipping & payments, Marketing & merchandising
Track your buyer locations – regionally or internationally -- by easily adding a customizable, rotating map to your listings.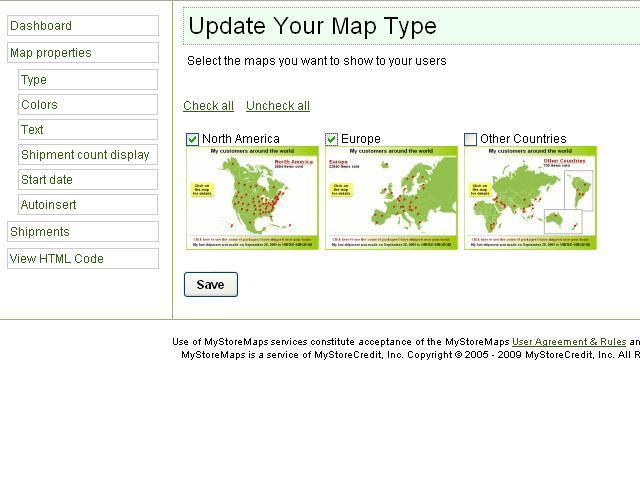 | | |
| --- | --- |
| Supported browsers: | Internet Explorer 6 or later, Firefox 2 or later, Chrome 3 or later, Opera 8 or later |
| Supported languages: | English |
| Supported eBay sites: | ebay.com |
| Required eBay subscriptions: | None |
MyStoreCredit operates both MyStoremaps and MyStoreRewards. MyStoreRewards was awarded PayPal's Most Innovative Application of the Year award in 2006. MyStoreCredit was one of eBay's very first Certified Solution Providers and has been operating on the eBay platform for over 5 years. The company has clients in 52 countries around the world.
Also from the developer
eBay Certified Provider

By MyStoreCredit.com (Released on: Aug 14, 2009)

FREE way to increase repeat sales by as much as 500%. Easy to use. You control rewards.

Categories: Marketing & merchandising, Research & reporting
Love it!
by: Review created: Apr 15, 2014
Review:I love this app! My customers can see that I have shipped items all over the country. I think it offers a level of security. I would have given it 5-stars, IF there were also a world map view.
---
Cool thing
by: Review created: Apr 11, 2014
Review:At the day of installing i sold few items, coincidence?
---
A "no effort, great fun" app
by: Review created: Apr 07, 2014
Review:It's neat to see where sales come from and challenge myself to find ways to sell to different places/markets. So easy to add to an account; almost a "no-brainer"
---
Professional Boost to item, peace of mind
by: Review created: Apr 01, 2014
Review:Professional Boost to item, peace of mind
---
I thought it was pretty cool to see wear all my customers were
by: Review created: Mar 31, 2014
Review:I was very surprised when I saw the map, but I son't know if customers would appreciate knowing their location was on a map even though it wasn't associated with a name in the age of big brother watching I'm not so sure this is a good thing?????
---