Start of layer

eBay Certified Provider Solutions

The eBay Certified Provider Program recognizes third party companies excelling at providing the tools or services for eBay sellers. The Certified Provider designation helps an eBay seller identify providers with the expertise and experience to assist in growing their eBay business. In addition to other criteria, companies must have extensive experience with eBay, pass certification exams and provide a number of proven customer references checked by eBay.

End of layer

- opens in a new window or tab
MyStoreRewards
Release Date: Aug 14, 2009
Categories: Marketing & merchandising, Research & reporting
FREE way to increase repeat sales by as much as 500%. Easy to use. You control rewards.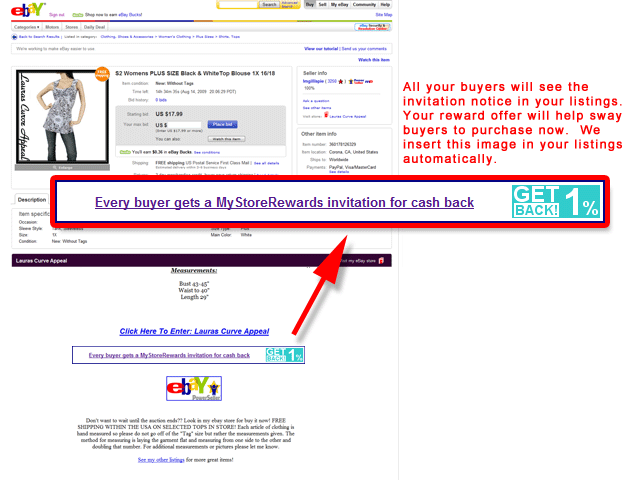 | | |
| --- | --- |
| Supported browsers: | Internet Explorer 6 or later, Firefox 2 or later, Opera 8 or later |
| Supported languages: | English |
| Supported eBay sites: | ebay.com |
| Required eBay subscriptions: | None |
OnPagePromotions.com Also offering SalesClock, SecretSale, SocialSale and MyStoreMaps.
Also from the developer
eBay Certified Provider

By MyStoreCredit, Inc. (Released on: Aug 18, 2009)

Track your buyer locations – regionally or internationally -- by easily adding a customizable, rotating map to your listings.

Categories: Marketing & merchandising, Shipping & payments
Not worth $10 monthly subscription, also very hard to cancel.
by: Review created: Feb 20, 2014
Review:I found this app awkward. It is up to you to check in monthly and issue rewards - not something I have time for. Don't think it's worth the $10.00 a month to subscribe to them - not sure it worth it to customer. Very hard to find the "cancel subscription" - I've paid 3 months ($30.00) just trying to figure out how to cancel. Also once cancelled it is up to YOU to remove their little html banner from the bottom of ALL your listings!
---
Decided against using, customer support was great!
by: Review created: Feb 17, 2014
Review:I changed my mind - decided this app wasn't for me and my customer base because of the small amount of repeat customers and the low number of listings I have active at any given time.

That being said, I got a reply to my cancellation request in just a few minutes and I am very pleased to say it was handled with no problems. If the way they treat people who leave them is any indication of how great they treat active seller customers, this is a great app and company to use!


---
It was hard to delete all html codes from 500 listings!
by: Review created: Feb 09, 2014
Review:It was hard to delete all html codes from 500 listings!
---
Follow up emails are not sent
by: Review created: Feb 04, 2014
0 of 1 people found this review helpful
Review:For the last 4 months I have been having problems with follow up emails being sent to customers, they have stopped and customer service is no help. They bill but cannot be reached by phone ..you get a Magic Jack commercial and then call cannot be completed. Requested my email file which is supposed to be mine and they don't have or will not send. No response. Stay away from this application !
---
good
by: Review created: Jan 29, 2014
Review:good
---