Start of layer

eBay Certified Provider Solutions

The eBay Certified Provider Program recognizes third party companies excelling at providing the tools or services for eBay sellers. The Certified Provider designation helps an eBay seller identify providers with the expertise and experience to assist in growing their eBay business. In addition to other criteria, companies must have extensive experience with eBay, pass certification exams and provide a number of proven customer references checked by eBay.

End of layer

- opens in a new window or tab
MyStoreRewards
Release Date: Aug 14, 2009
Categories: Marketing & merchandising, Research & reporting
FREE way to increase repeat sales by as much as 500%. Easy to use. You control rewards.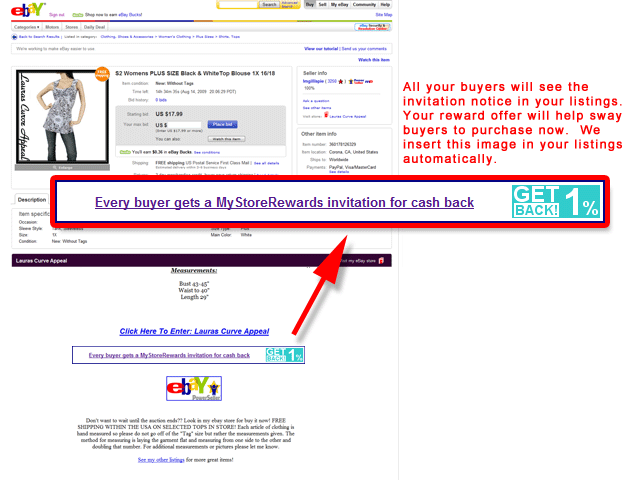 | | |
| --- | --- |
| Supported browsers: | Internet Explorer 6 or later, Firefox 2 or later, Opera 8 or later |
| Supported languages: | English |
| Supported eBay sites: | ebay.com |
| Required eBay subscriptions: | None |
OnPagePromotions.com Also offering SalesClock, SecretSale, SocialSale and MyStoreMaps.
Also from the developer
eBay Certified Provider

By MyStoreCredit, Inc. (Released on: Aug 18, 2009)

Track your buyer locations – regionally or internationally -- by easily adding a customizable, rotating map to your listings.

Categories: Marketing & merchandising, Shipping & payments
not worth it
by: Review created: Jul 05, 2014
Review:6 month NO change in sales. revenue , multiple buys or return buyers. all it did was give customers who signed up money back. with no benefits for me
---
Easy to use, fun for customers and it brings them back.
by: Review created: Jul 02, 2014
Review:Nice for the customers to earn rewards to your ebay store.
---
horrible no customer service and you have to pay on top of what your giving back horrible horrible!!
by: Review created: Jun 30, 2014
Review:their customer service is horrible , how do they service millions of people and you have to leave a message than they never call you back, so now we put that we offer rewards and we cant figure out how to actually give the rewards back and if you have paypal do it you get charged more money to do so. def not worth the headache and whoever runs that company is a smuck.
---
works for me !!
by: Review created: Jun 26, 2014
Review:this is nice to have my buyers really like it
---
Confused my buyers, MADE THEM STOP BUYING MY PRODUCTS!!!
by: Review created: Jun 26, 2014
Review:I went from 20 average sales a day to 3 once I started this awful program. I turned this program off once I realized what it had done, and within one hour after I STOPPED this program I sold 7 of the disks I sell (Which is normal for me). With this program installed I easily lost 100$+ due to confused buyers who decided not to buy my product thanks to this program's confusing system.

BOTTOM LINE:
DO NOT INSTALL THIS PROGRAM!
IT WILL MUTILATE YOUR SALES!
IT CONFUSES BUYERS, SO THEY DON'T BUY YOUR PRODUCTS!
NEVER USE THIS PROGRAM IT WILL RUIN YOUR SALES!!!
DOES NOT HELP YOUR SALES, ONLY HURTS THEM!


---