Start of layer

eBay Certified Provider Solutions

The eBay Certified Provider Program recognizes third party companies excelling at providing the tools or services for eBay sellers. The Certified Provider designation helps an eBay seller identify providers with the expertise and experience to assist in growing their eBay business. In addition to other criteria, companies must have extensive experience with eBay, pass certification exams and provide a number of proven customer references checked by eBay.

End of layer

- opens in a new window or tab
MyStoreRewards
Release Date: Aug 14, 2009
Categories: Marketing & merchandising, Research & reporting
FREE way to increase repeat sales by as much as 500%. Easy to use. You control rewards.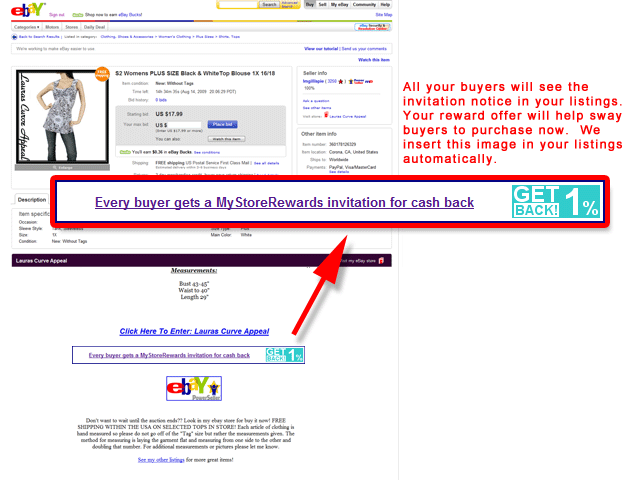 | | |
| --- | --- |
| Supported browsers: | Internet Explorer 6 or later, Firefox 2 or later, Opera 8 or later |
| Supported languages: | English |
| Supported eBay sites: | ebay.com |
| Required eBay subscriptions: | None |
OnPagePromotions.com Also offering SalesClock, SecretSale, SocialSale and MyStoreMaps.
Also from the developer
eBay Certified Provider

By MyStoreCredit, Inc. (Released on: Aug 18, 2009)

Track your buyer locations – regionally or internationally -- by easily adding a customizable, rotating map to your listings.

Categories: Marketing & merchandising, Shipping & payments
CAN'T FIND ANY DETAILS!
by: Review created: Feb 25, 2015
Review:I CAN'T FIND INFORMATION TO SEE IF CLIENTS ARE GETTING THIER REFUNDS,'SUPPORT' TELLS ME ONLY WHAT I'VE TRIED-SHOULD HAVE PHONE CONTACT TO SOLVE ISSUES QUICKLY-THESE ARE PEOPLES ACCOUNTS!
---
Can't get into my MyStoreRewards App!!!
by: Review created: Feb 24, 2015
Review:I just had a customer inform me that they had not received their MyStoreRewards... so I went to check it out and Bammm I get UNAUTHORIZED ACCESS... I have had this app for over 2 years without any problems.... If for some reason I need to re up this app an EMAIL stating this would have been nice. I just put a phone call in lets see if they actually reply
---
Good
by: Review created: Feb 19, 2015
Review:Good
---
Used to work great
by: Review created: Feb 10, 2015
Review:This application used to work great, but not anymore.

I continually reached out to support for help with this issue, but 90% of the time they did not respond.

When they did respond, they sent the same message over and over, that I need to refresh my token.

Whenever I sent an email stating that I did that and still had issues, I would not hear back.

I think MyStore Rewards is too busy making affiliate income off of our sales to provide us with any type of decent support.

0/5 do not recommend.
---
from good to garbage....
by: Review created: Jan 29, 2015
Review:subscribed in early 2013 ....had decent results the rest of that year , but in 2014 the program failed ....for the past year , no e-mails sent to buyers and anytime i try to access the app all i get is an error message that says "UNAUTHORIZED ACCESS"....i currently have no way to access the app , edit my settings , or even delete the app....
---