Start of layer

eBay Certified Provider Solutions

The eBay Certified Provider Program recognizes third party companies excelling at providing the tools or services for eBay sellers. The Certified Provider designation helps an eBay seller identify providers with the expertise and experience to assist in growing their eBay business. In addition to other criteria, companies must have extensive experience with eBay, pass certification exams and provide a number of proven customer references checked by eBay.

End of layer

- opens in a new window or tab
MyStoreRewards
Release Date: Aug 14, 2009
Categories: Marketing & merchandising, Research & reporting
FREE way to increase repeat sales by as much as 500%. Easy to use. You control rewards.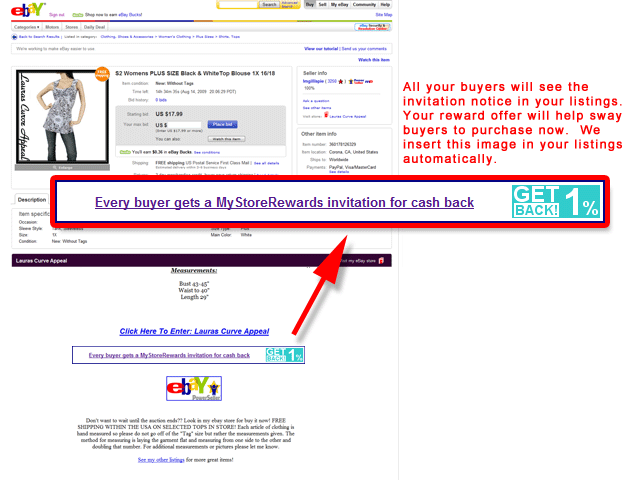 | | |
| --- | --- |
| Supported browsers: | Internet Explorer 6 or later, Firefox 2 or later, Opera 8 or later |
| Supported languages: | English |
| Supported eBay sites: | ebay.com |
| Required eBay subscriptions: | None |
OnPagePromotions.com Also offering SalesClock, SecretSale, SocialSale and MyStoreMaps.
Also from the developer
eBay Certified Provider

By MyStoreCredit, Inc. (Released on: Aug 18, 2009)

Track your buyer locations – regionally or internationally -- by easily adding a customizable, rotating map to your listings.

Categories: Marketing & merchandising, Shipping & payments
has increaded my repeat business with little effort
by: Review created: May 22, 2015
Review:easy and user friendly app!
---
not worth the money, at least to us
by: Review created: May 18, 2015
Review:over the course of 8 months or so using it, we hand double digits as far as taking advantage of it, and only 2 return buyers. even with the free period (90 days I think), we still came out losing like $2 over the course of the subscription.
---
NOT FREE
by: Review created: Apr 08, 2015
Review:THIS APP EXPECTS YOU TO PAY! THE NERVE!
---
great
by: Review created: Mar 15, 2015
Review:love this app to give a little extra added incentive for my customers
---
Too complicated and unrewarding
by: Review created: Mar 11, 2015
Review:Too cumbersome and not easy to use and not clear
---