Start of layer

eBay Certified Provider Solutions

The eBay Certified Provider Program recognizes third party companies excelling at providing the tools or services for eBay sellers. The Certified Provider designation helps an eBay seller identify providers with the expertise and experience to assist in growing their eBay business. In addition to other criteria, companies must have extensive experience with eBay, pass certification exams and provide a number of proven customer references checked by eBay.

End of layer

- opens in a new window or tab
MyStoreRewards
Release Date: Aug 14, 2009
Categories: Marketing & merchandising, Research & reporting
FREE way to increase repeat sales by as much as 500%. Easy to use. You control rewards.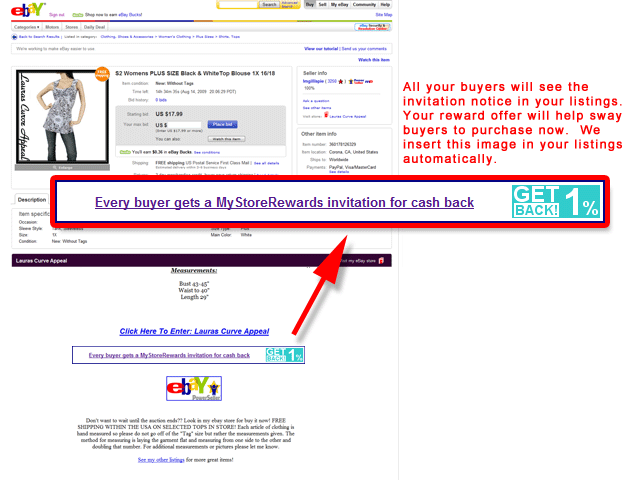 | | |
| --- | --- |
| Supported browsers: | Internet Explorer 6 or later, Firefox 2 or later, Opera 8 or later |
| Supported languages: | English |
| Supported eBay sites: | ebay.com |
| Required eBay subscriptions: | None |
OnPagePromotions.com Also offering SalesClock, SecretSale, SocialSale and MyStoreMaps.
Also from the developer
eBay Certified Provider

By MyStoreCredit, Inc. (Released on: Aug 18, 2009)

Track your buyer locations – regionally or internationally -- by easily adding a customizable, rotating map to your listings.

Categories: Marketing & merchandising, Shipping & payments
good ka
by: Review created: Nov 07, 2014
Review:I hope to buy morw..I just order today
---
I didn't even want this!
by: Review created: Oct 30, 2014
Review:I did not want this apps and I have no idea how it ended up on my account, but once it did I have cancelled it, written to the app twice about getting it off my listings, TRIED to write them trough other means, and finally I tried to call them at their listed phone number. Of course the number didn't work! UGH! And naturally I have just seen a charge for this app go through my PayPal account. There seems to be no one to take account for this mess that is called My Store Rewards, and no way to stop it. Save yourself the headache and don't bother with this apps!
---
The application works well - just not for my business volume
by: Review created: Sep 27, 2014
Review:The app does what it is supposed to do and if I had a higher volume store I would use it. I probably will when I start having repeat customers.
---
It never worked. The rewards were never given to the customer.
by: Review created: Aug 20, 2014
Review:I contacted the company many times. It was an automatic response. they never got back with me. I would not recommend them to anyone.
---
Confusing directions Not recommend
by: Review created: Aug 15, 2014
Review:PayPal reps were not able to help me after being on hold for 26 minutes. I hung up. I will have to call again...love the guidance claim that only a few minutes are required to start this program
---