Terapeak
Release Date: Aug 14, 2009
Categories: Research & reporting, Marketing & merchandising
Marketplace research will help you make more money on each sale. Sellers using Terapeak average 65% more profit per sale than other sellers.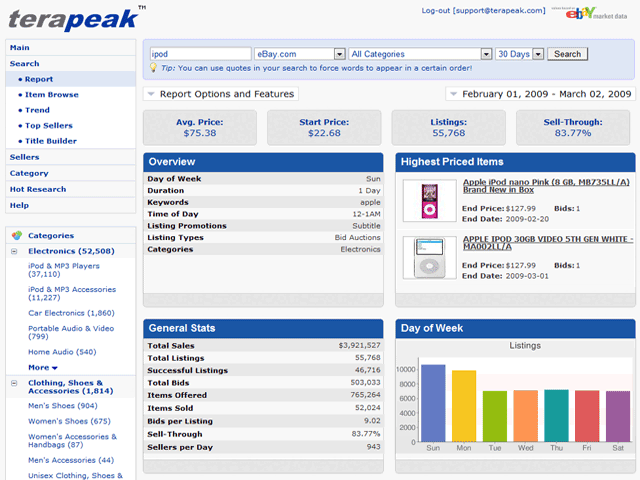 | | |
| --- | --- |
| Supported browsers: | Internet Explorer 6 or later, Firefox 2 or later, Safari 2 or later, Google Chrome |
| Supported languages: | English |
| Supported eBay sites: | ebay.com |
| Required eBay subscriptions: | None |
Terapeak, an eBay Certified Provider, was founded in 2002 by brothers Anthony and Andrew Sukow while running their eBay Power Seller business. Terapeak then quickly established itself as the industry leader for eBay Research and eBay Education by being the first to provide eBay seller, eBay category, eBay Motors Parts and Accessories, and eBay international research. Terapeak is also the only company to focus exclusively on eBay research. Terapeak places focus on eBay Motors Parts, education, innovation and the customer experience. Terapeak also boasts the largest customer base for eBay research and is the fastest growing eBay research and eBay education company.
Also from the developer
By Terapeak.com (Released on: Jan 15, 2015)

Include the most searchable, most valuable keywords for any product in your listing using the free Terapeak Title Builder!

Categories: Marketing & merchandising, Research & reporting
Very expensive for what you get.
by: Review created: Jun 13, 2016
Review:Paid $25 but keeps telling me "No Token Received" and cant get the application to open.
---
Slow, buggy, no support, "no token received" but you received my money
by: Review created: Jun 11, 2016
Review:Slow, buggy, no support, "no token received" but they received my money
---
Technical difficulties - have contacted customer support four times with no response
by: Review created: Mar 22, 2016
Review:We have been unable to access our account for the last month but have been billed. We have contacted customer support numerous times with no response. Disappointing as we used this service daily.
---
Unresponsive Tech Support and Buggy
by: Review created: Feb 09, 2016
Review:Paid for a year subscription and they can't even make it load. 24 hours later, still no response from tech support.
---
excellent for finding single research pieces
by: Review created: Aug 04, 2015
Review:We would rather have access to the Database directly so that OUR system could pull the data and chew it up as we see fit, and to create an action plan in an automated fashion.
---
7 Day Free Trial
Research Advantage eBay.com: $24.95 per month or $224.55 per year
Research Advantage 6 Sites: $39.95 per month or $359.55 per year