Terapeak
Release Date: Aug 14, 2009
Categories: Research & reporting, Marketing & merchandising
Marketplace research will help you make more money on each sale. Sellers using Terapeak average 65% more profit per sale than other sellers.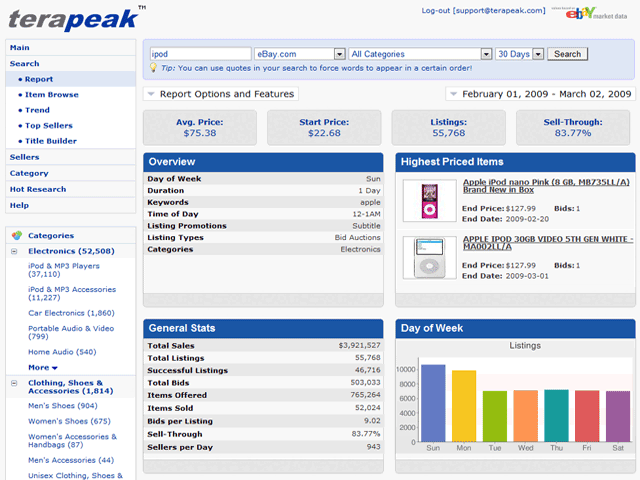 | | |
| --- | --- |
| Supported browsers: | Internet Explorer 6 or later, Firefox 2 or later, Safari 2 or later, Google Chrome |
| Supported languages: | English |
| Supported eBay sites: | ebay.com |
| Required eBay subscriptions: | None |
Terapeak, an eBay Certified Provider, was founded in 2002 by brothers Anthony and Andrew Sukow while running their eBay Power Seller business. Terapeak then quickly established itself as the industry leader for eBay Research and eBay Education by being the first to provide eBay seller, eBay category, eBay Motors Parts and Accessories, and eBay international research. Terapeak is also the only company to focus exclusively on eBay research. Terapeak places focus on eBay Motors Parts, education, innovation and the customer experience. Terapeak also boasts the largest customer base for eBay research and is the fastest growing eBay research and eBay education company.
Also from the developer
By Terapeak.com (Released on: Oct 26, 2009)

Build your listing titles faster and more effectively using Terapeak Keywords research!

Categories: Marketing & merchandising, Research & reporting
Canceled and still billed for 2 months. Sellers you can do Just as good without Terapeak
by: Review created: May 03, 2013
1 of 1 people found this review helpful
Review:All Seller be worn, These apps that ebay offers are not set up for high standards!! No Way to find out the actual day you cancel your account. Then you call ebay, they say they have nothing in it but they do the invoicing, how right is this, they tell you to contact paypal or terapeack, which you can only do by email. Dont you feel if you are paying money to some company they should have some better type of support!! Stay as far away from Terapeak. They said I tried the free trial 2 years ago, thats why I got billed for the 1 month. Well they don't have anything in there app overview about this. And 2 years ago I could not tell you if I did Or didn't try but they should have it in there small print somewhere other than when you click to accept as I found out later, and somewhere in you app history should show when and where I signed up!! Very Bad Customer Service Tell everyone to stay away FROM TERAPEAK
---
This application gets worse and worse.
by: Review created: Feb 15, 2013
1 of 2 people found this review helpful
Review:History is not complete, no images and no details on the majority of completed items, mostly after 90 days of history but many within 90 days. This app is not a good value and would not recommend to anyone. Terapeak has gone downhill over the last couple years and would go so far as to say it's over priced to the point of being a ripoff.
---
7 Day Free Trial
Research Advantage eBay.com: $24.95 per month or $224.55 per year
Research Advantage 6 Sites: $39.95 per month or $359.55 per year