Terapeak
Release Date: Aug 14, 2009
Categories: Research & reporting, Marketing & merchandising
Marketplace research will help you make more money on each sale. Sellers using Terapeak average 65% more profit per sale than other sellers.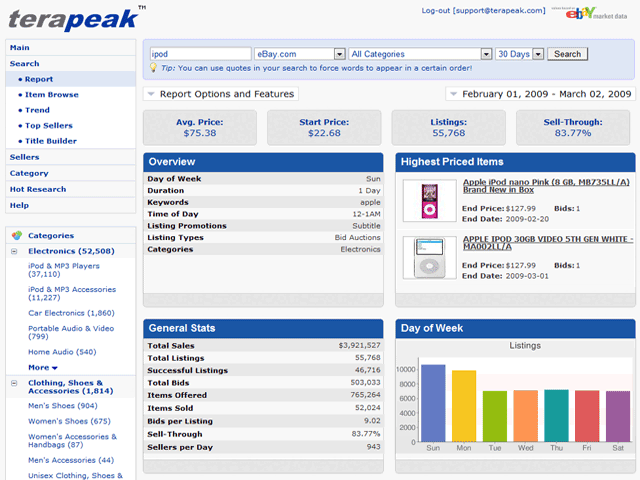 | | |
| --- | --- |
| Supported browsers: | Internet Explorer 6 or later, Firefox 2 or later, Safari 2 or later, Google Chrome |
| Supported languages: | English |
| Supported eBay sites: | ebay.com |
| Required eBay subscriptions: | None |
Terapeak, an eBay Certified Provider, was founded in 2002 by brothers Anthony and Andrew Sukow while running their eBay Power Seller business. Terapeak then quickly established itself as the industry leader for eBay Research and eBay Education by being the first to provide eBay seller, eBay category, eBay Motors Parts and Accessories, and eBay international research. Terapeak is also the only company to focus exclusively on eBay research. Terapeak places focus on eBay Motors Parts, education, innovation and the customer experience. Terapeak also boasts the largest customer base for eBay research and is the fastest growing eBay research and eBay education company.
Also from the developer
By Terapeak.com (Released on: Oct 26, 2009)

Build your listing titles faster and more effectively using Terapeak Keywords research!

Categories: Marketing & merchandising, Research & reporting
Service is great, but if you try and cancel they keep billing you for months
by: Review created: Nov 04, 2013
1 of 1 people found this review helpful
Review:The service is great, but they make it impossible to cancel the service. I closed my account, and they kept billing me for months. Finally I had to remove my payment information to get them to stop removing money. I have contacted their support, and I keep getting the same message that they do not have any control over the billing, and that it is ebay that is doing it. Beware!
---
Don't Leave Home Without IT!!!
by: Review created: Oct 28, 2013
Review:Guys, I wish I could tell you how amazing this app really is...I DO NOT source anywhere without terapeak. I can only imagine how much more money my business would've made this year if I would've been using terapeak from day one..
---
Unclear cancellation instructions
by: Review created: Aug 11, 2013
6 of 6 people found this review helpful
Review:I signed up to use the trial period for a week. Then I got an email how to unsubscribe it by going on Paypal page, but I couldn't find anywhere to cancel it. Then I forgot all about it, 2 months later, I got charged $45 for something that I didn't use. What a rip-off! I asked for refund, the support said the subscription is not refundable and my email was not in the system. I replied them that it could be another email that I used for eBay; they never replied me back. I tried to go on their website, it said my emails had not been registered (but they can charge me!). I unsubscribed on eBay page; don't know if it's gonna cancel.
---
Horrible no free trial they still bill and it did not work I cancel same day
by: Review created: Jul 20, 2013
5 of 5 people found this review helpful
Review:Still having money taken from me. Warning total ripoff can't actually talk to someone.
---
I like the application but just cannot afford it right now it may be good for me in the future.
by: Review created: Jul 07, 2013
1 of 3 people found this review helpful
Review:Very Good Application
---
7 Day Free Trial
Research Advantage eBay.com: $24.95 per month or $224.55 per year
Research Advantage 6 Sites: $39.95 per month or $359.55 per year