Start of layer

eBay Certified Provider Solutions

The eBay Certified Provider Program recognizes third party companies excelling at providing the tools or services for eBay sellers. The Certified Provider designation helps an eBay seller identify providers with the expertise and experience to assist in growing their eBay business. In addition to other criteria, companies must have extensive experience with eBay, pass certification exams and provide a number of proven customer references checked by eBay.

End of layer

- opens in a new window or tab
ShipSaver Shipping App
Release Date: Nov 02, 2009
Categories: Shipping & payments, Checkout
Save money on USPS labels & insurance. Bulk Print and insure - auto sync of tracking #&#39s back to eBay.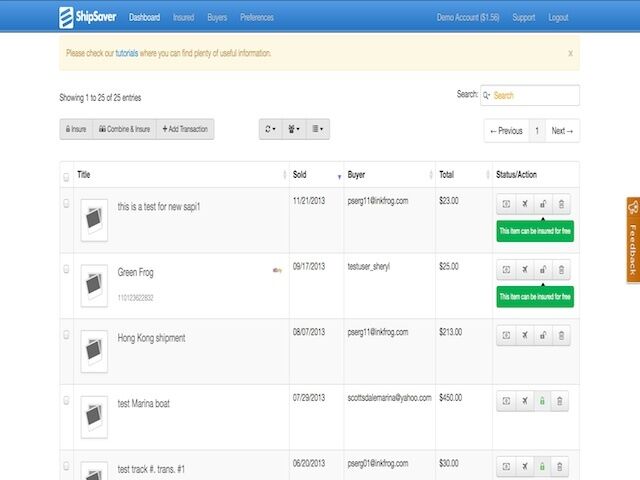 | | |
| --- | --- |
| Supported browsers: | Internet Explorer 8 or later, Firefox 3 or later, Safari 5 or later |
| Supported languages: | English |
| Supported eBay sites: | ebay.com |
| Required eBay subscriptions: | None |
SellerJam, LLC, the parent company of ShipSaver, and Its founders have been providing tools for eBay sellers since 1999. Owned and founded by the same people who founded inkFrog, we pride ourselvers on providing the highest level of service available. Visit us at shipsaver.com
Also from the developer
eBay Certified Provider

By Inkfrog (Released on: Apr 17, 2014)

List to eBay and manage your eBay business faster and easier than ever before. The best app in eBay!

Categories: Listing, Marketing & merchandising
Peace of Mind............................
by: Review created: May 11, 2016
Review:Have been using this app for several months, I went in on my account and set to auto insure for anything over $100. This has been a great peace of mind for my me, I just go in and print the label, and don't worry about adding insurance, as this app automatically adds insurance on their site, and the pricing is better than adding usps insurance when printing label. If you ship a lot, and ship over certain amounts you need to insure, I highly recommend taking a look at this and using for your business. I have had no claims yet (knock on wood), so I cant speak to that, but im betting they handle claims fast and efficient as well.
---
Staff very helpfull
by: Review created: Mar 10, 2016
Review:Hi, I found USPS Insurance to be not at all cost effective for my shipping. started to use shipsaver and had a bunch of questions a month later. I had originaly thought that it was a cause of shipsaver, but had later found it was a cause of something that had happen in another way. Shipsaver saves a lot over USPS and if USPS did a lot better there would be no reason to insure.
---
ShipSaver is a free app. You only pay for the cost of labels and insurance.
ShipSaver Rates:
Commerical Plus pricing on USPS labels (the best you can get!)
USPS Shipping Insurance Domestic - .79c per $100 of coverage up to $2500 ($1000 for First Class Shipments)
USPS Shipping Insurance International - $1.00 per $100 of coverage up to $2500 ($1000 for First Class Shipments)
UPS & Fedex - .60c per $100 after the first $100