Start of layer

eBay Certified Provider Solutions

The eBay Certified Provider Program recognizes third party companies excelling at providing the tools or services for eBay sellers. The Certified Provider designation helps an eBay seller identify providers with the expertise and experience to assist in growing their eBay business. In addition to other criteria, companies must have extensive experience with eBay, pass certification exams and provide a number of proven customer references checked by eBay.

End of layer

- opens in a new window or tab
ShipSaver Insurance
Release Date: Nov 02, 2009
Categories: Shipping & payments, Checkout
Add shipping insurance to all your sold items. Add insurance in bulk, or offer an auto purchase option to buyers and best of all -- no standing in line at the Post Office!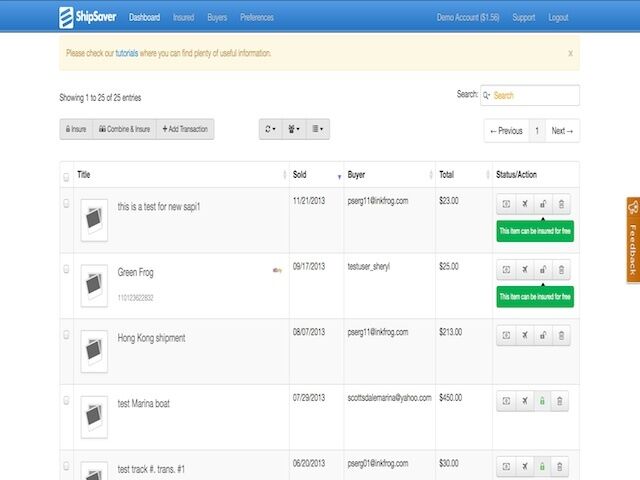 | | |
| --- | --- |
| Supported browsers: | Internet Explorer 8 or later, Firefox 3 or later, Safari 5 or later |
| Supported languages: | English |
| Supported eBay sites: | ebay.com |
| Required eBay subscriptions: | None |
InkFrog, inc. (http://www.inkfrog.com) is a leading provider of listing tools for eBay sellers. We are a Certified Solutions Provider and have been providing tools for eBay Sellers since 2000. Our ShipSaver application is located at http://www.shipsaver.com
Also from the developer
eBay Certified Provider

By Inkfrog (Released on: Apr 17, 2014)

List and manage your eBay listings and messages faster and easier than ever before. 100% FREE. The best app in eBay!

Categories: Listing, Marketing & merchandising
Excellent Service and Communications
by: Review created: Jul 19, 2014
Review:I've used the service for over three years. Finally had the need to file a claim until recently. Good service, communications, and the end result was all you could expect. I'll continue using ShipSaver for each and every shipment!
---
BAD sequence of events
by: Review created: Jul 18, 2014
Review:just trying to use the insurance. reactivated account . reactivated pay pal. account cancelled. Now trying to take money out front in case I use it in the future? What?
I tried to use it. I thought my package was insured. Bad to find out it was not.I reactivated everything yet I am suspended and now have to pay a deposit out front? No thank y
---
Use of Application and Ease of Submitting a Claim
by: Review created: Jul 13, 2014
Review:I have been using Shipsaver Insurance for a while but I just had to submit my first claim.I was very happy with the easy and quickness in which the claim was processed. The refund was put right back into my paypal account.Quick and easy. Would recommend.
Kathy
---
Item was damaged during shipping. Buyer returned item to seller
by: Review created: Jul 13, 2014
Review:Buyer filled out item damage report for Shipsaver. Claim was started for the seller. Buyer received refund from seller and seller received claim payment from Shipsaver within 2 weeks. Both buyer and seller are pleased. Much faster than the post office claim process...
---
ShipSaver provides cost effective insurance coverage and great customer service!
by: Review created: Jul 13, 2014
Review:Shipsaver insurance is affordable, easy to use and accessible entirely online from eBay. Their staff is wonderful and it is our store's experience after using them for the past year to insure our outgoing packages, that they provide excellent assistance when needed. But isn't the true test of an insurance provider what happens when a claim is filed? No problem with ShipSaver. The completion of a simple online form accessed directly from eBay gets the ball rolling and it has been our experience on the few claims we have had to file that in less than a week the claim was resolved and paid into our PayPal account. We could not be more pleased with the timely, efficient and professional service we have received from ShipSaver! We highly recommend them to others.
---
ShipSaver is a free sellers application. You only pay for the cost of insuring your eBay shipments. New users can insure a single (1) $25.00 domestic shipment for free.
ShipSaver Rates:
USPS Shipping Insurance Domestic - .79c per $100 of coverage up to $2500 ($1000 for First Class Shipments)
USPS Shipping Insurance International - $1.00 per $100 of coverage up to $2500 ($1000 for First Class Shipments)
UPS & Fedex - .60c per $100 after the first $100