Start of layer

eBay Certified Provider Solutions

The eBay Certified Provider Program recognizes third party companies excelling at providing the tools or services for eBay sellers. The Certified Provider designation helps an eBay seller identify providers with the expertise and experience to assist in growing their eBay business. In addition to other criteria, companies must have extensive experience with eBay, pass certification exams and provide a number of proven customer references checked by eBay.

End of layer

- opens in a new window or tab
ShipSaver Insurance
Release Date: Nov 02, 2009
Categories: Shipping & payments, Checkout
Add shipping insurance to all your sold items. Add insurance in bulk, or offer an auto purchase option to buyers and best of all -- no standing in line at the Post Office!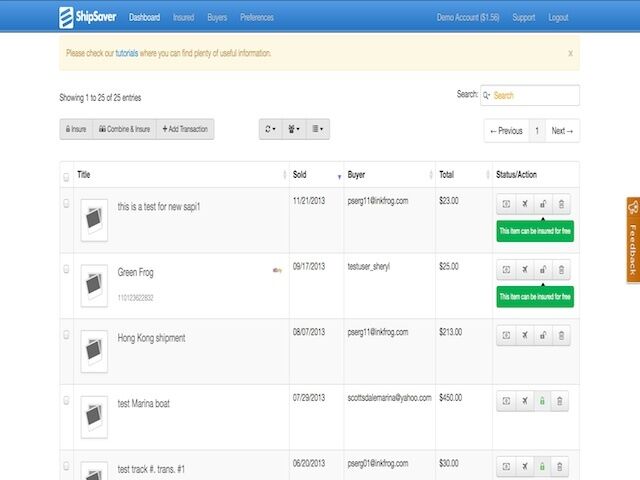 | | |
| --- | --- |
| Supported browsers: | Internet Explorer 8 or later, Firefox 3 or later, Safari 5 or later |
| Supported languages: | English |
| Supported eBay sites: | ebay.com |
| Required eBay subscriptions: | None |
InkFrog, inc. (http://www.inkfrog.com) is a leading provider of listing tools for eBay sellers. We are a Certified Solutions Provider and have been providing tools for eBay Sellers since 2000. Our ShipSaver application is located at http://www.shipsaver.com
great customer service
by: Review created: Apr 13, 2014
Review:Highly recommended
---
an error messages, not able to log in
by: Review created: Apr 11, 2014
Review:not able to insure package when I want: system is giving error message
---
Great claim service- no problems ever!
by: Review created: Apr 03, 2014
Review:We have had a couple of claims over the last several months we have been using shipsaver. Everyone has been handled and paid. Very pleased with this application. Would recommend too others.
---
100% Satisfied
by: Review created: Apr 02, 2014
Review:I have been using ShipSaver since it began. I am always satisfied with this application and grateful to have the ease of insuring my items. ShipSaver is simply one of the best insurance programs around. The ease of using it from start to finish is a bonus. In any contact I have ever had with the team at ShipSaver, they have always replied immediately and are always helpful and professional. In the instances where I have had to file claims, ShipSaver walked me through any issues I had and all I had to do was contact them through email. I feel that ShipSaver is the best insurance program around. The price cannot be beat as well. I feel it is well worth insuring items through ShipSaver without having to charge my customers more money to cover insurance. The ease of use and the contact should you need help being by far the biggest help. I am 100% satisfied with ShipSaver and hope to continue doing business with them.
---
Excellent Service!!
by: Review created: Apr 02, 2014
Review:Always provides excellent service, promptly answers emails and pays claims out quickly.
---
ShipSaver is a free sellers application. You only pay for the cost of insuring your eBay shipments. New users can insure a single (1) $25.00 domestic shipment for free.
ShipSaver Rates:
USPS Shipping Insurance Domestic - .79c per $100 of coverage up to $2500 ($1000 for First Class Shipments)
USPS Shipping Insurance International - $1.00 per $100 of coverage up to $2500 ($1000 for First Class Shipments)
UPS & Fedex - .60c per $100 after the first $100