Start of layer

eBay Certified Provider Solutions

The eBay Certified Provider Program recognizes third party companies excelling at providing the tools or services for eBay sellers. The Certified Provider designation helps an eBay seller identify providers with the expertise and experience to assist in growing their eBay business. In addition to other criteria, companies must have extensive experience with eBay, pass certification exams and provide a number of proven customer references checked by eBay.

End of layer

- opens in a new window or tab
ShipSaver Insurance
Release Date: Nov 02, 2009
Categories: Shipping & payments, Checkout
Add shipping insurance to all your sold items. Add insurance in bulk, or offer an auto purchase option to buyers and best of all -- no standing in line at the Post Office!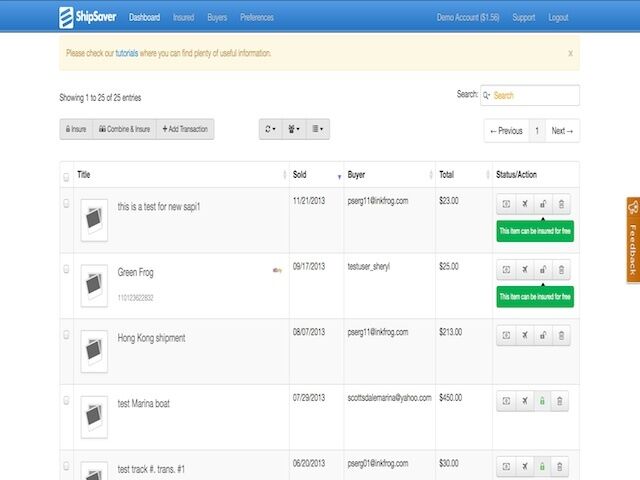 | | |
| --- | --- |
| Supported browsers: | Internet Explorer 8 or later, Firefox 3 or later, Safari 5 or later |
| Supported languages: | English |
| Supported eBay sites: | ebay.com |
| Required eBay subscriptions: | None |
InkFrog, inc. (http://www.inkfrog.com) is a leading provider of listing tools for eBay sellers. We are a Certified Solutions Provider and have been providing tools for eBay Sellers since 2000. Our ShipSaver application is located at http://www.shipsaver.com
Also from the developer
eBay Certified Provider

By Inkfrog (Released on: Apr 17, 2014)

List and manage your eBay listings and messages faster and easier than ever before. 100% FREE. The best app in eBay!

Categories: Listing, Marketing & merchandising
Excellent insurance company!
by: Review created: Mar 23, 2015
Review:ShipSaver insurance is affordable and user friendly. You can insure packages with a couple of clicks. I use it every time I ship a First Class package in the US or international.
---
very satisfied
by: Review created: Mar 23, 2015
Review:Excellent service, excellent communications were prompt and easy.
---
I would not use this service again, beware the fineprint and loopholes, use USPS or UPS insurance.
by: Review created: Mar 19, 2015
Review:My customers item was damaged during transit but because the item description was on the outside of the box my insurance was void (I don't know how that would prevent my item from getting dropped)...did I get a refund? NO. I then discovered about a dozen items I had already shipped were never insured...did I get refunded for all that? NO....thank goodness only one arrived damaged. So just go with USPS or UPS insurance. From my experiences with those carriers they only ask for an image of the damaged item and they pay within a week. Shipsaver asks for 20 documents (which frustrated my customer because I had to keep going back asking him for stuff) and then tells you "sorry, you are not covered". Very disappointed, wish I had never stumbled upon this horrible app. Ebay take note!!!
---
Very poorly designed. Not user friendly.
by: Review created: Mar 08, 2015
Review:Not user friendly.
---
Always nice to have assistance and an automatic reminder to speed things up
by: Review created: Mar 07, 2015
Review:This can make your shipping time go smoother and faster. I used the service in the past and hope it works for you also.
---
ShipSaver is a free sellers application. You only pay for the cost of insuring your eBay shipments. New users can insure a single (1) $25.00 domestic shipment for free.
ShipSaver Rates:
USPS Shipping Insurance Domestic - .79c per $100 of coverage up to $2500 ($1000 for First Class Shipments)
USPS Shipping Insurance International - $1.00 per $100 of coverage up to $2500 ($1000 for First Class Shipments)
UPS & Fedex - .60c per $100 after the first $100