Start of layer

eBay Certified Provider Solutions

The eBay Certified Provider Program recognizes third party companies excelling at providing the tools or services for eBay sellers. The Certified Provider designation helps an eBay seller identify providers with the expertise and experience to assist in growing their eBay business. In addition to other criteria, companies must have extensive experience with eBay, pass certification exams and provide a number of proven customer references checked by eBay.

End of layer

- opens in a new window or tab
ShipSaver Insurance
Release Date: Nov 02, 2009
Categories: Shipping & payments, Checkout
Add shipping insurance to all your sold items. Add insurance in bulk, or offer an auto purchase option to buyers and best of all -- no standing in line at the Post Office!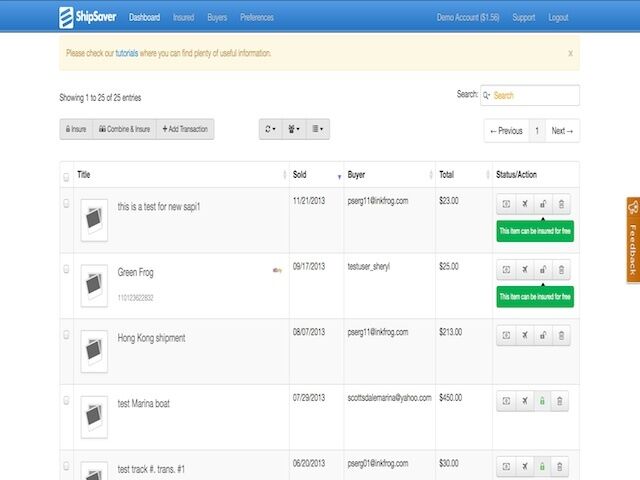 | | |
| --- | --- |
| Supported browsers: | Internet Explorer 8 or later, Firefox 3 or later, Safari 5 or later |
| Supported languages: | English |
| Supported eBay sites: | ebay.com |
| Required eBay subscriptions: | None |
InkFrog, inc. (http://www.inkfrog.com) is a leading provider of listing tools for eBay sellers. We are a Certified Solutions Provider and have been providing tools for eBay Sellers since 2000. Our ShipSaver application is located at http://www.shipsaver.com
Used to be great before automatically pulling funds out of PayPal.
by: Review created: Mar 10, 2014
Review:I don't understand the need to draw money automatically out of my PayPal account. all of a sudden This move is clearly catered towards large sellers who can afford to keep a balance vested strictly towards insurance. By doing this, you're also cutting out small businesses who don't insure all of their packages, such as myself. This is a foolish move on your part. I will now be insuring directly through my carrier.
---
Excellent-worked great!
by: Review created: Mar 07, 2014
Review:Just had to submit my first claim-it was easy and fast. Very happy!
---
constant issues trying to access account
by: Review created: Mar 04, 2014
Review:unable to access shipping info, so cannot add the insurance. Ongoing compatibility issues with windows7/Google Chrome.

---
TOO PRICEY
by: Review created: Mar 01, 2014
Review:$.75 on a $5.00 item!
I'll take my chances
Disabled it
---
I LOVE ShipSaver
by: Review created: Feb 26, 2014
Review:I love ShipSaver! I love Emma too, she is very helpful, kind and patient! She has helped me and my husband a few times over the years of using shipsaver!
---
ShipSaver is a free sellers application. You only pay for the cost of insuring your eBay shipments. New users can insure a single (1) $25.00 domestic shipment for free.
ShipSaver Rates:
USPS Shipping Insurance Domestic - .79c per $100 of coverage up to $2500 ($1000 for First Class Shipments)
USPS Shipping Insurance International - $1.00 per $100 of coverage up to $2500 ($1000 for First Class Shipments)
UPS & Fedex - .60c per $100 after the first $100