Start of layer

eBay Certified Provider Solutions

The eBay Certified Provider Program recognizes third party companies excelling at providing the tools or services for eBay sellers. The Certified Provider designation helps an eBay seller identify providers with the expertise and experience to assist in growing their eBay business. In addition to other criteria, companies must have extensive experience with eBay, pass certification exams and provide a number of proven customer references checked by eBay.

End of layer

- opens in a new window or tab
ShipSaver Shipping App
Release Date: Nov 02, 2009
Categories: Shipping & payments, Checkout
Save money on USPS labels & insurance. Bulk Print and insure - auto sync of tracking #&#39s back to eBay.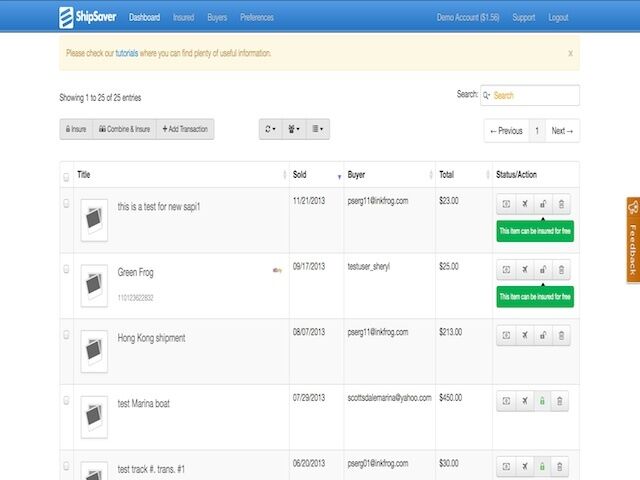 | | |
| --- | --- |
| Supported browsers: | Internet Explorer 8 or later, Firefox 3 or later, Safari 5 or later |
| Supported languages: | English |
| Supported eBay sites: | ebay.com |
| Required eBay subscriptions: | None |
SellerJam, LLC, the parent company of ShipSaver, and Its founders have been providing tools for eBay sellers since 1999. Owned and founded by the same people who founded inkFrog, we pride ourselvers on providing the highest level of service available. Visit us at shipsaver.com
Also from the developer
eBay Certified Provider

By Inkfrog (Released on: Apr 17, 2014)

List to eBay and manage your eBay business faster and easier than ever before. The best app in eBay!

Categories: Listing, Marketing & merchandising
Bad service. They let you pay for insurance for items they wont cover.
by: Review created: Jan 21, 2016
Review:Bad service. They let you pay for insurance for items they wont cover. Avoid.
---
A Tremendously Helpful Service
by: Review created: Jan 03, 2016
Review:The service this application offers saves time, money, and resources when it comes to shipping and insuring our eBay items.
---
Absolutey love this !
by: Review created: Nov 08, 2015
Review:I use this insurance on many of my items, they have great customer service. I am so glad that they are available to us.
---
Excellent claims service from Shipsaver with a very difficult buyer
by: Review created: Oct 23, 2015
Review:My buyer received an item that was damaged in transit and because it was insured I initiated the claims process. My buyer absolutely refused to assist me in filing a claim for the damaged item. According to my buyer since I bought the insurance she didn't feel the need to do anything and wouldn't complete the documents to verify the claim. I don't know why because the claims process with Shipsaver is so simple. Once they verify the claim the insured is reimbursed. It's nothing like other carriers where you wait weeks to get a response. When you contact Shipsaver you get an immediate email response to your inquiries. Shipsaver did process the claim without my buyer because I had the documentation that the item was damaged. What's really impressive is their turn around time. Other companies don't provide such speedy claims service. It is easy to reach someone by phone if you need help. I love Shipsaver and will use them for all my insured packages.
---
A valuable tool for many online sellers
by: Review created: Oct 19, 2015
Review:I've been using Shipsaver for three years and it was only a matter of time before filing a claim became necessary. There weren't many steps on my (the seller's) part, and it was simple for my buyer as well. Turnaround on the claim was quick - just a week or so from claim to resolution! At one point I needed to contact customer service with a question and the the rep was friendly and answered my question satisfactorily. Insurance is one of those products that you infrequently see any benefit from but when you need it, it well might end up paying for itself.
---
ShipSaver is a free app. You only pay for the cost of labels and insurance.
ShipSaver Rates:
Commerical Plus pricing on USPS labels (the best you can get!)
USPS Shipping Insurance Domestic - .79c per $100 of coverage up to $2500 ($1000 for First Class Shipments)
USPS Shipping Insurance International - $1.00 per $100 of coverage up to $2500 ($1000 for First Class Shipments)
UPS & Fedex - .60c per $100 after the first $100