Start of layer

eBay Certified Provider Solutions

The eBay Certified Provider Program recognizes third party companies excelling at providing the tools or services for eBay sellers. The Certified Provider designation helps an eBay seller identify providers with the expertise and experience to assist in growing their eBay business. In addition to other criteria, companies must have extensive experience with eBay, pass certification exams and provide a number of proven customer references checked by eBay.

End of layer

- opens in a new window or tab
ShipSaver Insurance
Release Date: Nov 02, 2009
Categories: Shipping & payments, Checkout
Add shipping insurance to all your sold items. Add insurance in bulk, or offer an auto purchase option to buyers and best of all -- no standing in line at the Post Office!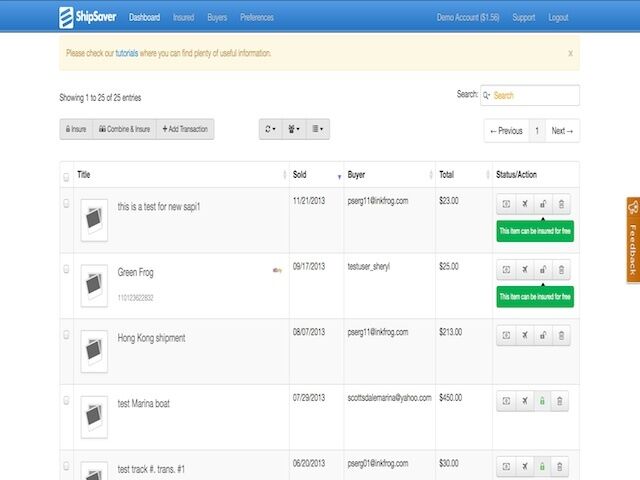 | | |
| --- | --- |
| Supported browsers: | Internet Explorer 8 or later, Firefox 3 or later, Safari 5 or later |
| Supported languages: | English |
| Supported eBay sites: | ebay.com |
| Required eBay subscriptions: | None |
InkFrog, inc. (http://www.inkfrog.com) is a leading provider of listing tools for eBay sellers. We are a Certified Solutions Provider and have been providing tools for eBay Sellers since 2000. Our ShipSaver application is located at http://www.shipsaver.com
Also from the developer
eBay Certified Provider

By Inkfrog (Released on: Apr 17, 2014)

List and manage your eBay listings and messages faster and easier than ever before. 100% FREE. The best app in eBay!

Categories: Listing, Marketing & merchandising
Great price for peace of mind.
by: Review created: Sep 23, 2014
Review:Great price for peace of mind.
Never had to file so no comment on this area.
---
Shipping Security at it's BEST!
by: Review created: Sep 09, 2014
Review:Unfortunately, I had to file a claim for an item I shipped that arrived at its destination broken. But, thankfully, it was TOTALLY painless with ShipSaver! I filed immediately upon receipt of information that the item was broken. Within a very short time I received an email back acknowledging my claim. Upon ShipSaver's review of my claim it was PAID IN FULL within 48 hours and I refunded the original recipient! I was happy and my recipient was happy! I use ShipSaver for ALL of my packages and now am SO GLAD I do! Thanks ShipSaver!
---
Affordable Insurance with First Class Service
by: Review created: Sep 09, 2014
Review:ShipSaver does business the simple way. They charge a fee for insuring a package, and you get paid if there's an issue. Their app is very easy to use, from insuring a package to filing a claim. Best of all, you only pay for the items you choose to insure. Don't be fooled by the brags of other insurances. Give them a try. You'll be happy you did.
---
Never a Problem
by: Review created: Sep 09, 2014
Review:Fortunately, I do not have to make many claims, but when I do, shipsaver is always super! They give a fast response, and settle the claims very quickly. It is also super easy to insure shipments. I have never had any problems with this company. Highly recommend!
---
Great customer service
by: Review created: Sep 08, 2014
Review:Friendly and personable folks. No canned messages here but people you can actually email and talk to. Always an easy transaction.
---
ShipSaver is a free sellers application. You only pay for the cost of insuring your eBay shipments. New users can insure a single (1) $25.00 domestic shipment for free.
ShipSaver Rates:
USPS Shipping Insurance Domestic - .79c per $100 of coverage up to $2500 ($1000 for First Class Shipments)
USPS Shipping Insurance International - $1.00 per $100 of coverage up to $2500 ($1000 for First Class Shipments)
UPS & Fedex - .60c per $100 after the first $100