Start of layer

eBay Certified Provider Solutions

The eBay Certified Provider Program recognizes third party companies excelling at providing the tools or services for eBay sellers. The Certified Provider designation helps an eBay seller identify providers with the expertise and experience to assist in growing their eBay business. In addition to other criteria, companies must have extensive experience with eBay, pass certification exams and provide a number of proven customer references checked by eBay.

End of layer

- opens in a new window or tab
ShipSaver Insurance
Release Date: Nov 02, 2009
Categories: Shipping & payments, Checkout
Add shipping insurance to all your sold items. Add insurance in bulk, or offer an auto purchase option to buyers and best of all -- no standing in line at the Post Office!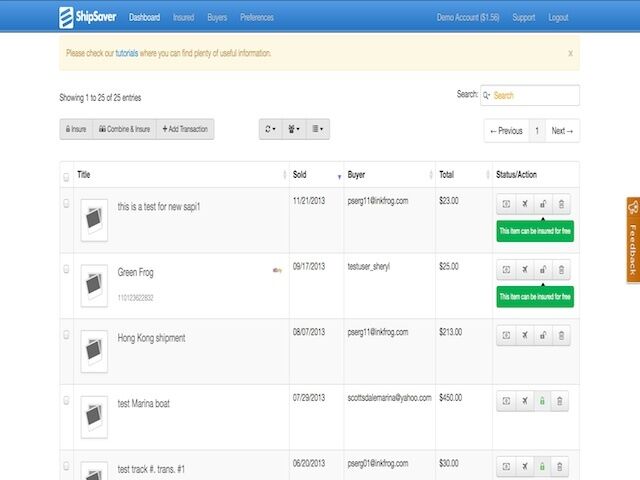 | | |
| --- | --- |
| Supported browsers: | Internet Explorer 8 or later, Firefox 3 or later, Safari 5 or later |
| Supported languages: | English |
| Supported eBay sites: | ebay.com |
| Required eBay subscriptions: | None |
InkFrog, inc. (http://www.inkfrog.com) is a leading provider of listing tools for eBay sellers. We are a Certified Solutions Provider and have been providing tools for eBay Sellers since 2000. Our ShipSaver application is located at http://www.shipsaver.com
Also from the developer
eBay Certified Provider

By Inkfrog (Released on: Apr 17, 2014)

List and manage your eBay listings and messages faster and easier than ever before. 100% FREE. The best app in eBay!

Categories: Listing, Marketing & merchandising
Great servivce with a few limitations
by: Review created: Aug 28, 2014
Review:Easy to use and automate but does not handle multiple package shipping unless you first cancel the auto insurance and the re insure with the multiple packages, this causes you to lose the discounts for automatic insurance.
---
I was wrong in leaving a bad review
by: Review created: Aug 21, 2014
Review:Shipsaver did pay my claim and I was wrong in the bad review left. The time to pay the claim was outside what I thought it should have been but they DID pay the claim.
---
This application
by: Review created: Aug 21, 2014
Review:I had to file a claim recently, and I was able to keep my customer happy without wasting hours of time thanks to the ease of completing a claim and the help of their representative. I am so glad there is an application available that makes it possible to not have to worry about shipments getting lost or damaged.
---
Shipsaver came through for me in the end.
by: Review created: Aug 15, 2014
Review:I recently had to file my first claim for an item which, according to my buyer, was damaged in transit. Initially I had some problems due to the buyer not providing complete evidence of damages (packaging was thrown away) but eventually this was ironed out and I received payment in full. I would definitely recommend this insurer, just make sure buyers keep the original shipment packaging for a smoother claims process.
---
Excellent, reliable, easy to understand and great cust svc!
by: Review created: Aug 15, 2014
Review:The best insurer i've found yet. You can count on them. Recently had to file two claims for 2 items lost in the mail to France. Wasnt a lot of work to file, and they refunded in full, promptly, right to my paypal account. Awesome, for peace of mind at a reasonable price.
---
ShipSaver is a free sellers application. You only pay for the cost of insuring your eBay shipments. New users can insure a single (1) $25.00 domestic shipment for free.
ShipSaver Rates:
USPS Shipping Insurance Domestic - .79c per $100 of coverage up to $2500 ($1000 for First Class Shipments)
USPS Shipping Insurance International - $1.00 per $100 of coverage up to $2500 ($1000 for First Class Shipments)
UPS & Fedex - .60c per $100 after the first $100