Start of layer

eBay Certified Provider Solutions

The eBay Certified Provider Program recognizes third party companies excelling at providing the tools or services for eBay sellers. The Certified Provider designation helps an eBay seller identify providers with the expertise and experience to assist in growing their eBay business. In addition to other criteria, companies must have extensive experience with eBay, pass certification exams and provide a number of proven customer references checked by eBay.

End of layer

- opens in a new window or tab
ShipSaver Insurance
Release Date: Nov 02, 2009
Categories: Shipping & payments, Checkout
Add shipping insurance to all your sold items. Add insurance in bulk, or offer an auto purchase option to buyers and best of all -- no standing in line at the Post Office!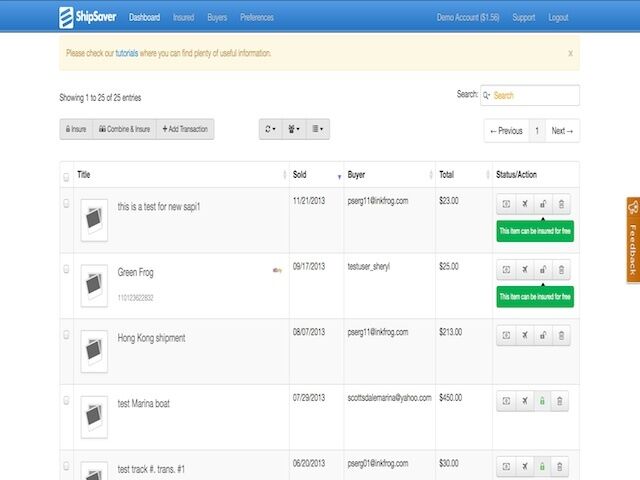 | | |
| --- | --- |
| Supported browsers: | Internet Explorer 8 or later, Firefox 3 or later, Safari 5 or later |
| Supported languages: | English |
| Supported eBay sites: | ebay.com |
| Required eBay subscriptions: | None |
InkFrog, inc. (http://www.inkfrog.com) is a leading provider of listing tools for eBay sellers. We are a Certified Solutions Provider and have been providing tools for eBay Sellers since 2000. Our ShipSaver application is located at http://www.shipsaver.com
Also from the developer
eBay Certified Provider

By Inkfrog (Released on: Apr 17, 2014)

List and manage your eBay listings and messages faster and easier than ever before. 100% FREE. The best app in eBay!

Categories: Listing, Marketing & merchandising
Don't waste your money on this insurance co.! They don't cover Precious Metals
by: Review created: Jan 20, 2015
Review:This is the worst insurance company that I ever dealt with! You take my hard earn money and don't make the effort to let us know that our items won't be insured due your regulations. I will not recommend your service to anybody!
---
A+++ app, exceptional customer service, immeasurably better than USPS. Try it out
by: Review created: Dec 18, 2014
Review:I can't recommend Ship Saver highly enough to any
---
Poor communication
by: Review created: Dec 17, 2014
Review:Normally I would have given this app a four or five star rating as it is one of the most cost effective insurance options. However, recently my "payment authorization" expired on my account and quite a few items were not auto insured - shipsaver never sent me any kind of e-mail alerting me of this so now about a months worth of packages have no insurance and they refuse to help me. They are cheap, but DON'T COUNT ON YOUR ITEMS TO BE AUTO INSURED!
---
Easy transaction
by: Review created: Dec 14, 2014
Review:I've been using ShipSaver for select shipped items. I recently shipped to China and the package was lost in transit. I opened a claim with ShipSaver. I found it to be easy, straight forward and speedy. My claim was approved and paid within a few days after requested information was provided. Impressive!
---
Best insurance experience I've ever used! Only had one claim, and it was painless, paid out quick!
by: Review created: Dec 14, 2014
Review:I set my preferences to automatically insure all sales over a certain dollar amount. Set it and forget it, it takes care of it all for HALF of what you'd pay with Postal Insurance rates! It saves me money, saves me time, and best of all, when the one incident occurred, they paid the claim with little work on my part! Five Stars!
---
ShipSaver is a free sellers application. You only pay for the cost of insuring your eBay shipments. New users can insure a single (1) $25.00 domestic shipment for free.
ShipSaver Rates:
USPS Shipping Insurance Domestic - .79c per $100 of coverage up to $2500 ($1000 for First Class Shipments)
USPS Shipping Insurance International - $1.00 per $100 of coverage up to $2500 ($1000 for First Class Shipments)
UPS & Fedex - .60c per $100 after the first $100