Start of layer

eBay Certified Provider Solutions

The eBay Certified Provider Program recognizes third party companies excelling at providing the tools or services for eBay sellers. The Certified Provider designation helps an eBay seller identify providers with the expertise and experience to assist in growing their eBay business. In addition to other criteria, companies must have extensive experience with eBay, pass certification exams and provide a number of proven customer references checked by eBay.

End of layer

- opens in a new window or tab
ezSupport for eBay
Release Date: Aug 14, 2009
Categories: Customer support, Shipping & payments
EARN AD $$ while supporting your customers with a FREE help desk. Searchable FAQs, Chat, Ticketing, Returns & more -- all for FREE.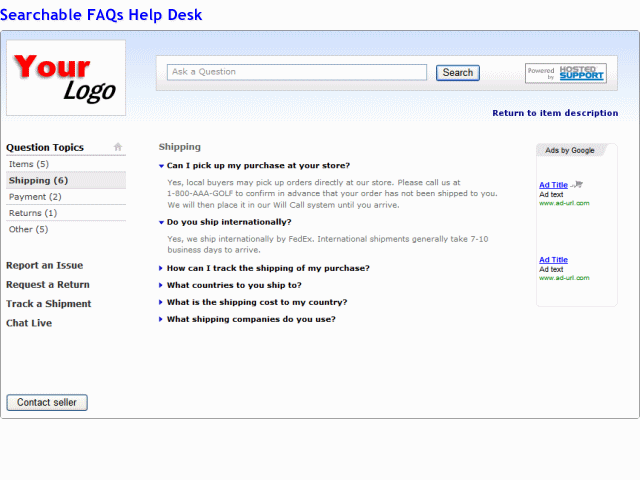 | | |
| --- | --- |
| Supported browsers: | Internet Explorer 6 or later, Firefox 2 or later, Safari 3 or later, Chrome |
| Supported languages: | English |
| Supported eBay sites: | ebay.com |
| Required eBay subscriptions: | None |
Hosted Support is a leading provider of affordable, web-based customer support tools for growing businesses. Its easy-to-use system helps eliminate many of the pains your business faces, yet is robust and scalable so it can expand to meet your business needs. Hosted Support's customer support applications are designed for rapid implementation and minimal product training. Businesses using Hosted Support deal with fewer customer support issues, while increasing customer retention. Hosted Support was established in 2003 and is headquartered in Los Angeles, California.
Just what I needed
by: Review created: Jan 21, 2016
Review:Looking for the perfect tool I didn't even think they made something like this I was always wondering if there would be a app like this it's pefiwct the best thing now is if it worked with Usps and was able to room a case automatically that would really be great and save a lot of time
---
SELLERS BEWARE....
by: Review created: Jan 15, 2015
Review:Only trail this product if you are 100% committed to using it and have the time to get everything set up properly. I trialed this app in the hopes of providing better customer support. What I found is that it did the opposite. After playing around with this app, I decided not to continue it because it wasn't exactly what I wanted. What I wasn't aware of is that even though I had deactivated the app from my ebay account, it still continues on your account. As a result of this all of my customers could not contact me via ebay after the sale and cost me several negative defects to my ebay account. If you read the reviews you will see that I am not the only one who has complained about such things. Sellers Beware!!!
---
Disrupted Communications With Customers Long After Unsubscribing
by: Review created: Sep 02, 2013
2 of 2 people found this review helpful
Review:Back in June of 2013 I quickly unsubscribed from this program within a day or 2 and still had customer emails being rerouted to ezSupport until August 31st!?! Since I found that ezSupport wasn't what I needed, I never completed any of the input the app requires to function. In return, literally months after unsubscribing from this app, my customers were getting 0 information from either me or ezSupport! In fact, it was so bad that I ended up with 3 negative scores in almost as many weeks! All 3 were directly caused by total lack of communication from me which is exactly the opposite of the type of customer support I was well known for. My feedback proves this but now looks bad with 3 negative reviews
---
Earn $$ from Google ads on your help desk!
Ad-Supported - Only pay $9.95/month/support rep if you choose to remove help desk ads.
Free 30-day trial with help desk ads removed.

Free Searchable FAQs help desk - Unlimited FAQs, unlimited usage
Free FAQ search reports
Free Contact Manager
Free modules for Messaging, Problem Ticketing, Returns & Shipments, POP Email, and Chat