eZ labelZ for eBay
Release Date: Aug 14, 2009
Categories: Shipping & payments, Inventory
Quickly create customized inventory and address labels with data from your eBay items and transactions. Translate buyer data into marketing materials including flyers, cards and much more!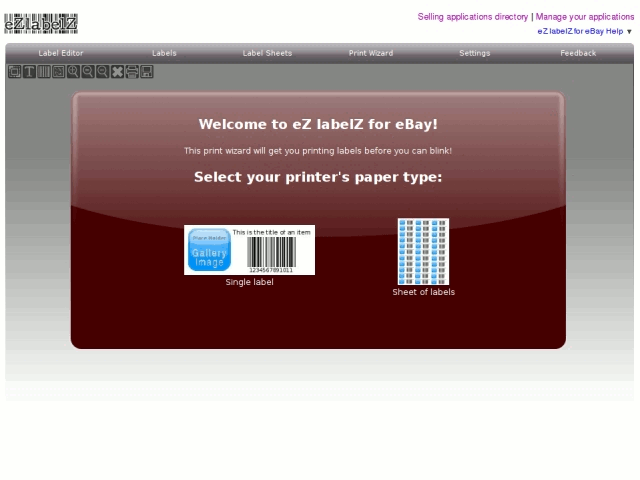 | | |
| --- | --- |
| Supported browsers: | Latest version of FireFox, Chrome, Safari, Opera, or IE |
| Supported languages: | English |
| Supported eBay sites: | ebay.com |
| Required eBay subscriptions: | None |
Our goal is simply to build tools to enhance the web!
Wish would print more than last 14 days.....
by: Review created: Oct 25, 2014
Review:Is there anyway that I can print beyond the last 14 days? If it were 30 it would be awesome. I have to remember to print either each time I list or weekly to obtain labels for all items listed. OTHERWISE, I love this!!!
---
Simple, Convenient, Easy... and FREE! Must have for all avid sellers! A+ App!!
by: Review created: Oct 23, 2014
Review:Super basic layout, not too many options, which makes it very user friendly. Has exactly everything you need, for identifying and/or organizing any/all of the item(s) you're selling on eBay with labels. Completely cusomizable templates with all the information needed, easily searchable through the listings you've posted and automatically imported into the template fields for you. All this, formated just right to fit any size label paper on the fly, and instantly print right from the app! So easy! So handy! Super Stellar App! :D
---
Having a problem, need help please
by: Review created: Oct 19, 2014
Review:I tried generating labels by manually setting up the labels using the "search" option to fill in the data in each label section. It looked like it was working; message saying "your labels are being generated" only it's had that message on the screen for over an hour now. I tried generating labels using the option to select dates but that didn't import correct data. Can someone from support please contact me? I don't see any support link within the app. Thank you.
---
Great for keeping posted inventory straight - best app yet
by: Review created: Oct 03, 2014
Review:Prints bar code and pic of all auctions - SUPER
---
Excellent Free Resource
by: Review created: Sep 28, 2014
Review:So many ways to utilize this app to improve organization, orders and workflow. Not perfect, but perfectly free!
---