eZ labelZ for eBay
Release Date: Aug 14, 2009
Categories: Shipping & payments, Inventory
Quickly create customized inventory and address labels with data from your eBay items and transactions. Translate buyer data into marketing materials including flyers, cards and much more!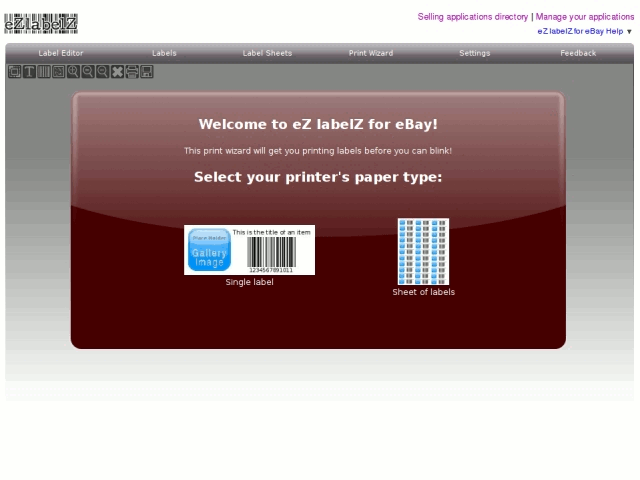 | | |
| --- | --- |
| Supported browsers: | Latest version of FireFox, Chrome, Safari, Opera, or IE |
| Supported languages: | English |
| Supported eBay sites: | ebay.com |
| Required eBay subscriptions: | None |
Our goal is simply to build tools to enhance the web!
Great App
by: Review created: Sep 15, 2014
Review:Very useful to stay organized with my business and at no expense. Thank you to the developer for making this wonderful app and offering it for free.
---
Nice but needs to show item prices
by: Review created: Aug 23, 2014
Review:Was easy to use, just download your inventory file from ebay. open the app, choose your label sheet size etc. upload your inventory file and hit print. Had no problems with sizing. Wish it had the price listed so I could use them at my brick and mortar store.
---
Why?
by: Review created: Aug 14, 2014
Review:You would think people dealing with eBay would learn from eBay and STOP changing things all the time!! Every time there is a change....this app doesn't work....I can't have that...I have enough things that get in the way of my unrealistic eBay ship times...I need labels to be dependable.....it's too bad...there are some good features....if it's because of eBay you had to change things...I feel your pain....sorry....looking elsewhere for another label app....
---
Awesome Sauce
by: Review created: Aug 02, 2014
Review:This is pretty much the coolest app I have ever used on eBay
---
Cool idea, impossible to use
by: Review created: Jul 14, 2014
Review:It took me over 2 days to figure out how to put the labels in the printer "just so", then the print was too small to read legibly. Useless for us. Hope someone else has luck with it. Too bad, because we ship 60-100 items per day and wasted $ on blank labels that we can't use. Would have been nice!
---