Auctane Shipping Manager
Release Date: Aug 14, 2009
Categories: Shipping & payments, Research & reporting
The fastest way to ship with USPS and UPS! Save up to 20% on Priority and Express Mail! Auctane processes your USPS and UPS shipments with just a few clicks. Batch print up to 200 labels at a time including First Class Mail International. Reduce your shipping time by 50% or more!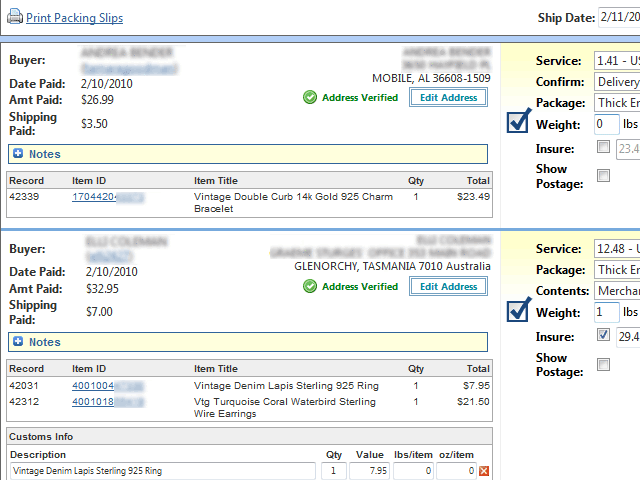 | | |
| --- | --- |
| Supported browsers: | any modern browser |
| Supported languages: | English |
| Supported eBay sites: | ebay.com |
| Required eBay subscriptions: | None |
it's not working
by: Review created: Jan 21, 2016
Review:Unable to validate addresses. Technical Details: Unable to initiate Express One session. Reason: System.Web.Services.Protocols.SoapException: Unable to authenticate user. at System.Web.Services.Protocols.SoapHttpClientProtocol.ReadResponse(SoapClientMessage message, WebResponse response, Stream responseStream, Boolean asyncCall) at System.Web.Services.Protocols.SoapHttpClientProtocol.Invoke(String methodName, Object[] parameters)
---
customer service non existant!
by: Review created: Jan 14, 2016
Review:I have written to you twice, complaining that when I try to purchase more postage I get an error message but you never respond!!! Now when I try to generate shipping labels they do not load up, the little blue spiral keeps spinning. I have been using your app for a few years, get it sorted out please! I doubt that I will hear back from you if past experience is anything to go by so this is probably a waste of time....
---
Auctane Shipping Manager is free for 7 days and then $9.95 per month which includes up to 100 shipments. Additional shipments will be billed at only one penny per label!
Additional eBay accounts can be added for no extra charge!
First Class Mail, Parcel Post, and Media Mail require a Stamps.com subscription