Auctane Shipping Manager
Release Date: Aug 14, 2009
Categories: Shipping & payments, Research & reporting
The fastest way to ship with USPS and UPS! Save up to 20% on Priority and Express Mail! Auctane processes your USPS and UPS shipments with just a few clicks. Batch print up to 200 labels at a time including First Class Mail International. Reduce your shipping time by 50% or more!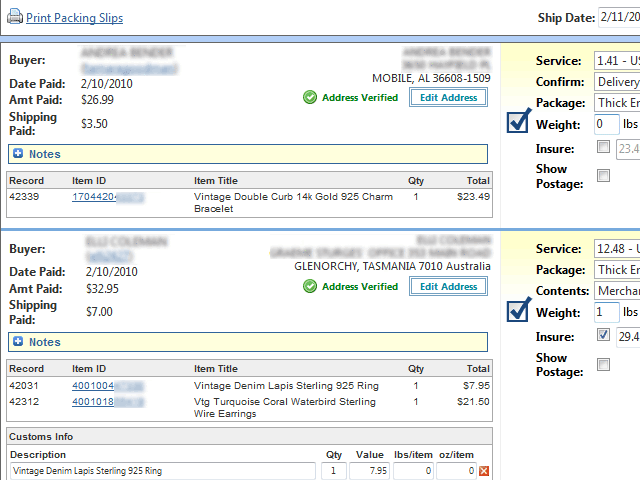 | | |
| --- | --- |
| Supported browsers: | any modern browser |
| Supported languages: | English |
| Supported eBay sites: | ebay.com |
| Required eBay subscriptions: | None |
Love this program!! Highly recommended.
by: Review created: May 20, 2015
Review:Easy to use and has many features. Highly recommended!
---
easy to use, quick bulk label printing
by: Review created: May 17, 2015
Review:I like it. only issue is that it is using stamps.com and that has it's own subscription per month charges which is making over all pretty expensive.
---
the worst
by: Review created: May 11, 2015
Review:cant use UPS on their platform, neutral feedback from underpayment of postage. No response from support except autoresponses saying they will respond. Weeks of no fixes. Look elsewhere unless you want gray hair and stress
---
Best App I Use!
by: Review created: May 06, 2015
Review:Saves me so much time and time is money! Also, great ability to view some cool reports. Very easy to use.
---
customer service is terrible
by: Review created: Mar 30, 2015
Review:wonderful when it works, but if problems, forget getting any help from customer service
---
Auctane Shipping Manager is free for 7 days and then $9.95 per month which includes up to 100 shipments. Additional shipments will be billed at only one penny per label!
Additional eBay accounts can be added for no extra charge!
First Class Mail, Parcel Post, and Media Mail require a Stamps.com subscription