Auctane Shipping Manager
Release Date: Aug 14, 2009
Categories: Shipping & payments, Research & reporting
The fastest way to ship with USPS and UPS! Save up to 20% on Priority and Express Mail! Auctane processes your USPS and UPS shipments with just a few clicks. Batch print up to 200 labels at a time including First Class Mail International. Reduce your shipping time by 50% or more!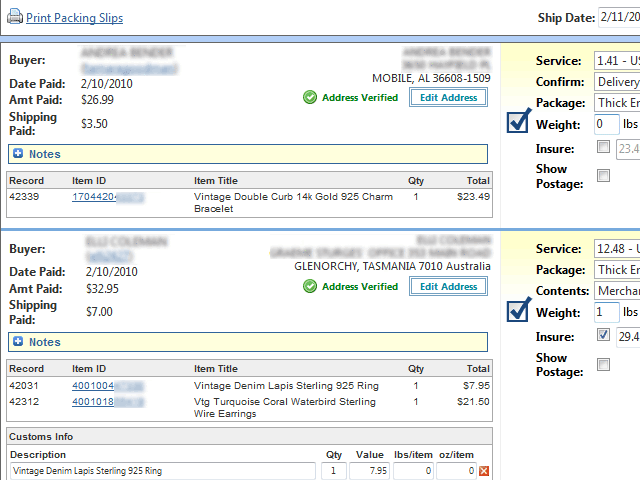 | | |
| --- | --- |
| Supported browsers: | any modern browser |
| Supported languages: | English |
| Supported eBay sites: | ebay.com |
| Required eBay subscriptions: | None |
Auctane = problems
by: Review created: Jan 20, 2015
Review:Alot of problems, UPS rates are often wrong, they cancel my account after having them for many months, very frustrating. You buy postage and then they give you warning after you buy that rate was incorrect and you were charged more. Other more accurate solutions out there.
---
Wonderful shipping software. Works with my 4x6 thermal printer
by: Review created: Jan 15, 2015
Review:This shipping software works great with my 4x6 zebra thermal printer. It's convenient, easy and intuitive to use, and has many customizable features
---
Great App
by: Review created: Dec 02, 2014
Review:Makes shipping a breeze! A must have for high volume shipping! A+++++++
---
They suspend your service or dont answer messages
by: Review created: Nov 24, 2014
Review:If you have a solid business with a lot of sales and daily orders, then you better stay away from this Auctane.

My account is not working for more than a week, they dont answer messages, there was NO previous problem or argue with them, they just simply dont answer.

So it can really hurt your business for some days and there is no way to talk to them other than emails but again, they dont answer.

I openly challenge the Auctane staff to show here in public why my service has been susppended or why they ignore my emails.
---
Customer service is absolutely useless and never replies to the emails
by: Review created: Nov 21, 2014
Review:I have had an error which kept on popping up every time I tried to create shipping labels, it said:

Unable to find rate node from XML response: 80040B1AAPI Disabled: RateV3. The RateV3 API is no longer available. Please follow the "RateV3 to RateV4" transition guide in the announcements section at www.usps.com/webtools to migrate to the latest version or contact your software provider or shipping administrator for assistance.USPSCOM::DoAuth

I have sent over 10 emails over the period of two months. Never got an email back. Why don't they have a customer service phone number, this is not professional whatsoever! Very disappointed.
---
Auctane Shipping Manager is free for 7 days and then $9.95 per month which includes up to 100 shipments. Additional shipments will be billed at only one penny per label!
Additional eBay accounts can be added for no extra charge!
First Class Mail, Parcel Post, and Media Mail require a Stamps.com subscription