Auctane Shipping Manager
Release Date: Aug 14, 2009
Categories: Shipping & payments, Research & reporting
The fastest way to ship with USPS and UPS! Save up to 20% on Priority and Express Mail! Auctane processes your USPS and UPS shipments with just a few clicks. Batch print up to 200 labels at a time including First Class Mail International. Reduce your shipping time by 50% or more!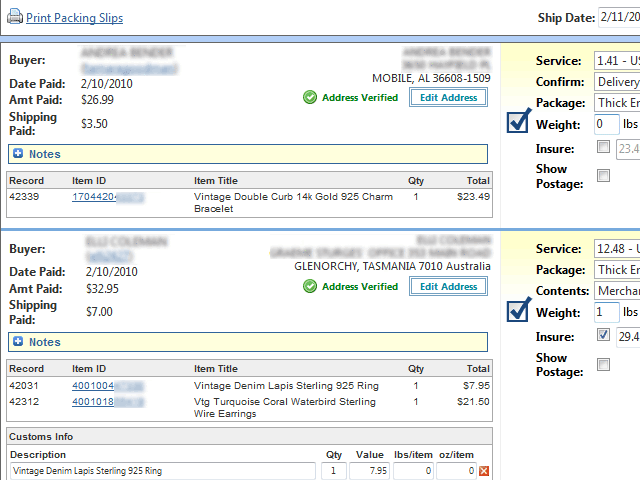 | | |
| --- | --- |
| Supported browsers: | any modern browser |
| Supported languages: | English |
| Supported eBay sites: | ebay.com |
| Required eBay subscriptions: | None |
I'm writing a review for every day that its taking for them to respond to my case
by: Review created: Jun 30, 2015
Review:Account suspended without notice, explanation or instructions on how to correct it.

Ron Stack
Cyclefitinc
---
Terrible customer service response time
by: Review created: Jun 17, 2015
Review:Still waiting on any answer to simple question...Poor service and they charge too in fees
---
Worst EVER!!!
by: Review created: Jun 17, 2015
Review:No support. No contact number. No response to emails
---
If you like to have issues with shipping then this is for you
by: Review created: Jun 16, 2015
Review:Nothing but issues ever since we started using this program. No customer service, have to send email and wait up to 48 hours for a response, while in the meantime you cant use. I would suggest going elsewhere for a shipping app.
---
App is not reliable, 0 customer support
by: Review created: Jun 14, 2015
Review:We've been using this application for almost 5 years as a company. We've had little issues with it in the meanwhile but it always got fixed within a day without us having to contact customer service. Issues like: loading issues, error messages, etc.

It's a really good program when it works. It's easier to work with than eBay's shipping program and also you can choose any service from USPS even different international services which eBay doesn't allow you to do so at their ship station however, the prices aren't too good on international services but at least they exist as an option.

So now the program has been down for a week, it doesn't load at all. We've contacted customer support (which is a joke by the way as they can be contacted via email only) immediately and we received an auto reply which stated that we should receive a response within 24 hours. Well, didn't hear back for 48 and we were told that the program works fine...IT DOES NOT!

So we're unsubscribing...
---
Auctane Shipping Manager is free for 7 days and then $9.95 per month which includes up to 100 shipments. Additional shipments will be billed at only one penny per label!
Additional eBay accounts can be added for no extra charge!
First Class Mail, Parcel Post, and Media Mail require a Stamps.com subscription