Auctane Shipping Manager
Release Date: Aug 14, 2009
Categories: Shipping & payments, Research & reporting
The fastest way to ship with USPS and UPS! Save up to 20% on Priority and Express Mail! Auctane processes your USPS and UPS shipments with just a few clicks. Batch print up to 200 labels at a time including First Class Mail International. Reduce your shipping time by 50% or more!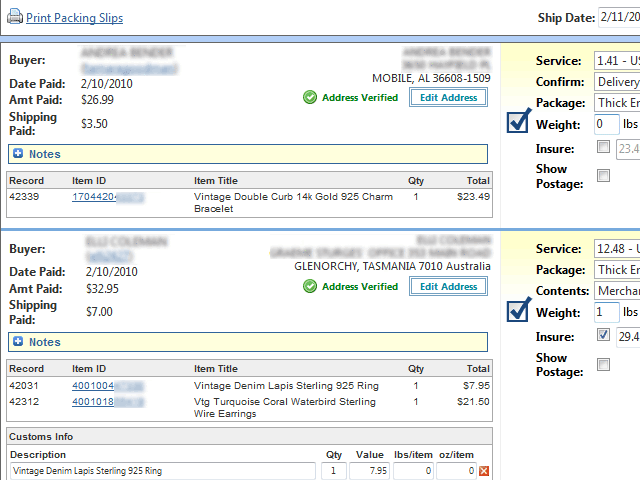 | | |
| --- | --- |
| Supported browsers: | any modern browser |
| Supported languages: | English |
| Supported eBay sites: | ebay.com |
| Required eBay subscriptions: | None |
Customer service is absolutely useless and never replies to the emails
by: Review created: Nov 21, 2014
Review:I have had an error which kept on popping up every time I tried to create shipping labels, it said:

Unable to find rate node from XML response: 80040B1AAPI Disabled: RateV3. The RateV3 API is no longer available. Please follow the "RateV3 to RateV4" transition guide in the announcements section at www.usps.com/webtools to migrate to the latest version or contact your software provider or shipping administrator for assistance.USPSCOM::DoAuth

I have sent over 10 emails over the period of two months. Never got an email back. Why don't they have a customer service phone number, this is not professional whatsoever! Very disappointed.
---
Slow and unreliable- Worst Customer Service ever.
by: Review created: Oct 08, 2014
Review:Ive used the app For a long time and got tired of having issues and have no one to help me, it has damaged my business since many times failed to write tracking due to a glitch they have with the feedback.. It is Slow and unreliable. I will never trust my business to this guys.
Lately it just stopped working and after a week Im still awaiting an answer.

---
Horrendous!!! Just like eBay itself!!! DONT GET IT, SCAM ALERT
by: Review created: Oct 04, 2014
Review:Horrendous!!! Just like eBay itself!!! DONT GET IT, SCAM ALERT
---
Worst Customer Service in HISTORY!!!
by: Review created: Sep 10, 2014
Review:I have been a customer for over a year. Everything went fine until, amazingly, one of my accounts literally dropped off the face of the earth. When I tried to email someone about it. Not only did i not get an email response, I have emailed about another small issue that happened a day later. NOTHING... NOT EVEN A RESPONSE! DO NOT GET THIS APP!
---
Fantastic application and seamless integration with ebay
by: Review created: Aug 09, 2014
Review:Makes my life so much easier.
---
Auctane Shipping Manager is free for 7 days and then $9.95 per month which includes up to 100 shipments. Additional shipments will be billed at only one penny per label!
Additional eBay accounts can be added for no extra charge!
First Class Mail, Parcel Post, and Media Mail require a Stamps.com subscription